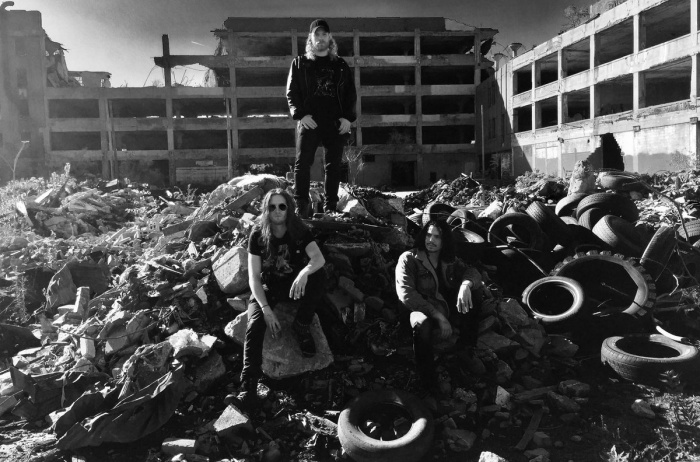 Starting stateside, Boston thrashers Black Mass recently dropped a stunning LP entitled Warlust. Available via Iron Shield Records, the band have been consistently pissing in their local mainstream now since 2012. In sticking with the scorched Earth nightmare fantasies of their cover art, their full-length both conjures demons and courts dystopia. There are elements of Razor, Vio-lence, and a sonic tour through the Big Four of Teutonic Thrash.
A good place to dive in on Black Mass is "High Priest In Black," a hard-charging and anthemic thrash beast that showcases their myriad talents. As likely as they are to lay the listener flat with their lightning fast classic sound, they have a tendency to slow down into ever-evolving moods and styles. Their influences are clearly varied, throwing in NYC-styled hardcore breakdowns, NWOBHM vibes, and even a fleeting black metal flare as seen in their tremolo picked runs.
The impossibly fast and precise playing and rumbling double bass on display here are the coutnerbalance to the impending riff. Deceptively simple and chugging, the straight ahead buildup threatens to explode before it dives back into the furious pace. Seemingly, that blazing pace is where Black Mass prefers to live. In the back half there's an absolutely fret-melting solo that recalls the 8-bit heroics of early Holt or Hammett. A deeper dig into the album in full is warranted. There are moments that call to mind the black and roll minions birthed by decades of justifiable Motörhead worship and even touches of Hirax.
Coming in May, we might have a year end contender on our hands. Sacrilegious Pain by the Swedish thrashy hardcore unit Lowest Creature is set to drop next month courtesy of Isolation Records. The title track from their impending LP finds these punks outta Örebro taking cues from the heyday of crossover as much as it does the Golden Age of Thrash abroad. Unlike the always blitzed/blunted strain of party thrash, they instead hail from the land of politicized hardcore thrash, invoking the spirit of of Northern neighbors Sacrifice and their kissing cousins in Sodom. The trapped-in-a-well vocal attack keeps the proceedings decidedly punk, the singer punctuating the end of verse lines with a yelled bark.
Lowest Creature would sit as well with Power Trip or Judiciary as they would Havok. The full speed muscular thrash of "Sacrilegious Pain" reaches its god-baiting Zenith as the tease of a molten solo rises from the mire only to be usurped by a mid-tempo crusher of a riff. Should this track be any indication, I'll be yapping about this album for a long time to come.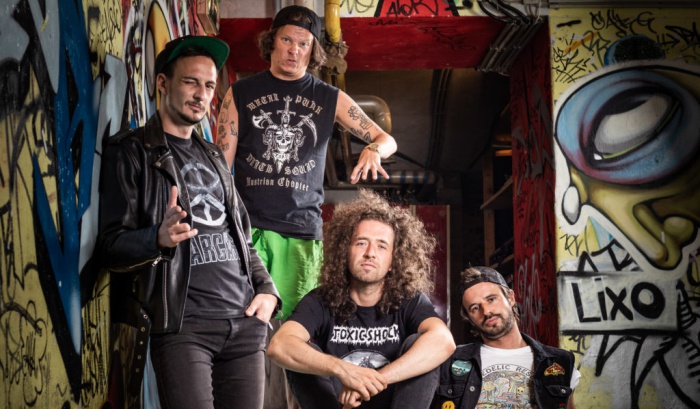 With by far the most aptly titled album of the three, Insanity Alert's 666-Pack was a New Year's gift from Season of Mist that I somehow missed. Despite being from the wintry Innsbruck, Austria; this group of heshers and heathens have forged a sound more in keeping with their coastal surf and skate culture. Forgoing the monochromatic mosh of the previous two bands, this is the hypercolor neon, flipped brim, cheap beer-swilling soundtrack to a half-pipe wipeout. Think DRI, SOD, Cryptic Slaughter, Suicidal Tendencies, and Nuclear Assault filtered through the early 'oughts thrash renaissance. Much like Waste 'Em All-era Municipal Waste or the overlooked Bones Brigade output from the same era, one would imagine there's a beer bong and a worn Tankard LP in their van or practice space.
Quickly evolving from a straight up party thrash act into the loose and wild bunch that crafted this taut collection. Insanity Alert obviously look the part but this is far from cloying cos-play. They've been plying their collective trade for some time and their craft is razor sharp. They swing quickly and recklessly from 80's Thrash to crossover circle pit fodder from one song to the next. Shit, sometimes it's from one line to the next. Their "All Mosh/No Brain" is the perfect dry-rotted diving board to jump from and, worry not, their bacchanalian vibes still abound.
This time around, though, their jokey moments are tempered with pseudo political thrash tracks that make it a more dense and, at times, serious affair. With a penchant for funny song titles and affinity for the art of partying, Insanity Alert will still run you through. Dust off the boombox, grab your Powell Peralta OG Ripper, and get rad.
Tagged: black mass, insanity alert, lowest creature