Most hardcore bands have a short lifespan. The Sick of It All and Terrors of the world — hardcore groups with a deep album discography — are a rarity in this community. The guys in One x Choice obviously didn't get that memo.
Planting its seed over a decade ago, the Southern California-based straight edge band have been doing their thing ever since. "One X Choice was formed in 2007 by Rob Mertz and Mike Hartsfield (musician, founder of New Age Records)," vocalist Victor Galindo tells me. "Our friend, Pat Edge, was the singer at the time but he had to move back to Florida for work and family. I joined the band in 2008 and shortly after that, our first EP, Last One Down, was released on New Age Records."
Victor then drops some knowledge on some of One X Choice's recordings. "We have 5 releases out, including a split 7" with New Zealand's Saving Grace, and a song on the To Us It Was So Much More Chain of Strength covers compilation. We have been fortunate to do 3 tours of Mexico and play lots of benefit fests and a couple West Coast tours."
I wondered which bands had a deep impact on Victor and his band mates growing up in SoCal. "We definitely have a '90s style, which was the whole goal of the band from day one, but I feel we definitely make it our own with a lot of change ups in the song writing. As you can tell, almost every release we put out is a little different from the last.
"The SoCal bands that had the deepest impact on me when I got into hardcore were A Chorus of Disapproval, Strife, Unbroken, Insted, Inside Out, Chain of Strength, Blackspot, and House of Suffering."
One X Choice first gained attention during their time on the Seventh Dagger label roster. "The Seventh Dagger days were great and [label owner] Danny [Sober] is one of the best guys ever! At first, it was weird because they ultimately had that tough-guy straight edge image and once newer kids got to hear us and realized we didn't sound like everybody else on the label, I think it helped open up some narrow-minded gateways. At that time, we were playing tons of local shows and doing West Coast tours, but unfortunately, we still have never made it out to the East Coast."
These days. One X Choice works with Irish Voodoo Records, a label I profiled on No Echo earlier this year. "We have always been friends with [label owner] Joey [Voodoo] and he has always extended the welcome if we ever wanted to do anything, so once Seventh Dagger came to an end, the timing worked out well to put our our latest EP, Words Run Out."
Speaking of Words Run Out, I ask Victor about the EP from last year and how the band work on material these days with all of their familial and career responsibilities taking up the bulk of their free time. "We went into it with a whole different vibe than how we normally write and record, so we just let all of the ideas flow and then just went right into the studio. We did all the music first and then we sat on it and listened to the tracks for months to make any changes before I laid the vocals down. Once we were happy, I finally went in and did all of the vocals without anyone else there.
"There was definitely a lot less arguing and bitching at each other in the studio during the Words Run Out recording sessions. Also, big shout out to Paul Miner at Buzzbomb Studios in Orange County for always putting up with us. Everything we've ever recorded has been with him."
On Aug. 25, 2018, One X Choice will part of the New Age Records 30th Anniversary festival happening in Garden Grove, CA. "As a youngster, when I first got into hardcore, it was always a dream of mine to be in a straight edge band and put something out on New Age Records, so I want to thank Mike Hartsfield for making that dream come true. Seeing everything come full circle with that, and 2018 being our 10-year anniversary, we are beyond excited to be part of this show. I am going to do my best to watch as many bands playing that day, but I am definitely going to get wild during Mouthpiece, Strife, Trial, and A Chorus of Disapproval!"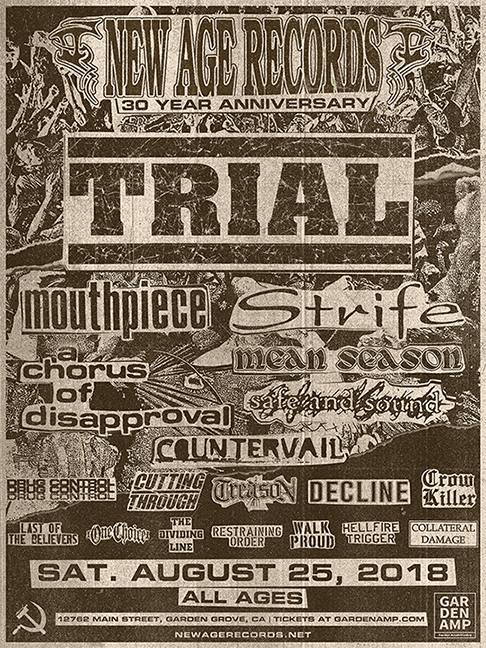 As I always like to do on this site, I ask Victor who some of the newer hardcore bands in the area he's feeling at the moment. "My boys in Berthold City are holding it down with that Los Angeles straight edge shit! SeeYouSpaceCowboy are on some next-level metalcore/noisecore riffage. I saw a band called Ursula at Programme Skate Shop a while back and they left me wanting more. Absence of Mine have some good-sounding crossover thrash jams on lock as well."
Words Run Out is available now via Irish Voodoo Records. One X Choice can be found on Facebook and Instagram.
Tagged: one x choice