Since the '90s, Syracuse, NY has been the breeding ground for a host of excellent hardcore bands. Earth Crisis, The Promise, and Green Rage are only but a few of the hXc acts that I've loved from the region throughout the years.
Featuring former members of Santa Sangre, Slapshot, and True Blue, EgoDestroys is a band looking to keep the Syracuse hardcore tradition growing. Though they usually keep things on the lean and mean side of the sonic spectrum, the quintet can also get melodic when they want to. This is evident on "For My Friends," a track from their forthcoming album, A New Cold War.
"Sonically and lyrically, it's probably the most positive sounding on the record," EgoDestroys vocalist Kevin told me about the track. "Since this is a full-length, we really wanted it to ebb and flow like a movie, so a lot of the songs sound 'different' on there. The guys always push me to take my vocals to places I haven't before, and this song is a prime example of that. It's the cleanest singing I've ever recorded and, to be honest, I was really self-conscious about it at first. It's a fun sort of scene unity type song, I hope people dig it. If you like your hardcore angry and pissed off, don't worry there is also plenty of that on A New Cold War."
Since Syracuse has a long and storied history of great hardcore bands and fans, I asked Kevin what the current state of the local scene was like. "I didn't grow up here, so I missed the infamous glory days of Syracuse hardcore. However, I did have the opportunity to play a Syracuse New Year's show, and a Hellfest, so I'll be able to die a happy man [laughs]. Everyone sees the hardcore nostalgia posts with flyers featuring fest headlining acts playing a Sunday matinee together in the '90s in Syracuse. It's wild! Earth Crisis was a huge contributor to that scene, and we were stoked to have Karl [Beuchner] do a guest spot on 'Expatriates,' our first single from this new record. Sadly, Syracuse is nothing like it was. I could speculate for hours about what happened, but I think it's all cyclical and will come back around. We're proud to be from Syracuse. There are other great bands, musicians and kids in the area still who are trying to rebuild. Time will tell."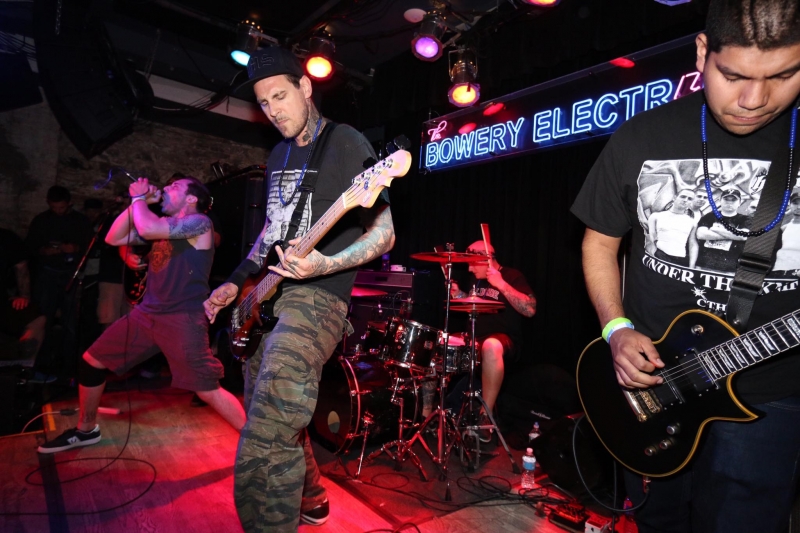 So, what's the plan for EgoDestroys going into 2018 and beyond? "We are excited about A New Cold War coming out on Irish Voodoo Records. We'd like to get out and play more areas we haven't hit and we're hoping this record opens some doors for us. If you're interested in booking us, please reach out through social media. There is some talk of a possible split 7", and maybe a reissue of our Receiving End of Revenge EP, and we're always ready to churn new material out… keep your eye's peeled. Thanks Carlos and No Echo for the platform. Much respect."
A New Cold War will be out in November via Irish Voodoo Records.
Tagged: egodestroys, slapshot