The Rumble, a two-day hardcore festival in Chicago, IL, will return to Cobra Lounge this coming weekend on April 26 and 27. This year marks the festival's second run since its 4-year hiatus from 2014 to 2017. Since its new beginning in 2018, the Rumble has found a new home at Cobra Lounge and features a talented crew of three talent buyers: Shane Merrill of Empire Productions, the festival's original founder; Jon Ortiz and Taylor Wadley.
Although Merrill has been booking hardcore shows and festivals in Chicago for 22 years, his first Rumble festival took place at the Subterranean in 2010 and was followed by a 3-year run at Bottom Lounge from 2011 to 2013. However, due to a combination of working alone, working on other shows, and booking the Rumble at a large venue that came with a large financial cost, the fest became unsustainable for Merrill and he decided to put it on hold beginning in 2014.
In 2016, talent buyers Taylor Wadley and Jon Ortiz talked to Merrill about re-starting the Rumble and, although initial plans were made, the trio decided to scrap the project and try again in 2017.
"A fest is a lot more work than I'd ever done," said Wadley, 25, who has been booking shows in Chicago since 2011. "Shane was hesitant and told us to make him believe it was a good idea. Jon and I made a huge Excel spreadsheet with bands that we wanted [to book] with their contact info. Shane saw that we were serious and said, 'if we do this, we're making it worth it.' By that, he meant he wanted to donate any profits we made, which is what we did. The Rumble happened in 2018 and we donated our profits to Chicago Hopes for Kids."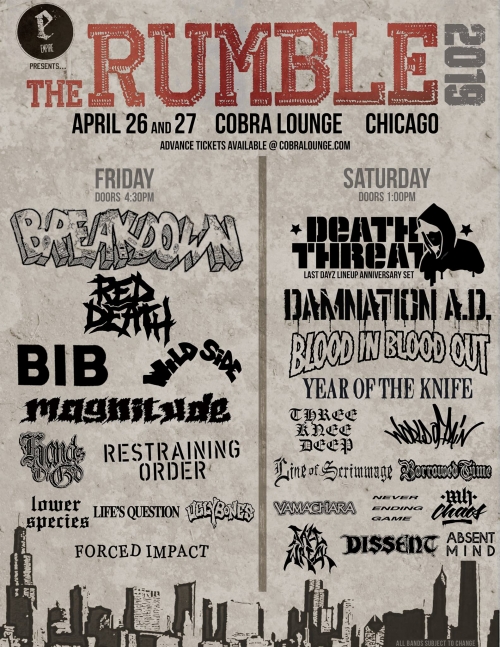 While many factors, including hosting the fest at a smaller, more intimate venue, aided in the success of the Rumble's 2018 return, Merrill credits working with his two partners for making the Rumble possible.
"The reason I'm [booking the Rumble] is because I enjoy working with the two of them. I don't think I would do it if it was on my own," said Merrill. "It wouldn't be as fun without them. That's one of the coolest things: we all bring something different to the table. We all had such a good time [in 2018] that we decided to do it again this year."
Merrill doesn't view his partnership with Wadley and Ortiz as a form of mentorship, but Wadley, who booked her first show when she was just 17, is appreciative of Merrill's guidance.
"As young promoters, he basically took me and Jon Ortiz under his wing and helped us learn the ins-and-outs of booking hardcore shows," said Wadley. "He's taught me so much about booking shows, hardcore, and life in general."
Not only is having a team with different levels of booking experience helpful for the two younger talent buyers, but it also ensures that the team is constantly exposing each other to new music and bands that may be potential candidates for the Rumble's lineup.

"I like being there for them, I like supporting them," said Merrill. "I definitely appreciate that they're turning me on to bands I don't hear about or bands I would hear about later than they do. We're all into different shit, so they turn me on to a band that's in their backyard or I might turn them on to a band that's in my backyard. We help each other. I love learning about new music. Not from a "booking shows" perspective, but for listening. I'm always trying to listen to new music."
Both Merrill and Wadley noted that their different music tastes within the broad genre of hardcore music have helped them and Ortiz curate a festival that offers both young and old hardcore fans a wide variety of hardcore acts. If you look at the Rumble's lineup for Friday, April 26, Wadley's love for "faster, less metallic, more 'straight up' hardcore" bands is evident. Merrill also added that Ortiz and Wadley tend to know bands with younger members, which are usually more flexible bands that are "willing to drop everything and hit the road."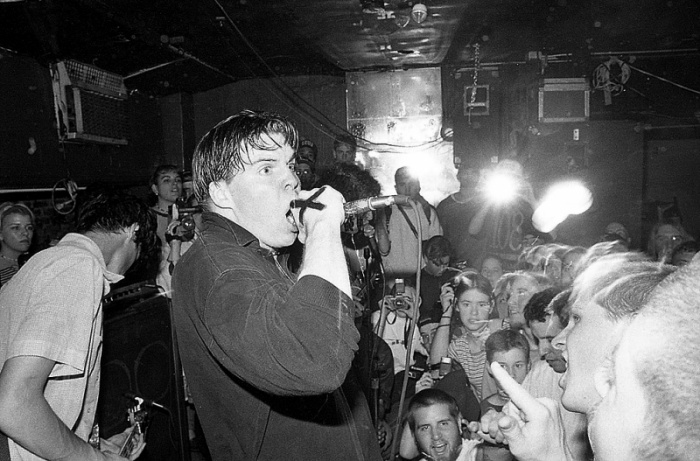 If you don't already have your tickets to the Rumble, you may be out of luck. A small amount of tickets are available for Friday's show, but 2-day passes and single day tickets for Saturday are sold out.
For fans who have tickets and plan to attend the entire weekend, Merrill says to expect "lots of variety. A good mix of young, up-and coming-bands, bands that have been around for a while, and bands that have been around for a really long time."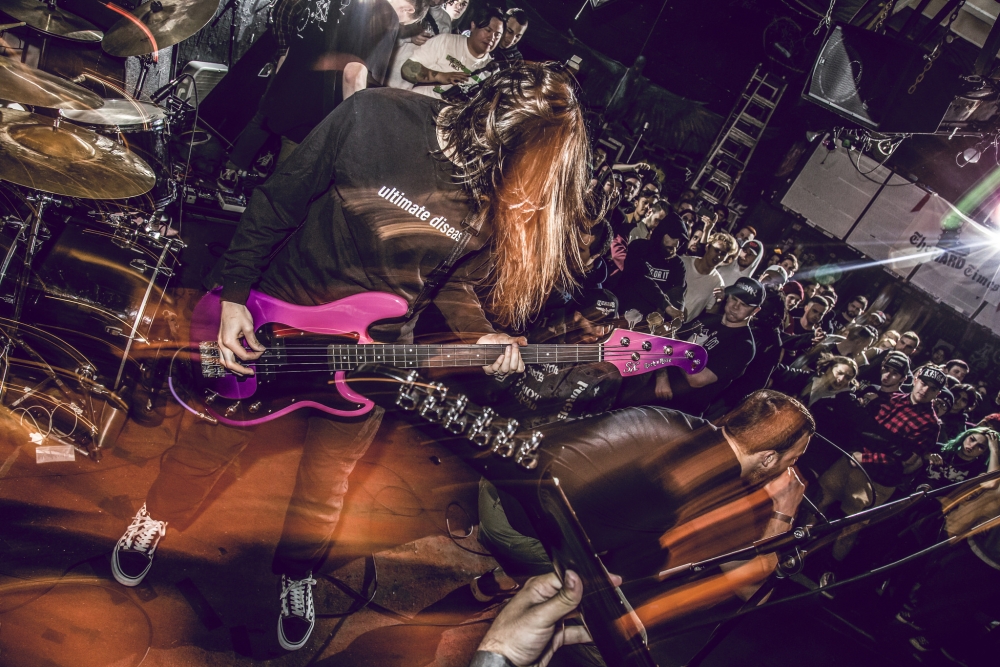 When asked if she had any plans for next year's Rumble, Wadley admitted that all she's focused on right now is next week's fest.
"You can expect no cool guy bullshit, no cliquey bullshit, just hardcore. No plans for next year—we gotta make it to the end of April first."
***
If you're shopping for vinyl, CD, and cassette hardcore titles, head to No Echo's partner store, Reverb LP, to see what they have available. Every purchase you make helps No Echo with site costs.
Tagged: breakdown, death threat