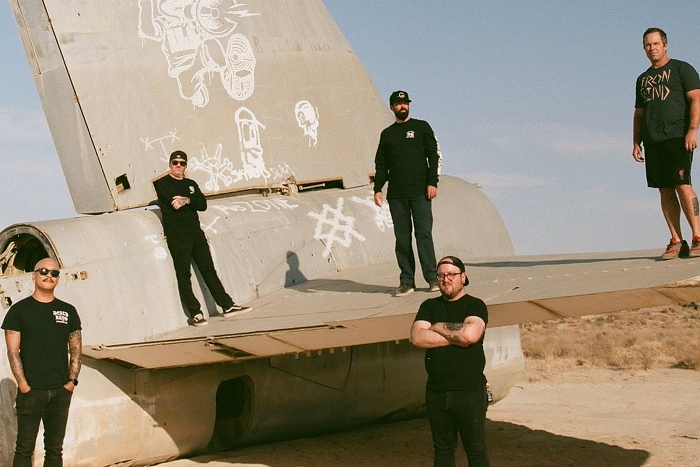 Tehachapi's Ill Communication first stole my undivided attention with 2022's Rhythms & Rhymes for the End Times two-sided single. That bit o' wax alone boasts one of my favorite hardcore songs of the last decade in "A Lecture in Survivability"… full stop.
Aside from a debut EP and a grip of essential singles, we've at least been blessed with the band's forthcoming debut full length, Doomsday Brigade. The inimitable San Diego hardcore institution that is Safe Inside Records is handling the release, which was co-produced by Vinnie Caruana (The Movielife, I Am the Avalanche) and the band's own Donny Phillips, who is also known from his work as a member of The Warriors. Repping the other coast, CD and cassette versions are slated for release via New York's Heroes & Martyrs.
In advance of their must listen full length, vocalist Andy Franchere was kind enough to indulge me in all things from their latest album, Cali hardcore, and trespassing for the sake of your art. Much love to Ill Communication.
When we last heard from the band, Rhythms and Rhymes for the End Times was seemingly soundtracking, well, the end times themselves. How has the last couple of years affected the band's plans and trajectory?
I think the last few years have been rough on all humans. For the band, it delayed the release of Doomsday Brigade on vinyl by like 10 months and limited our ability to play shows. But with this project we take it a day at a time and try to keep things ill.
I did think we were in the "end times" for a minute. Luckily for the earth my powers of prophecy are not what they used to be.
Safe Inside is an absolute institution at this point. Was releasing your debut full length on the label a no brainer? I'm less familiar with NYC's Heroes & Martyrs, who are handling the cassette version. How'd that come together?
We talked with a few labels and friends for the LP but Burt and Safe Inside Records were really psyched to do it. I knew Burt from Built to Last and then being a fan of the label. They have put out some killer releases, Faim, Rejection Pact, Chemical Fix…. Also they're based in Cali and we wanted to rep our home for our LP.
It's been a long time coming but Safe Inside has the vinyl and we are psyched on the product they put out for us and you, so order one today. The Heroes and Martyrs hook up was even more of a no brainer. Steve put out stuff for Diehard Youth and With or Without You back in the day. So when he started a label back up, he was the first and only dude I asked. The CD is gonna have every track we have recorded so far.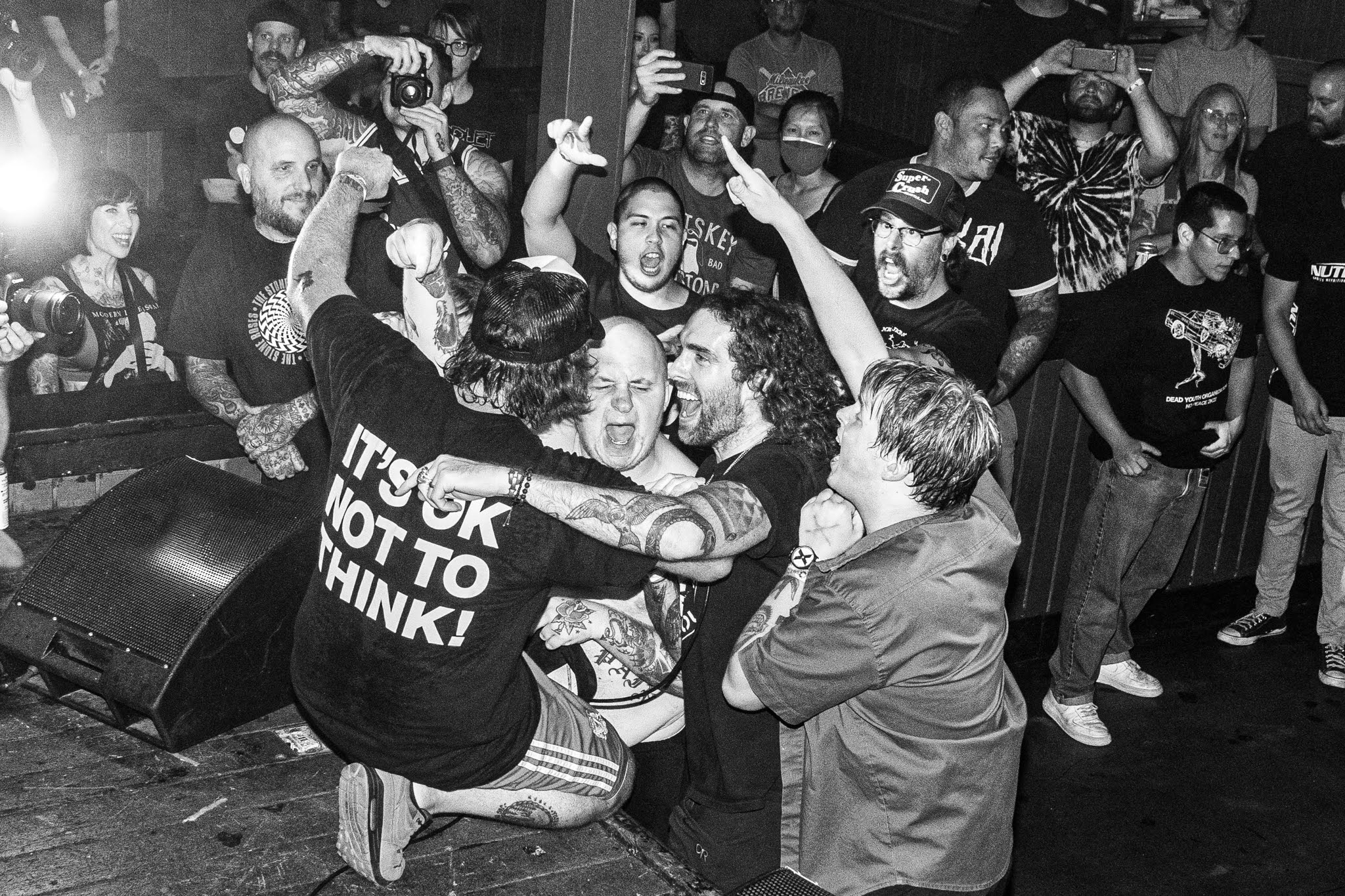 Kudos on Doomsday Brigade. The album rips and sounds absolutely massive. Any exclusives about the writing or recording process you can share?
Thank you for the kind words. That means a lot coming from you and No Echo. Our main man Chad Walker tracked and engineered the record at Bright Mountain Studios here in Tehachapi. The studio is at Joe's house actually. So any bands wanting to record hit me up for that connect.
Roger from the band mixed the LP for that massive sound and I think it's dope. I'm really proud of it. It's the best thing I've ever been a part of. It was a group effort writing the album. We really mapped it out and were very intentional with the bands we were inspired by / sampled from.
The fellas in the band did a bang-up job writing the music as well as dealing with me doing mouth guitar riffs and drums to try to help write the music.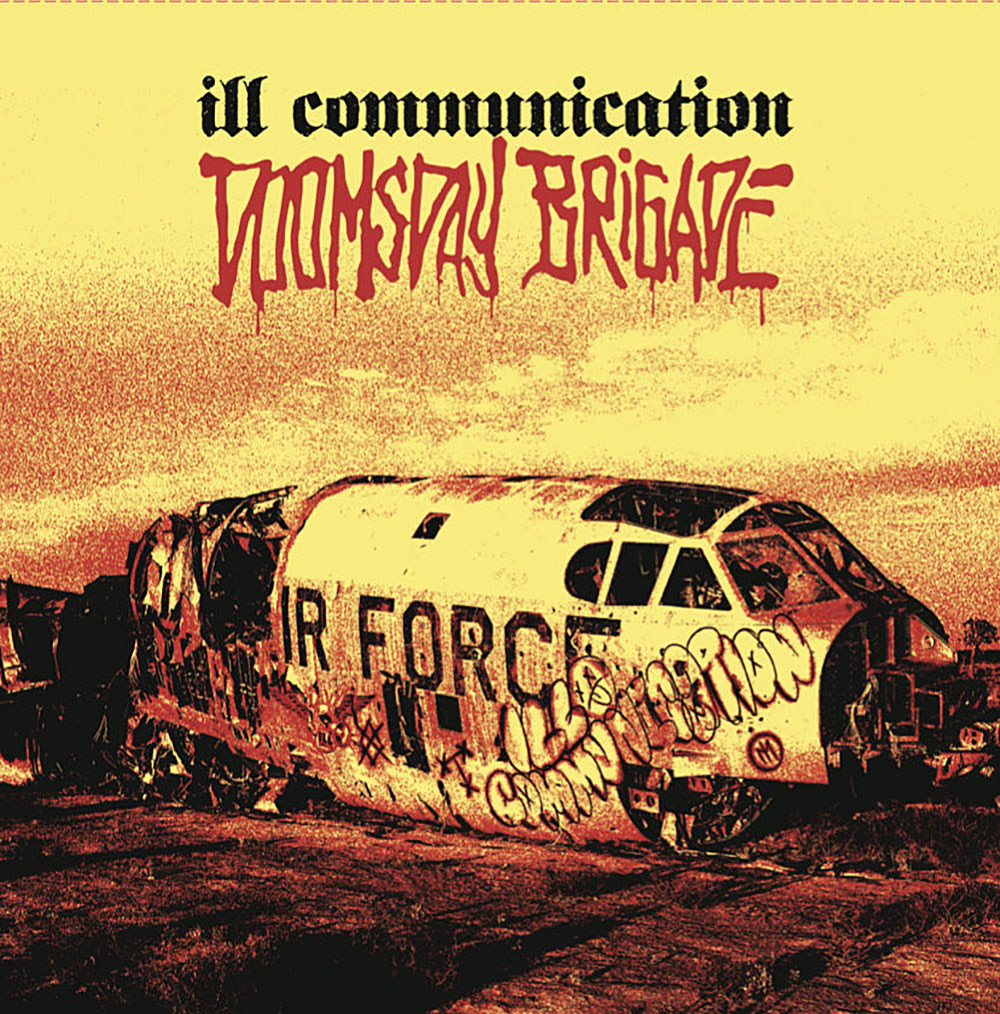 Am I right in saying there was some urban exploration that went into the cover photo? Give us the scoop on that (statute of limitations be damned)!
That site is an Air Force graveyard. It's actually on a base and kinda sketchy and illegal to get to. Our buddy Donny Phillips saw some of the photos Joe had taken at that spot and came up with a concept. So we did the 3-mile trek into the desert to get the photos.
Donny is a phenomenal artist, I could not be happier with what he created for us. He also helped produce the record so he got mad skills on multiple planes.
It'd be quicker to list who isn't on the album [laughs]. Jokes aside, give us a peek into the guest spots on the record. They're seamlessly woven into the tracks. As a complete amateur, I'm curious as to how that comes to pass. Were the songs written with different vocalists in mind? Anyone that would be a dream cameo?
Guest spots have always been one of my favorite gimmicks. I still hear song with a guest spot, then searching out that persons band. So we wanted to name drop some friends bands in the hopes that kids would go check them out. I know the Warriors, Retaliate, and the Movielife are way more successful bands than us. So we might get a shine off them as well.
Then we got Dan OMDB and Eva Hall (Power Alone, No Plan) on there who are long time friends and come from bands that I absolutely love and want to push on people. I also thought that with enough ill guest spots that if people hate my vocals they will still get down with the guest spots.
My dream guest spot from a current band would be Jay from Mindforce, not sure that could ever happen but I gotta dream big. I am gonna be knocking on Lance Faded Grey and Dave Striking Distance's doors when we record again.
Aside from inspiring the band name, there's a rhythmic sensibility to Ill Communication that seems indebted to hip hop. Am I way off base here or does that organically show up in the band's sound?
Roger, Matt, and Joe wrote the music, they have all played in various styles of bands and are proficient players. When we decided to write an album and be a professional band the effort to add some hip-hop vibes was implemented. Not in the Cold World or Wise Up (who I love) but in more of 20% of our DNA on our 23 & Me results [laughs].
I'm a sucker for lists, Andy. I won't ask the impossible, but give me five or ten records, hardcore or otherwise, that haven't left recent rotation.
End it, Unpleasant Living: I love it and need to see them live.
Home Front, Games of Power: The 185 Miles South gang turned me on to this and it takes me back to my new wave youth.
Almighty Watching: They're a rad East Coast band that I have been digging. They just dropped some tracks on the Scheme comp.
Torena, Evil Eyez: A dope Nardcore band that's about to take over the universe.
Shiiva, Cyclone: They are a semi local band and do some unique cool things while keeping it hardcore and they got vinyl coming out on Another City Records.
I am lucky and get turned on to loads of band from the 185 Miles South crew / podcast. Bands like Clobber, Human Resources, Big Deal, and Moral Pollution are a few that I've been streaming. I did just get the new In Time and Major Pain records from Indecision Records. They just joined the rotation but I'm feeling both.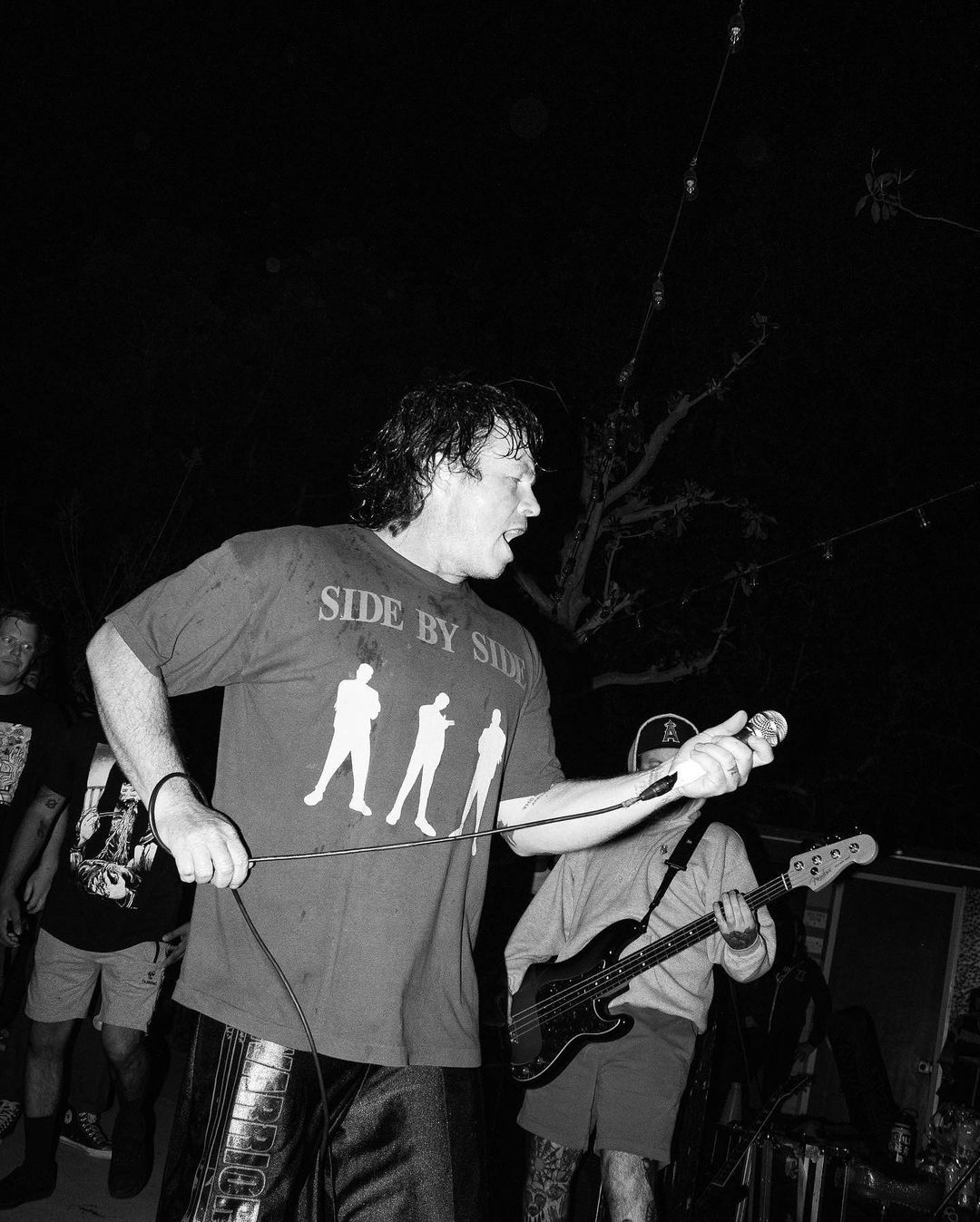 Sonically, the East/West Coasts, respectively, have certain unique takes on this hardcore thing we all love. What're some less lauded California bands that you want to big up, past or present?
So I got to give The Warriors from Tehachapi some love. They took our scene and repped it across the world. And in my opinion paved some of the way for the sound that is huge now. They were a roots hardcore with a metallic and heavy twist when it was either straight metalcore or straight Youth Crew and the scenes were split.
In Control are another of my all-time favorite bands. Nardcore legends. They put out two killer records. I really think they took the Nardcore sound and perfected it. And Ryan was a maniac on stage.
If you like some heavy stuff Foreign Pain is a wicked band and their newest record is a ripper. The Mongrel record on Maggot Stomp is straight brutal. Berthold City and Discourage put out two of my favorite LP's of the last few years.
I also got to shout out my kids bands Government Surveillance and War is Hell. They are trying to make moves and get tracks on the internet.
***
Doomsday Brigade will be out on March 31st on vinyl via Safe Inside Records (pre-order) and CD & cassette through Heroes & Martyrs (pre-orders start on April 14th).
***

Tagged: ill communication