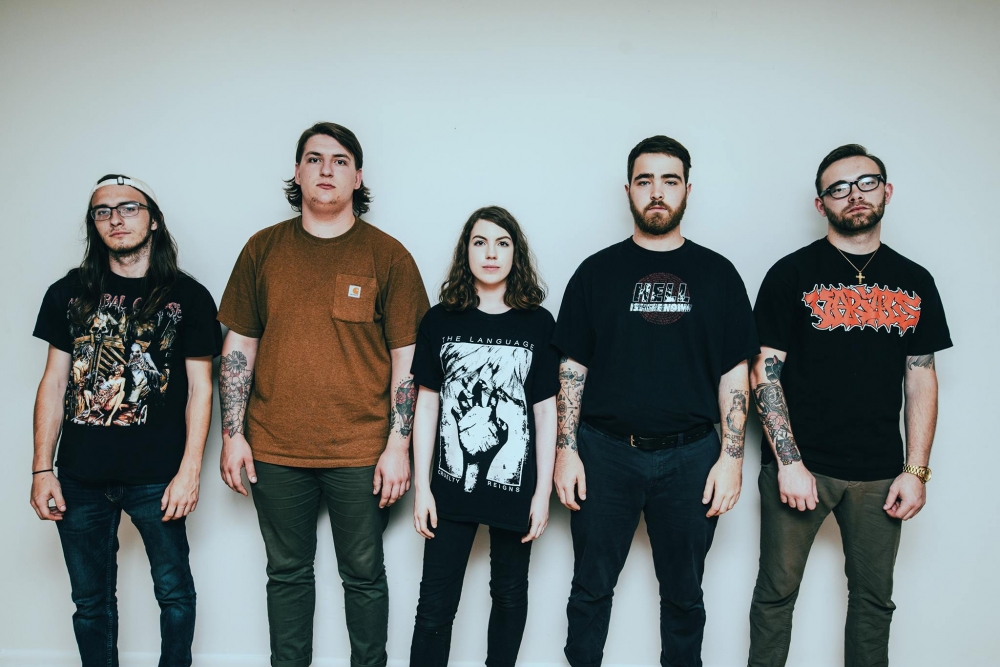 If you're seeking out metallic hardcore than leans in deeply into darker side of things, Bruise's recently issued Grief Ritual album will not disappoint. The cover art—seen below—features a blindfolded man pointing a gun directly into his mouth, a fitting image for the music its representing inside. When I spoke with Bruise vocalist Trae Roberts earlier this year, he told me the lyrics to lead-off single "Sands of Time" spoke of "themes of depression and thoughts of suicide," so, yes, this isn't music to get all warm and fuzzy about.
With Grief Ritual out now and Bruise working the road in support of it, guitatist Culley Burton wanted to give props to a few of his favorite albums to come from fellow Indiana bands. As you'll see below, his list is eclectic and might hip you to some stuff you might have missed before.
Reflections of a Psychotic Past — Radiation Sickness (2012)
This was the last record this band put out and it's stupid fast and stupid heavy. This album has one of my favorite riffs ever in the song "Tripping in the Seas of Madness." Straight forward and kicks ass.
FFO: Electro Hippies, old school death metal, riffs
My Emperor, I've Failed You — We Love You (2017)
The first time I saw this band was in 2014/15. Their live performance was so overwhelming and left me wanting even just 5 minutes more. For being an softer band, they have so much power. This album is nothing short of that. Love this band and love these people.
FFO: I don't know, other emo bands
Joint or Die — DOOMCOW (2017)
This band just fucking rocks. Doom/stoner grooves until you're high off the riffs themselves.
FFO: Sleep, Electric Wizard, weed
Wolf//Lamb — Sermos (2018)
This one is a pretty new release. This band is absolutely 100% better than mine and your band. Blackened death metal with some hardcore influence and just a drop of Crowbar, Sermos has been ripping out the hardest jams in the circle city since they were way younger. Hopefully you see them in a city near you soon.
FFO: Behemoth, Belphegor, Suffocation
When All Became None — Coffinworm (2010)
I'm kind of the only one in my band that has a huge taste for black, death, and doom metal. Coffinworm was this really cool blackened doom band from Indianapolis. An old bandmate of mine used to be super into this band and got me into them. Some seriously evil shit.
FFO: Thou, Cough, Wretch
***
Bruise's Grief Ritual is out now via Unbeaten Records and can be ordered here.
Tagged: bruise