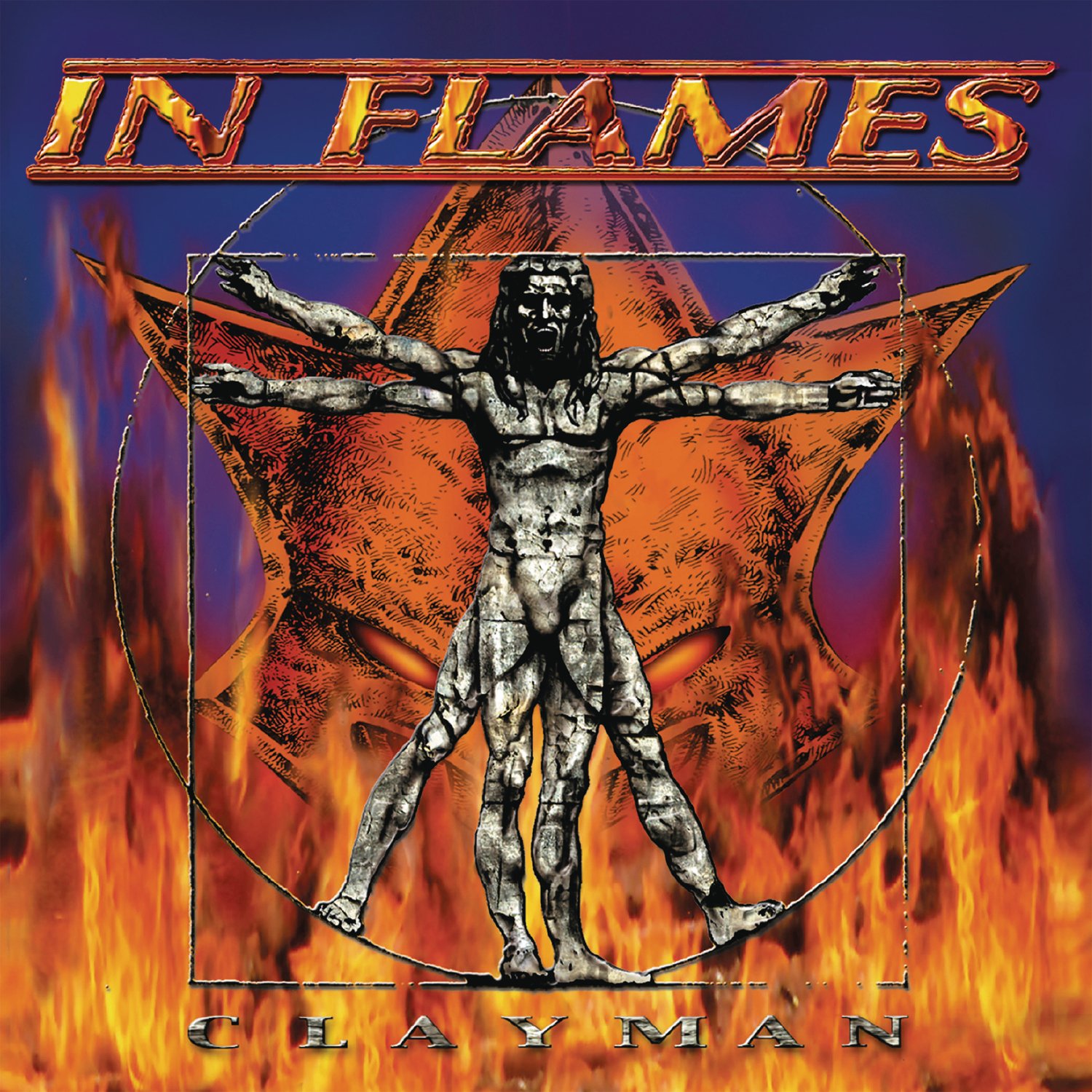 In Flames are Sweden's second best death metal band. At the Gates will always remain the kings. However, in 2000 In Flames returned to present the world with their iconic, debatable and consistently interesting fifth record; Clayman.
Following up their amazing record Colony, the band obviously had a task on their hands and it would take a huge effort to craft a more substantial artistic display than what was brought to life on their fourth record.
So, with this in mind the band approached the death metal genre with a whole new vision. Rather than use their same formula, they mustered a plan to change the writing and stylistic approach. Although some fans found this hard to digest, the hooks, the melodies and the soaring choruses have stood the test of the time and Clayman remains an undoubtedly fierce and groundbreaking album.
Featuring the same lineup found on Colony, but with the identity of the record even more based on the tremendous guitar work of both Jesper Stromblad and Bjorn Gelotte. Vocalist Anders Friden achieved his vocal peak on this album and displayed just how fluent and talented his lungs are from the first note to the last and the duo Peter Iwers [bass] and Daniel Svensson [drums] provide an immense rhythm background.
I've never been to Sweden before. Ever. However, if I ever visited Gothenburg I would be apprehensive and ready for a conservation with the locals about death metal. Of course, it is only fitting that this album was created in Gothenburg. This record was incredibly successful and took In Flames to a level where they were the talking point of the worldwide metal community at the beginning of the new millennium.
Although this was a somewhat jump ship affair and put a sense of fear into listeners as to what the genre might contain towards the end of death metal's most successful and only worthwhile era. The album is a classic and is a clear pivotal and evolution of a genre and In Flames were true innovators with their approach to Clayman. But overall, I have never understood the criticism and why people are so shocked by the change when working their way through this band's catalogue.
Clayman quite prominently features the bands classic guitar lines, a thunderous rhythm section and the contant and amazing growling vocals. The atmospherics shine through with more clarity than on Colony which bare in mind came on year prior to Clayman showing just how much the band matured in a short space of time.
So few bands can turn their sound around in such a short space of time and by doing so created a modern classic.
However, despite this album coming at the very end of death metal's most popular and only really worthy period, this record is a true death metal experience. The band using innovative ideas on Clayman did cause various frowns from fans of the band and death metal in the year 2000. But 20 years later it is obvious why Clayman is a singular death metal record that took the roots of the genre and added creativity to them that nobody had done at the time and nobody has done since.
The courageous, major key guitars, the blast beats, the tasteful acoustic guitar, the death growl, they're still here, raw and fearless. Unlike the lyrical fixation with mythology on previous albums, most of the songs on Clayman deal with personal issues. Showing a more poetic and educated approach to the lyrics adding to the honest artistic approach on this album. Showing the development of vocalist Anders Friden as an artist.
This record also planted a seed for In Flames future strengths. The faster more melodic approach to death metal can be hard all over this record while complementing the elements from the first four records such as then Iron Maiden inspired twin lead guitars and an ever so versatile vocal performance that when combined with a rhythm section that is stronger that what every nu-metal band was doing in the year 2000 it is clear, even twenty years later, why this record made such an impact and engaged such a wide variety of listeners.
Although every chorus on this is very mainstream oriented. With the layers and key changes feeling very tactically placed, it is clear when examining this aspect why fans judged this move.
However, I would say it is a clear stroke of courage, experimentation and very modern approach to the death metal in regard to the year it was released. The lyrics are so a more intellectual approach with the themes revolving around astronomy and inner struggles.
A very refreshing approach to the death metal lyrical approach, once again taking In Flames to a level where most have failed to venture. Some may say that this is In Flames last good record, others may say this is the anomaly in their discography, an album containing an almost middle child like syndrome. With the band acting out of their uniformed behaviour for some desired attention, however personally I feel these musical actions are so brave,intelligent and impressive.
Production wise, Clayman was the freshest and most clear this band had ever sounded when this was released in comparison to their previous four records. The bass guitar sounds exceptionally great on this record. The frequencies are balanced so nicely with the low end providing a solid backbone for the guitars and the string sounds coming through to obtain the added melodies within the rhythm section. A very considerate touch for death metal record.
The experimental guitar approach also plays as a strong positive for the band. They are tuned all the way down. Tune low, play fast is the motto on this record and it certainly works. The thick heavy constant distorted is magnificent and the melodies displayed in such a dark tone are juxtaposition but intriguing. The guitar playing is also a true display of melodic death metal.
Although some may leave their final comments as this is where In Flames started to deteriorate. Clayman and its much loved sibling Colony is absolutely the peak of this band. The Ideas displayed, especially on Clayman, are so diverse and amazingly engaging. Each track has a stand out element and this record is exactly what death metal need
At a time where the genre has truly delvined In Flames picked it back up, Clayman stands alone and will always be that record that never pivotal influenced too much and it never really got death metal back to a pace where it was a pivotal talking point for heavy music. However, it is timeslessy excellent and shows just how versatile death metal can sound.
Clayman is a loner but it is a monumental force of creativity and never ending enjoyment.
***
Pre-order the Clayman 2020 anniversary re-record release in various bundle options directly from In Flames.
***
Donate a few bucks to help with No Echo's operating costs:
***
Tagged: in flames