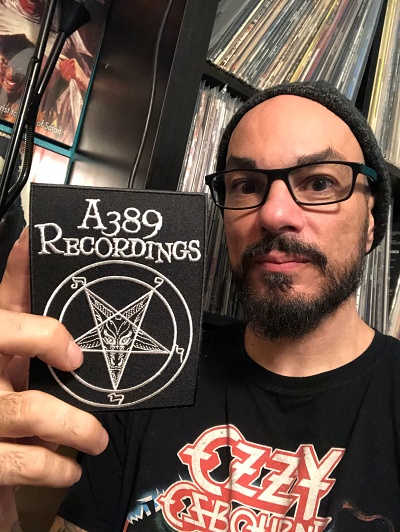 From 2004 to 2018, A389 Recordings was behind some of the most sinister-sounding hardcore and metal releases of its era. Ringworm, Full of Hell, and Integrity are just a few of the many bands that released material through the Baltimore-based label.
Behind it all was Dom Romeo, a musician who has played in many bands throughout the years, including Pulling Teeth, Day of Mourning, Slumlords, and most famously, the aforementioned Integrity, who he's still currently writing and performing with.
Dom and I are old buddies, and while we usually spend our chats talking about records most people don't care about, the other day he texted me the news that he is planning to resurrect A389 Recordings in 2021.
In this exclusive interview, Dom tells me the story behind his original decision to stop doing the label, and what led to its return.x
First off, why did you decide to shut the label down in 2018? Were you burned out on the whole thing at that point? Did you lose a lot of sleep making that decision when you did?
Thankfully, it was something I never fell out of love with, it was just something that I no longer had the time to do properly. I was juggling being married with three young kids, a career and various side hustles and eventually all my phantom time dissipated, and I realized that I had to let some things go.
Looking back, I should have just slowed it down to a crawl since I was still phantom releasing records under aliases. I still was involved in a lot of stuff behind the curtain.
I think I needed to feel like I had a clean break from A389 so that it wouldn't nag at my mental state anymore.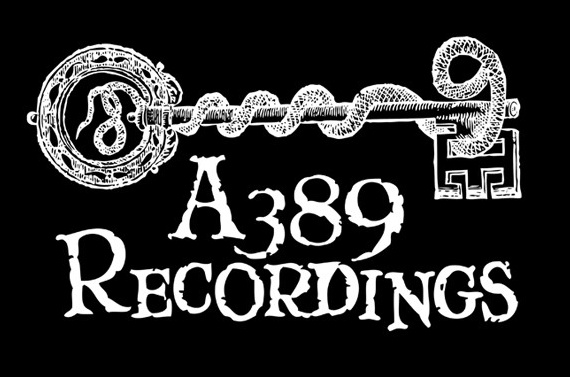 Were there any records that you had planned on releasing that you had to end up cancelling?
I was really excited about the Despise You/Coke Bust 7 inch that ended up coming out on To Live a Lie. Despise You is one of my all-time favorite hardcore bands, so that was a bucket-list thing for me, but the timing couldn't have been worse. I ended up forfeiting it to Will who did an awesome job with it.
The Sex Prisoner LP that ended up going to Deep Six was definitely another great one that was hard to let go of.
The hardest one was probably Gatecreeper's Sonoran Deprivation, which went to Relapse Records.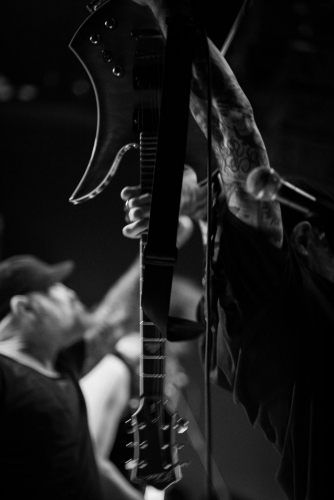 You've kept busy with your family, work, and playing/touring with Integrity in the time A389 Recordings was closed down. When did you start feeling the itch to resurrect the label?
I'm a very high-functioning personality (thanks to years of untreated ADHD) and am doing way too much at all times. Between COVID and being a single dad, I don't have a lot of options anymore as far as touring (with Integrity or anyone else) so I definitely had idle hands to occupy.
I wrote a ton of music when everything was first locked down back in March. I originally intended to make a mixtape with a bunch of songs from made-up bands (like an actual dubbed cassette I was going to give to my friends) but as things progressed, some of the projects developed quickly and turned into actual bands.
So…asides from the new Integrity album, I also have 4-5 other records on the other burners that I want to see through. I figured why not do it myself?
But the real deciding factor came as the result of cold calling a band that my friends and I grew up loving and fearing. That band is Cold as Life. After seeing the 1995-97 Demos LP come out in Europe, I reached out to Jeff and Roy and attempted to woo them into letting me do Born to Land Hard.
Thankfully those conversations went well, and they trusted me to do the record with them. In true A389 fashion, the impossible became possible.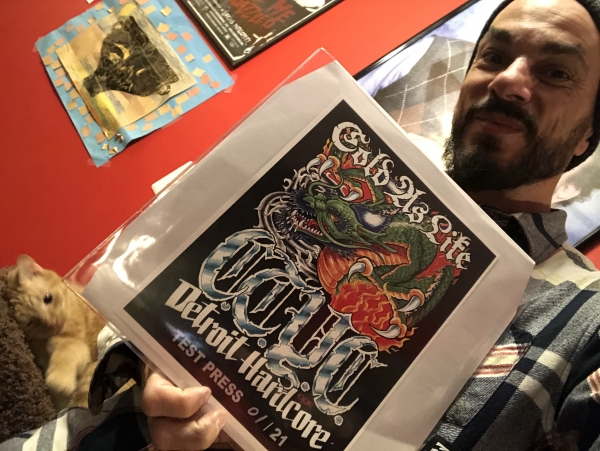 What can we expect from A389 in 2021?
First thing to happen will be Cold as Life's Born to Land Hard album released on all formats. The album has been completely remastered and sounds meaner than ever, and the layout has been improved using better source files to create a truly definitive version of the album for 2021.
We're also planning to do the same to the other Cold as Life releases, and believe me I had to fight my ADHD to not try and do everything all at once [laughs]. But yeah.. remastered versions of Declination of Independence and the Rawn demos are in the pipeline as well.
Jeff and Roy from Cold as Life have been involved in every step of the process, so I think that fans of the band are really going to appreciate the end result.
After that I plan to start releasing very limited pressings for some of the projects that I've been working on with Joshy (Ilsa) on drums. I think anyone who's enjoyed what I've done musically for the past 20+ years will be happy with what's coming (and surprised as well).
I've held off on announcing them since I want everything to be perfect and in place, but two of them are far along enough that I'm comfortable revealing some of the details. One of the bands has Scott Angelacos (Bloodlet, Junior Bruce) on vocals and another has Mike Score (All Out War) on vocals.
There are three more bands I'm tying up including one that's really going to turn some heads if it all turns out as planned.
On top of that, Dwid and I have been working the new Integrity LP (for Relapse) and that's been really intense. Maybe we'll have some extra songs to play with and do a cool release with…who knows. I'm just excited to be able to do this again.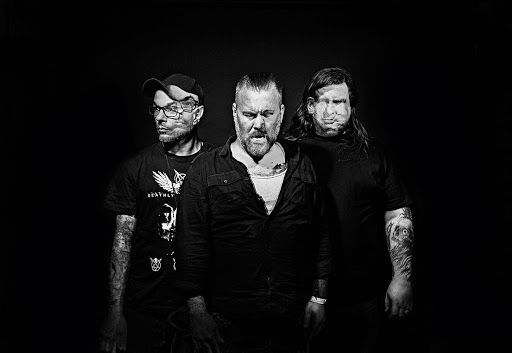 Are you approaching running the label in a different way than before? I imagine you learned some tough lessons, including some financial ones, the first time around.
I definitely had my share of highs and lows, but the greatest wisdom in life comes from experience. I've always tried to make sure all of my stories have happy endings, and at this stage of my life it's more important than ever.
One pearl of wisdom I definitely picked up was "not everything needs to stay in print." Sometimes it's best to let certain titles live out the rest of their days in the digital realm.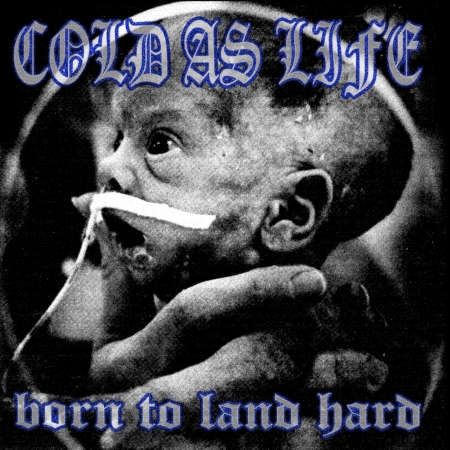 Well, I'm excited about the label's return, and all of the interesting projects you have coming out. Is there anything else I missed?
I've put up a few A389 and Cold as Life shirts for sale to kick things off and raise some label funds for mailers supplies etc. Check out the label's online store and pick something up or visit the A389 Recordings website to get reacquainted with the label.
Cold as Life Born to Land Hard will be ready to order in early 2021.
**Stay tuned to No Echo for an upcoming deep interview feature with Jeff Gunnels of Cold as Life in the coming weeks.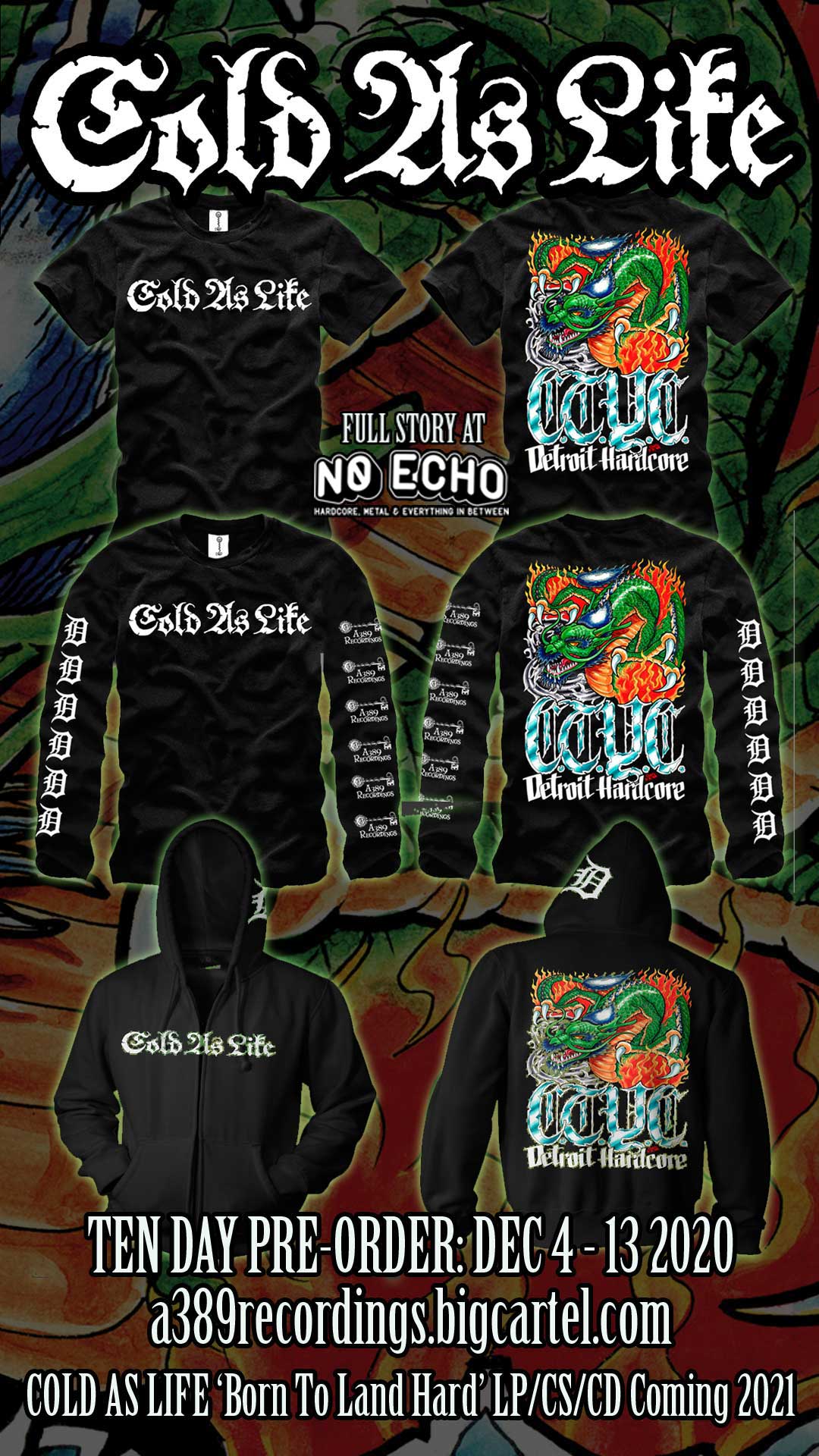 ***
No Echo has launched a Patreon with 3 tiers offering all kinds of hardcore-related goodies to help support the site:
***
Tagged: cold as life, integrity