Bricks Avalon is the vocalist of Louisville, KY hardcore band Miracle Drug. This is the third installment of his new interview series where he chats with folks from the hardcore community about their career in the real world. This time he chats with Piece of Mind bassist Duston Anderson. —Carlos Ramirez
Hi, Duston, tell me a bit about what you do outside of playing bass in Piece of Mind.
I am the Operations Manager of a 500 cap all ages venue in Tulsa, OK [The Vanguard], and I play bass in a band called Piece of Mind. I essentially facilitate good times both for fun and professionally.
Did you choose that position or did the position choose you?
I would definitely say it chose me. I love it, and feel extremely fortunate to have the life that I have, but I cannot say that this came about because of any planning on my part. I was in the right place at the right time and willing to work.
Where were you, when you were in the right place at the right time, and what made you think you could handle a venue of that size?
The right place at the right time took the form of me needing any work I could get and still be able to tour about 7 years ago. I started out here occasionally helping to load bands in, and working security shifts. We had leadership staff turnover and no one else really stepped into the roll, so I just started doing the work that I knew needed to be done. Finding myself in charge of the entire operation was an extremely organic experience. I learned every skill while on the job and I am still learning today.
I never thought about whether or not I could handle it. I just took each task as it came at me, and learned as I did the work.
Do you feel you are at the top of your game? Is a 500 cap venue your career capped out, or do you have bigger plans?
I definitely have bigger plans. We actually have building permits waiting to be approved by the city so we can expand the capacity of the current venue by about 200.
I think because of my age, people forget that I am still very green in this world. I didn't book a single show until 3 years ago. I am proud of some of the things I have accomplished in that amount of time, but I am constantly thinking about the next project. I don't know how to be satisfied with my own work. I am my harshest critic, and I always believe I can improve. I don't have concrete plans as much as I believe that doing the very best you can from where you're at will naturally turn into bigger and better opportunities. I like not knowing exactly what's next, honestly.
Will you share your age?
[Laughs] Of course, I just turned 36.
How do you maintain your physical and financial stability for you and your family while working unconventional hours and touring often?
Financial stability has been achieved by virtue of being on a salary the past 3 years. I can do most of my job from a laptop or phone, so that has been very convenient. You and I probably never would have met, if it weren't for these circumstances. As of August, I am on hiatus from touring. We found out that my wife is pregnant at the end of July, and are putting all of our focus into preparing for that arrival in February. Physical health isn't something I feel super qualified to speak on, but getting plenty of sleep and drinking plenty of water seem to be helpful. Seriously though, working in the club environment, it would be very easy to slip into a habit of drinking every night. Fortunately, I hate waking up feeling like shit, a lot more than I like feeling buzzed the night before.
Congratulations, on the extension of your family. How has being deeply rooted in the punk and hardcore scene helped your work ethic and have you had any conflict of interest because of it?
Thank you. I think the work ethic came first for me. I was raised on a small farm and was taught from a very young age that life is hard and that I have to work hard. Finding a home in the hardcore community felt like such a natural fit with the ideas of self reliance, hard work, and humility.
There are times working in this industry that I have to promote events for bands and artists that I don't personally care for, or that I have differing social and politics views from, but that's just the reality of life. We don't get decide what kinds of ideas are floating around inside all of our coworkers heads, and most work environments prevent you from ever even knowing these sorts of things. I just happen to work in a field that is extremely public. I have never, and will never, promote an event for any acts that are openly racist or homophobic, but I also wouldn't work for someone that would ask me to do something like that.
Have your coworkers and staff become more interested in hardcore DIY shows because of your involvement? What has been your favorite show(s) to date?
My staff is mostly made up of local musicians that come from wildly varying musical backgrounds. It's been cool to see them enjoy some of my favorite bands for sure. None of them are running out to buy a Minor Threat record, but I catch them listening to hardcore occasionally, and they definitely enjoy the culture.
More so, I have tried to bring ideals from the hardcore community into the local music scene as a whole. I am constantly preaching community over competition to my local bands regardless of genre. It's been incredible to see these bands work together to create something larger than what any one of them could achieve on their own. We regularly have shows with just 4 or 5 local bands and see turnouts of 200-400. It's amazing. Those are my favorite shows.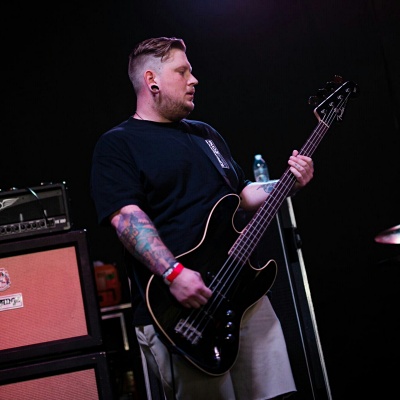 Do you have any crazy experiences that you would be willing to share from being at the club?
I've had some really fun experiences. I don't know how crazy they were. We have hosted BDSM events where they teach you how to spank properly and things like that. I've gotten to see a lot of performances that I wouldn't otherwise have seen and met a lot of cool people. We have hosted a street punk festival called Fuck You We Rule OK for the past 7 years, 6 of which I have been here for. The second year of the fest Who Killed Spikey Jacket? was the last band on the last day. Them and the crowd immediately started setting off fireworks that they had snuck in, including bottle rockets, and Roman candles.
They dumped every trash can in the room. I was not in charge of anything at the time, so I just watched as the management at the time begged the band to stop playing, then resorted to cutting power to the stage. Of course, the drummer just kept going and we had about 350 street punks chanting "Spikey Jacket! Fuck You!" until the smoke from the fireworks overwhelmed them and they flowed out into the street. It was a huge mess, but I honestly couldn't blame them. If I had been in attendance instead of working, I would have been right there with them. I love that I get to be a part of a venue that can facilitate memories like that.
Was it a little dangerous? Yeah, probably. Did anyone get hurt. No. And people still talk about that every year. It's part of the lore. Big thanks to Tony and Michelle for allowing us to be a part of their fest for so long. It's one of my favorite weekends every year.
Has anyone asked you to help them get started with a venue, or do you plan on mentoring anyone? And what would you offer someone who is trying to get started on the path that you are on?
I don't get a lot of questions about opening venues. I do get questions about how to get started in the music industry. I keep telling people that my path in was unique and it was a mix of luck and hard work, but I always think working hard is good advice. Find where you are useful, and make yourself indispensable. I have some younger local musicians that ask me for general band advice from time to time and I am always happy to chat with them, but I wouldn't describe myself as a mentor. I think it's important for people to find their own paths. You learn more and become more resilient that way.
If someone wants to get at you to chat about anything, can you be found?
I am pretty easy to find. My first and last name are my @ on all of my social media, nothing is set to private, and I respond to every legitimate message people send me.
Honestly, just sending me a message through Facebook Messenger is going to be the quickest way to get a response. Thanks so much for chatting with me man, I really appreciate your time. Of course. I feel very weird talking about myself [laughs].
You should.
[Laughs]
***
Donate a few bucks to help with No Echo's operating costs:
Tagged: piece of mind, work hard play hardcore