Bricks Avalon is the vocalist of Louisville, KY hardcore band Miracle Drug. This is the second installment of his new interview series where he chats with folks from the hardcore community about their career in the real world. This time he chats with former Headrush vocalist Chris Lane. —Carlos Ramirez
Hi, Chris! Tell me what do you do for a living.
I'm a licensed barber in Nashville, TN. I'm originally from Southern California and I believe we met while I was living in Columbus, OH.
What led you to Nashville?
I had a really good opportunity to join the shop I'm at now (Forty Ten Barber Studio) and learn from some really incredible barbers. When I first got licensed, I wasn't very good at cutting hair [laughs], so I needed some direction. Chris Salazar, one of the owners of Forty Ten, used to play in bands and stuff from here so we had some mutual friends. I did a couple of guest spots when I came to visit, and he eventually offered me an apprenticeship at the shop, which I jumped at since I really wanted to learn.
So, hardcore helped pulled your career in a new direction?

Yeah, I mean, I've been involved in hardcore since I was 14. I'm now 30, so I think it's safe to say that every friendship I've made since then has been because of hardcore, and that's really cool to me.
How many roles have you played in this scene, besides being a showgoer, in your 16-year involvement?
I've pretty much done it all. I've fronted bands, I've played bass, I've toured, I've booked tours, and I've booked shows in whatever town I've been in. I think mostly though, I've fronted bands or booked shows. At least that's what I do now in hardcore
When and how did hair enter your thoughts?
When I first got into hardcore, there was a guy named Dylan Johnson who had played in a local band. He was like 7 years older than me and covered in tattoos. He was the first person I had met that was like that, so I assumed he was a tattooer and walked up and said, "I'd really love to get tattooed by you when I'm old enough," to which he replied, "I'm not a tattooer, I'm a barber." He's really when I understood that being a barber was a career where I could be and look myself. It's where it first entered my mind as a possibility. I ended up touring and stuff after that, but when I had reached the end of touring it was an idea in my head still.
We're actually still friends, and he knows that he was my first real inspiration
Do feel established as a barber now both with steady clientele at your shop, and financially able to feel settled in your career into the future?
I have a pretty solid clientele but I also have room to grow and more clients to gain. I'm able to pay all my bills and then some, but I still have goals to hit with that as well. As far as feeling settled financially, I'm currently making more money than I ever have before, so I feel like I'm doing ok. I attend a lot of educational classes and try my best to learn new techniques when it comes to barbering too. In the '70s we saw a lot of barber shops close their doors because they couldn't cut longer hair. Now, we're seeing some of those styles come back into mens grooming and instead of getting left behind, I'm learning how to do those cuts and stuff too.
Are you a contractor or an employee and In what ways has your hardcore ethic and DIY spirit helped and or hurt your business?
I'm currently a W2 employee at Forty Ten Barber Studio, which is sort of unheard of. I work on a commission percentage that's the highest in the city. This means that I'm well taken care of and if I'm doing well, the shops doing well. Hardcore and the DIY ethos has only helped me. By booking shows, you meet the people who are like you. Who have the same interests as you. Instead of passing out flyers to people who aren't into hardcore, I'm passing out my business cards. When I first moved to Nashville, I printed off flyers that looked like hardcore flyers promoting me as a barber. I think the DIY philosophy has only helped me as a barber. It's a similar grind, you know?
Indeed. Is this the furthest you want to push it, or are there more goals you have in your industry? Like traveling or teaching or owning your own shop, etc.?
Ideally, I'd like to travel to cut hair at events and stuff. If that includes representing a product company or a clipper company while doing so, I'm not opposed. I just want to do that with a company or brand or organization that I believe in genuinely. If I could get involved with an organization like Idle Hand Collective or something similar, that'd be awesome to me. Hangout with other barbers who are into the same ideals I have? That sounds great!
I won't lie, though, I have thought about converting a short bus or a camper trailer into a barbershop and just do the events myself too. I guess we'll just have to wait and see what happens!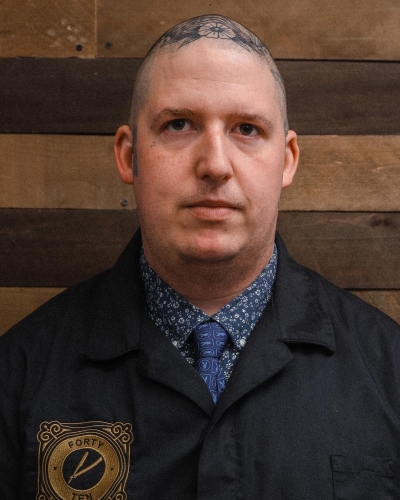 What is one of your favorite soundtracks to work to? Do you switch it up based on clients and how often does a client influence the music in the shop?
I think if I'm in control of the radio, I always put it on either Minus the Bear radio or maybe Bob Seger Radio. Sometimes I put on '80s hits. We get young clients, old clients, and kids so the music needs to be sort of middle of the road as far as heaviness and language. There have been times where I listen to bands like Fiddlehead, but most of the time it's one of the 3 stations I mentioned earlier.
What is one most interesting situations you've faced in your chair?
As a barber, you hear it all. The highest highs from a client, and then the lowest lows from another. I mean I've had some producers in my chair who have made some of my favorite records of all time. I've had WWE stars as well. The ones that stand out are the hardest ones. Where maybe a client is going through a divorce that he never saw coming. Forty Ten is 465sq ft.shop, so you have to figure out ways to keep clients breaking down with emotions private the best you can. You learn quickly that this is a job where it's more important to listen and be judgement free than it is to offer advice all the time.
Do you recommend your career to others, and have you mentored as well?
I recommend barbering to anyone who's interested. It's probably the best thing I've ever done for myself, and would suggest barbering or another trade to anyone who will listen.
I think that there's so much pressure to do the college thing, and there's nothing wrong with that, but there are people who the traditional college route isn't for. Look into a trade, you'll be proud of the work you do and there's good money to be made.
As far as mentoring, you find out much later normally that people have been watching and have been influenced by you from afar. I would love to mentor young people who are interested in barbering in a more active way, it just hasn't happened that way yet.
How can someone reach you if they want to?
If you're looking to book an appointment for a haircut, you can book that online at fortytenbarberstudio.com or you can find me at @BarberChrisLane on Instagram. I book shows in Nashville under AM/PM Booking, and play in a band called Glimmer:
***
Donate a few bucks to help with No Echo's operating costs:
Tagged: headrush, work hard play hardcore