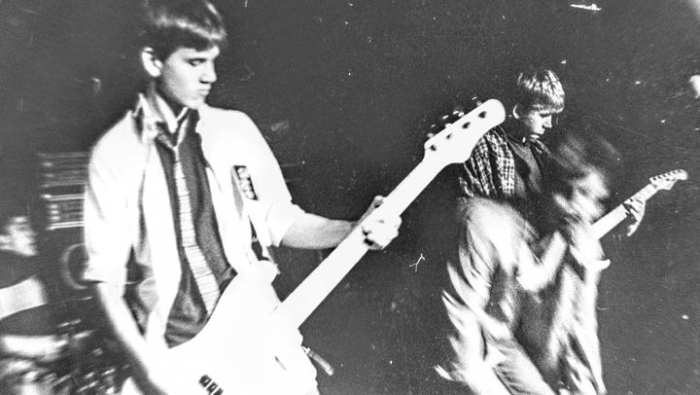 If you were a skateboarder before the advent of YouTube, home videos like H-Street's Shackle Me Not and Hokus Pokus. Featuring such influential skaters as Danny Way, Ron Allen, and Matt Hensley, the films included music from Kirk & the Jerks, a garage band from Lancaster, Pennsylvania that wrote killer tunes.
Formed in 1986 by former Nobody's Fool members Kirk Rice and Dave Benner, Kirk & the Jerks got on the H-Street radar back in the day thanks to pro skaters Steve and Art Godoy, who were also from Lancaster.
Though both Shackle Me Not and Hokus Pokus made a big impact on the skate scene of its day, Kirk & the Jerks never truly capitalized on that, and their recorded output has been nearly impossible to find.
The latter fact has led to H-Street partnering with Division Street Sounds Records to put together Kirk & the Jerks Discography, a forthcoming 37-song compilation. Check out a track called "Everything That Shines" from the compilation below:
As far as the band's run, Kirk & the Jerks would live in for a few more years, albeit with a couple of hiatus periods. Within that time, its members shifted their songwriting style, even adding elements of Sunset Strip-kissed hard rock to their sonic palette.
Kirk & the Jerks' last period of live dates and general activity finally came to end in 1996, recovening briefly in 2000 to record some older songs.
The Kirk & the Jerks Discography will be out on December 18 via H-Street/Division Street Sounds Records and available for pre-order.
The package include a Jerks vinyl record with 12 of their best songs, two CDs featuring all of the band's available material—37 in all—and a download code.
For the hard core collectors, there's also a special edition Kirk & the Jerks H-Street deck graphic in two shapes and two T-shirt designs.
***
Donate a few bucks to help with No Echo's operating costs:
***
Tagged: kirk and the jerks