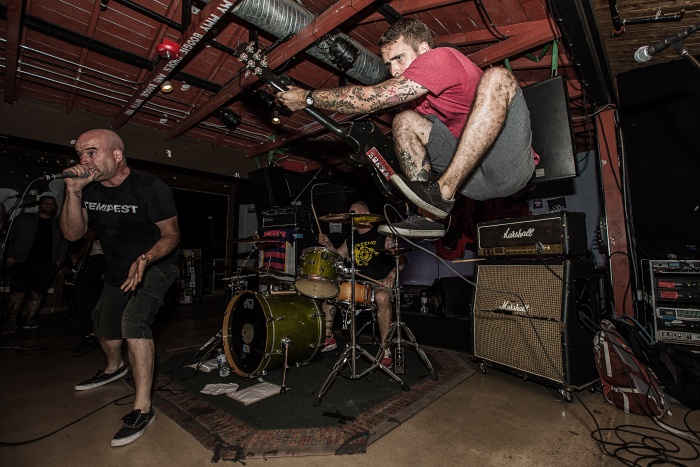 "This record lyrically was written during a particularly painful time in my life, and lyrically I wanted to explore a sense of despair and where that leaves us when we are wondering what to do next in our seemingly broken lives," Bystander vocalist Greg Bennick tells me via email. He's referring to Where Did We Go Wrong, the forthcoming record from the straight edge hardcore band he's been fronting since they formed in 2018.
Where Did We Go Wrong follows the group's eponymous EP from last year and Greg is psyched on the outcome. "Musically it's more diverse than our first release, and I think shows a progression or creative approach that feels very expressive. Layers of melody at times. Mid tempo and catchy at times. Heavy and really dark at times. It's got quite a bit going on in the seven total songs." With a July street date, the new Bystander is being previewed on No Echo today via its scorching title track:
Greg offered up some background on the cut: "The song 'Where Did We Go Wrong' looks at how we put on an air of strength and indestructibility in hardcore and how vulnerability is often lost. I've felt so vulnerable since last fall and wanted the song to reflect that. I have spent a lot of time recently with people in and out of hardcore who pride themselves on strength but in the process of doing so kill off their own gentleness and compassion. The lyrics say 'feigning strength / only makes us weaker as we go' and that captures the essence of it."
While we exchanged emails, I asked Greg to give some more background on the rest of the EP. "Other songs explore a wide range of topics. One song looks at death and how we respond to the loss and uphold the memory of loved ones who are gone. Another looks at how self protection yields distance in personal relationships 'with no risk between us there's no reward / so was it worth the cut and how we bled when you fell upon your sword?'"
"Lyrically speaking, I am so incredibly happy with the record. It's got pure heart in it. Writing these lyrics saved my life. Quite honestly I was feeling completely broken from Christmas Eve until the end of April 2019, and during the darkest most hopeless of those times, writing this record lyrically carried me through. There's so much genuine love and authentic expression of pain and loss in it. And so much hope for new connections beyond the old agonizing ones."
Where Did We Go Wrong will be released by Safe Inside Records on July 12. Pre-orders just went live at this link.

Bystander will be heading out on an 8-day European tour on July 28 which will kick off at Fluff Fest alongside such bands as Ceremony, Arms Race, The Body, Wake of Humanity, and many others. See all of the tour dates below:
Tagged: bystander