In a surprise drop, Terror have just unleashed Sink to the Hell, a 4-track EP comprised of previously lost and unreleased material from their recording archives.
"A couple months into the pandemic, as all of our tours were getting canceled, we came up with the idea to create a website where we could post updates, unreleased material, podcasts, old photos, etc.," Terror drummer Nick Jett tells No Echo in an exclusive interview about the new release.
"If we couldn't be out playing shows then we would focus our energy on something different that could keep us active and give people something cool to check out. So we started scrounging through old recordings and demos to see what we could find and discovered a handfull of pretty cool tracks."
Sink to the Hell is being released by WAR Records, a label owned by Andrew Kline (Strife, World Be Free, Berthold City), a musician who has a long history of friendship with the guys in Terror.
"Andrew from WAR Records has helped us out a lot over the years," says Nick. "His label is doing great and we've always loved working with friends, so when Andrew asked if he could put these songs we'd been posting on the website together on a 7 inch we were like, 'Yes! Let's do it!'"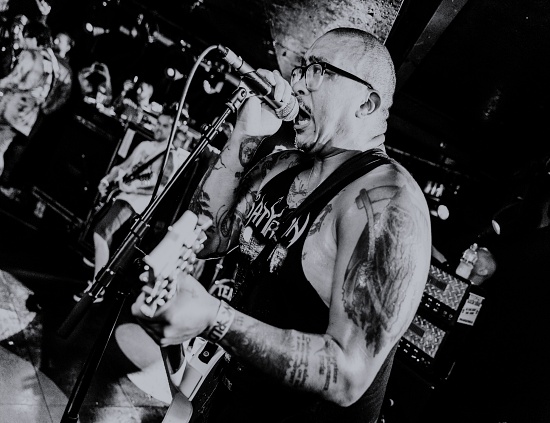 For some added context, Nick was nice enough to offer some thoughts on each of the 4 tracks on the new EP:
"Sink to the Hell"
It's a track that was written and recorded for the album Live by the Code. There's usually extra songs that get recorded and get used for compilations, international releases. This one fell through the cracks and never made it out. We slightly changed the drums on the intro but other than that it was pretty much complete so we mixed it and that was it.

"Don't Need Your Time"
That one was written and recorded during the Keepers of the Faith demoing process. At one point, a couple months before going into the studio for Keepers of the Faith, we set up in [guitarist] Martin's garage and recorded a bunch of songs. Most of them were premature versions of what ended up on the album.

This song did not make it to the studio but when we revisited it, we really liked it. But it was only music, so Scott wrote lyrics and we went in the studio and recorded vocals. Definitely cool to finish a song you started 10 years prior [laughs].

"The New Beginning"
This was another song from the Live by the Code sessions. Sometimes the songs don't work out fitting well with the other songs on the album and they get left behind. But when we revisited this song we loved it. Nothing was changed to the track so we mixed it and that's it.

"You Lost All Respect"
This song was originally demoed during the Keepers of the Faith writing process. The demo was recorded using programmed drums so we went into the studio and recorded live drums to the song. The opposite of what you usually do recording drums first haha.

Other than that we touched up Scott's vocals and few guitar parts and it was good to go.
Nick fills us in on the rest of the recent action in Terror World: "One of the things we started doing was tracking podcasts featuring each of our albums and bringing on past members to talk about the records. That has been really fun.
"We also organized a pop-up for the 10-year anniversary of Keepers of the Faith. That was great to be able to see some friends and hang out with with everyone. Everyone was excited to just talk and catch up and it kinda filled the gapped for there being no shows for so long."
While it's obviously tough to prepare for an uncertain future, but what are Terror's upcoming plans? "We're hoping we can through all of this soon and that everyone stays safe. We can't wait to eventually get out there and play some shows.
"In the meantime, we're writing for a new record and will most likely record in early 2021. So, at the moment all of our energy is focused on coming out of this with the best record possible!"
Sink to the Hell is available now on vinyl via WAR Records. If you prefer digital, it will also be available on the Bandcamp page.
Terror on social media: Facebook | Twitter | Instagram
***
No Echo has launched a Patreon with 3 tiers offering all kinds of hardcore-related goodies to help support the site:
***
Tagged: terror