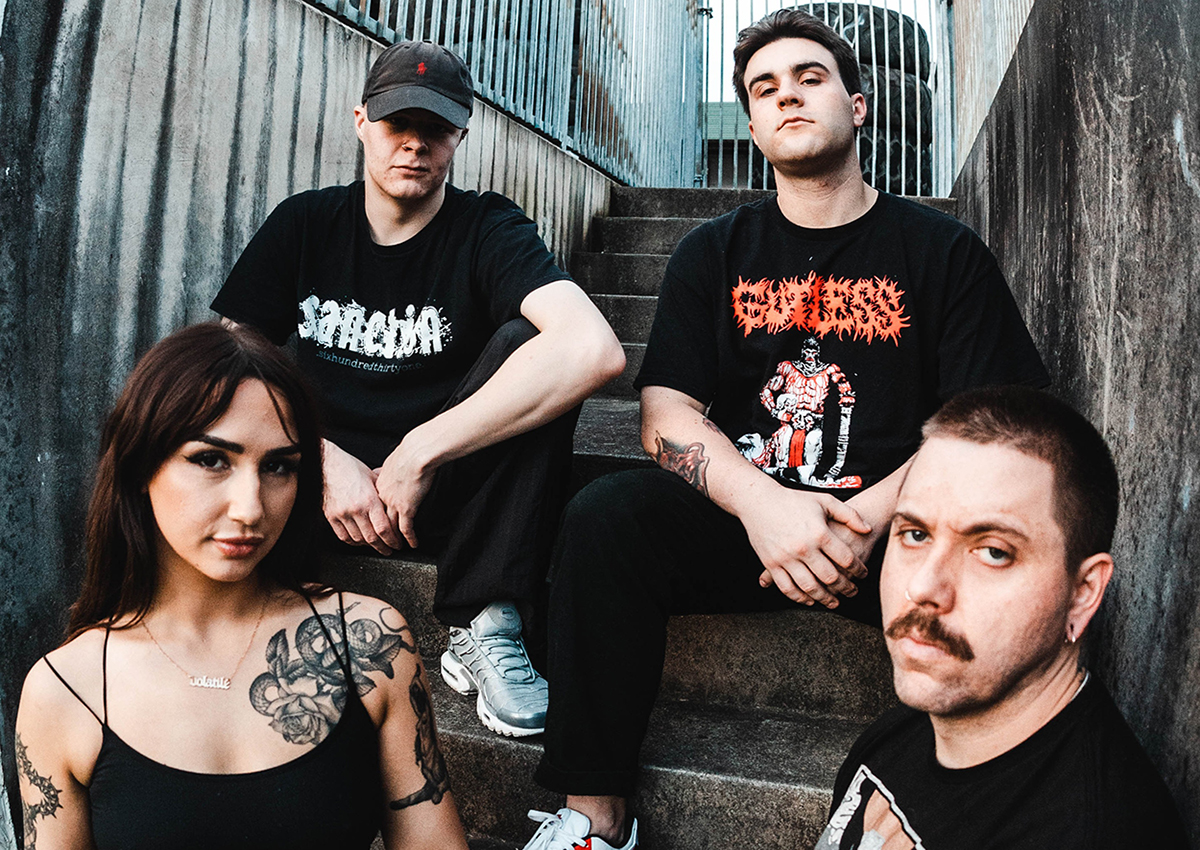 Australian export Volatile Ways aren't here to fuck spiders. Which, for those unfamiliar, is just a fancy (and regionally specific) way of saying that they don't like to fuck around.
Their songs are short and to the (hollow) point, the riffs are cinderblock-heavy, and frontwoman Emilly Beekmans' caustic vocals sound like they're patched in from the darkest depths of Hell itself. It's no filler, all killer, delivered as blunt-force sonic trauma.
On their latest single, the Newcastle quartet posits what could possibly be deadlier than their already explosive mix of deathcore, slam, and beatdown? Easy answer: Assume the position and take a swift double-tap to the dome. "We could make a track about a list of people you want to shoot in the head," says bassist Lewy Glass (also of Honest Crooks).
"'Pink Mist Wish List' was born from one of many song names that I randomly jot down in my phone notes as they come to mind. I enjoy writing lyrics and often put together songs from the aforementioned names just for fun, as Emilly and I both write lyrics… Then I assign one as a working title when writing the instrumental and adjust the lyrics to see if they'll fit the feel. What came lyrically was equal parts beauty and brutality: describing someone being walked through a gallery of morbid art to their eventual demise, becoming one of the pieces on display.
"Emilly and I had a lot of fun with wordplay and metaphors, aligning both a murder scene and literally painting an artwork on canvas."
Watch the video for the "Pink Mist Wish List" below:
With mixing and mastering from Elliott Gallart at Chameleon Studios Sydney, the track represents Volatile Ways at their most outwardly hostile. Death metal-inspired leads bristle against a thick and murky rhythmic backbone, allowing every two-step break and ballistic fight riff to reach their intended target.
On bringing their decadent, blood-spattered concept to life for the track's accompanying video, Glass continues:
"Originally, we had a different track in mind for a stand-alone single, then decided at the last minute to roll with this one after recognising how well the descriptive lyrics could work for a video concept with a lot of creative range. Emilly and I brainstormed ideas with Chris [Zagas] at Neck Up Media and had a blast with it. Emilly really took creative control of the narrative outfit and gallery decor, with Chris executing [pun intended] her vision perfectly."
Last month, the quartet dropped their Compendium compilation LP through Secret Swarm Records, pulling together remastered versions of their Condemned to Life, Burdened to Death EP (2020) and Demonstrations of Mass Destruction (2021) and You Died (2022) two-track singles, with stunning artwork and layout packaging from visual artist Caelan Stokkermans (Lorna Shore, I AM, Crown Magnetar):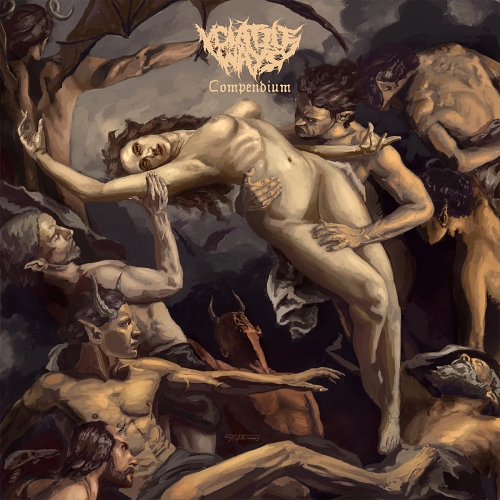 Volatile Ways will hit Australia's East Coast next week for a run of shows with like-minded violence purveyors Bloodmouth before joining up with The Acacia Strain and Dying Wish in January for the rescheduled dates of the 'Australiavania MMXXIII' tour.
"Pink Mist Wish List" is out now and available to stream/purchase here.
East Coast Australian tour dates w/ Bloodmouth:
Sat 9/23 - Bergy Bandroom, Melbourne
Thu 9/28 - Hamilton Station, Newcastle
Fri 9/29 - The Chippo Hotel, Sydney
Sat 9/30 - The Basement, Canberra
Sun 10/8 - Black Bear Lodge, Brisbane
'Australiavania MMXXIII' Tour w/ The Acacia Strain & Dying Wish
*re-scheduled dates for Jan 2024*
Thu 1/11 - The Zoo, Brisbane
Fri 1/12 - Hamilton Station, Newcastle
Sat 1/13 - Crowbar, Sydney
Sun 1/14 - Tattersals Hotel, Penrith
Tue 1/16 - UC Hub, Canberra
Wed 1/17 - Prince Bandroom, Melbourne
Thu 1/18 - Barwon Club, Geelong
Fri 1/19 - Uni Bar, Adelaide
Volatile Ways on social media: Facebook | Instagram | Twitter
***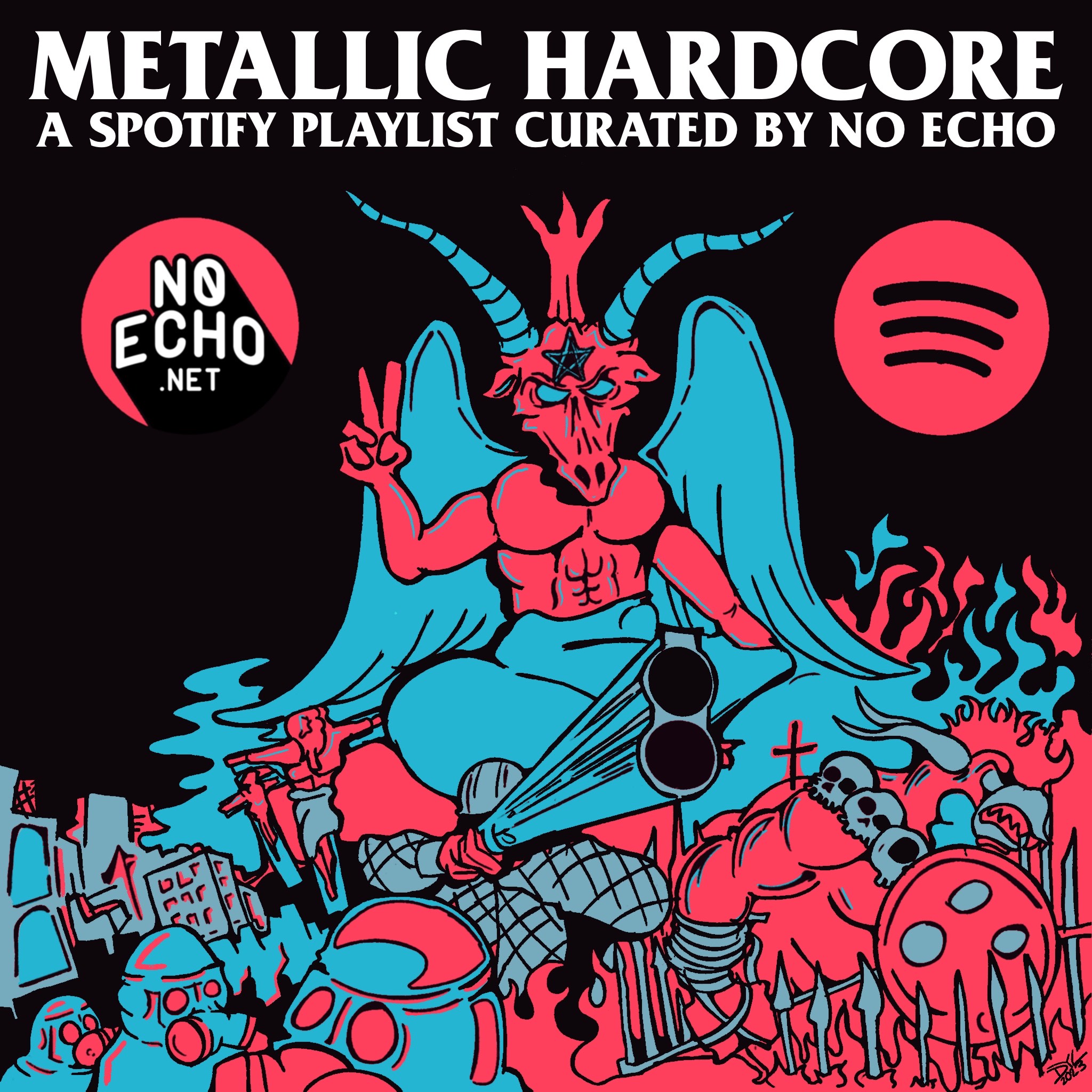 Tagged: volatile ways