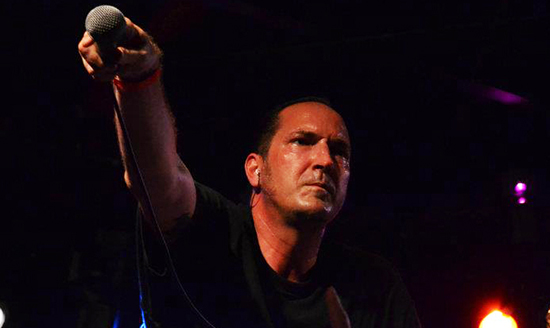 [Editor's note: I just got word that Jon died on Feb. 1 from undisclosed causes. This saddens me deeply, as I was not only a huge fan of his work, but he was also a friend. I'm just glad that he got to put out so much great music throughout his life. The following interview was done in late 2014, and covers his discography.]
Jon Bunch first made his mark on the underground music scene via Reason to Believe, a hardcore punk group he fronted in the late '80s. Signed to the Nemesis Records label, the Los Angeles band eventually had some lineup changes and morphed into Sense Field, taking Bunch into a melodic rock direction.
A seminal influence on the emo movement of the '90s and '00s, Sense Field would go on to land three major label record deals, before deciding to call it a day. Bunch then moved on to Further Seems Forever, singing on the band's third album, Hide Nothing, in 2004. Bunch would take some time off after parting ways with Further Seems Forever in the mid-'00s. 2013 saw him return with War Generation, a melodic hardcore band signed to Rise Records.
I had the pleasure of getting to know Bunch some years back, and I recently asked him if he'd be interested in doing an interview for this site. It was a lot of fun talking about his various musical projects throughout the past few decades.
Where were you born and raised?
I was born in 1970, in Harbor City, California, in the South Bay of Los Angeles.
A lot of kids that formed hardcore and punk bands in the '80s originally came from a heavy metal background. Was that the case with you?
When we were kids in the late '70s, we'd listen to AC/DC, KISS, Black Sabbath, Rush, Cheap Trick, Van Halen. The term "metal" wasn't being thrown around too much back then. When a kid in the neighborhood got a new record, we'd all go over to listen to it. TV was really bad, so listening to music was a big part of what we did to occupy our time.
Did you have any older friends or family members that mentored your musical tastes from a young age?
My best friend's older brother turned us on to a lot of records. A local radio station, KROQ, would play new wave and punk. That was around '82. But it wasn't until '83 that our friend, Mike Acosta, started making punk tapes for us. He played guitar as well. He encouraged me and my friends to start playing music.
What was the first band you ever played in?
Two of my closest buddies got guitars and my friend, Lance, played bass. We started attempting to play Bad Religion covers around '84. I sang because I didn't have an instrument. My first real band was Reason to Believe.
Perfect. Let's talk about Reason to Believe. How did the band come to be, and did you have a set sound you guys were looking to achieve early on?
In '86, my buddy, Chris, made a demo tape of songs for school and asked me to sing on them. We decided to start a band from there. He was heavily influenced, guitar-wise, by Rick Agnew from the Adolescents, and Chris Smith of Battalion of Saints. My favorite singers were Jerry A. from Poison Idea, Pete Stahl from Scream, and Greg Graffin from Bad Religion. We were influenced by the Washington, DC scene, Dischord Records, and by the punk bands and punk scene in the South Bay, where we lived. Bands like the Decendents, Black Flag, the Minutemen, Saccharine Trust, and the Nip Drivers.
SEE ALSO: 2014 interview with Leeway guitarist Michael Gibbons.
Reason to Believe signed to Nemesis Records, a label owned by a guy named Frank Harrison. That label put out some other cool groups like Uniform Choice and A Chorus of Disapproval.
I met Big Frank in '84 at Zed Records in Long Beach. I saw him working at all the punk shows in Los Angeles. He was an intimidating person to talk to at first, but I grew to know him over the years from the punk scene. He started Nemesis Records, maybe around '87 or '88. Reason to Believe had just recorded a 7" and he wanted to release it on his record label. Big Frank did so much for our band. He got us on bills with bands we always wanted to play with like the Dickies, D.I., Aggression, Scream, All, and Fugazi. He was very protective of us and looked out for us. He got us our first tour in '89. The thing I love most about Big Frank is talking to him about music, he knows so much and has seen so much as far as bands go. It's incredible talking to him about old punk shows. Gary Tovar of Goldenvoice was like the Godfather of punk in Los Angeles, Big Frank was like the Underboss.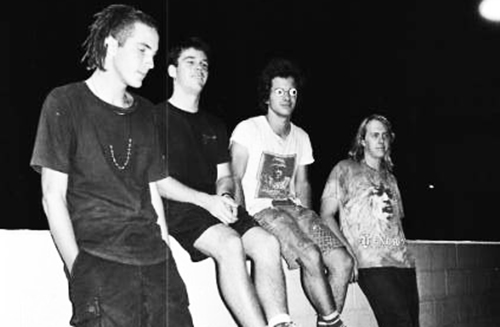 Reason to Believe then morphed into what would become Sense Field. What brought on that change? Was it just a matter of wanting to get a bit further away from the hardcore thing?
Reason to Believe was plagued with lineup changes. As hard as we tried, we couldn't keep a lineup intact. That was really a big part of why the band ended. We did Reason to Believe for at least three years, if not longer. The punk scene in LA felt dormant to me by the new decade. I wanted to be a part of helping cultivate something new.
My peers like Jawbreaker, Samiam, Operation Ivy, Pitchfork, Shudder to Think, Rocket From the Crypt, Civ, Farside, Gameface, Jawbox, Quicksand, Drive Like Jehu, Sublime, Seaweed, Far, Green Day, Rancid, Sunny Day Real Estate, and Rage Against the Machine, were all part of this new direction of music. Some called it post-hardcore. By the early '90s we were all punk rock kids playing in bands rooted in punk rock, playing our own styles of music.
Sense Field's first label, Revelation Records, released your first two demos as a compilation album. That's around the time I first heard you. I remember being struck by how unique your sound was. It wasn't like something I would expect from a "hardcore" record label.

The reaction was mixed at first. When we first started touring we were playing a lot of hardcore shows. We were the one band on the bill that girls could come down on the floor and watch without worrying about getting hurt at the front of the stage. So many bands started playing that Sunny Day Real Estate sound. The scene really started to change and evolve. We played with Sick of it All and they called us "emo," which is short for "emotional hardcore." We were kids that listened to the original emotional hardcore bands from the '80s on Dischord. So we didn't mind being tagged "emo" back then. Sense Field, Sunny Day Real Estate, Braid, Christie Front Drive, Jimmy Eat World, Far, and Mineral were all part of that second generation of emo bands.
How did you hook up with Jordan Cooper, the founder and head of Revelation?
Jordan was at all the early Sense Field shows. The scene was thriving. There were so many bands playing really great music. The shows back then were incredible. You knew something really great was going on in music. Jordan understood that this was another branch in the tree of hardcore. He asked us if we wanted to do a record with the label.
Sense Field's proper debut album, Killed for Less, came out during the height of the so-called "grunge era." What kinds of bills were you playing on in support of that record?
We were playing at the Maconda and the Jabberjaw, in LA, playing with a lot of the bands mentioned above. When we would tour, we'd play hardcore shows with a lot of bands that were trying to do the Earth Crisis thing. We eventually toured with bands like Jimmy Eat World, Samiam, Mineral, Into Another, The Mighty Mighty Bosstones, and Nada Surf.
You followed up Killed for Less with Building in 1996. I remember hearing rumors that Warner Bros. worked out some kind of upstream deal with Revelation Records on that album since they were going to sign you.
Warner Bros. licensed it for distribution.
The only time I ever saw Sense Field live was at the Wetlands in New York City when you were touring with Texas is the Reason in 1996, in support of Building. Besides both being part of the Revelation Records family, both bands also featured members who had come from playing in the hardcore scene. Can you share any memories from that tour?
We did know each other from the hardcore scene, and the tour was great. Garrett [Klahn] and I have always been very close friends. He is always a blast to party with. Scott [Winegard] should be a stand-up comedian. The scene was such that everyone at the shows knew each other. There was no violence, gangs, or muscle heads. Everyone knew that there was something special going on at that time in the scene. You could feel it in the air.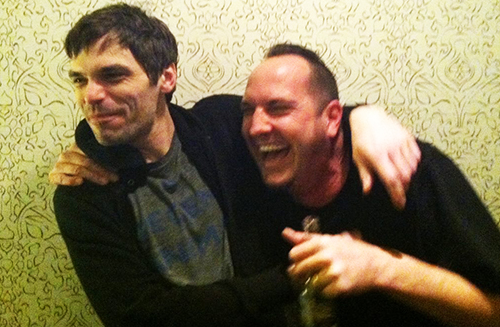 You recorded your next album for Warner Bros. You called it Under the Radar, and the label serviced advanced copies to the press. But then the next thing everyone hears is that you parted ways with the label. What happened there?
Most everyone at Warner that brought us to the label had been fired, so we had very few people left in our corner there. Our A&R rep got fired and all her bands were dropped.
It took a few years, but you then signed with Nettwerk, and released your third studio album, Tonight and Forever, in 2001. Some songs on the record were re-records of material that was on the unreleased Warner Bros. album.
I think we kind of went into survival mode. Our guitarist took it upon himself to start recording again. We took what we liked from the Radar record and wrote new songs, changed some songs around here and there. Nettwerk certainly did breathe new life into the band.
A funny thing happened after we turned in our record to Nettwerk. I was working at a flower shop delivering flowers during the day, waiting for the record to come out and to go on tour. Along walks in a Warner Bros. record executive that I knew. She saw me working at this flower shop and was all embarrassed for me because I had this menial job. I could tell she felt sorry for me. I didn't tell her we had just finished a new record and just signed to Nettwerk. So she goes on to tell me she wanted to leave Warner Bros. to go work at Nettwerk. I never told her we were on the label.
Sense Field's most well-known song, "Save Yourself," appeared on Tonight and Forever. What inspired the lyrics to that one? It's one of your most direct songs, lyrically speaking.
It's a song about trying to be faithful when you're in a relationship. Not always easy when you're on tour for 10 months out of the year and never see the person you're in a relationship with.
The success of "Save Yourself" helped you land some television performances. What was that experience like?
Well, all my friends' bands had already played these TV shows. So I felt like, "Finally, we are doing this!" I always knew we would and could, but I wish it didn't take so long.
SEE ALSO: 10 Cover Songs That Surpass Their Originals
Sense Field's next album, Living Outside, came out in 2003, but you ended up breaking up at the beginning of 2004. Why did you decide to break the band up?
That's a tough question to answer. Our record had just come out and we toured the States and were in Europe. Nettwerk had lost their distribution deal with Capitol Records, so the new record was done before it started. I think we maybe should've broken up after [drummer] Scott [McPherson] left, maybe? We stayed around too long. 13 years is a long time.
You then became a member of Further Seems Forever, a band that had already had gone through two lead vocalists by the time they asked you to join. Were you initially reluctant to jump in?

No one likes being a second vocalist in a band. Let alone the third. It wasn't until I heard the music and realized I could write a record with them did I start to really consider doing it. I knew them from touring in Florida. They were thinking we do a record and end the band. They thought of changing the name and starting over. They said we wouldn't tour, but we ended up touring for three years, Japan, Europe, and the good ole' US of A.
The one album you made with Further Seems Forever, 2004's Hide Nothing, is criminally underrated. It features your finest vocal performances.
I demoed two songs and sent them to the band. The recording was set up very soon after. The band was in Ft. Lauderdale, I was to record outside of Orlando at [producer] James Paul Wisner's house. I left Los Angeles with two songs written. I had just a week to write and record the lyrics and vocals. So I recorded the two I had written and then wrote a song a day and recorded it. Then I wrote the next song at night, recorded it the following day.
The band wasn't even there, so we would just email them the songs. We ran out of time and had one song left, the song "For All We Know", I just wrote and recorded it on the fly.
The first time I met you was in 2005, when the band I played in, Lakota, opened a tour for Further Seems Forever. It was a rough one. I remember poorly promoted shows, and long drives between venues. But throughout it all, you were always the most cheery, easygoing person on the tour.
Every tour I've been on is/was rough, with poorly promoted shows, with long drives in between venues, so I'm used to it. I do remember that run. That was a lot of fun. I'd do it again right now.
Why did Further Seems Forever break up?
They really have never broken up. I have been friends with [at the time, formerly the singer of Further Seems Forever, and the current frontman of Dashboard Confessional] Chris Carrabba for a very long time. Chris, [Dashboard Confessional bassist] Dan "Bones" Bonebrake and I were having lunch one day and talking about Chris singing for Further Seems Forever again. We all agreed it would be the best thing for Further Seems Forever. Chris got the original lineup back together and did an amazing record [2012's Penny Black].
What did you do after that? I know you moved away from Long Beach.
I got a job and finished my AA [Associate in Arts] degree.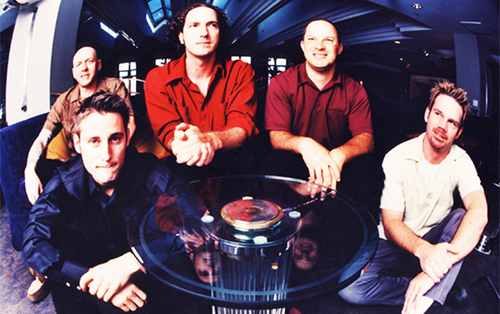 Sense Field reunited for two Revelation Records anniversary shows in 2012. What was that like?
Man, I love my Sense Field brothers. Anytime I get to be in the same room with those guys regardless of the circumstances, I feel like everything is right in the world. Hanging out with them is the best feeling in the world, playing music with them is even better.
Most recently, you formed a band called War Generation with Brad Lehmann of Maylene and the Sons of Disaster. Your debut album, Start Somewhere, Never Surrender, came out on Rise Records in 2013. How did the band come about?
Brad Lehmann is one of my best friends. We started passing songs back and forth to each other. Before we knew it, we had enough for a record. Craig [Ericson] from Rise Records liked the songs enough to put it out.
What else are you up to these days?
I'm in the middle of recording a 4 song 7" with Nik "Kill" Hill from Ignite. The band is called Lucky Scars. It's going to be released in 2015.
Looking back at your entire discography, is there a record you think got a bit overlooked?
I don't spend time looking back on records. I'm only interested in creating new music.