With a sound that combined elements of post-hardcore, melodic rock, and emo, Boys Night Out released three studio albums and three EPs in the '00s, before splitting up towards the end of the decade. Of the three albums the Canadian outfit released, 2005's Trainwreck remains their shining hour. A concept record involving a murder, Trainwreck found the group upping the songwriting stakes with arrangements that twisted and turned like '70s prog rock one moment, and then breaking down to quiet acoustic passage the next. What's most impressive about the collection is that Boys Night Out managed to keep the songs as hook-driven as those on their popular debut album, Make Yourself Sick.
The band's 2007 swansong was a self-titled affair that delivered more straightforward material when compared to its predecessor, but the song quality didn't wane. Despite their breakup, the members of Boys Night Out remained friends and have since decided to join forces again. This year the band will release Black Dogs, an EP featuring six new songs which were recorded at the end of 2015.
On the eve of the EP's release, I spoke with Boys Night Out vocalist Connor Lovat-Fraser about his life in music, the band's discography, and what he's been up to outside of the music scene.
Where were you born and raised?
I was born in Kitchener, Ontario, but did most of my growing up in Burlington.
Did your parents play a lot of music around your home?
What I remember most vividly in terms of music is my dad listening to Dire Straits during car rides and my mom playing Peter, Paul, and Mary around the house.
What kind of music did you first get into as a young kid?
The first cassette I ever purchased was Bon Jovi's Slippery When Wet, and my first CD was the Mo' Money soundtrack. Seriously. Some of my favorites growing up were Guns N' Roses' Appetite for Destruction, N.W.A.'s Niggaz4life, Ice-T's Power, and the Ghostbusters 2 soundtrack.
At what point did you start going to see local punk and hardcore shows, and who were some of the bands you saw during that time?
I was a young teen when I started going to shows. Luckily for me, the local music scene in southern Ontario was pretty incredible. I was afforded the chance to see a lot of homegrown bands like Chokehold, Grade, Trunk, Acrid, and New Day Rising. Touring bands such as Propagandhi, 400 Years, Anasarca, Los Crudos, and Morning Again definitely left a lasting impression on me as well. I'm fairly certain that I recorded a lot of those bands with a camcorder, and may even have a VHS with those shows kicking around somewhere.
What was the first band you played in?
My first band ever was called Treebeard. I was the drummer, The Reverend McGinty from The Creepshow played bass, Boys Night Out drummer Ben's older brother Adam played guitar, and Alison (whom I would later play with in The Pettit Project) was the singer. We never played out, but we played the shit out of our high school talent show! The first band I ever played out with was a skate punk outfit called Gym Class Joke. I started as the lead singer, but was kicked out due to my overwhelming lack of talent, and later returned as the drummer. Gym Class Joke even had the chance to play on a Canadian television program called Jonōvision, hosted by Jonathan Torrens of Trailer Park Boys fame. [Gym Class Joke is the first band performing in the clip below.]
Boys Night Out formed in 2001. Who were the bands that inspired you and Jeff Davis at that point, and did you have a clear vision of what you wanted Boys Night Out to sound like?
We definitely had a pretty clear vision for the band at the time. Lyrically, I wanted the songs to be pretty dark and violent; musically we wanted it to be fast and heavy and melodic. I was really into Cave In's Beyond Hypothermia, Grade's Separate the Magnets, Refused's The Shape of Punk to Come, and Jimmy Eat World's Clarity, to name a few gems.

SEE ALSO: 2014 interview with Kyle Bishop (Grade, Acrid, The Black Maria, The Swarm).
After releasing a demo, and then the Broken Bones and Bloody Kisses EP in 2002, Boys Night Out signed with Ferret, a label founded by Nora vocalist Carl Severson.
I remember being excited as fuck that Ferret took an interest in us, and that would never have come to pass if Chris Tzompanakis from Skycamefalling didn't take a chance on us with his label, One Day Savior, putting out Broken Bones and Bloody Kisses. I'm eternally grateful to both he and Carl for giving us such a crazy opportunity based solely off off the two songs we had posted on mp3.com. Boys Night Out had barely even started to play locally at that point, and we didn't even consider management of any kind until after we signed with Ferret.
The first time I heard Boys Night Out was when I came across your video for "I Got Punched in the Nose for Sticking My Face in Other People's Business," a song from the first album, Make Yourself Sick. I remember thinking that it sounded so unique. There was a poppy brattiness to the vocal melody in the verses, but there was also an aggressive side to the song, on both the singing and guitar fronts.
Listening back to that song is a pretty wild brain trip at this point. I still recall the band writing that song all those years ago, and I truly believe that it was the perfect song to serve as most people's introduction to Boys Night Out. I was trying to sing way beyond my range (which I never really grew out of) and screaming my throat bloody. Jeff, Dave, Ben, and Rob played fast and loud; and Scott Komer captured it all perfectly when he recorded Make Yourself Sick. I don't think we would have had the chance to accomplish half of what we did if it had never been released as a single.
How hard did you tour Make Yourself Sick? I remember hearing that the album sold well for you.
We toured that album as hard as we possibly could. I quit my job and lived in relative squalor just to ensure that touring could be my number one priority. It still blows my mind hole wide open that the album resonated with so many people and that it sold as well as it did. We were on the road a good eight to 10 months out of the year at that point. It was unlike anything I had ever encountered at that point. Thems was some wild times, I tells ya.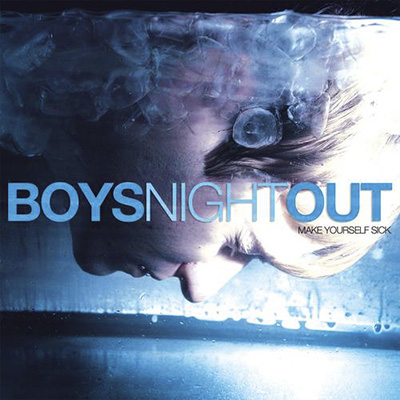 Two years after Make Yourself Sick, you released Trainwreck, Boys Night Out's sophomore album. Now, that album is on another level compared to its predecessor. I think it's one of the most underrated post-hardcore records of the last 15 years. Talk about the mindset you guys had going into the writing, conceptualizing, and recording of Trainwreck.
From conceptualizing, to writing, to recording, I don't think I've ever been a part of making a record that took as much hard work as Trainwreck. It was all based around a short story that Jeff had written, and the two of us put a lot of serious effort into trying to make sure that we communicated the storyline as effectively as possible while still having the songs not seem forced or cumbersome.
SEE ALSO: Best Orange 9mm Songs
Trainwreck saw the band adding keyboardist Kara Dupuy into the fold.
Kara was instrumental in making Trainwreck what it was. Brian, who had replaced Ben on drums at that point, introduced us to her. She was part of the same music scene that bore Brian's band, Fordirelifesake, and the two of them had worked together several times before we had ever crossed paths. Her talent—vocally and musically—was immense, and we were incredibly fortunate to have her as part of the band for the inception and touring of Trainwreck.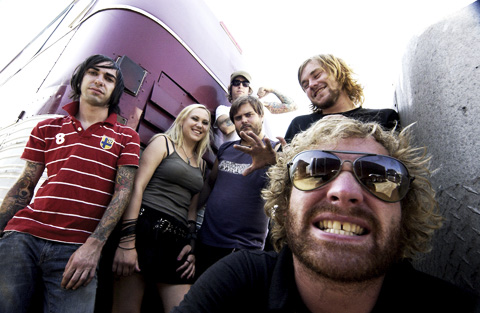 Do you remember what Carl and the rest of the Ferret folks thought of the album when they first heard it? How about the fan reaction? I remember the label released "Medicating" as a teaser track to get people excited about the album before it came out.
As I recall, Carl and the gang were very excited about Trainwreck. Like us, I think they were shocked and surprised at how much went into creating it, and hopefully even felt a sense of pride when the finished product saw the light of day. Fan reaction was mixed... and we all saw that coming. A lot of the people who had connected so fervently to Make Yourself Sick were disappointed at the lack of screaming and outright vocal aggression that Trainwreck offered. That being said, "Medicating" definitely served to open Boys Night Out up to a much broader audience—and I'm grateful for that—but at the time I recall being really quite upset that so many weren't willing to give the album a chance because we were believed to have sold out our roots.
What are your thoughts on Trainwreck today?
I'm immensely proud of Trainwreck to this day, and looking back on everything that went into creating it only serves to fortify my fondness for the finished product. The recording process, especially having a chance to work with [producer] Machine, was one of the best and most enriching experiences of my musical career. The way in which Machine welcomed us—both professionally and personally—was really quite humbling. That dude knew how to get us to put forth our best efforts, and I really can't thank him enough.
What are some of your favorite moments on the album?
Personally, my favorite moments creating the album were those times when I was being pushed so far out of my comfort zone that I almost couldn't continue, but did because I knew that it was the best thing for the song as a whole. When I listen back to Trainwreck and hear those particular parts, I'm glad I didn't tuck tail and run. Honestly, though, hearing that album as a whole is my favorite "moment." The whole band really went for it on that album.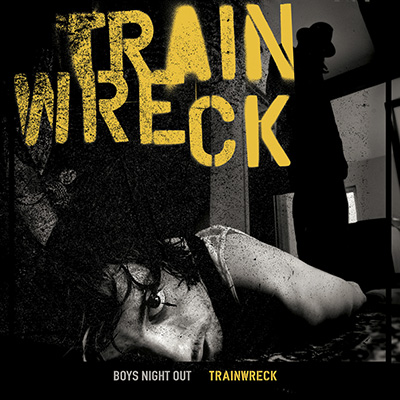 Boys Night Out, the band's third album, came out in 2007. For that one, you brought in Lou Giordano, a producer who by that point had worked with groups like Sugar, Goo Goo Dolls, and Samiam.
We chose Lou based on the insane catalog of music he had produced, and working with him on the self-titled album was a totally different animal compared to the recording of Trainwreck with Machine. I don't think that Lou initially connected with the way in which we approached songwriting, and it took a little more time for us to all get on the same page when it came to the overall vision for the album. There were a number of times where I could feel his frustration with our lack of conventional musicianship, but—for that album anyway—I truly believe that his vast experience in producing some incredible records was extremely beneficial in making our album what it was. The guy is a pro, and working with him absolutely helped us to grow in our approach to songwriting.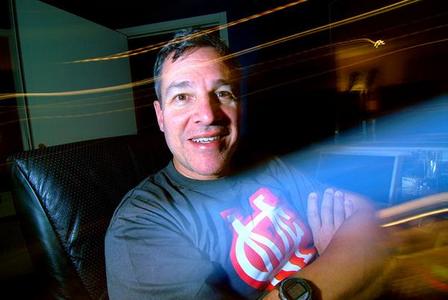 You had some more lineup changes on that album. What ended up happening?
I don't entirely remember the circumstances around Brian's decision to leave the band, but having Ben back behind the drums was like a family reunion. Southall is one of the most talented dudes I have ever worked with, but Ben has always been like a younger brother to me, and there's a certain organic ease to the way in which he, myself, Jeff and Dave write songs together. We also had the pleasure of welcoming the incomparable Andy Lewis into the fold for the self-titled album. That guy is a phenom. He can do pretty much fucking anything and it was awesome to have him as part of the band.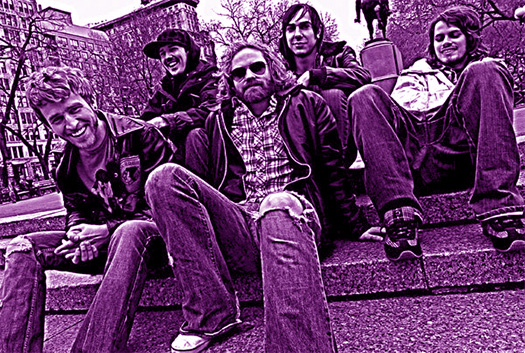 The overall songwriting approach on Boys Night Out is much more straightforward compared to Trainwreck. Was that a conscious move on the band's part coming out of the concept album thing?
After Trainwreck, we definitely found ourselves wanting to write more up-tempo, straightforward, standalone songs. It was truly refreshing and revitalizing to make an album full of songs that were exciting to play live and that had a high-energy feel to them. It almost felt like there was a more youthful approach to songwriting... something more akin to Make Yourself Sick without the screaming.
The band went on hiatus in 2007. Personally speaking, were you 100% behind that decision?
I was absolutely, 100%, full-tilt behind the hiatus. There are times when I even feel as if I was the driving force behind it. I know for a fact that we were all burnt out from touring as much as we did, but in the months leading up to our decision to step back my voice had been less and less reliable (which had always been an unfortunate issue on longer tours), and I was increasingly feeling like I was holding the band back from becoming what I knew it could be.
Did you think the break would have taken as many years as it did?
I didn't necessarily think it would take as long as it did for us to make music together again, but I don't think it could have played out any other way. Anything else would have felt forced and disingenuous... to me anyway.
SEE ALSO: 2016 interview with Rob Moran (Unbroken, Narrows, Some Girls, Over My Dead Body).
It's 2016 and we have a new Boys Night Out EP called Black Dogs coming out. How long did it take from the day you decided to do the band again to the point where you went into the studio to track the six new songs?
Jeff sent me the original guitar idea for the song that would ultimately get us writing again on March 7, 2014. I think that we managed to get Ben and Dave on board a few weeks later and actually rented some time at a rehearsal space that April. We still weren't sure if what we were working on would be Boys Night Out or something new. There was just so much weight attached to the idea of reuniting, and it was really quite intimidating. It didn't take long for us to realize that the songs we were working on sounded like Boys Night Out, and that it would be ridiculous for us to pretend otherwise. We began tracking Black Dogs with Derek Hoffman in October 2015. We definitely took our sweet time in order to ensure that these six songs would be exactly what we wanted them to be.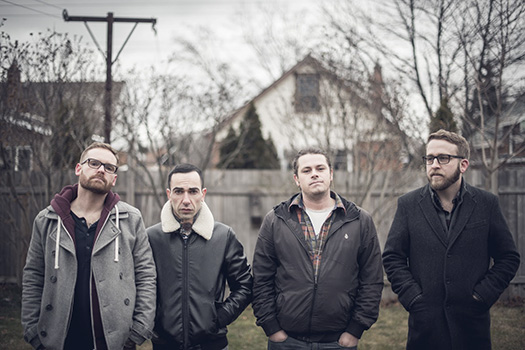 Did you feel rusty at all when you were writing together again?
Yes and no. We made some foolish attempts to play some of our old songs, and that was "rusty" at best. That being said, once we decided to focus purely on writing new music, it felt as if no time had passed. It made sense.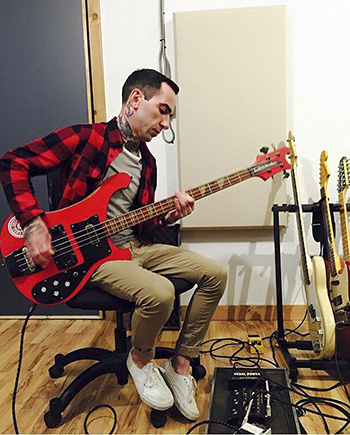 Were you glued to your computer the day you released "Of Waves," the first track from Black Dogs, or do you stay away from online comments?
I used to do my best to distance myself from reading too much about what folks were saying about the music we released. Playing in a band presents a sort of catch-22 when it comes to how the music is received. It felt to me as if people wanted us to keep making the same record, but at the same time they would be get bored if there was no progression. I don't know if you're familiar with "The Internet," but typically it seems as though the naysayers are the ones with the loudest voices (or strongest typing fingers?). It was my wife, Katie, who made me want to take a look at what people had to say. She knows how excited I am about these songs, and that they are exactly what they are regardless of what people have to say about them. I was incredibly surprised at how positive the comments were from those who had listened to "Of Waves."
You've said that people shouldn't expect any touring from Boys Night Out any time soon. Does that stem from a day job/family responsibility angle?
Yes, sir. Realistically it would be very difficult for us to make time to play out in support of this album. Also, we really just wanted to make music together again... to release some new music without the pressure of touring weighing heavy on our shoulders. Jeff lives on the other side of the country from Ben, Dave, and I; so that, too, played a role in our decision not to tour at this time.
SEE ALSO: Punk Posers on Parade
Outside of music, what else have you been up to since the last studio album?
So much has happened since the self-titled album was released. I was married to my wonderful wife, Katie, and we have a beautiful daughter, Marlowe Iris Moon. Those dufuses are my world. I also manage Sinkin' Ink Tattoos here in Hamilton, Ontario, and write for Home at Home magazine.
If you could go back and change one thing about Boys Night Out's career to date, what would that be?
Even though I know that taking a break from Boys Night Out back in 2007 was the right decision, there's a part of me that wishes we had kept going and moved forward. Knowing what I know now, I would have tried harder to not put so much pressure on myself. I've always been my own harshest critic, but I wish I had taken more time to enjoy the ride while the band was going strong back in the day. That being said, it was all those decisions we made which led us to this moment in time—to making this new EP—and I couldn't be happier with the end result.
***
Boys Night Out's new EP, Black Dogs, will hit stores on July 8. There are several bundle packages available for pre-order directly from Good Fight Entertainment.