It may not be significant to all people, but I believe that a venue can affect more than the sound quality when attending a concert. With the minimal public knowledge of Freemasonry, it is a privilege that in various cities several Masonic Lodges have been open to hosting concerts. On the grounds of Hollywood Forever Cemetery, a 62-acre cemetery that is the final resting place of Chris Cornell, Johnny and Dee Dee Ramone, and others, also has a Masonic Lodge that regularly hosts concerts.
As the Messthetics continue their prolific touring schedule, they finished out their time in the western half of the US with Escape-Ism and Shells.
Shells is the solo project of Shelley Salant from Michigan who has been involved with the underground/DIY music scene for some time in a variety of ways as a radio host, booking shows, and a musician.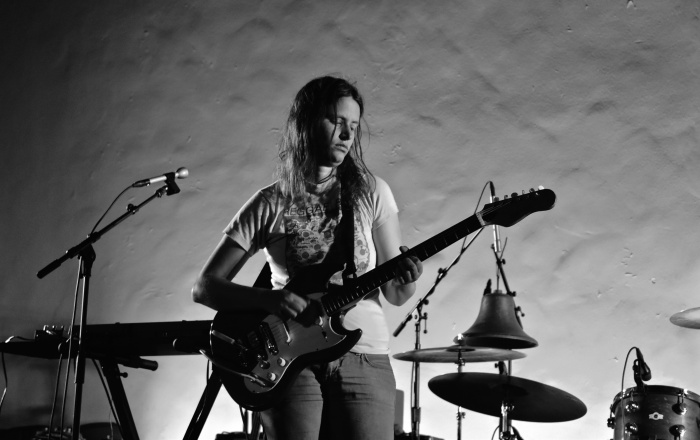 With the eclectic lineup presented, Shells music was a welcome surprise to me since I was unfamiliar with her. Especially in the last few years, I've come to greatly appreciate guitarists who perform solo. Shells set a great foundation for the evening and utilized the textures of loops, reverb, and her playing with great skill. It's a privilege as a long-time musician and concert-goer to see and hear a musician with a pronounced, clear vision that is immediately intriguing.
By now, I feel like a majority of people interested in punk and hardcore have been made aware or come across Ian Svenonius. The variety of projects he's been involved with over the years all have a unique personality to them and accordingly, so does Escape-Ism.
The found-sound-dream-drama that is Escape-Ism is a project that Ian has with a variety of collaborators. Performing with him on keyboards, bass, and a few other elements was Alexandra Cabral.
The art of performance is as important as the music with Escape-Ism, equally important is the commentary between songs as much as the lyrics. It was good to be reminded of the sacred nature of the room we all were sharing as Alexandra and Ian played songs that touched on some of the earliest sounds of punk with danceable beats and fierce attitude.
As I started writing this review, I couldn't help but listen to some Fugazi. Even after roughly 27 years, the tight and precise rhythm section of Joe Lally and Brendan Canty is hard to match.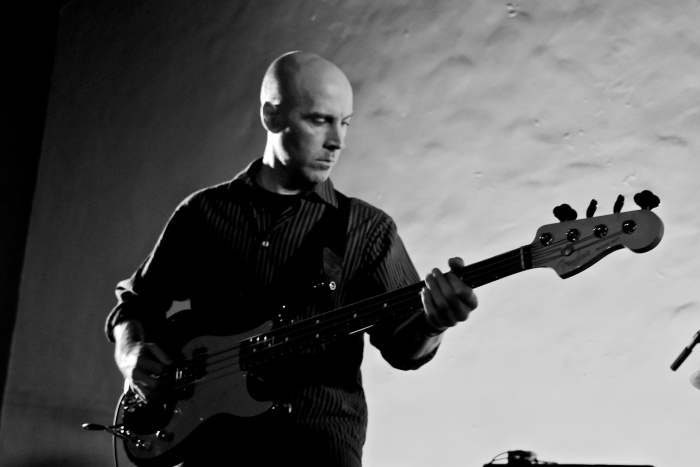 With already two records released with their bandmate Anthony Pirog, the Messthetics present a welcome spin on jazz with clear ties to the sound of punk rock. From moments of dizzying and frenetic energy as well as calming and expansive passages, I believe the Messthetics can have as much if not more appeal to a "typical" Dischord records fan as it would to a fan of jazz and improvised music.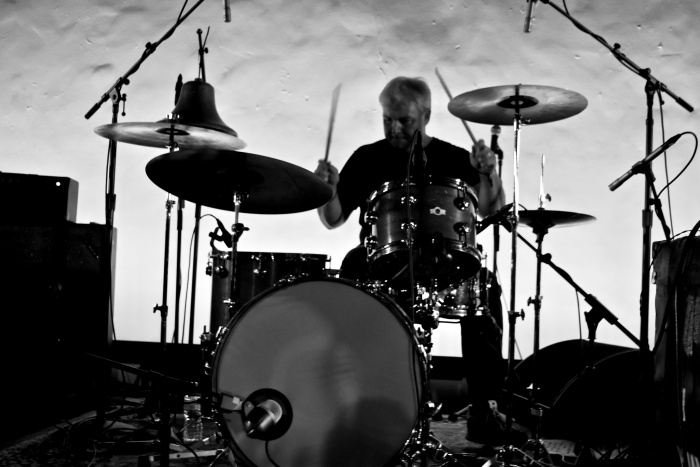 The unity on display with these three musicians is special to witness in person and is by no means something you witness all the time in music. The focus, the joy, and overall finesse make the Messthetics a band that you need to see live. They recently released their second LP, Anthropocosmic Nest, through Dischord Records, and will finish out the year with a tour in Australia as well as a few dates on the East Coast of the US.
***
If you dig No Echo, you can donate a few bucks to help with the site's operating costs:
Tagged: fugazi, the messthetics