It's no secret that pop-punk, emo-core, indie rock, whatever sub-genre of guitar music has always been tethered to hardcore to varying degrees. It's in the hardcore DNA and every few years there's a handful of bands that spawn from its scene who may not "fit the mold" of what hardcore is supposed to sound like.
Despite all of that, it's not stopping certain bands from fitting in on an otherwise hardcore-driven bill and having them go over smashingly with the crowd, sing-alongs and stage dives popping off all around.
One of those bands in the current zeitgeist that's making their mark is Southern California's Stateside. They recently released an EP via New Morality Zine and Extinction Burst Records called It's What We Do. I got the chance to sit down and chat with them recently about the band, their new record, and a whole lotta other bullshit, so let's dive in.
Stateside…California pop-punk/emocore future heroes? Well known moshers and supporters of the core. What's good!? I don't wanna dwell on typical interview questions so let's keep this short and sweet.
A little background on the record. Where'd yall record it? When?
Yo, what's up! We recorded it with Zach Tuch (who's worked on such recent records as Initiate, DARE, Zulu to name a few) at his studio in Woodland Hills over a week and half in February. It was awesome.
I'm so stoked y'all linked up with NMZ and Extinction Burst. Hardcore is such a communal thing, seeing the release not be isolated to one label I think is cool cuz it gets y'alls music in front of numerous different people since everyone has a different audience and reach, and it really amplifies the communal nature of everything. How did y'all link up with them?
We knew both Nick [Acosta] and Ray [Ruiz] from friends who had worked with them prior, and also just from their own release catalogs. NMZ in particular has had a reputation as a solid indie label in hardcore, and it's well deserved. We reached out to both of them independently, but after talking together it was decided that the release would best be handled as a team effort.
It's What We Do has been out since July, so how's the reception been for it so far? In terms of your perception? Any "holy shit!" moments you'd like to highlight?
The reaction has blown us away, it's been really awesome to see people enjoying the music. Norman Brannon (Shelter, Texas Is the Reason) left a nice comment on Zach's IG post and that was great to see. Bands he's been a part of have been some longtime favorites of ours, so full circle moment for sure.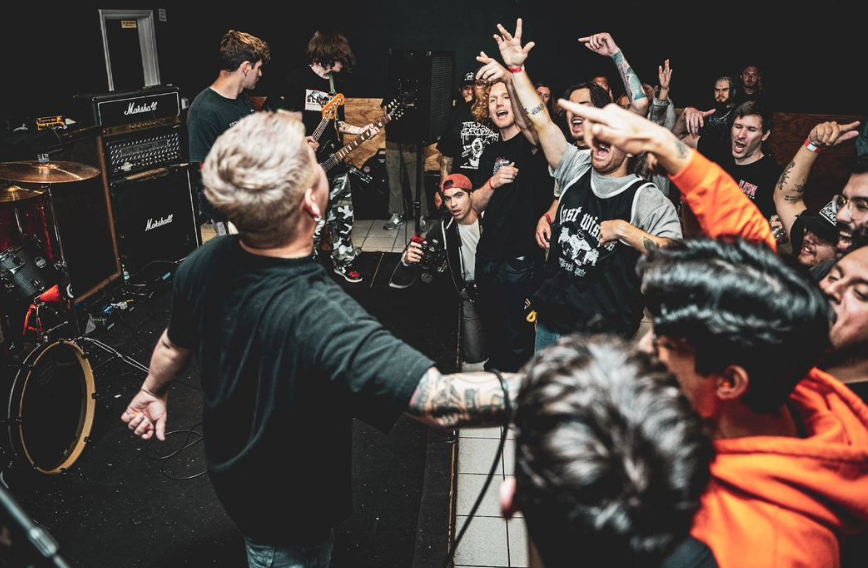 The record art rocks. I love the mix of cartoon/real word imagery. What was the inspo? Who handled the art layout, etc.
Everything was done by Jordan Quick, who has been a friend of Lemus' for a long time. A lot of his artwork is hand drawn, cartoon style illustrations over film photos, and we thought that vibe was perfect for what we were going for.
So we gave him this photo that Erik took of downtown Boston, and had him draw just a bunch of colorful characters getting into mischief and stuff. It's like a page out of Where's Waldo?, it's awesome. If I recall correctly, it was a deliberate decision to have the band name and record title inside the action and not superimposed on top, kind of like how Dookie is.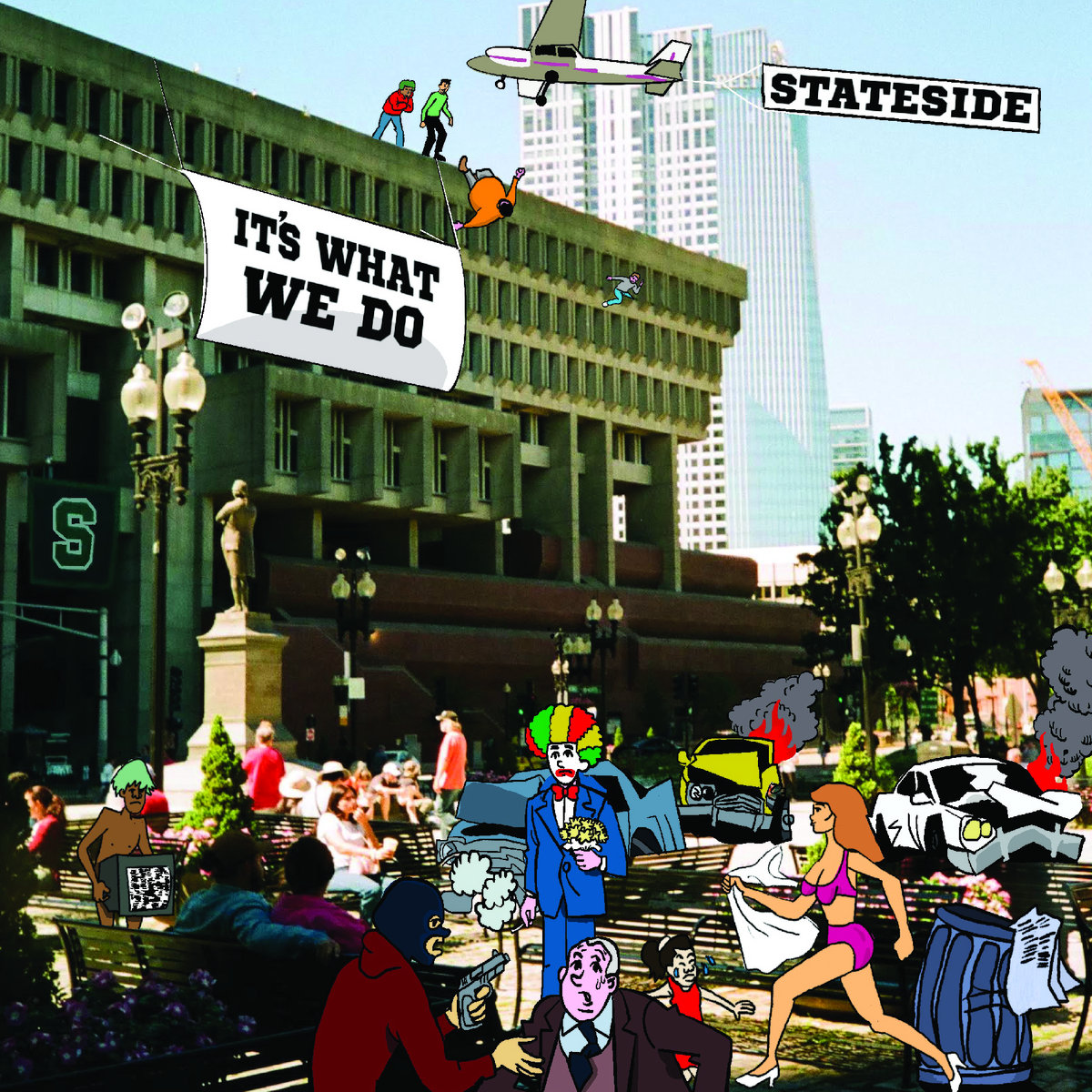 For me, it feels like y'all really leveled up from the demo to this release, and that's how it should be. A demo is literally a demo and you want to see progression on each release. Was there anything specific y'all identified like "we want to incorporate X more or lean more into X blah blah blah"?
We wanted to write faster, catchier, and overall more engaging songs. That was the bottom line. So we were going into practice thinking about writing singalongs, good hooks, riffs you can dance to, that kind of stuff. Better production was also a goal too.
If we wanted to write killer songs they had to sound up to par too, so handling recording in-house again was off the table.
Did having some lineup changes better define what y'all wanted to sound like or just have a new cook in the kitchen with new ideas and a different perspective?
I think Porcho's style is better aligned with what we're trying to do. So writing for It's What We Do was much more streamlined and collaborative than for the demo songs. At the same time, we started hitting our stride in terms of writing at that point. It happens with every band, where you finally learn how to work together and get over the hill of writer's block. I think that just occurred at a fortunate time for us.
I know that y'all have all been in numerous bands in the past and we've all played shows together so seeing y'alls newer project get more "national" buy-in & love is really cool to see, does it feel like that to y'all too or am I just lost in the sauce?
Yeah absolutely, it's objectively doing better than any other band we've been a part of. So that's a really awesome and new feeling. We just want to keep it moving!
Additionally, Stateside right from the start has done way more touring than some of y'alls previous bands, and touring only on a demo which feels way less common for bands right now. Did your prior projects help you better define how you'd want to tour with this band? Better help you understand the logistics of touring? This band is much more of a full steam ahead let's fucking go and make people familiar?
Working with Evan and Tommy booking the Broken Vow/Take It to Heart tour was a significant learning experience in how to book shows, then doing the tour gave us some good knowledge on what to expect. Getting in the van off the demo was definitely ballsy, but how else do you get your name around?
You just have to dive in and make it happen. People notice that.
Inspiration wise…there's lots I can hear or assume is an influence. We're at a point where it's a post Title Fight/Run for Cover is a well established label and there's the whole RFC sound too, and there's been numerous waves of hardcore/pop-punk/emocore bursts emerging from hardcore, so realistically there's a ton of direct or indirect influence that can occur.
Are there any not-so-obvious influences that readers would be surprised have been a critical element in the bands sound?
Yeah, for sure. We all grew up in hardcore and it's still a big chunk of what we consume musically. So, some of our favorite bands like Foundation, Carry On, American Nightmare, Underoath, Glassjaw, Poison the Well, they all have their implicit mark on the way we write and play the songs.
There's also '90s rock in the DNA like Third Eye Blind and Oasis.
The name "Stateside" an obvious nod to Crime in Stereo correct? I love that because they're one of my favorite bands and feel super lost on all of the younger kids in hardcore currently. Do you hope the name points people to them at all? Also, what are your Top 5 Crime in Stereo tracks?!
Yeah, it's a nod to Crime in Stereo. Awesome band and well worth listening to if you like anything out of Long Island past or present. In no order: Type One, Dark Island City, Slow Math, Bicycles for Afghanistan, and …but you are vast.
There's definitely a gambling theme centered around the band to an extent. Gambling kicks fucking ass. Everyone/particular members big on gambling?! Cards or slots? What's been the biggest payday?!
Everyone gambles except Ben. Slots and craps all day. No payday yet but we know the day will come. Just gotta keep going [laughs].
It feels like music in 2023 is far more open minded when it comes to genre blurring and mixed bills. You can see it in y'alls similar artists on Spotify with bands like Torena, xNOMADx, Praise, Stand Still, and Balmora. Makes sense especially given the previous bands y'all have been a part of. What are some mixed billed tours you'd love for Stateside to be a part of?
Fading Signal, Excide, Envision, Downward, Foreign Hands, SeeYouSpaceCowboy. All great bands we'd love to do shows with in the future. Mixed bills are where it's at.
Y'all 100% have your finger on the pulse when it comes to newer bands IMO what are some newer bands or releases that y'all think music at large is failing to catch onto?
Straightjacketfeeling, Centralya, Spirit Dive, and Pop Free all just dropped sick music recently. Also, Montclair, Private Mind, Miracle, and A Mourning Star are super dope too and deserve more attention.
Additionally, Ben in particular, is very steeped in older bands and records. I feel like with so many young kids getting into the core right now, there's not as much looking backwards as there used to be; there's so many current bands right now having a moment, but I too love older bands and records.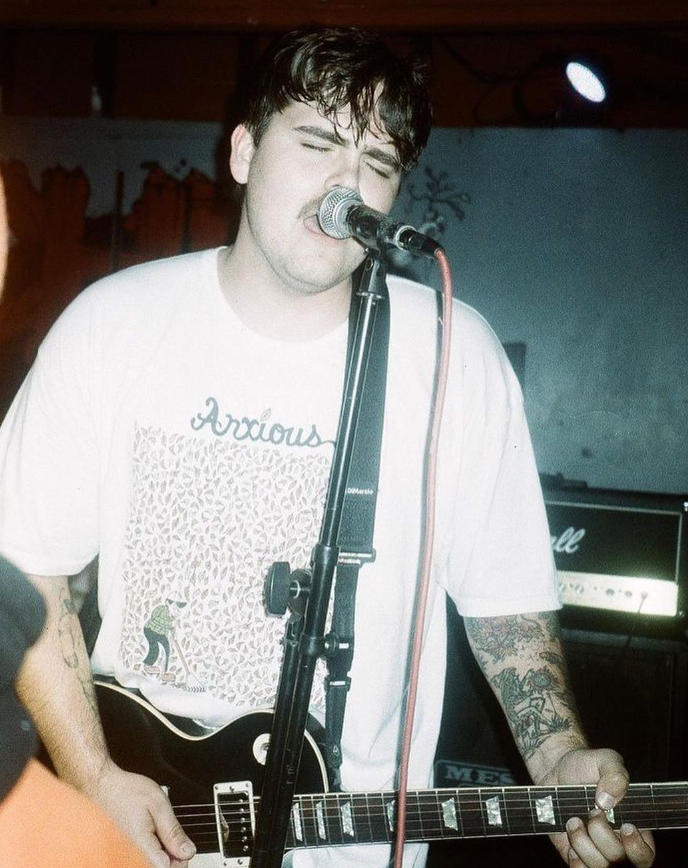 It feels weird since a lot of the bands that really were my spark in terms of hardcore are now 15+ years old and probably look like dinosaurs to the average showgoer right now. Regardless, what are some older records you'd recommend folks check out if they fuck with Stateside?
Definitely the classic records from Fall Out Boy, Taking Back Sunday, Brand New, and Jimmy Eat World. Those are critical but also pretty well known already too. Here's some others maybe less well known:
Something to Write Home About by The Get Up Kids
Super Amusement Machine for Your Exciting Heart by Counterfit
The Troubled Stateside by Crime In Stereo
What It Is to Burn by Finch
Forty Hour Train Back to Penn by The Movielife
Life of a Spectator by Silent Majority
Through Being Cool by Saves the Day
If They Move…Kill Them by Fairweather
The Moon Is Down by Further Seems Forever
Say It Like You Mean It by The Starting Line
Whenever You're Ready by Fastbreak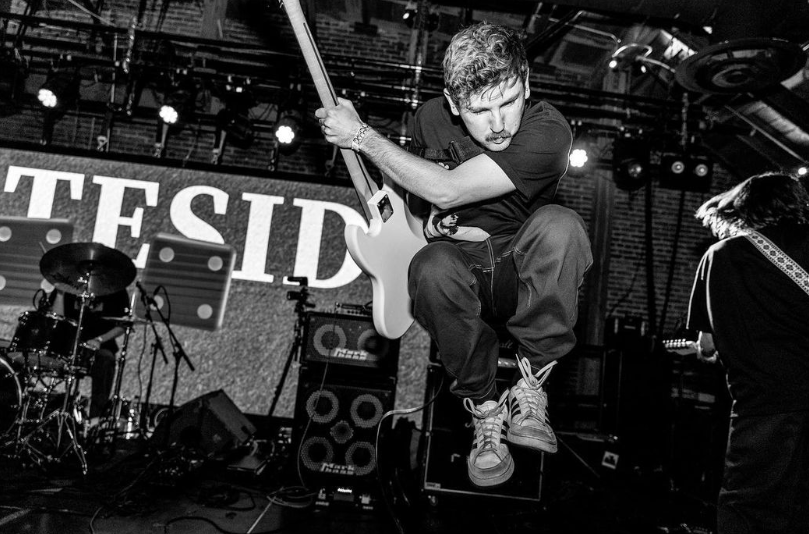 Instead of asking what's in the future for Stateside; probably more touring and music since what band isn't going to say that [laughs]. What are some specific places y'all would love to play? Do you have any specific goals or takeaways you hope listeners get from the new record? Any last words or shout outs?
We would love to play the FU Church in Philly at some point, that venue and space just looks like a ton of fun. Also would be sick to make it over to Japan and Southeast Asia. Kids over there just have so much energy.
Shoutout Nick NMZ, Ray EB, Alex Allen, Julian Medranda, Jose Lopez, Oscar Rodriguez, Punk Monk Ray, SOS Booking, Programme, and anyone at all that's supported us. We appreciate you all more than you know.
***
It's What We Do is available now via New Morality Zine and Extinction Burst Records.
Stateside will be playing a No Echo-backed show this Friday (August 18th) at the Locker Room in Orange County, California along with Strife, More to Pride, Berthold City, and Back to Godhead (get tickets):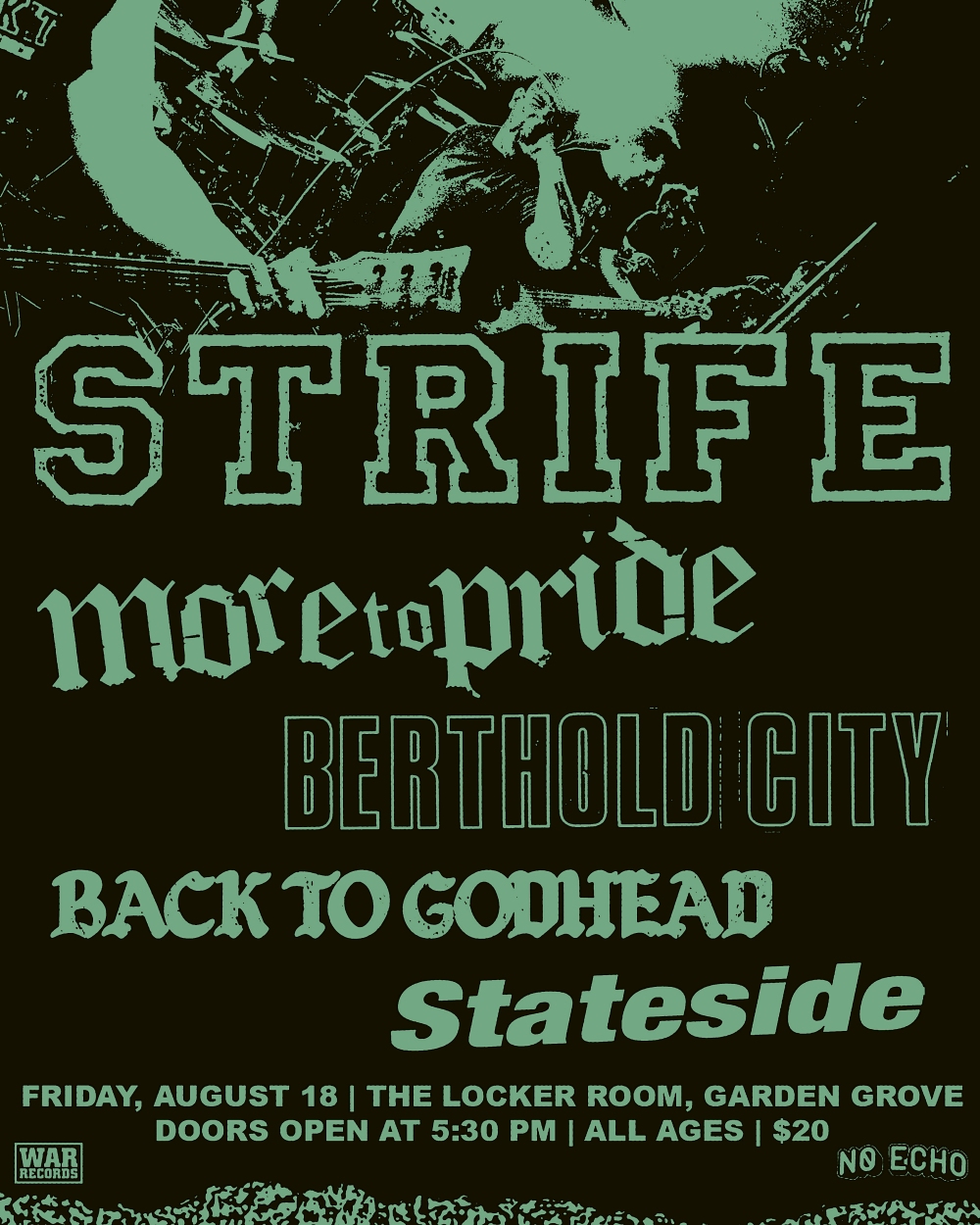 Catch Stateside on their upcoming tour this fall with Montclair.
9/15 San Diego, CA
9/16 San Fernando Valley, CA
9/17 Simi Valley, CA
9/18 Portland, OR
9/19 Bellingham, WA
9/21 Salt Lake City, UT
***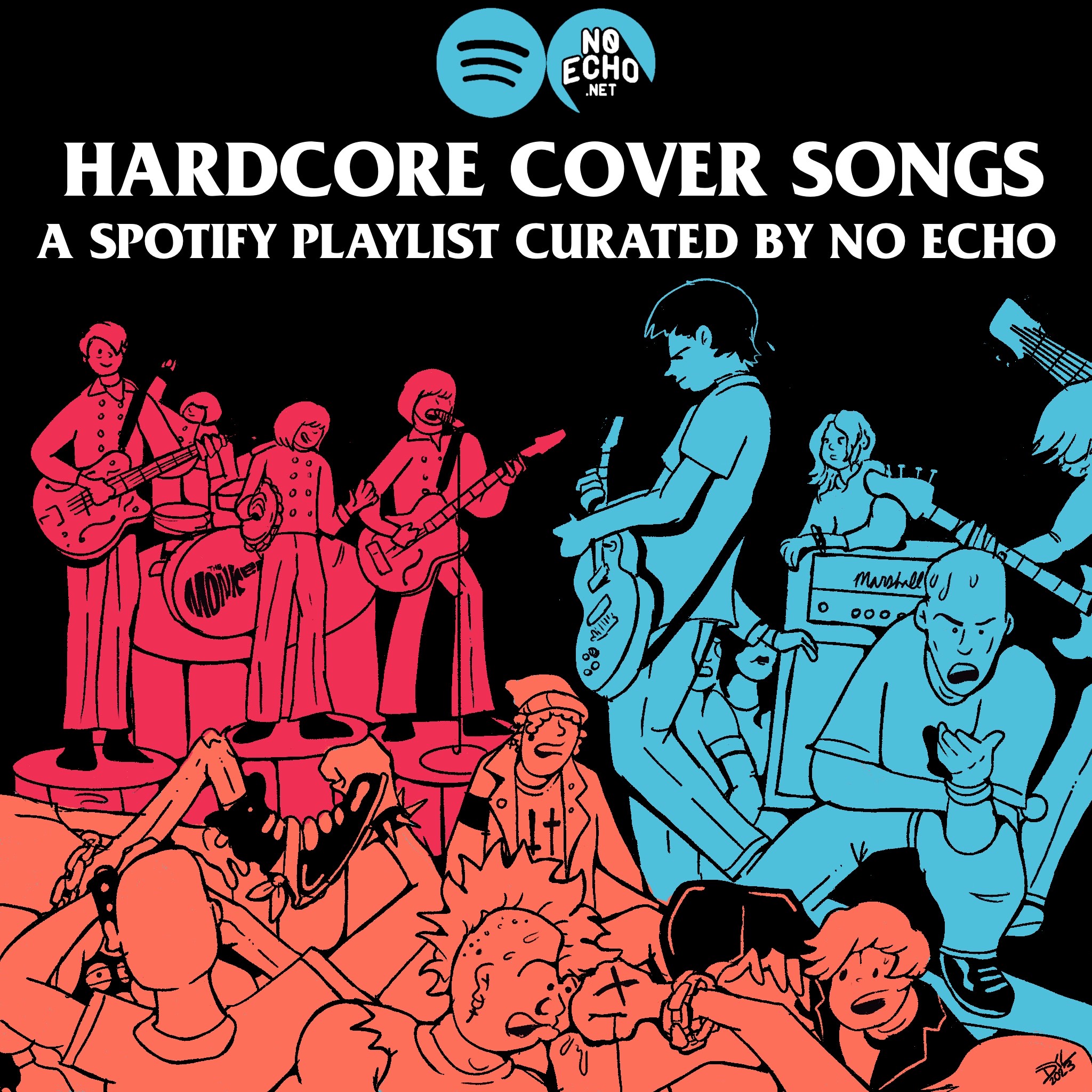 Tagged: stateside