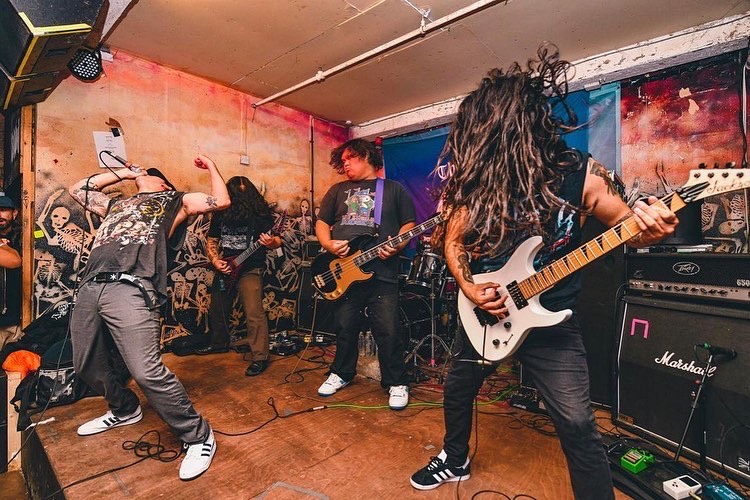 It's been great seeing the Dead Heat's trajectory since I first covered them on my 12 Newer Hardcore Bands to Check Out back in 2017. The California crossover thrash unit has since toured throughout the world, helping to bring on a renaissance for the Oxnard/Ventura scene along the way.
After birthing a beastly split EP with Mindforce in 2018, Dead Heat have gone on to release two studio albums to date, including 2021's World at War.
With a slew of tour dates, including appearances at The Rumble and Sound and Fury festivals, Dead Heat have teamed up with Tankcrimes and Triple B Records who will be co-releasing a heater in July from the band called Endless Torment.
Featuring gross-out cover art by Hayden Hall, aka Sick Slice (Devil Master, Gatecreeper), the EP was recorded at at Captain Quarters Studio in Ventura by Armand John Anthony (Cirith Ungol, Bewitcher) and Mixed/Mastered by Arthur Rizk (Power Trip, Cro-Mags).
I'm honored to help premiere the title track to Endless Torment for No Echo readers today, along with a quick interview I did with Dead Heat vocalist Chris Ramos to get his thoughts on the group's growing success, the new material, and the Oxnard/Ventura hardcore punk scene.
Since I've been following Dead Heat from the early days, it's been amazing to see the successes you've achieved so far. How tough has it been to take on the opportunities that have come the band's way why still juggling work and family commitments?
Taking on everything that we had in the past was pretty easy thus far, now as we're all starting to get a little bit older having more commitments and being more spread apart it does become a little more difficult to manage.
But this band has seen its ups and downs yet we still thrive to push through every time and I'm just glad to have everything still working in our favor.
I'm sure there have been many "pinch me" moments in the last few years, but what are some of the highlights that stand out to you?
To be honest, this band has been full of pinch me moments. From the start, we had some great opportunities handed to us and I'm glad we've taken what we can for the most part.
Playing Sound and Fury in 2018 and 2019, touring with Municipal Waste and Crowbar, touring Europe twice, playing Hellfest, going to Japan, all of these have been major highlights and pinch me moments in this band's career, and to be honest, I really can't wait for the next.
Tell me about this Endless Torment EP and how both Triple B Records and Tankcrimes came together to release it. You've obviously worked with Triple B on the World at War album, but were you friends with Scotty Heath from Tankcrimes already?
So, we met Scotty while on tour with Municipal Waste, at the time he was the tour manager, I believe, and through the tour we had gotten closer. He had fucked with our vibe and was interested in working with us on a future release so he hooked up with Sam [Yarmuth] at Triple B and they made Endless Torment come into fruition.
Since we're premiering the title track on the site with this interview, what can you share about the song's lyrics?
The song "Endless Torment" is a continuation of ideas based off of lyrics from our first album, Certain Death. The song essentially tells of how we're all still being held down by who we are and are eventually made to die so might as well make the most of it with the time that we have.
Outside of the EP coming out this summer, what else is on the agenda for Dead Heat in 2023?
As far as other plans ahead, along with the drop of the EP in July, we have a Texas weekend with Mindforce and Heavens's Gate, playing The Rumble in Chicago, and then heading on a week through the Midwest with Raw Brigade from Colombia and Arma X and Desorden from Spain.
We're then flying back and hitting Sound and Fury. After that, we got a couple other shows before heading to Canada in September to play Hold Your Ground Festival and then just hoping to do even more.
The Oxnard/Ventura County hardcore/punk/metal scene has been on a big roll these past few years with new bands and big shows going down. How has it felt from your perspective being directly involved with this wave?
Having the Oxnard/Ventura scene blow up the way it has these past couple years has been nothing but great to see and humbling knowing that we had a hand in helping it become what it has. Now we have bands from this area who are paving their own ways and making their own names who are proud to be from here and it's bad ass.
To have so many new faces come and have fun is what this should all be about and I just love that it's becoming something more with the passing of time.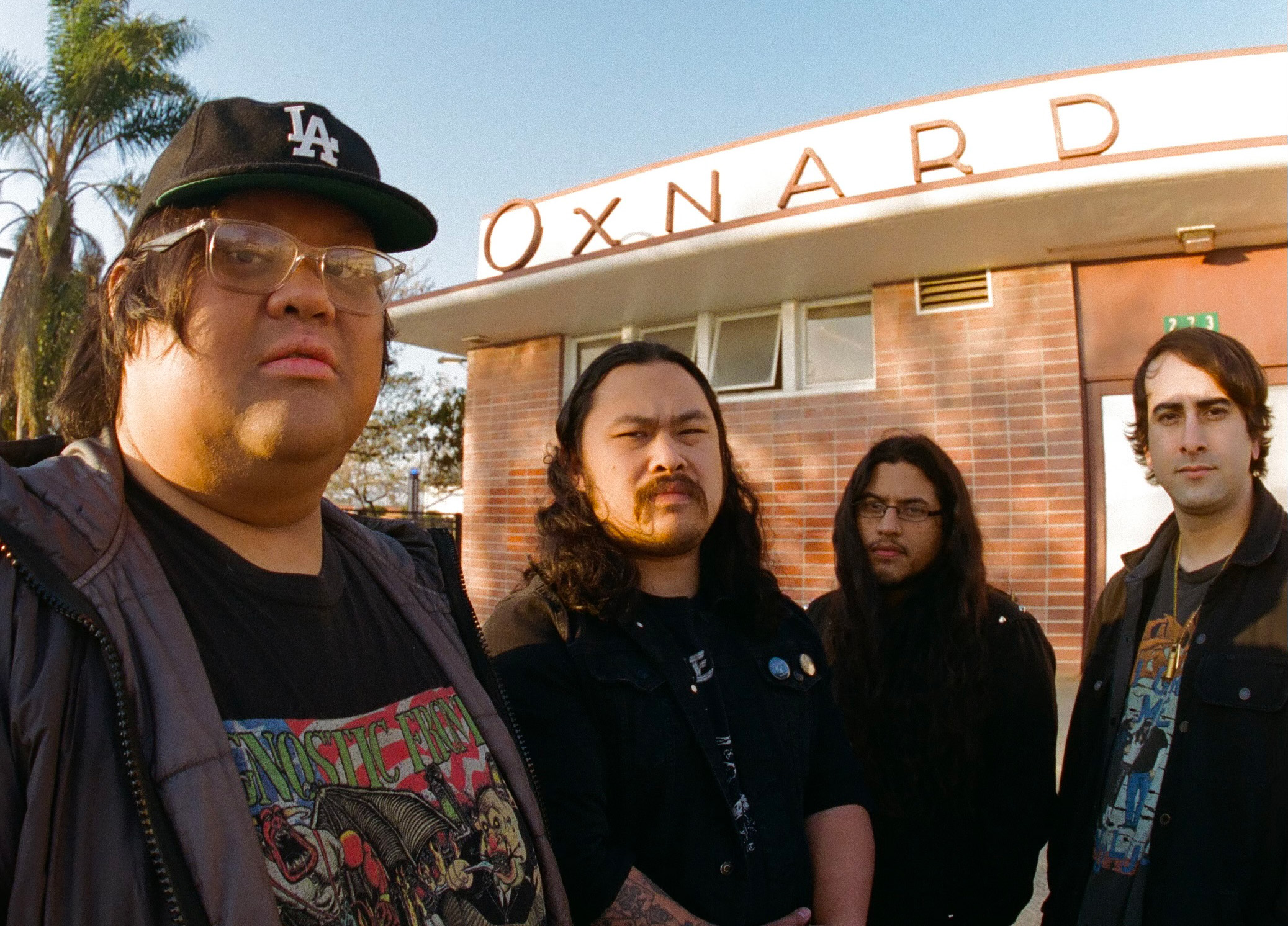 ***
The Endless Torment EP will be out July 28th via Tankcrimes (pre-order) and Triple B Records (pre-order).
Dead Heat tour dates:
May 27th - Ventura, CA w/ The Exploited, Conflict, Total Chaos at The Ventura Theater
June 17th - Simi Valley, CA w/ Sunami, Cola Boy, Take Offense at Rapid Skate shop
July 7 - Denton, TX w/ Mindforce and Heaven's Gate at Rubber Gloves
July 8 - -San Antonio, TX w/ Mindforce and Heaven's Gate at Paper Tiger
July 9 - Austin, TX w/ Mindforce and Heaven's Gate at The Mohawk
July 21-22 - Chicago, IL - The Rumble Fest at the Cobra Lounge
July 29-30 - Los Angeles, CA - Sound and Fury Festival at Exposition Park
***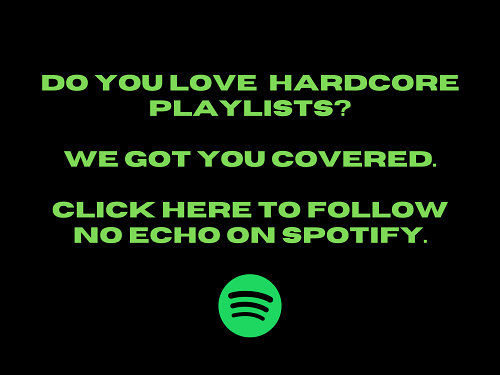 Tagged: dead heat