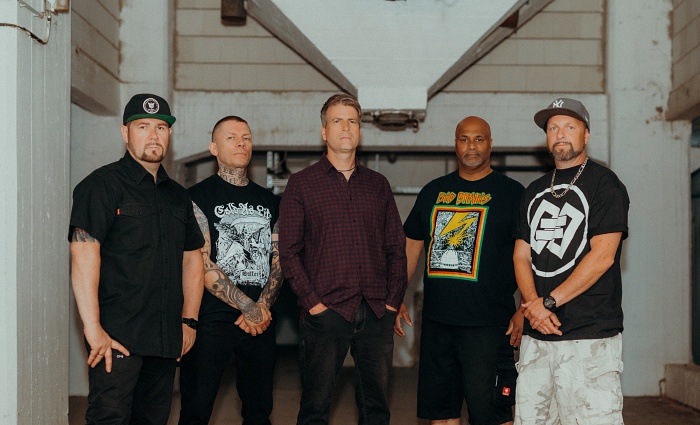 Ryker's has been one of the most popular bands to come out of the European hardcore scene for almost 30 years. Formed in Kassel, Germany in 1992, the quintet has put in a ton of road work, performing throughout the globe with a who's who of heavy-hitters from the hardcore realm, and putting out 10 studio albums along the way.
Like most groups we cover on No Echo that have been around as long as they have, Ryker's have not been immune to membership changes. But the band had an especially big change when original vocalist Kid-D exited the ranks in 2015 to take a break from their exhaustive schedule.
Dennis Müller (Brightside, Still Screaming) took his place in Ryker's, last appearing on 2019's The Beginning... Doesn't Know the End album.
But No Echo is here to share the news that Kid-D has returned to Ryker's after 6 years away.
Here's the band's official statement:
Ah, fuck the long-winded build-up - KID-D. is back!!!

We are currently experiencing very strange times indeed and it seems no one can really deny that the last 1.5 years have had an effect on us humans and our personal environments, whether we noticed the changes happening or not. Spatial distance, a lack of human interaction, developments in people's private lives and, yes, of course, the absence of in-person encounters often led to dissonances which ended up developing a momentum all their own.

As complicated as this all sounds, it will make sense to many of you. To get to the point, Dennis has decided to leave the band. We'd like to thank Dennis for a good time during which we carried the Kassel-Hardcore flag together and wish our friend and his family only the best for the future. And now we're even more excited to welcome our 'lost brother' and my personal partner in crime back to the family.

You missed him, we missed him, I missed him. And so we're putting back together what belongs together!!!

Welcome back KID-mf***-D.
Stay tuned to Ryker's social media pages for more news soon: Facebook | Instagram
***
Help Support What No Echo Does via Patreon:
***
Tagged: rykers