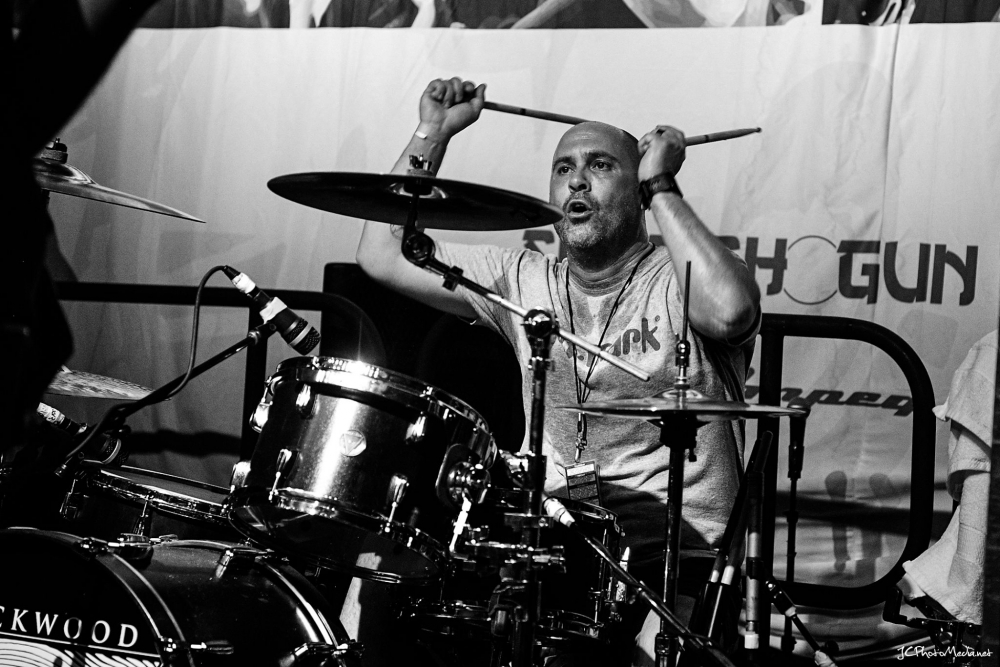 By now, regular No Echo readers should already be familiar with my love for Breakdown and Killing Time. So, with that in mind, it shouldn't surprise people that I reached out to drummer Anthony Drago about doing an in-depth interview about his life and career with both bands for the site. Still based out of New York area where he works in law enforcement, Drago keeps busy with his family and still manages to play the occasional show with either Breakdown or Killing Time when the timing is right.
If you're a fellow fan of one or both bands, I think there's some really interesting things discussed in this new interview with the heartbeat of both Breakdown and Killing Time.
Let's go back to your childhood to start this off. Where were you born and raised and were your parents strict?
I was born and raised in Westchester County, NY in the City of White Plains. I'm first generation US born. My dad immigrated from Sicily and my mother from Northern Ireland in the '60s. I had the benefit of having an older brother and sister, 6 and 5 years older than me, so there were many years of them wearing away at my parents before I hit my teen years.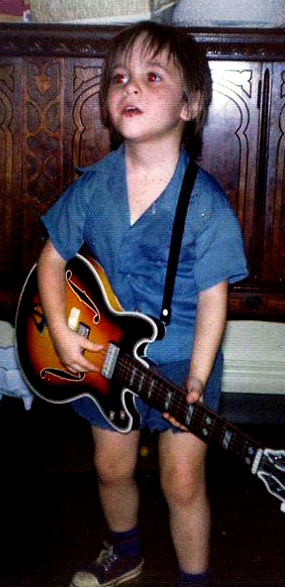 Were you glued to the radio as a young kid?
We had a load of records in the house that my mom picked up from yard sales. I grew up mostly listening to Bob Dylan and Johnny Cash. We used to put on Herman's Hermits records and I used to lip sync and dance for my mom and dad, probably as early as a 4-year-old. They used to make me sing at every family get-together. My mom was a big country music fan, so I used to sing Charlie Pride, Glen Campbell and shit like that. My cousins would all cheer me on and laugh and shit [laughs].
What was your introduction to hardcore/punk music? Did someone turn you onto that stuff, or did you somehow gravitate towards it on your own?
My brother turned me onto metal when I was about 9. AC/DC, Van Halen, Judas Priest, and Iron Maiden. In 1985, I was a 14-year-old kid up late watching Rock Palace on TV when I saw the Circle Jerks get up on the stage. I was floored by the performance, especially by Chuck Biscuits tearing the living shit out of the drum kit. Around that time, my friend Dave and I started tuning into WNYU's Crucial Chaos and getting turned onto so many good bands.
I'm assuming you went to see big rock and metal bands play in arenas in the Tri-state area, but what was the first hardcore show you ever went to?
I started going to [seminal NYC promoter Chris Williamson's] Rock Hotel shows, I guess, in 1986. I was 15 or 16 and had to take the train downtown. Trains stopped running at a certain time and we would always miss the last train home. Sometimes me and my friends would hang the night in Grand Central until they started back up the next morning. I remember seeing Youth of Today, Murphy's Law, Leeway, Circle Jerks, and Samhain, among many others, at the Ritz. It wasn't until Breakdown started playing out that I started hanging out at real hardcore venues.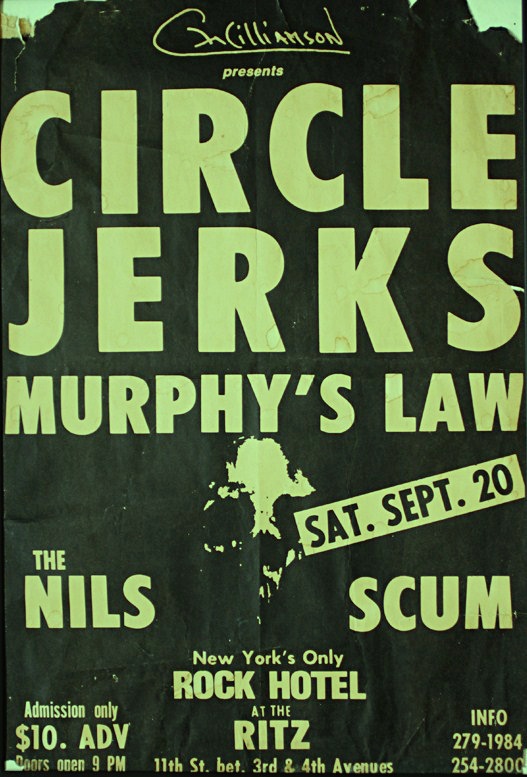 Why did you choose the drums as your instrument, and who were the players you looked up to during those early years?
I started drumming when I was 12. My brother played guitar, I had no head for it. I convinced my dad to buy me a used kit that I saw in the paper. I told him that I knew how to play already [laughs]. I think my mother had something to do with him picking it up for me. I remember setting it up in my basement and my dad standing in front of me saying "go ahead and play" and I couldn't play shit [laughs]. He was kind of pissed about that but I told him that I'd be able to play in a week [laughs]. I learned how to play drums by listening to Phil Rudd.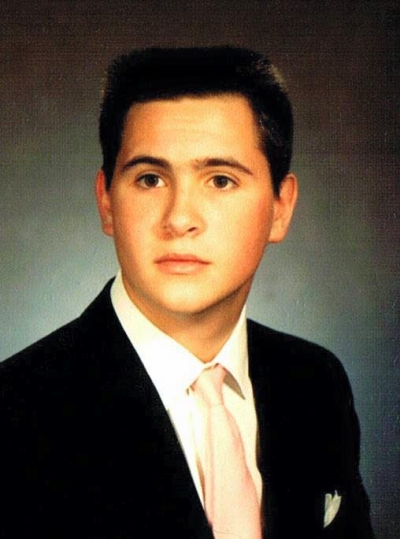 Did you play in any bands before Breakdown?
I was 16 when I got into Breakdown, so I just played in a high school garage band called the ContraSentics. It was a play on contraceptives [laughs]. Two of the guys were brothers from Yugoslavia named Sentic. They were all were older than me, juniors and seniors, and I was still a sophomore. We played one gig at a school cabaret event. I think we played "What You Doing" by Rush and an original tune that was very AC/DC-ish.
What is the genesis of Breakdown and you joining the band?
I used to hang out at the Record Stop record store in Hartsdale, NY, which is right between White Plains and Yonkers. I became friends with the dudes that worked there, like Tony Pradlik and Jim Gibson. I was always checking out the community board they had in the front of the shop where people used to drop Musician Wanted flyers and shit. It was Tony who suggested that I reach out to some guys he knew from Yonkers who were starting a hardcore band that needed a drummer. Turns out, they called me. It was [guitarist] Don [Angellili] who I first spoke to on the phone. It was a long ass conversation about what bands I was into and what kind of drums I played and if I was a "mint drummer" or not [laughs]. It was the first time I got "Angellied" (which I came to call it). He talked me into auditioning for [vocalist] Jeff [Perlin], [guitarist] Carl [Porcaro], and him in my own garage that same night. They came without anything [laughs]. They just wanted to hear me play. I didn't meet [bassist] Rich [McLoughlin] until the following week when I first heard the songs they had been writing. I was very interested. I even offered up my folks' garage as a new practice spot before I even asked my dad [laughs].
The original lineup of Breakdown didn't last long, but man, the influence those early recordings have had on the hardcore scene cannot be overstated.
I guess you might have already answered the next question, but how do you feel about the Breakdown material all these years later?
I think what the original lineup put together was and still is catchy as fuck. The arrangements were simple and the attack was fierce. The demo sounded great for a 4-track live recording. "Safe in a Crowd" and "Kickback" are my all-time favorite Breakdown songs. I have an incredibly fun time playing the original songs. Sometimes, you'll find me screaming louder than Jeff rom behind the kit. Breakdown has a really honest and powerful groove and I'm happy people still get so crazy when we play.
Why did you, Carl Porcaro, and Rich McLoughlin decide to leave Breakdown and start Raw Deal?
Rich was accused of trying to bang Don's girlfriend. There were unsubstantiated reports that Rich was chased from a dark, fogged-up vehicle wearing nothing but his signature tube socks [laughs]. I was not witness to any of this nor did I want to know any further [laughs]. We still don't talk about it. With that said, I was later called by Don who said that Rich and Carl left the band and he and Jeff were continuing as Breakdown. I was also called by Carl who said that he and Rich were starting something new and wanted me on board. I decided to split with Carl and Rich because Carl was pumping out some great tunes. I left on very good terms with Don and Jeff. You have to understand that this shit is so funny now. It was some really stupid teenage bullshit.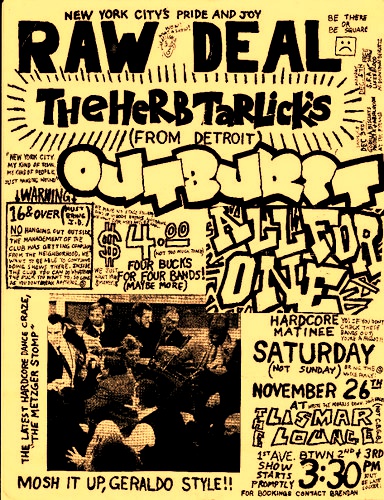 Since you guys were based out of the Yonkers area of NY, I've always wondered how Anthony Comunal—a Queens resident—came to be the singer or Raw Deal. Was that just a matter of knowing and admiring his vocal work from his time in Token Entry?
We met Anthony at CBGB's when we were in Breakdown. He and Don had started talking at some point. I didn't know anything about him. I never had heard or saw him sing. As far as I knew, Timmy Chunks was the singer of Token Entry. I think it was Carl who invited Anthony up to my folks' garage to try out on vocals and see if he was interested. Carl, Rich, and I had already been working on a few tunes and I think I had already penned the lyrics for "Telltale," so he had something to work with. Anthony would only come up with his friend, Mike Sentkewitz, who we all knew from the NY Hoods. They both came up on the day after Thanksgiving 1987. [Laughs] They were both wearing big Russian fur hats, ala [The Cult vocalist] Ian Asbury, and I remember leaning over towards Carl and Rich and muttering "I don't think this is gonna work out."
After releasing one demo in 1988, Raw Deal ended up signing on with In-Effect, a subsidiary of Relativity Records. Did you talk to any other labels before inking the deal, if so, who were/was it?
We had actually auditioned for Chris Williamson, the guy who produced bands on Profile Records in NYC prior to talks with Relativity. He had booked us for the Rock Hotel Superbowl of Hardcore and he realized there was a lot of interest in us at the time. We set up in a recording studio somewhere in Manhattan and played our set while he thumbed through a magazine looking mildly uninterested. We would start a song and we might get through it before he waved at us to start another because he thought it was boring. We all caught a real bad vibe from him and we had heard some pretty shady business about him. One intersting story about Williamson was when he found out that we had signed with In-Effect and were recording up at Normandy Sound, he fucking called my house to scream at me.
He said shit like, "you think that you guys can just go to the same studio and sound the same as the bands I produce?" I let him rattle on about how great he was and how great we might have been if we decided to work with him. I had to remind him that we never heard back from him and he never offered any kind of deal for us to even consider. After a good 10 minutes of him ranting, I decided to hang up. Anthony always said that I was pretty mint for hanging up on Chris Williamson [laughs].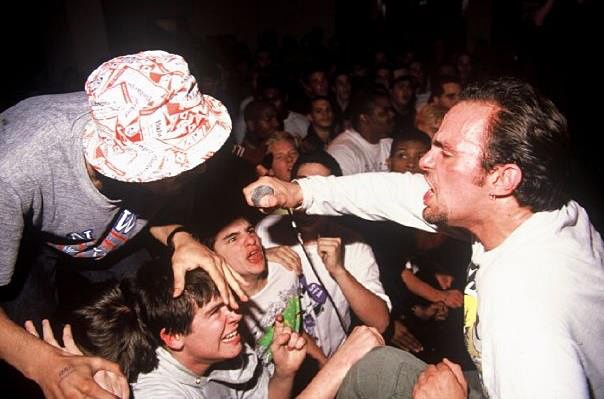 Since they were a brand-new label, was it a tough decision to go with In-Effect?
Our decision to go with In-Effect is because they had their shit together and were good people. Everyone who worked there was excited to be part of it and everyone who worked with us were extremely helpful and kind to a bunch of kids who didn't know what they were doing.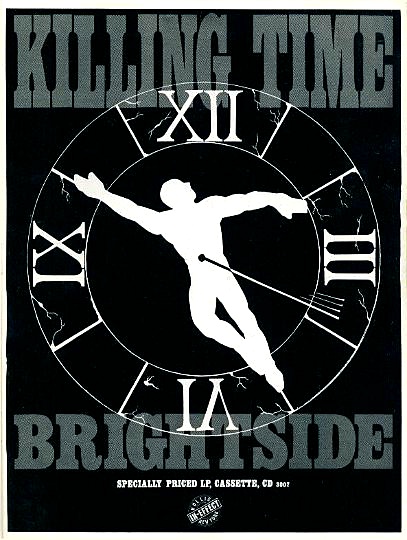 In my humble opinion, Brightside is the best straight-up hardcore album of all time. What are some memories that stick out to you from the recording sessions at Normandy Sound?
We had a great time at Normandy. Our first night loading in, I was bringing my kit to the back room which kind of doubled as a break room or something. This long-haired older dude walked in to get some water and I thought he worked there and I asked him where I should store my stuff and he was like "Sorry, I don't work here." I found out later that night that he was Brad Whitford from Aerosmith [laughs]. Tom Soares had been mixing his side project or something. Tom was great to us. He really had his work cut out for him on that recording. His mark was so huge on Brightside that by the end of it, we gave him co-production credit.
I remember telling Tom that I was hoping to be done with all of the drum tracks by the next night so I could sit back and relax and he was like "you're gonna do a lot of things here but relaxing isn't one of them." It was a wake up call for me. Tom had poor Carl locked in that fucking guitar chamber with his cabinets for hours and hours doubling his tracks. The OCD is strong with Tom Soares. He's also one of the funniest motherfuckers you'll ever meet. He was like a Portuguese Paul Williams.
B.J. Papas' band photo on the back of Brightside is also superb. Last year, I was over her house and she showed me all of the outtakes from that photo session. She couldn't remember exactly where it was taken. What do you remember about that shoot? There's so much attitude to it, even though you guys aren't doing the typical mean-mugging kind of thing.
That photo was taken on the fire escape behind the Mamaroneck Playhouse movie theatre, which I think was permanently closed around 2014. My High School buddy Michael was the assistant manager there at the time. I used to go there all the time and Mike showed me all of the hidden spaces within the theatre. It's a very old building. Mike had a drum kit there for a while and we would play when the theatre was closed. He showed me the fire escape one night and I thought it would be a great spot for the shoot. Very West Side Story-ish in my mind. The fire escape is behind 234 Mamaroneck Avenue in Mamaroneck, NY, if you're into hardcore history tours [laughs].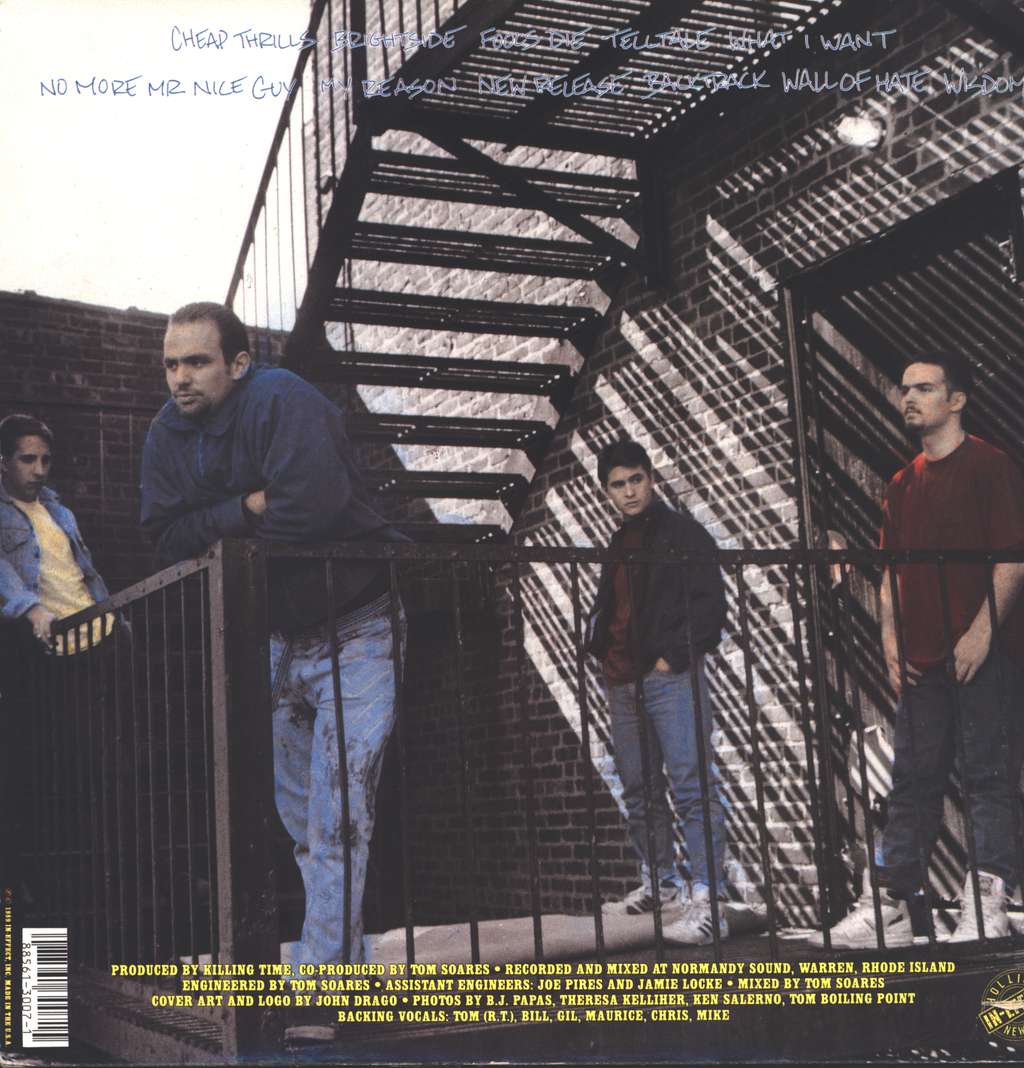 How much touring did Killing Time do in support of Brightside and was the label supportive in that regard?
In-Effect was always behind us to get out there and promote the record. It was us that dropped the ball. Anthony was in school at the time and refused to commit to a touring schedule. It kind of grounded the rest of us for some time. I really thought we were going to tour. It's all I really wanted at the time. There was a good degree of bitterness within the band around this time because of Anthony's decision.
In 1989, you produced the Alone in a Crowd EP that came out on Flux Records.
That is a total joke that those dudes played on me [laughs]. I stopped in on their recording session at [Don] Fury's and I had been drinking for most of the day. I was having a ball and [Alone in a Crowd vocalist] Jules [Massey] was a really cool dude. When he sang the lyric, "there ain't gonna be no bell to go ding" in the song "When Tigers Fight," I was like, "Yo! Why don't you guys have a bell ding when he says that shit!" [Laughs] Jules was all in and I set up a ride cymbal and mic to do it. Don Fury was getting majorly peeved. He was like, "are you really going to listen to this drunk dick who shouldn't even be here?" After a couple of takes of the ride bell ding sounding like shit, I shut my mouth and went back to my beer [laughs]. Funny thing, me being shit-faced at the recording of an iconic straight edge 7". It's even funnier that they gave me production credits [laughs]. I only found this out a few years back.
OK, that story is tough to top! Moving on, the next Killing Time release was the Happy Hour EP in 1992. What was happening with the band and the members in the few years between releases?
Not a whole lot. In fact, a whole lotta nothing [laughs]. We had failed miserably at supporting Brightside, playing only East Coast weekend venues. I remember going back to In-Effect to legally be released from our contract so we could record an EP, which was something In-Effect was unwilling to do. Happy Hour was released on Blackout! Records with our old friend Bill Wilson. We recorded it with Don Fury and as far as I know, everyone hated it. I still love the songs. In retrospect, it's probably something that didn't need to exist but I'm glad it does.
The Method was the second Killing Time full-length and it dropped in 1997. I think that one flew under the radar upon its release, but I know people who ride for it today.
The Method was a really weird period in my personal life that led to a lot of fucked up lyrics. In fact, maybe too many for one record. By the time we started writing the material, I felt really alienated from most people and suffered from a good deal of anxiety over it. I was becoming more introverted and writing those lyrics helped me out of a bad space that I helped create. The music was killer. We rehearsed religiously. Me and [bassist] Sean O'Brien were so tight during that period that we could read each other perfectly.
The Method is probably the band's favorite album. I would definitely consider it more of a "hardcore" record than Brightside. Anthony says that all the time and I agree. Dean Rispler did an incredible job producing and keeping us all in line.
Since Killing Time wasn't that active throughout the '90s, were you approached by other bands to come play for them?
There were bands that were in need of a drummer that reached out but I wasn't really interested in playing in someone else's band.
Since 2010's Three Steps Back album, Killing Time hasn't dropped any new material. What is the current status of the band? You recently did a big reissue of Brightside on vinyl, but do you have any other plans beyond that and the occasional show?
The reissue was fun to work on. I'm actually putting together the layout for a reissue of The Method for Blackout! Records now. As far as playing out, we do as much as we can. I can't afford to be away from work and family for too long and neither can most of the other guys. We try and keep it fun and won't kill ourselves over any shows.
Some promoters can't stand us. For some reason they can't understand that a 48-year-old man with a wife and three kids doesn't want to hop into a crowded van to travel 400 miles for a $200 payday.
Anthony Comunale seems to have such a quintessential New York vibe about him. What has it been like working and knowing him for all these decades now?
Anthony has a really difficult person to deal with but I do love the guy very much. I wish that sometimes he would realize that life isn't so bad. He's got a beautiful wife and family, hundreds of friends and thousands of people that love his band. He really needs to look on the brightside.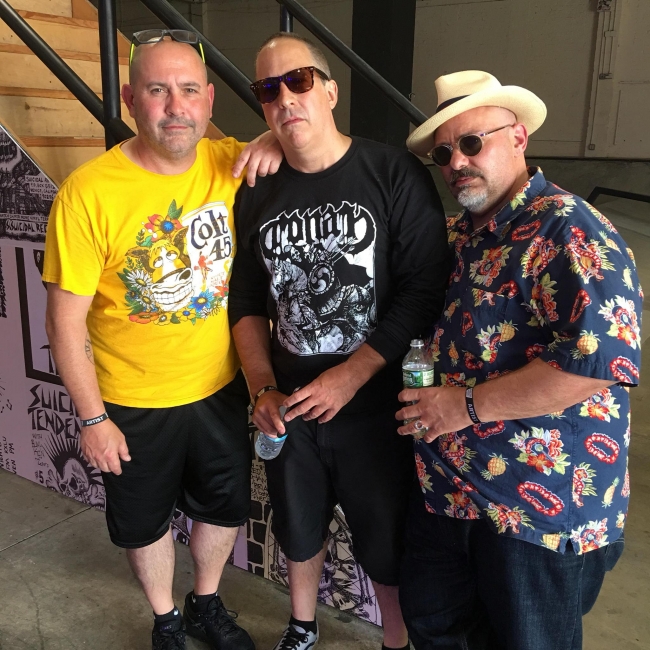 I know you've worked in law enforcement for many years. Does Killing Time come up a lot with your co-workers?
Most everyone I work with knows that I'm in a band. A lot of co-workers have come to see either Killing Time or Breakdown play over the years. The ones who don't come, get a kick out of watching the live videos. I guess it's fun for them to see me acting what they would consider "out of character." I encourage everybody that I meet who comes on this job to have something else besides the job as an interest.
You can't let a job define you and you can't just hang out with people who do the same thing as you for a living. I guess there is a sort of comfort and camaraderie that goes with that but to me, it's dangerous to limit your exposure. It can create and "us vs. them" mentality, which is the worst attitude to have when you do what I do.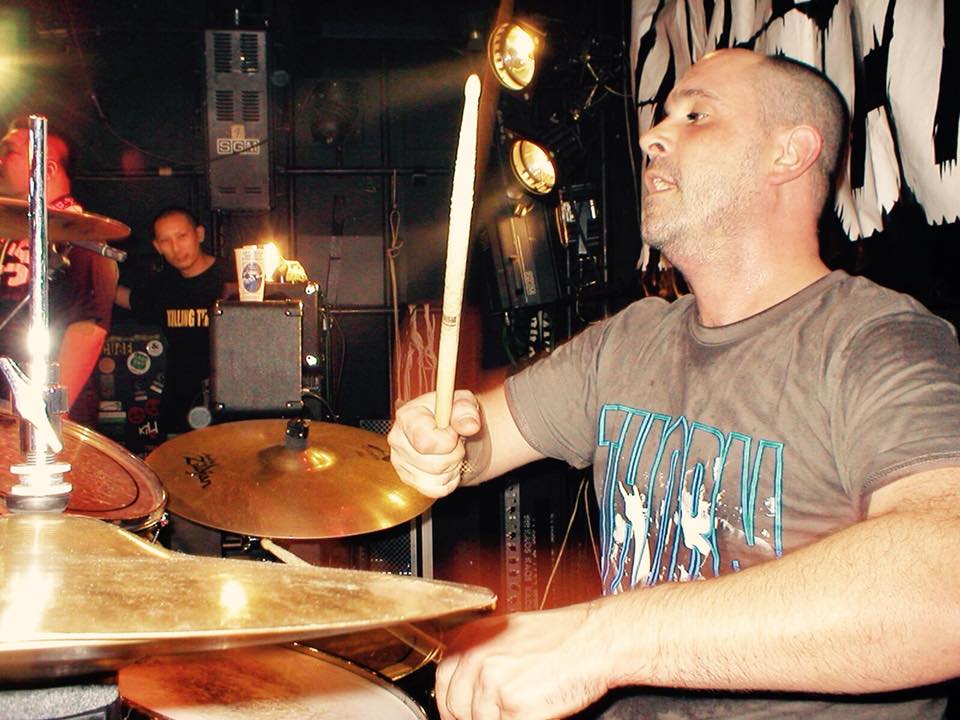 In closing, I would love to know what your all-time favorite Killing Time song is and why?
I've had a lot of favorites over the years. My current fave is "Lookout" off of our last record, Three Steps Back. I just love the sheer energy and simple punk feel of it. Carl and Chris really wrote some awesome tracks on that record. The lyrics, I remember writing while half asleep next to my son's crib when I was stressed over how I was hacking it as a father. It makes me think about what's important and my son knows now that it was written for him and he digs that.
***
Killing Time can be found on Facebook and Instagram. For Breakdown, you can check them out on both Facebook and Instagram as well.
Tagged: breakdown, killing time, raw deal