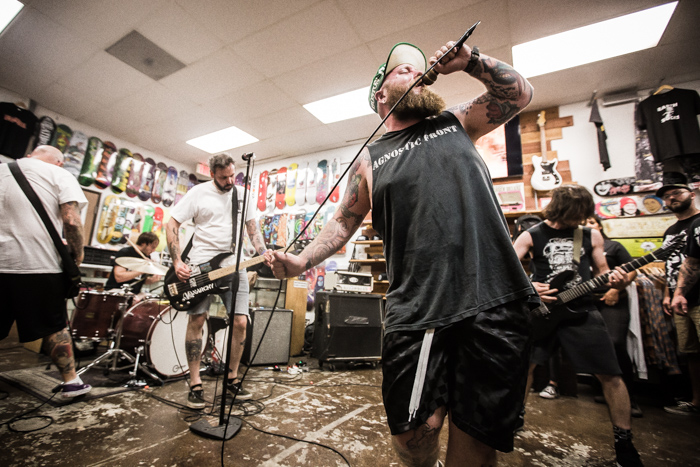 Though this isn't the first time they've appeared on No Echo, we wanted to dig a bit deeper into Pure Heel's story today. "I have another band with our drummer Rob called Pissing Match that doesn't practice very often, so Rob and I started writing some songs to play in between," Pure Heel guitarist Jay Galvin began the story via email.
"When we had a few songs written, we had our good friend, and Pissing Match merch guy, Eric step in and get on the mic. He suggested the Mangler for bass duties and from there we just started playing out wherever we could.
"About a year later we brought in Jesse on second guitar. I have known him since we were kids and he drummed in a couple bands with my brother (Despair, Buried Alive), so we knew he could hang. Musically, we try to put our own spin on hardcore and while we all listen to tons of different stuff our main influence is the raw realness of first wave American hardcore records. We try not to use too much modern studio trickery when we record and don't spend long hours tracking. Just come in prepared and put the mics in front of us."
The reason No Echo chatted with Pure Heel is the Buffalo hardcore band recently inked a partnership with Irish Voodoo Records (Pointbreak, EgoDestroys). The SoCal label will be releasing a new 7" from the group in 2020, their first since last March's Crime Spree EP.
So, what can we expect from the upcoming material? Jay offers up his thoughts: "We are really happy with our new 7". Lyrically, we hit the usual staples (depression, anxiety, paranoia, being a degenerate, etc.) with just a dash of left wing politics (the effects of the xenophobia currently sweeping our nation) and musically we have found our groove of dissonant, hardcore punk.
"When we write, either Rob and I or Jesse and I will demo a rough version of a song and give it to everyone else to learn. Sometimes, I have the lyrics written already, sometimes Eric writes lyrics to the demo. The Mangler' has free reign to bass it all up however he sees fit. He is our secret weapon."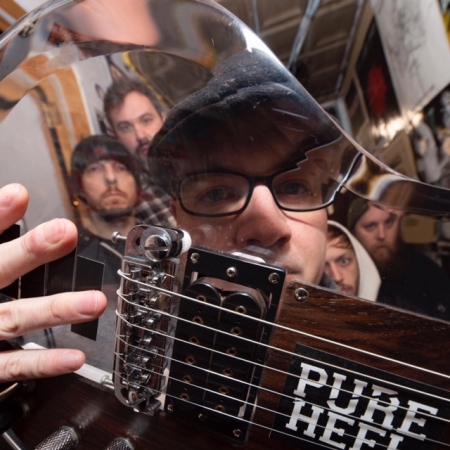 With a history that includes such great bands as Snapcase, Zero Tolerance, and the aforementioned Buried Alive, No Echo asked Eric from Pure Heel how his group has fit into the Buffalo hardcore scene so far. "I'm stoked on what's been going down in Buffalo the past few years we've been a band. The shows have been killer and the crowd is moving. What more can you ask for? We feel a kinship to any Buffalo bands who are doing it for the love of music. If you are honest, we dig it.
"Some bands we currently enjoy from here include Old Ghosts, The Elite, Final Declaration, Tines.... Anytime we play with one of those bands we know it's gonna be a blast. There are a lot of other great bands here as well that we are probably forgetting and some that we haven't played with yet. Our city has a long history of great underground music.
"Aside from that, Travis and Eric at Bankrupt Studios are always putting out solid tunes and comps in Buffalo. They helped release our early material, we're super thankful for that and any band those guys put together typically rips. Outside of Buffalo Terror has taken care of us and put us on some great shows, everyone in that band is super supportive. We love playing with them."
Give Pure Heel a follow on their social media pages (Facebook, Twitter, Instagram) and stay tuned to Irish Voodoo Records for release information on the forthcoming 7" from the band.
***
Donate a few bucks to help with No Echo's operating costs:
Tagged: pure heel