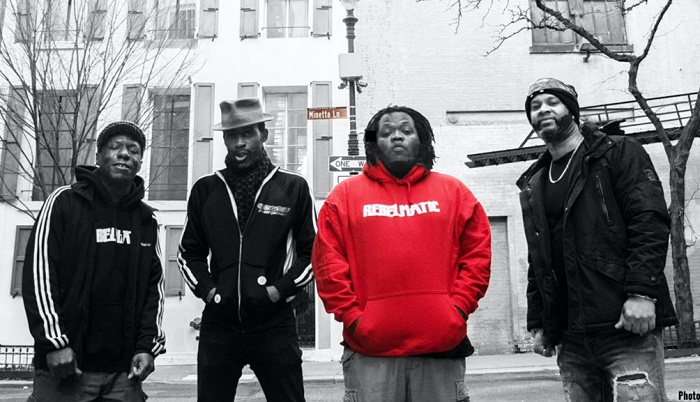 Ignoring the moment is a fool's errand.
Today's Song of the Day is "Insult to Injury," courtesy of New York's Rebelmatic. Not so much prescient as it is infuriatingly commonplace, the mirror image cast by their latest single is as "now" as art could hope to be.
Comprised of borough lifers with dizzyingly varied resumes, the band here offers up a sub two minute whirlwind that manages to be furious, thoughtful, and deftly provocative. Musically, it tips the cap at everything from NYC's early hardcore and punk to funk, groove metal, and all things progressive:
There's an off-kilter rhythmic sensibility and a ripping lead guitar riff that serves as the song's backbone. There's a hypnotic quality to the doom-laden vibes and, fitting with the video's backdrop, increases in urgency as it manically races to its conclusion. The vocals command from the jump and, in the final act, repeat "insult to injury, stuck in the mud" seemingly ad infinitum. It's a telling and effective burst best played at maximum volume.
The band also sidesteps easy categorization with a pastiche approach that's all the more rewarding upon exploring a discography that dates back to 2009.
The genre-hopping they pull off is seamless, as they organically vacillate between funk workouts, clean-sung southern-tinged metallic rock, and blasting hardcore all within the confines of an EP. No telling what the full length will hold but it's likely to be a melange of rad shit.
Having long been an integral part of New York's music scene, the band has shared stages with everyone from Pure Hell, Slick Rick, and proto-punk legends, Death. Having also garnered high praise from Fishbone's Angelo Moore and Bad Brains' HR, RebelMatic is clearly doing it right.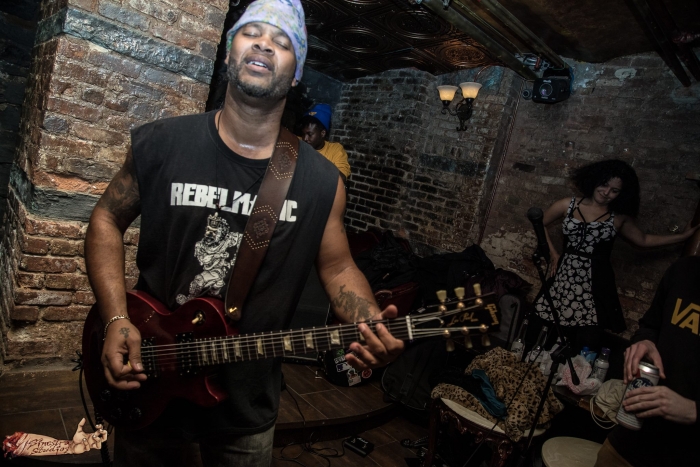 Creature, the band's lyricist and vocalist, was kind enough to spend a large part of his evening on the phone with me as I grappled with tech woes. As generous as he was with his time, he was even more so with his words. The man is full of insights, stories, and endlessly entertaining gems like "(the band is) a warm blanket for a cold world."
Note: The interview was transcribed as we went and we went everywhere, oftentimes quickly. This is representative of our chat but it's not the chat in its entirety. Thanks for reading.
Nice to meet you, albeit virtually. Please introduce yourself and the band to No Echo readers.
I'm Creature from Corona, Queens. Born in Harlem. Rebelmatic is Karnage on bass, guitar is Alkatraz, and Ramsey Jones who, is incidentally ODB's brother and one of the best drummers on the planet. RIP to our original drummer, Stiks. We're linked to a lot of different people in the city. It's in our DNA.
Cheers on being the flagship band for Red Right Recordings. How'd that come together?
Our drummer was playing with GZA at a Vans show. A kid I knew introduced me to Mark O'Connell [Taking Back Sunday drummer and label co-founder alongside producer Daniel Wallace]. He asked what I did and I said "lemme show you a video from The Chris Gethard Show."
He was immediately interested and I cultivated the relationship. He wanted to produce us. We built a rapport and made an album!
If I did my homework, the label's inaugural release is slated to be Rebelmatic's forthcoming record, Ghost in the Shadows. This single, "Insult to Injury," in conjunction with its video, begged to be dropped in advance. Tell us a bit about the impending album and the aforementioned new track.
Piggybacking on that, I've seen phrases like "of the moment" lobbed at art that happens to align itself with the times, but these aren't new problems. Give us some background on the song and the narrative of its accompanying video.
COVID-19 hit and everything got backed up. This song wasn't even going to come out first, it was coming later but it made sense given the times. We're in a climate where unfortunately it's more pertinent and urgent. It's just that now there are more ears. I'm not prophetic, I'm just wired like this. We'd hope it can soundtrack the moment. The song, though, wrote itself. I wrote the whole thing in like 10 minutes… it was bigger than me.
Anthony [Retoli, director of the "Insult to Injury" video] helped with the vision, so kudos to him for helping to capture it. The concept of the video was that I visually saw a Klansman chasing me when I wrote it.
I've been followed, I've been chased and had things thrown at me when jogging. We wanted to capture a moment. That's the reality of being black in America. This is the climate. This is not the first time. Emmitt Till was killed for allegedly whistling at a white woman.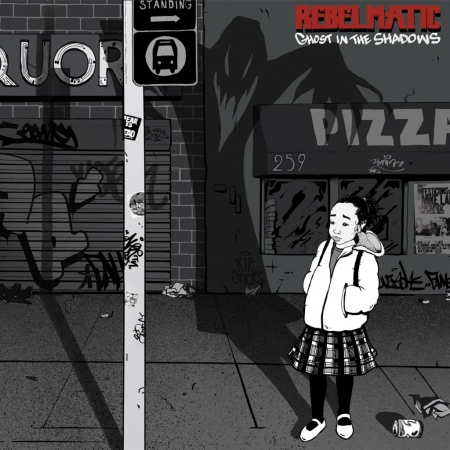 You'll hear on the new album that it's a progression of what we've been doing. You can still hear the raw and gritty sound but everything is elevated… it's bigger and the production is pristine. It's powerful. There's more than just screaming because I can do more and be more than just "that." That's just what I do. It's also a band whose core (3/4 of us) has been together for 7 years.
Lyrically, you've always been direct and very much in the spirit of political hardcore punk. Is that an intentional through-line that runs through the band's DNA?
I was born and raised Muslim in Corona. I'm not supposed to be "how I am." The political nature didn't come from hardcore. I was born into it and it comes from hip-hop. When I saw Bad Brains, I saw me. That representation is important. I didn't know fighting for human rights was political. I don't look for topics, I just write from an honest place. Hip-hop brought that out for me. I was an angry kid and I'm still an enraged man.
The hardcore scene has seemed to nationally stand up and donate to myriad places, be it directly or through exclusive merch to prompt donations. You were early to helping The Minnesota Freedom Fund, which has since seen has an unprecedented amount of money roll in.
I like to help out locally, but it made sense to start there. That's what we believe in doing. We've got the song out and there'll be merch, but music is survival and for my mind. You have to give. You have to stand for something.
[Donate to the Minnesota Freedom Fund at this link]
Sonically, Rebelmatic seems to pull from a litany of different places. Digging into the band's discography, I hear elements of NYHC, punk, funk, groove metal, and a number of other genres. Are there major points of influence that make up the band's unique sound?
I like to say we sound like James Brown in a mosh pit [laughs]. There's funk, hardcore, and punk, but it's all about that groove. It sounds like a pre-gentrified New York… hopping a train with $10 in your pocket. We're not trying to rehash anything or hold onto a tradition. We're enjoying what we do naturally and we have years of experience in hip hop, punk, and lots else. Alkatraz (guitarist) is just in tune with another spirit… his guitar bleeds. It literally just comes.
Me and Karnage (bassist) are probably the only ones that're hardcore kids. I remember Coney Island High and CB's [editor's note: his hardcore knowledge is vast, to put it lightly]. We're not cannibalizing it. I don't wanna hear karaoke. People have always tokenized and weaponized black bands… saying "I'm not racist. I like the Bad Brains. I love Jimi Hendrix." Bands have had to negate being black to be hardcore. That's done.
Not every black band sounds like Bad Brains, check your shit. They're an inspiration, but no one has ever played with the precision they had. What I learned from them and what inspired me was the possibilities. I trained my voice to sound like myself. We're being ourselves and are unapologetic in showing the pain, the joy, and the celebration of being black.
Typically, the band name origin story is a yawner of a question but from what I gather this one's a bit more interesting. What's the background there?
The name was inspired by Public Enemy's "Rebel Without a Pause."
Once you know your enemy, you don't have to think. You just go. It's like being full, being complete. It also sounds dope and shares a bit with Nas' Illmatic. Be on your shit 100% [from here, our conversation went into album/ep names, etc.]. My daughter came up with the name of the new album. When she was going to bed she said, "Daddy… it's a ghost in the shadow."
We find ourselves in a time in which live music is on a collective pause but what's the future hold for Rebelmatic?
We'll keep making music, go on the road when and if that's possible. I have to make music whether or not I make a penny. Whether we put it out or not, this is what we do. Music helps me not hurt people and not hurt myself. People need that outlet. My priority is staying alive. Staying alive and staying sane.
Being here in Baltimore, I'm less familiar with bands from the New York City scene. Who're some other bands from there we need to keep our eyes out for?
MAAFA, The 1865, Universe Ignore Her, Winter Wolf, and Fear Is Dead. Also, The Muslims out of North Carolina all have good shit to say.
***
Ghost in the Shadows is available for sale directly from Red Right Records.
Rebelmatic on social media: Facebook | Instagram | Twitter
Tagged: rebelmatic