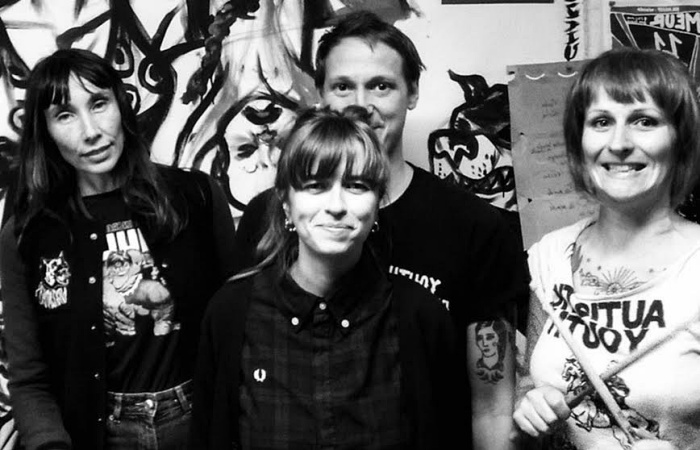 Neuf Volts is a punk band formed in June 2020 in Tours, a city in the Centre-Val de Loire region of France.
"At the begining of the band, it was not really allowed to travel or go outside except for working or shopping, so it was like if we were a gang of happy rebels," vocalist Béatrice tells No Echo. "Actually, we all met in the most famous pub in Tours, called Le Canadian Café where the bartender is a real Master of Magic! He's so fascinating…"
Comprised of musicians who have also played in such groups as Catisfaction, Better Off Dead, and Sueurs Froides, Neuf Volts recently released their debut demo. The 8-track collection finds the quartet firing up classic-sounding hardcore punk.
The Neuf Volts folks say the following about their sound: "We think it sounds like a kind of '80s hardcore punk, but with a French touch and some melancholy to it. We all have some differents influences, but we all agree on Adolescents, SSD, Dead Kennedys, and Cro-Mags."
"The songs were all tracked in 2 days, recorded by a friend called Jean-Baptiste Geoffroy, in his sunny and nice living-room, close to the river, Loire. The artwork was made by our friend, DUCH.
"The lyrics talk about the reality of what's happening in the world, and our personal feelings. But we also play a kind of cover of a song about skateboarding ["Super Skate], that was done by an old popular Israeli singer [Rika Zaraï]. We discoverd this song when she died last year, and according to us, it's a hit!"
Neuf Volts shout out some of their fellow French bands they want No Echo readers to check out: "We especially love Année Zéro, Kronstadt, Coupe-Gorge, Gutter, Litige, Bombardement, Llamame La Muerte, Short Days, Circles, Jessica 93, Radical Kitten, Litovsk, URSA, and Maraudeur."
Demo 2021 is available on cassette via CanISay? Records.
***
Help Support What No Echo Does via Patreon:
***
Tagged: neuf volts