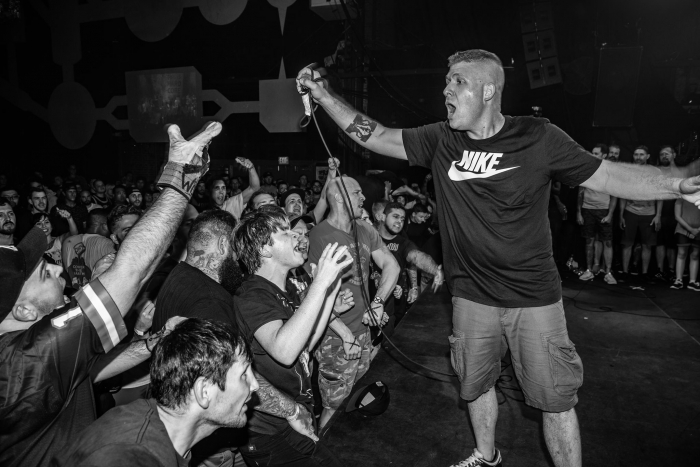 Within the hardcore community, Anthony Moreschi is known for his work as a vocalist in such bands as Ten Yard Fight and Stand and Fight.
In his other life, Anthony is an Emmy Award-winning filmmaker who will be releasing Don't Stand in Line, a 6-part documentary series that explores the inspring journey of individuals who used the DIY ethics they learned from the worlds of skateboarding, BMX, punk/hardcore music to launch their careers.
Don't Stand in Line features Chris Wrenn (Bridge Nine Records, Sully's Brand), Greg Walsh (Wolf Brigade Gym, The Mephisto Group), Sunny Singh (Hate5Six), and Steve Crandall (FBM Bike Company, RADshare, Drop In Coffee).
With the doc series launching later this month, No Echo chatted with Anthony about the endeavor, his background in BMX, and his thoughts on Ten Yard Fight.
Before we get into the series, tell me a bit about your background with BMX and skateboarding. Also, when and how did you get into filmmaking?
I actually taught myself how to a ride bike when I was 5. My parents wouldn't take my training wheels off to teach me so I snuck out on my sister's bike and spent an afternoon riding in circles and falling a lot until I nailed it. I then proceeded to take off my own training wheels and I've been doing stupid things on a bike ever since.
I'd say I got my first real BMX bike probably in '82. So I was probably about 8. I saw the bike chase scene in E.T. and I had to get one of those bikes. A few years later I saw Back to the Future and I got hooked on skateboarding. I've been pretty much full on into both ever since.
My parents use to rent a video camera every once and a while and I'd take it out and film my friends riding and skating. I think they got tired of me begging and throwing money away renting, so they eventually bought one and that's how it all started.
When Ten Yard Fight was going to play our final show, I took the opportunity to put a video together and that was my first real project.
I had talked my way into working at a company that installed video editing systems (which started at $10k back in 1998). I took that opportunity and got as much time on the equipment as possible. I also learned how to author DVDs during this time.
When I moved out to SoCal in 2000, [Ten Yard Fight guitarist] John Lacroix and I were driving around lost somewhere and I saw a building with a huge 411VM logo on the side. I was a huge fan and it was a pretty big deal in the skateboarding world at the time.
I went inside and spoke to someone, dropped a resume and a few weeks later I was putting CKY2K (the precursor to Jackass) on a DVD for them. I had also been working on a BMX video magazine of my own and when I told them about it they offered me the chance to do a BMX version of 411VM. It was basically a dream come true.
What sparked the idea behind Don't Stand in Line? It's a big undertaking, so I'm sure it took a long time from seed to the finished product.
I have really hard time describing the project but the basic idea was to shine a light on people carving out their own path that came from worlds that I was familiar with. I don't know much about business and business people, but I do know about hardcore, BMX, and skateboarding. Those are 3 things that have been a constant in my life for as long as I can remember.
Over the past 30 years, I've crossed paths with so many people from these scenes that have done truly amazing things. It really sprung from curiosity. I wanted to showcase them but I also wanted to learn how they did it. It's really easy to say DIY until you die when you're 18 but these guys have been at it for 25 plus years.
The idea was rolling around in my head for at least 5 years before I did anything about it. I was hesitant to take on a big documentary project because I spent years on a few feature length docs in the past and got screwed by distributors and really never saw a dime.
Having a wife and kids and a business to run, I was having a hard time rationalizing it to myself. But it kept nagging at me and one day on a whim I decided to just run the idea by the guys. To their credit, they all almost instantly responded and said they'd love to do it. Once it was out there, I was committed.
How did you decide on who each episode would be centered on? Was that a tough process to figure out, or did the names instantly pop in your head?
I have a list as long as my arm of people who would be great to feature but since I didn't know exactly what I was doing when I started this, I wanted to go with friends who I knew would "get it". I also had a very low budget to work with so I tried to keep the locations driveable.
Greg Walsh, Chris Wrenn, and Steve Crandall were obvious choices and I thought they would be into it. I didn't really know Sunny Singh that well, but I figured it was worth a shot and he ended up being great to work with.
The way the series is structured, they each appear in all 6 episodes pretty much equally. I thought it was important to weave the stories together to see the different perspectives, similarities and differences of each character. They're all doing completely different things, but all come from a DIY ethos and decided long ago to commit to their respective missions.
Each episode has a general theme that's illustrated with their thoughts on a subject as well as stories and examples. I think the series does a good job of showing all angles of taking your own path not only in business but life in general.
Don't Stand in Line further reminds us about the DIY spirit that hardcore helps instill in so many people from our community. Can you speak about that aspect of what you do?
Over the years I've done countless projects and most have not turned out the way I wanted. T-shirt companies, bands, video magazines, documentaries ect. Most people would view the results as failures, but everyone of them taught me something important and usually led to something better.
But the biggest lesson I've learned from hardcore is that you can't wait for someone to do it for you. If you want good bands to play in your town, start booking shows. If you don't like the bands that are around, start your own.
If you have some hairbrained idea for a documentary that you can't even explain, go for it. Most people don't have a clue what they're doing but they just start and keep at it until they figure it out. Don't wait for anyone's permission, just go do the thing you want to do.
How do you look back on your time in Ten Yard Fight? Is that a chapter in your life you have zero regrets about?
I think my only regret is that I maybe didn't appreciate it or enjoy it as much as I should have. I remember thinking about that at the time and trying to be conscious of that fact but it's still really hard when you're in the middle of it.
I think we did way more than we ever set out to do, so I don't feel like we ended too soon or anything like that.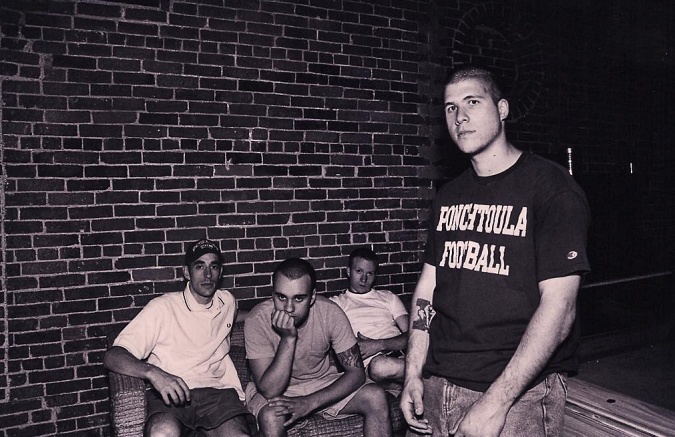 What's next for Codec Projects now that the series is coming out, or are you too busy with the rollout to even plot that?
I view Codec Projects as an umbrella for all the crazy ideas I have. It's definitely a "passion over profit" venture. I'm not going to work on anything that I wouldn't want to see/hear/read. I have tons of ideas for different doc series and features, but right now I'm focused on rolling out Don't Stand in Line Season One…
That being said, I have started the process of lining up a season two and with any luck I'll be able to release that in 2021. Obviously, COVID has screwed things up for everyone, but I filmed the first season as a one man band so it should be feasible to get it done.
I definitely want to thank Greg, Chris, Steve, and Sunny for trusting me and inspiring me throughout this project. I'm sure they had their doubts at times, but they never showed them and I really do appreciate the opportunity to work with all of them.
I think their stories and perspective can help a lot of people and I can't wait put this out in the world.
***
Hit the Codec Projects website for more info on Don't Stand in Line and everything else Anthony has going on.
***
Donate a few bucks to help with No Echo's operating costs:
***
Tagged: stand and fight, ten yard fight