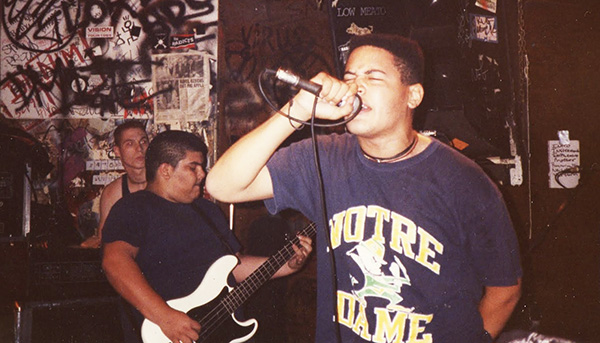 Growing up just a few blocks from their home base of Jackson Heights, Queens, New York, Dmize was a band I looked up to during my high school years in the early '90s. The young group mastered a gritty brand of hardcore that brought to mind Killing Time, Breakdown, and Rest in Pieces. While they only released three demos during their lifespan, Dmize's influence is clear when you listen to bands like Crown of Thornz and Trapped Under Ice.
After their breakup in 1993, members of Dmize went on to such hardcore and punk acts as Madball, 25 ta Life, The Casualties, and Everybody Gets Hurt. I previously spoke with Dmize guitarist Rob "Beto" Rosario for the site, and now I'm excited to bring you a new interview with the group's vocalist, Chiqui Rodriguez. We chatted about his formative years in Queens, and his life in and beyond the hardcore world.
First off, where were you born?
I was born a few blocks away from where I live now, in Jackson Heights, at Elmhurst Hospital. My mother is Dominican and my dad is Puerto Rican. I'm Jackson Heights born and bred.
What was your childhood like?
My childhood rolled right into my teens. I went to P.S. 69 with a whole bunch of friends, including Jere (the original Dmize frontman) and a mess of others that I'm still close to 'til this day. We were young and riding trains everywhere, from Shea to Yankee Stadiums to Coney Island to Rockaway Beach. We were rolling everywhere, even at 8 or 9 years of age.
Did you get into music at an early age?
I always dug some poppy shit when I was growing up. I was pretty much influenced by my older brother and cousins. I always remember the '70s and early '80s from family parties—there would be merengue and salsa playing, and then it would roll into the Jacksons; Chic; Donna Summer; Earth, Wind & Fire; Stevie Wonder; and some other earlier R&B.
What other styles of music did you like early on?
My first love was always big band music, primarily from the old Warner Bros. Looney Tunes shorts, and again into the '50s style of pop. Some of that music is some of the most popping shit out there! If you listened to Louis Prima and would have caught a show of his down in Vegas, it would have been one of the most energy-filled sets ever.
That man worked insane shows and did it at such a high level for such a long time. As you can surmise, most of what I always cared more for was the more conventional music and moved away from the techno bullshit that I think is devoid of talent. I was never a big hip-hop guy, save a few classic jams. My first concert was Bryan Adams at the Garden when I was in the 7th grade. As I got older, I still enjoyed some popular music, but when I got to high school everything changed.
How did you come to discover hardcore and punk music?
I went to Aviation High School after my freshman year at August Martin, and pretty much it was a wrap after that. My boy Conan lived across the street and he was into some glammier shit, and some of us weren't so much into that, but then we found some other harder shit. Soon enough, he got on board and now he's telling me about some shit that's absurdly hard.
SEE ALSO: 2016 interview with Brendan White (Bad Trip)
Did you have a mentor to show you the way into that world? In my interview with Beto, he mentioned Hoya's older brother, Dave, as someone who was influential in his neighborhood when it came to punk music.
I reconnected with Jere around that time after he returned from a summer in Ireland. I was listening to Slayer, Metallica, Overkill, Nuclear Assault, Suicidal Tendencies, and the Crumbsuckers; and he was into the Dead Kennedys, Circle Jerks, and some other punk and hardcore. He was skating and told me I should come hang out at P.S. 69. This must've been around '85 or so. This was where I was first introduced into hardcore and the local straight edge side from the Gorilla Biscuits, Youth of Today, and Token Entry. It was a wrap once I heard the Bad Brains and the Cro-Mags. In turn, I gave them a little Reign in Blood and crossover was born in the Heights.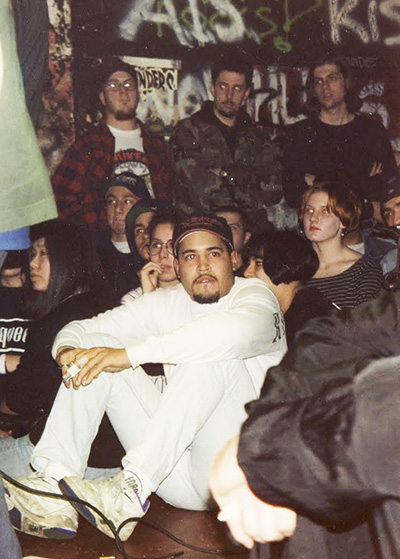 Many musicians from the hardcore world lived in Queens during the late '80s. Did you know any of the dudes from Gorilla Biscuits or Murphy's Law?
We didn't know a lot of those guys at that time until [NYHC band] Occupied Territory got Mergen to sing for them. He lived up the block from me and was in the same grade as my older brother, so I had known him when I was younger. He got into the scene somewhere along the way and he was cool with Anthony [Comunale] from Raw Deal, so he was the first real hardcore celeb I encountered, if you will.
All those guys from the other side of Northern Boulevard weren't real keen with us on the south. There was such a divide, even down to Little League Baseball, so not much camaraderie went down with us heathens from the south side and the other side. We thought them to be a bunch of straight edge pussies anyway. As we got older, we were cool with them, though. Some of the guys from Astoria were really cool, as some of us used to go down to the Con Edison pyramids and hang with the NY Hoods and Token Entry.
Beto told me he met you through MQ, the graffiti writer. Where you bombing back then?
Shit, everyone was either bombing or sniffing spraypaint back then [laughs]. I used to roll sometimes. Let's say I was all Jackson Heights, and maybe about a block or two. I was not all Queens as some writers, and definitely not all world like Q.
SEE ALSO: The Graffiti and Hardcore Connection
Did you play in any bands before Dmize?
We were always at Underground Studios or Bel Studios doing one thing or another with some band. Mind you, there was about a five-year window where it was all one big weekend for me. I remember names like Impact, but I don't think I was in that band. Hold Your Own, and I might've been in that band as well, and another band called Conspiracy. That may have been a cup of coffee of inclusion.
Jere sang on the first Dmize demo that came out in 1990. What was it about the band's style that appealed to you?
I was right there through it all. I was approached to be the singer before Jere, but went against it. In hindsight it worked out, 'cause some of the jams and lyrics were the best out there at the time.
Were you confident when you joined?
Like I said, I was there along the way, so I knew all the lyrics. It was an easy transition.
Was the second Dmize demo the first time you were in the studio with them? Don Fury recorded those sessions. What was it like working with him?
I sang backup vocals on the first demo with Jere. Don Fury was in such a wonderful phase of being in the city at that time. That joint was surreal. He lived in the storefront and the studio was downstairs. This was our first foray into recording and not just getting the radio and hitting record on the tape deck.
Were you guys playing out a lot at that time?
We didn't play nearly enough as we wanted to, but we played a lot with the Biscuits and Bad Trip out in Reading, PA a bunch of times. Those were some of the craziest shows I'd been involved in with Gorilla Biscuits drawing all them kids, and the great kids from Delaware we met down there—culminating with Fred [Muench] from Bad Trip busting out a trampoline for their set. That whole Douglaston Mosh Association crew were cool. Marcos [Siega] owned Bel Studios in East Elmhurst, and us guys from Jackson Heights practically lived there.
Beto felt that Dmize truly came into its own on the 1992 demo.
Yeah, that's when we really knew what we were doing. We had our sound that we were gonna grow with on those three jams. You can hear it on the Madball tracks shortly after that. Hoya wrote practically everything, with each of us throwing some transition—me humming a hook here and there.
My all-time favorite Dmize song is "Soul Search." I'd love to hear more about what that song is about.
In the latter part of Dmize we were blessed with [drummer] Jonathan [Rosado], from Brooklyn, who made us the tightest we had ever been. We started doing all our practices in his basement in Brooklyn. He had a bunch of poetry in a bunch of different books, and we were down there writing and I had no real lyrics. So I found a page and the first lines were, "I hear the words of those I love, and hate those I never know." That's all that was written, and I just flowed right from there. The progression is learning where you're from and the obstacles you're gonna face, despite everything you hear about how great you are. That shit ain't gonna get you anywhere but a big head, so you still gotta work at it.
Why do you think the band never signed on with a record label?
Who knows? Controversy, violence, kids, NYC, stupidity, wrong address? I think we would've if we stuck it out, that's for sure. We pioneered and influenced a lot of shit that I hear out there now, so we definitely would've gotten signed.
During my Beto interview, he didn't really get into the DMS side of things when it came to Dmize. But I wanted to ask you, do you think the violence associated with the band—and DMS—was blown out of proportion?
We were DMS, it's not like we were looking for it. But it found us. From someone pulling a gun in front of CB's, to someone catching a beatdown in front of the Pyramid. It could've been any other band, but at that time it was us. Shit was fun as hell, though.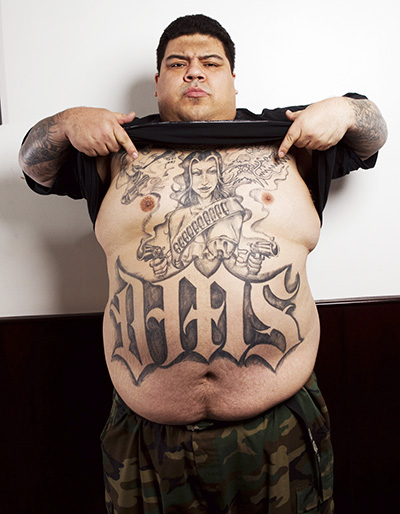 From your point of view, why do you think Dmize broke up?
We didn't know what we had. Some of us wanted to put square pegs into round holes and it didn't work. At that point, fallbacks were available for some and some weren't ready to fight for it. It worked out in the end. Hoya became a legend, Jonathan became a legend, Beto and Steve went to many other bands as well. And I was cool with everyone. Who knows, maybe we'll get it back.
Lost and Found Records issued a Dmize compilation CD back in 1995. Even though it was a bootleg, that thing has become a huge collector's item over the years.
I'm cool with it. I can't believe that much money was made, 'cause shortly after that it was available electronically, so the torrents were available. It gave us some notoriety. I still get emails from people asking questions or mercy or begging for a reunion.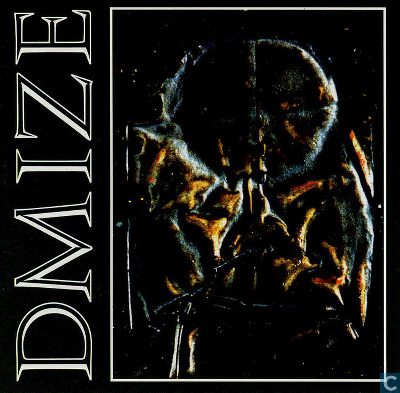 Did you play in any bands after Dmize broke up?
Nah. There was nothing out there for me. I was doing my thing away from the scene and I'd pop back in every now and then.
Are you still friendly with the other guys from the band outside of Beto?
I was talking to Hoya just a couple of days ago, and whenever Madball's playing local, I try to go. I spoke to Beto for a while today, and I email with Jonathan every now and then.
SEE ALSO: 2014 interview with Rob "Beto" Rosario (Dmize, 25 ta Life, Madball).
Have you kept up with the hardcore scene throughout the years?
Not much on the hardcore scene. I introduced myself to [Jonathan] Buske and Terror at the Hook in Brooklyn a few years back, as I was singing for a kiddie band called Audra Rox (my sister-in-law) in the morning, and Terror was playing later that night. I've found myself in a progressive metal groove. I'm really into Between the Buried and Me, Mastodon, and some harder shit like Lamb of God and old reliables like Tool, Opeth, and some old Maiden and Slayer.
Looking back at your time in Dmize, do you have any regrets?
Only that we didn't try a little harder.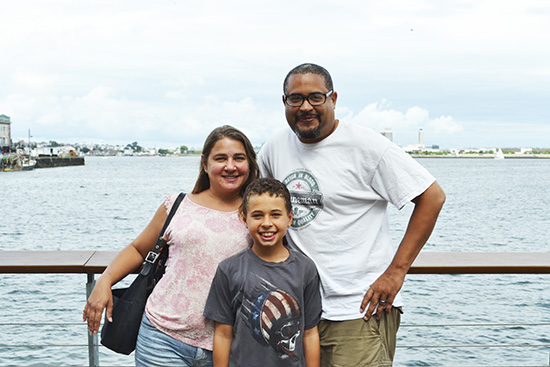 What are you up to these days?
I'm singing in a Louis Prima cover band as Louis Prima. I can't light a candle to Louis, but the band I play with is hot. We're gonna record and try to get some lounge gigs going as well.
Wow, that sounds interesting! And you're still living in the NYC area?
I still live in Jackson Heights, a couple of blocks away from P.S. 69 and equidistant from ['90s hardcore/metal venue] Castle Heights.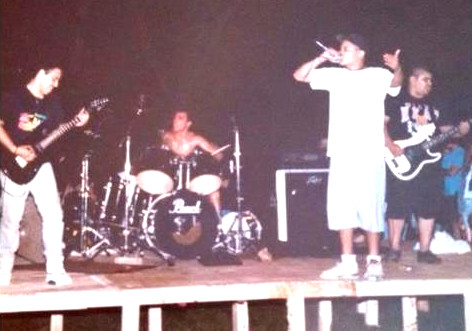 If you had to pick, what would be some of your favorite hardcore albums of all time?
I'm glad I don't have to pick just one. Not in any particular order:
Warzone, Don't Forget the Struggle, Don't Forget the Streets
Cro-Mags, The Age of Quarrel
Leeway, Born to Expire
Rest in Pieces, My Rage
Bad Brains, Rock for Light and I Against I
Into Another, Creepy Eepy
Raw Deal, 1988 demo
Crumbsuckers, Life of Dreams