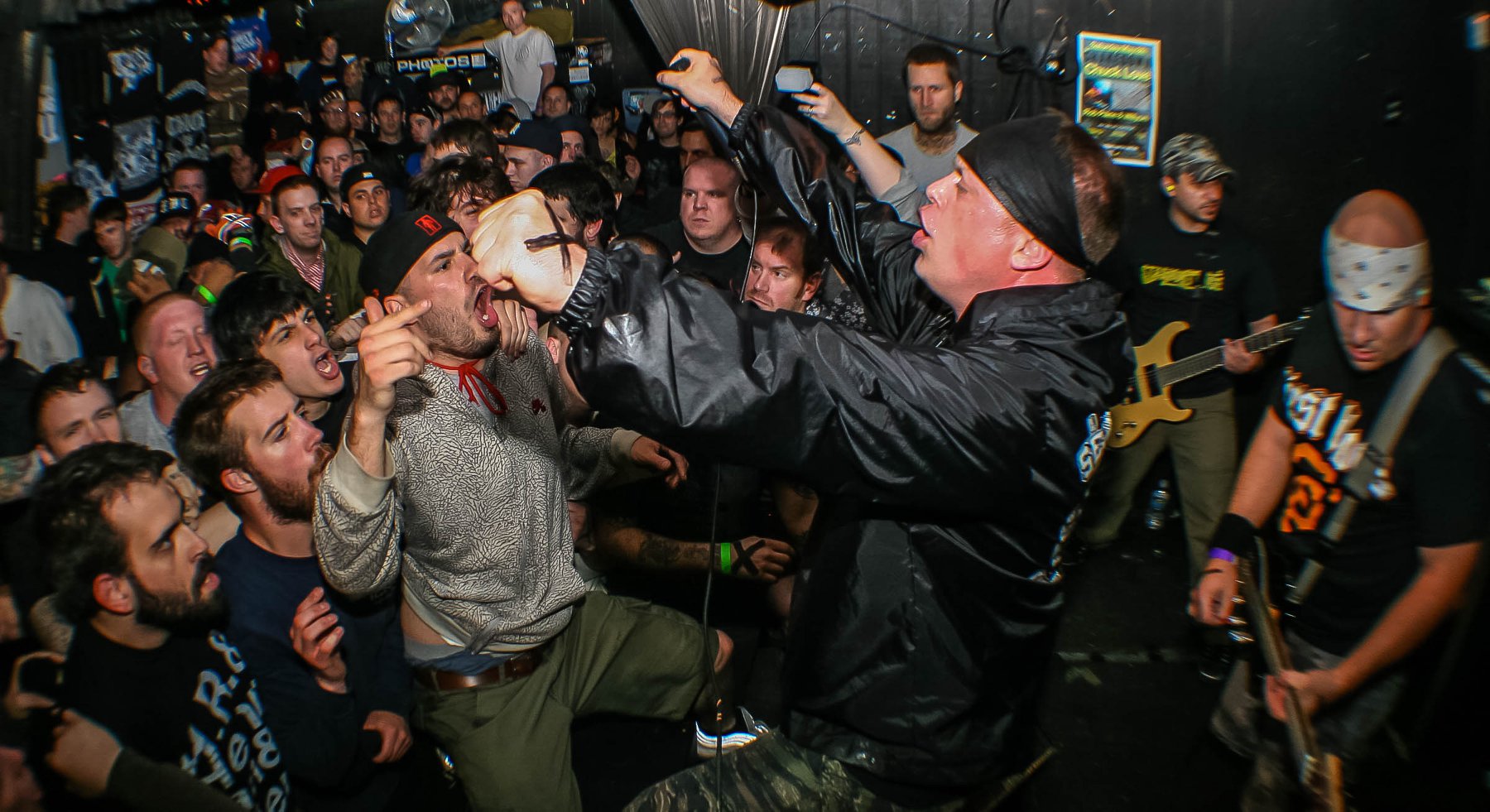 It came as no surprise to me to find that veganism was a hot-button and polarizing issue in the hardcore scene in the early '90s. Bands preaching their stance on abstaining from animal cruelty definitely rubbed some people the wrong way, and not many bands knew this as well as Syracuse metallic hardcore legends Earth Crisis.
At one particularly infamous show in New Jersey, the band experienced having yogurt thrown at them, an attendee hopping on stage in a fur coat, and having the power to their amps cut multiple times.
Despite the frequent hostility the band experienced, they've released nearly a dozen full-lengths and EPs and made a lasting impact on underground music, influencing a large sample size of bands to write hard riffs and eat plants.
Prepare for all out war as we look at 5 awesome Earth Crisis covers.
Between the Buried And Me, "Forced March"
In 2006, tech metal powerhouse Between the Buried And Me released the eclectic covers album The Anatomy Of, which saw the band playing songs by a wide range of influences ranging from heavy (Metallica, Sepultura, Pantera) to not heavy (Counting Crows, Blind Melon, Queen).
Nestled comfortably in the middle of the album is the band's take on the Destroy the Machines opener, "Forced March", perhaps one of the heavier songs from Earth Crisis' original run. The band stays faithful to the track, with the instrumentation staying intact and vocalist Tommy Rogers bellowing his way through the "humanity is doomed" lyrics.
Eighteen Visions, "Born From Pain"
The return of Eighteen Visions was a gradual one, with the band playing sporadic shows and releasing a couple new tracks through the spring of 2021, culminating in the album 1996, containing all covers save for the 18V original title track.
Divided up into hardcore and hard rock groupings, including covers of originals by Alice in Chains, Nirvana, Unbroken, Damnation A.D., and more, the Orange County band selected "Born From Pain" to represent Syracuse hardcore, nailing their rendition of the track. It's overly produced but not in a bad way, bringing a new life to the Earth Crisis original, maintaining its ferocity.
Grey Gordon, "Firestorm"
Grey Gordon is the kind of guy that you either love or hate. Regardless of your opinion on him, he stays busy with a sprawling number of projects including Kill Surf City, Summerhead, Code of Violence, the highly entertaining Demolisten podcast, and the vintage clothing operation Can I Kick It Vintage.
Gordon first made a name for himself performing acoustic singer-songwriter material, releasing a few albums on famed emo label No Sleep Records. As an outspoken member of the straight edge, it made sense (at least to me) for him to perform an acoustic rendition of "Firestorm." It's weird but strangely works. Who would have thought you could use a song about getting revenge against drug dealers as a sleeping aid?
First Blood, "The Wrath of Sanity"
First Blood were, in my humble opinion, one of the best bands to come out of the '00s California heavy hardcore scene. The band put out releases on all the heavy-hitting labels at the time (Bridge 9, Deathwish, Trustkill, Bullet Tooth), culminating in the digital covers album First Blood Inspiration in 2012.
Featuring songs by many of the band's influences, one of the standout tracks was their rendition of "The Wrath of Sanity." Hearing the band slam through an Earth Crisis staple really puts their own sound in perspective, as you can really hear the influence in their previous releases.
Eye of Judgement, "Deliverance"
Not many hardcore scenes have as much reverence for vegan metalcore than Europe, and the Netherlands' own Eye of Judgement embodied that nearly to a tee. The Utrecht-based band honed their own brand of vegan metalcore from 2004 until their breakup in 2010, leaving behind two LPs, an EP, and a compilation called Before the Judgement.
This 6-song collection contained one original, "The Hunt," as well as covers of SS Decontrol, Dead Kennedys, Sick of It All, Manliftingbanner, and the Earth Crisis track "Deliverance." The band stays pretty faithful to the original, even channeling similar guitar tone and vocal style. While it's interesting to hear a band deconstruct a song, it's sometimes pleasant to hear a carbon copy through a different filter, and Eye of Judgement delivers on the latter.
***
Help Support What No Echo Does via Patreon:
***
Tagged: 5 killer cover songs, earth crisis