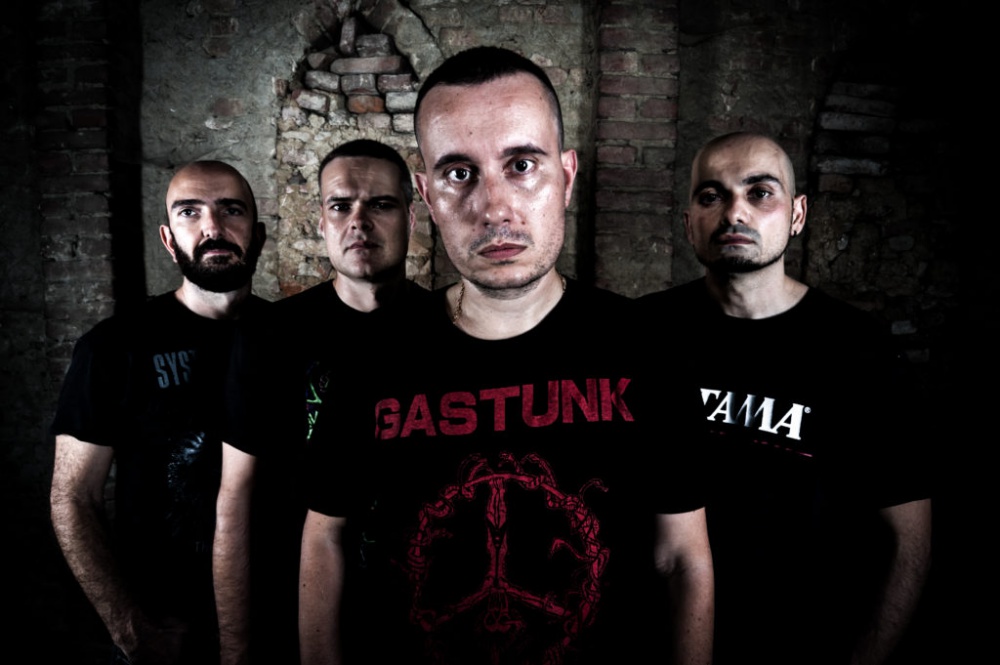 30 years for any band to exist is quite a feat, let alone one that exists in the underground hardcore scene. This idea popped into my head because I was just reminded that Cripple Bastards have been doing their thing for three decades now. "Cripple Bastards started in 1988, so those were the last days of the legendary Italian hardcore/thrash explosiion, the 'wild bunch' that lasted from 1981 to 1988," vocalist Giulio the Bastard tells me. "At the time I was attending shows of bands like Negazione, Impact, Upset Noise, Raw Power, Jester Beast, Necrodeath, Bulldozer and so on."
I ask Giulio if he and his bandmates felt like there was a scene that they could be a part of on a local level when they first started:
"Cripple Bastards weren't feeling like part of a specific scene back then because we were way too extreme, and even being rooted in that first wave of hardcore, we were also very influenced by early grindcore and noisecore coming from the UK, Japan, USA, etc., that wasn't much known in Italy yet, so we were a sort of black swan at the time."
Later this month, Cripple Bastards will unleash La Fine Cresce da Dentro, their seventh full-length album, and the grind lords have hooked the site up with the premiere of "Crimine contro l'immagine," a ferocious track from the LP.
When I tell Giulio that the song is a pure heater, he offers the following on the cut: "Yes, 'Crimine contro l'immagine' (that translates to: "Crime against image") is one of the most furious tracks on the record. It starts with that neck-breaking fast thrash attack that then explodes into blast beats and that mosh driving mid break. The lyrics deal with the hypocrisy of people selling an image of themselves that is all fake, built on opportunism and on reedeming their frustrated ego. The song is seen from the standpoint of someone who feels a sense of grudge and revenge against people of this kind, a death intent. It ends saying: 'Pretexts from the commonplace, social visibility, aggregation strategies … here there are no extenuating factors to stop me from dreaming every detail of your death hoping someone will tear your family apart one by one, starting with the smallest.'"
As terrifying as the music it represents is the cover imagery for La Fine Cresce da Dentro. "The photos used on the album (front cover, back and inner) are all previously unreleased pictures taken from the vaults of a crime magazine that existed from the 1950s through the '90s, accessed from the archives of the criminal police based in Milano, Italy. So it's something real, not made specifically for us.
"The title of the album means 'The end grows from within' and it has to do with the fact that the more you let yourself down, overpowered by apathy, resignation and lack of emotions, the more you feed the hand that drives you to death. So, we thought that the front cover photo that has the contrast between the hand of a dead person and an aseptic hand in a plastic glove was somehow portraying well the concept expressed through the title."
This is the first studio album to feature drummer Raphael Saini, a musician some readers might know from his work in Iced Earth. What I noticed is how the precision side of the band's attack has gotten ever sharper. I ask Giulio what he thinks his drummer brings to the band, specifically, this new collection of songs and the recording process. "Raphael is a very dynamic drummer able to combine tightness and hyper-speed with the unrelented fury that true hardcore drumming needs to have. He brought a step forward in aggression and precision to the Cripple Bastards' sound.
"So, in the recording process of this album we tried to keep this energy and violence as much as possible in the face, we wanted him to sound as fast and natural as when we perform live. He worked a lot on playing with the same intensity of when we are on stage, but of course with the tightness that an album like this requires."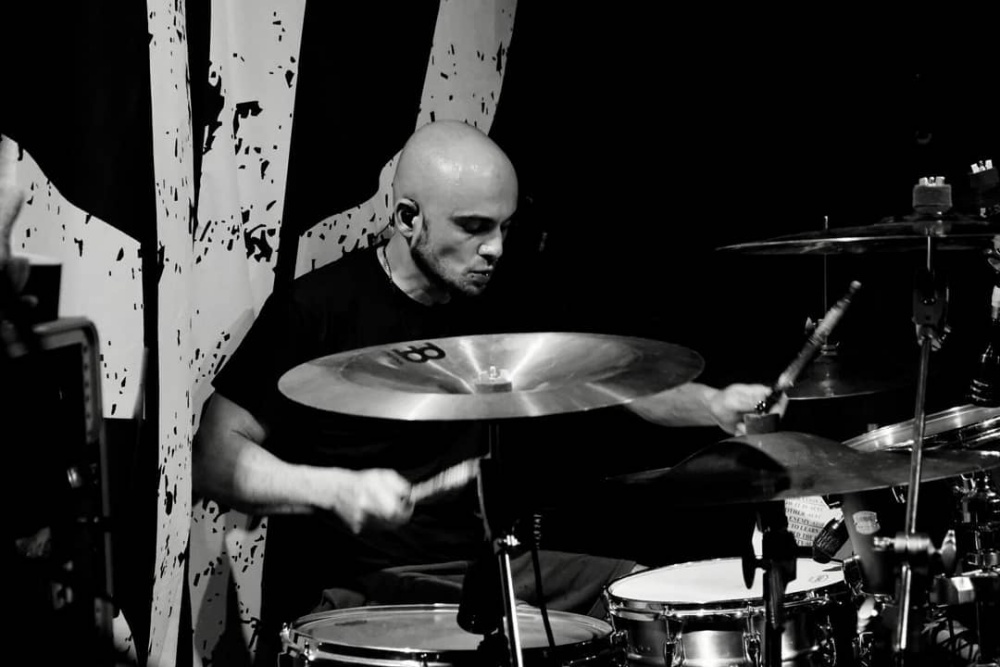 La Fine Cresce da Dentro is the second Cripple Bastards album to come out via Relapse Records, so Giulio gives me some background on how their relationship with the label started and if they ever clash on any of the marketing and/or stylistic decisions around the band and their records. "We started to work with Relapse in 2006 first releasing a split 7", then a 7" and then these two albums. We love the label and have always enjoyed their releases since the early times, they range through different musical styles in a very original and tasteful way. We have always been let free to express ourselves with no stylistic conditions, so we are totally satisfied with this collaboration and we appreciate what they have done for us through the years. It's a hard working team that gives to a band like us the best, both in terms of promotion and distribution."
Lastly, I ask Giulio what kind of music the Cripple Bastards play in the van when they're out on the road. I would imagine that they like to get into some mellower stuff after playing/hearing extreme music all night at the venue. "Since I am the one that spends most of the time driving when we play shows around, I play what I listen to everyday. This means '80s hardcore/thrash, old-school grind/noise, and ultra obscure shit.
"So, you'll mostly hear ear-damaging shit if you sit in the van with us [laughs]. In the past we used to play anything, even stuff like Adriano Celentano and '60s/70s beat-pop-rock. These days, I'm more focused on the stuff that always inspired my musical taste, so in few words, fucked up noise."
You gotta love that last answer!
***
La Fine Cresce da Dentro is out on Nov. 9 via Relapse Records and can be pre-ordered in several options.
Tagged: cripple bastards