I'm calling it early, friends. One Step Closer's This Place You Know is my favorite record of 2021.
Everything post-OSC has the great misfortune of following a stunner. So perfectly reviewed by the talented Gabe La Torre last month in these very pages, I certainly can't add anything novel to the conversation. As foolhardy as some may find this early year end superlative, my opinion has only calcified with each subsequent listen.
I had the distinct pleasure of going in with One Step Closer bassist Brian Talipan on the album that's set to overtake your timelines. One step for the band, one giant leap for bandkind. Enjoy.
Kudos on the new album. I don't think I'm playing spoiler when I tell folks this is a fucking powerhouse of a record. Tell No Echo readers a bit about working with Run For Cover, which feels like a logical home for One Step Closer.
Thank you so much. I really appreciate that! Working with Run For Cover is nothing short of surreal. It is literally everything we ever wanted with a label. Everyone we had contact with thus far has been incredibly insightful, honest, and approachable. There is fantastic communication which shows us that they really care about the bands on their label.
I am extremely excited to see what the future holds, not only in terms of the band, but more importantly how we grow as people. Thank you Run For Cover for expressing interest in OSC and for helping us materialize our first LP.
Even though the From Me to You EP sat atop my Best of list in 2019, this feels like a level up in every way. Though you're sonically quite dissimilar bands, I can see parallels with label mates Fury, in their jump from Paramount to Failed Entertainment.
You had such a condensed and full vision from the jump but this collection feels more realized and focused on crafting complete songs. Dish on that a bit!
Thank you for your kind words on From Me to You. The major difference between From Me to You and This Place You Know is that we didn't hold back. While writing and recording From Me to You, some of us were battling that weird "is this hardcore enough?" mental dilemma. Thoughts like that will hold any record back in my opinion because music to me shouldn't be forced, rather it should be expressed.
Don't get me wrong I love 'From Me to You' and I'm super proud of it. We touched a lot of people with that record and that means the world to me. However, I won't sit here and deny that some of the instrumental writing for 'From Me to You' was forced and not genuine. We overcame said mental dilemma while writing and recording 'This Place You Know.'
Nothing is forced on this record and it shows. Its 10 songs sonically portraying how a group of individuals want to reveal themselves. We don't have influences, we have emotions. It's not hardcore. It's not emo. It's not punk. It's simply who we are as people.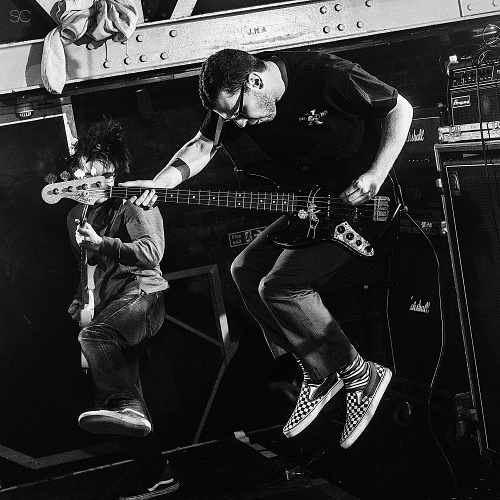 Was the wildfire that was reception for your debut EP a surprise? You had to know it was good but it's one of the biggest waves in recent memory.
It was a complete surprise. Jack in the box even. Still to this day, over two years later, people reach out and tell us what From Me to You means to them. I'm humbled that people relate to it and continue to support it.
I've read a good bit about the background to lead single, "Pringle Street." For those not in the know, can you give some context for the song and the killer video?
The song is about how time was spent during the pandemic, specifically the quarantining aspect. In the music video you will notice that we each have our own individualistic cameos. These shots were supposed to represent at least some part of what each of us were doing during the pandemic. That's why for my shot I am playing bass in a tree. I go on hikes at least a few times a week and I often bring my bass with me.
One day I stumbled upon the perfect tree so I figured I would climb it and that's where I ended up writing the bass line. It took a few days to write and on the last day I stapled an OSC patch to the tree. So if you're ever hiking around the beautiful Pennsylvania woods and happen to stumble upon a tree with an OSC patch, that's where I wrote the bass line for "Pringle Street."
Like all of us, you're likely tired of recounting the 2020 hellscape, but in a perfect world, what would last year have looked like? How did it affect the roll out for the debut LP?
It seems clear to me that everyone has their own unique view on 2020. In terms of global outcome I agree entirely that it was indeed a hellscape. However, autonomously the year 2020 was rejuvenating. I'm the type of person that will try to make the best of any situation so I took full advantage of all of the free time that was offered to me by the pandemic. Nevertheless, in a perfect world OSC would have been able to go on all the tours we were booking and we would have been able to potentially complete a world tour.
Obviously, it was a total bummer that all of our plans got canceled but we kept our heads high and spent our time writing and recording This Place You Know. I can honestly tell you if the pandemic never happened and we didn't have all the time in the world to write music we never would have written the record you hear today. So in a sense the pandemic only helped the roll out of our debut LP.
I can't speak for everyone but I am super-stoked on how the record came out. I will cherish the time spent writing and recording it for many years to come.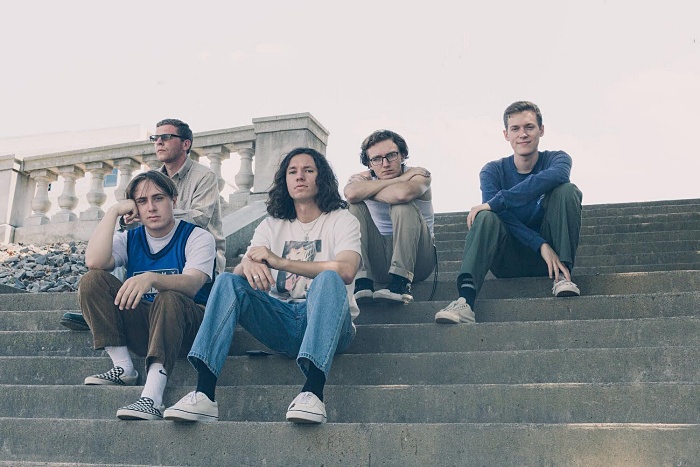 What're some records that got y'all through quarantine? What're some upcoming and new things you're stoked on?
This is a great question. 5 records that got me through quarantine are Box Car Racer, Sea Change by Beck, Reptilians by STRFKR, No Good Left to Give by Movements, and finally, Sempiternal by Bring Me the Horizon. There are plenty of other albums that I had on a heavy rotation but these 5 particularly mean a lot to me.
I don't really know of any upcoming things because I'm corny and I like to be surprised. As for new jams, I am totally diggin' the new Turnstile record, GLOW ON.
Being a band that gives great care to aesthetics, presentation seems to be important. From the legendary merch drops to a consistently artful approach, everything seems carefully considered. Lots of my and everyone's favorite bands have easily identifiable visuals. How important is that aspect of One Step Closer?
So, ever since this band started we were always very particular with the merchandise as well as the music. We have been told countless times that we pay too much attention to the little details. Especially Ross and I.
We can easily spend months in the studio nitpicking every note and making sure everything is just right. We are even pickier with the merch haha. We put a lot of thought into our tour spreads and we really wanna make sure that when people buy the merch they can rock it anywhere and look good doing it.
Speaking of aesthetics, give us the background to Jeffrey Kam's cover art. It's gorgeous and seems to reveal something new every time I look at it! How'd that relationship come to pass?
The whole record is about this place we know and we tried using visuals of our area. We didn't want it to be realistic rather wanted the art to represent how we see this place we know. Honestly, this is a tough question to answer. There was so much thought that went into the cover it's hard to put into words at the moment. I apologize for the vague answer.
Wilkes-Barre has a rich hardcore history. How has that unique zip code informed the band? Any groups on the come-up that we need to be on watch for?
There's a reason only sad music comes out of Wilkes-Barre. I feel as if just living where we do we all feel some sort of depression. Some rockin' bands coming out of the WB are Choice 2 Make, Wild Red, Ripped Away, and Growing Cold.
Important shit here… Sheetz or Wawa?
Sheetz…SIKE! Get outta here with that Sheetz nonsense. Wawa is far superior in every way, shape, and form.
As a Marylander, I've got endless love for the other coast and our friends in between but I'm tired of the mispronunciations. Let the people know once and for all. Is it Wilkes "bar," "berry," or something else entirely?
Truthfully, I don't know the correct pronunciation. I say the 'Barre' part like 'bare.' It seems to be correct but who knows [laughs].
***
This Place You Know is out now via Run For Cover Records at this link.
Upcoming One Step Closer shows:
09/28 Richmond VA, @ The Camel
10/08 Hartford, CT @ The Space
11/01 Atlanta, GA @ The Masquerade %
11/02 Richmond, VA @ The Broadberry %
11/03 Baltimore, MD @ Soundstage %
11/04 Philadelphia, PA @ First Unitarian Church %
11/05 Asbury Park, NJ @ House of Independents %
11/06 Brooklyn, NY @ The Monarch %
11/07 Boston, MA @ Middle East Basement %
01/09 Tampa, FL @ FYA Fest
^ w/ Magnitude
% w/ Comeback Kid, Strike Anywhere, Be Well
***
Help Support What No Echo Does via Patreon:
***
Tagged: one step closer