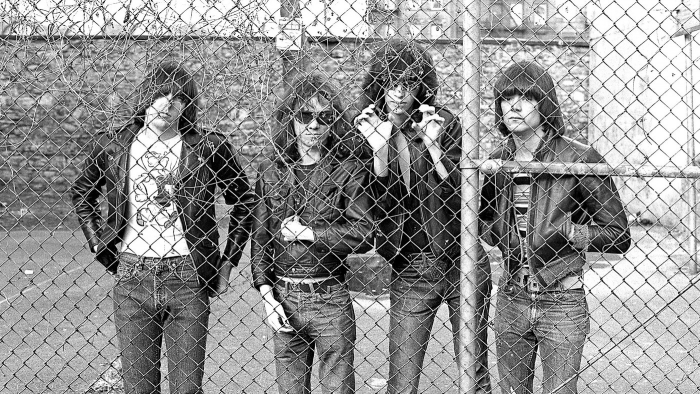 Not many bands have come out of the early American punk rock scene and had a deep influence on popular music as a whole. It's a weird, almost one-of-a-kind phenomenon. Then again, the Ramones were a weird and almost one-of-a-kind band. They played fast, dressed weird, had really bizarre haircuts, and absolutely decimated every stage on which they performed.
In the band's 22 year history, they left behind an impressive body of work, including over a dozen full length albums which modern musicians and fans still hold in high praise today. Most rock bands cite the Ramones as an influence, among which almost every genre is present: punk, metal, hardcore, industrial, pop. While a sizable chunk of Ramones members are no longer with us, their legacy lives on as loud as their amps were when they played. Without further ado, hey, ho, let's go check out 5 great Ramones cover songs.
Screeching Weasel, "Chain Saw"
If you were to listen to any Screeching Weasel song or album and deny the heavy influence the Ramones injected into the band, I'd tell you to have your head examined. The Illinois punk band has had quite the tumultuous past, from multiple breakups and reunions to some indiscretions by vocalist Ben Weasel at various live shows, but the band's snotty and lightning-paced sound has lived on and influenced a swath of bands itself.
Screeching Weasel was approached to do an entire cover version of the Ramones' debut self-titled album by Selfless Records, who released it in 1993. The entire record was recorded by the band in approximately 15 hours, according to Ben Weasel. One of the standouts, and one of my favorite Ramones tracks, is "Chain Saw." Of course it starts with the revving, which is irreplaceable. From there, the band kicks into the song at full throttle, mowing through the song at a higher pace than the original track. It's a hell of a ride in under two minutes.
L7, "Suzy Is a Headbanger"
No strangers to this column, Los Angeles heavy grunge powerhouse L7 was infamous for their hard riffs and various on-stage antics. While the band covered a large swath of musicians, ranging from Blue Öyster Cult to Flipper, their cover of the Leave Home cut "Suzy Is A Headbanger" is a great slice of Ramones ephemera put through a slightly heavier lens. L7's rendition sounds like it would fit pretty well on Too Tough to Die, with a frantic beat and gnarly guitar solo in the middle of the song.
Vocalist Donita Sparks snarls her way through the lyrics, which adds the L7 flair to the track. I've always been a fan of her vocal approach, and it sounds great on a Ramones song. You can find the song on the Ramones tribute, Gabba Gabba Hey: A Tribute to the Ramones, as well as on the L7 compilation, Fast and Frightening.
Garbage, "I Just Want to Have Something to Do"
The 2003 Ramones tribute album, We're a Happy Family, boasts a truly bizarre lineup. The band is paid tribute by a swath of bands from all over the rock spectrum, including U2, Metallica, Red Hot Chili Peppers, and Tom Waits. Wisconsin-based electronic rock band Garbage take on the slowed down song "I Just Want to Have Something To Do", the opener to the Ramones' 1978 record, Road to Ruin.
The song definitely takes a wild ride through the Garbage filter, with the pitch and tempo of the song increased enough to turn a dirge of a punk song into a high-energy dance number. Vocalist Shirley Manson takes some liberties with the vocal patterns and melodies, which pay off pretty well. The song has glimpses of the modern power-pop bands Garbage would influence, such as Freezepop and others. It's a great example of how a Ramones song can be plugged into almost any genre and still work.
Pulling Teeth, "Teenage Lobotomy"
Prolific Baltimore hardcore/metal powerhouse Pulling Teeth had an abbreivated existence, running from 2005 to 2012, with a one-time reunion a few years ago, but the band left behind an impressive discography: four full-length albums, over a dozen splits and EPs and a few live albums. Pulling Teeth wore many of their influences on their sleeve, especially with their selections of cover songs. The band released six volumes in its Witches Sabbath 7" series, covering bands like Black Sabbath, Left for Dead and Poison Idea.
The fourth installment, released by Chainsaw Safety Records in 2008, found Pulling Teeth taking on "Teenage Lobotomy" by the Ramones, which is fairly faithful to the original, except for vocalist Mike Riley's strained holler in place of Joey Ramone's low croon. It adds an extra level of grit to the poppy track, with the band injecting their own style into it while not straying too far from the source material.
MxPx, "My Brain Is Hanging Upside Down (Bonzo Goes to Bitburg)"
During the '90s and early '00s, MxPx made quite an impression on the history of pop-punk. Carving a path through the underground music scene with a handful of LPs and an EP or two containing some bizarre cover songs, the Bremerton trio were making quite the name for themselves. When it came time to finally follow up 1995's On the Cover EP with 2009's On the Cover II LP, the band elected to go in the direction of curating some more well-known songs from the annals of punk history, including covers of the Dead Milkmen, Descendents and The Clash.
But one of the standout tracks from On The Cover II was the band's rendition of the Ramones classic, "Bonzo Goes to Bitburg," which happens to be one of my favorite Ramones tracks. MxPx inject their own brand of melody into the already melodic song and give it a new life which works really well.
***
Donate a few bucks to help with No Echo's operating costs:
Tagged: 5 killer cover songs, ramones