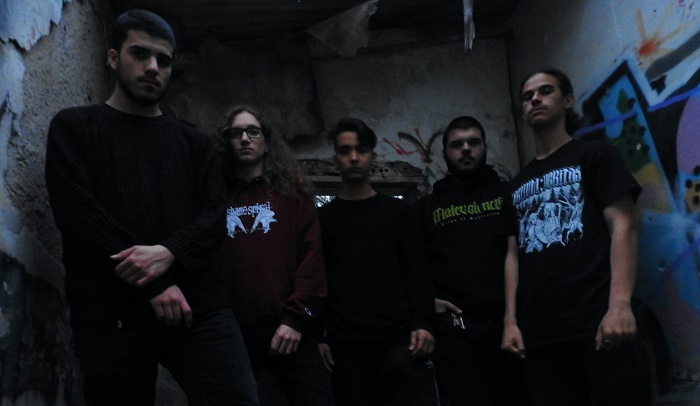 "In our country, no one was playing the style we wanted to hear. We were fed up of watching the international hardcore scene embrace the revival of our favorite styles while no one played any of it in Greece, so we took it upon ourselves to write the music we wanted to hear in our local scene."
Those thoughts come courtesy of Mario Garofano, guitarist of Greek metallic hardcore quintet, Malignant. The band made its No Echo debut recently in anticipation of With Daggers Between Our Teeth, a new 7-song collection that should help Mario and company's profile within the heavy music community.
"This record is our first effort and experiment on how to bring the different styles of hardcore we are influenced by into a singular thing," Mario told No Echo. "Our goal is to write the heavy, blistering and enraging music to accompany our very real anger and despise, expressed in our lyrics, for the current state of the world, shattered by political authoritarianism, total climate collapse and fascist resurgences: the direct results of centuries of uncontrolled capitalist exploitation."
With Daggers Between Our Teeth is streaming in its entirety for your listening pleasure below:
Mario also commented about Malignant's collaborators on the new record: "Working with Taylor Young (Twitching Tongues, God's Hate) and Will Killingsworth (Orchid, Ampere) felt unreal to me. These are musicians I've literally grew up listening to and studying what they have created, which is some of my absolute favourite music ever with multiple amazing bands, and I dreamed of one day working with either of them on any project, but I never knew if that was a realistic dream for a hardcore kid from Eastern Europe to have.
"When I read Taylor's email saying, 'I'd really like to work with you, hell yeah, let's do it!' I just couldn't believe it. I was starstruck seeing Taylor's interest in our work and to see how helpful and instructive he was. He took our music and pushed it into a whole other level of sheer ferocity, making it sound as huge as I could only dream of.
I see this record as a first step towards our true potential and capabilities.
"We liked how it worked out and we have already made improvements and written a lot of new material for further releases, hopefully coming sometime next year. We are always looking ahead with a thirst for more."
With Daggers Between Our Teeth is available now all digital platforms, on CD through the band, Bound By Modern Age Records (GER, EU), Mark My Words Records (UK), and KOTP Records (USA).
A limited amount of cassettes are available through the band, Youth Authority Records (FR, EU), KOTP Records (USA), and others coming soon, as well as vinyl in 2022.
Malignant on social media: Facebook | Instagram | Bandcamp
***
Help Support What No Echo Does via Patreon:
***
Tagged: malignant