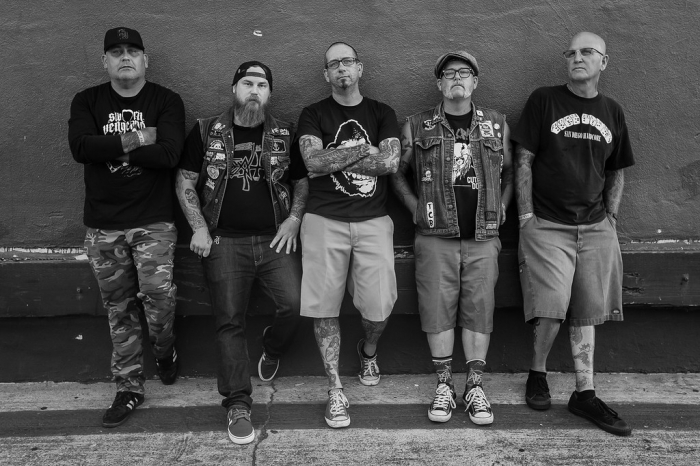 You might not know Gut Punch and their music yet, but the San Diego band's roots are deeply entrenched in hardcore. "Judd Morgan (vocals, ex-bassist of No Innocent Victim), Kurt Love (drums), and I, all played together in Born Blind back in late '90s and early '00s," Gut Punch guitarist Nate Jarrell tells No Echo about the group's origin story. "We did a few reunion shows in the last couple years and realized we really missed this and wanted to do a new band. We were looking for a bass player and met Mitch Johnson through some mutual friends. Adam Blevins, who also currently plays in the Eulogy, joined on second guitar to complete the current lineup.
"We all came up on '80s and '90s-era hardcore but also love a lot of the new things that are happening in the scene, as well as great thrash and metal stuff. It has been a great fit from the start with all of us and we are excited to keep writing and working on new material."
Issued in late 2019, Gut Punch's I Won't Back Down EP is the group's second release since forming. "Anyone would probably clearly hear the influence of all the older East Coast hardcore we grew up on like Agnostic Front, Judge, and Sick of It All, along with all the great West Coast stuff from that era," says Nate. "I think there is also an element of thrash and more melodic guitar work that has made it's way into this band as well though. Hardcore has really become a pretty big melting pot of styles these days and while I don't think we will ever lose our clear influences, we are hopefully trying to keep things fresh sounding."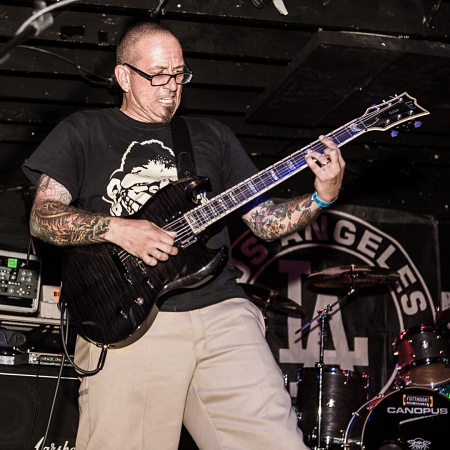 Even though I'm just a couple of hours away from San Diego, I hate to admit that I don't get to shows there often. I ask Nate how the local hardcore scene has received Gut Punch so far. "For some of us, this has been the first band back playing hardcore in quite a while and it has been a really great time. We've had the chance to play with some great bands in the San Diego area and are looking to do some more out of town stuff. Jumped In is a newer San Diego band that we have been doing a lot with and I really dig Frontside, who unfortunately recently broke up. Point Break from Arizona is another great band we've played with a few times and really like what they are doing."
Before our conversation comes to an end, I ask Nate about Gut Punch's future plans: "We put this band together because we still love hardcore after all these years and are having a great time doing it. Most of us are in our mid-40s and Kurt is 63. We've got careers and families so we likely won't be doing tons of touring, but plan to keep this going as long as possible.
"We have a new limited 7" release of I Won't Lay Down that will be out on January 25th on Club Lemon Records, which is run by Zak from the San Diego band PSO. The writing has been a pretty collaborative process with everyone involved. Judd's lyrics tend to be pretty socially conscious and discuss a lot of issues from police brutality to the importance of diversity in the hardcore scene.
Follow Gut Punch on Facebook and Instagram.
Upcoming Gut Punch shows:
January 11 - San Diego, CA @ Soda Bar w/ War Fever, Spazboy, the Venemous Pinks, Sight Unseen
April 10 - San Diego, CA @ Brick by Brick w/ Pro-Pain, the Eulogy, Corporate Citizen
***
Donate a few bucks to help with No Echo's operating costs:
Tagged: gut punch