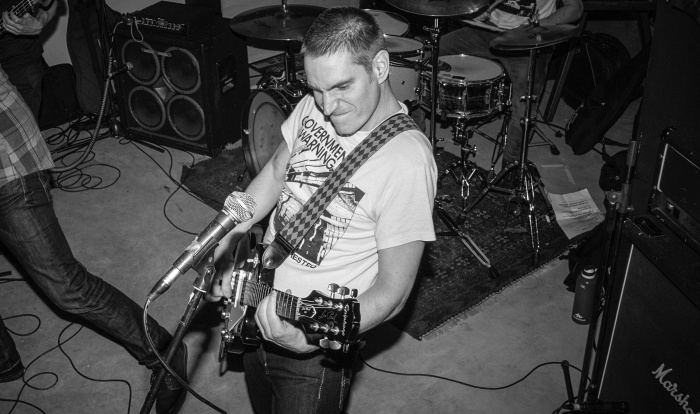 One of the most welcoming aspects of punk is the idea that anyone can do it. Not that it means everyone will be great at it, but the idea that you don't have to have the other-wordly guitar skills of Steve Vai in order to play in a hardcore band is a beautiful thing. I bring this idea up because Marko Korac of Open Wounds embodies it to the umpteenth degree. "It all started totally random somewhere in 2014," Marko—who is also the singer of crossover thrashers Vitamin X—tells me about the start to his guitar journey. "My then girlfriend was trying to play drums at the time and suddenly she got the idea to start a hardcore punk band with me on guitar. It seemed like a crazy idea, since the only time I ever touched a guitar was when I would bump into our guitar player during Vitamin X shows.
"Anyway, somehow, she convinced me to start learning how to play and a few months later I finally managed to pull off a few power cords, so we booked our first practice for our new amazing band. Of course, the practice ended in a huge argument between the two of us, because I told her that she was playing too slow and she told me to go to hell and then quit the band [laughs]. That same day, I called a few friends and we started the band that would become Open Wounds. We wrote and practiced a bunch of songs and recorded our first demo tape a few months later. Looking back on that tape now, you can definitely tell we were still in the practice stage at the time, but the recording process was a good way to become tighter and more focused as a band. Sometime later (in 2016) our first 12" EP came out on Refuse Records, and that record is the first serious recording of Open Wounds and captures the sound that we were going for."
As you can hear above, the Open Wounds EP is rip-roaring in the wild spirit of '80s West Coast hardcore. Since Marko first told me about it a few months back, I've been playing the fuck out of it. So, what's on the agenda for Open Wounds in 2019? "Over the past year or so, we've been busy recording our first full-length record, which will be released soon. Again, Robert from Refuse Records is releasing it and it is up for pre-order now. The lineup of the band has seen some significant changes since the start in 2014. During the few years of our existence, we changed 3 bass players and 3 drummers, but the lineup is now as stable as the Great Wall of China. Open Wounds are: Jip (vocals), Gideon (bass), Boy (drums), and yours truly on guitar."
Since Marko is already so busy with Vitamin X (who released an excellent album in 2018 with Age of Paranoia), I ask him what he initially had hoped to do with Open Wounds, from a stylistic angle. "Let's say the main goal with Open Wounds is to create some memorable, kick-ass hardcore punk, which certain people would remember even when the humanity ends up in Ice Age again.
"Also, the reason I enjoy playing in Open Wounds so much is that it gives me way more creative freedom then being the singer in Vitamin X does. It gives me the chance to actually write music and come up with songs, whereas most of the Vitamin X material is written by our guitar player, Marc, who likes to stick to his own vision and leaves very little space for creative input of other members.
"Beside singing, my main tasks in Vitamin X for past 23 years have been to organize shows, book tours, and do layouts, but my input in the songwriting has been limited. I write all the music for Open Wounds and our bass player, Gideon, helps me out with the structure of some of the songs and then he spices them up with his amazing bass-playing to make them sound even better. Another thing that makes Open Wounds different for me than Vitamin X is that Vitamin X's music nowadays has many different influences beside just classic hardcore punk/thrash sounds, while Open Wounds' music is still very much solely rooted in the early '80s US hardcore punk style. And although the musical taste of the band's members (both current, but also past-members) is pretty broad, the thing that ties us all together is that love for classic '80s US hardcore punk. We all enjoy playing that style of music and our goal is to build on that tradition and add to it.
"Of course, we're not expecting to create another 'Is this my World?', 'Tied Down,' or 'Vicious Circle,' but my ultimate goal would be to create a contemporary, kick-ass take on the genre. A more recent example of a band that did that really well and actually was an inspiration for starting Open Wounds was the No Moderation LP by Government Warning. That's such a great record. If we ever get close to creating something like that I would be very happy. I also have to admit that my ultimate goal is actually to create a record that sounds like RKL Rock 'n Roll Nightmare LP but since it will take me a few hundred light years to be able to play that, I decided to leave that to be a project for my next life," laughs Marko.
The cover art above belongs to Invaders, Open Wounds' aformentioned forthcoming album. "The new LP will be out in mid-February on Refuse Records in Europe. We are still looking for a US label who may be interested in releasing it there. It was recorded with two of our friends: Georgios and Nils. Georgios recorded the drums and the bass and Nils recorded my guitar and Jip's vocals and he also mixed the record. Nils is a true hero. He also recorded our first 12" and I seriously believe that that dude has nerves made out of steel since he managed to put up with me for two recording sessions [laughs].
The drawing on the LP cover is made by the mighty Bill Hauser and he did a fantastic job in my opinion. If you dig the whole 1970s dystopian sci-fi thing with a touch of 1950s comic art you'll love it. The name of the LP is Invaders, but in this case humans are the one who are invading and not the aliens."
How about the current hardcore scene in Marko's hometown of Amsterdam? "My favorite band from Amsterdam at the moment is Savage Beat. They play great mix of Oi! and rock 'n' roll. Let's say a mix of Blitz and The Wretched Ones with The Kids, Radio Birdman, and Chuck Berry. There are also a few brand-new Amsterdam punk bands which are definitely worth checking such as NETWORK 76 and Pauper. Also, partially from Amsterdam is Paranoid State. It features our bass player, Gideon, and they're one of the best current Dutch punk/hardcore bands around. They released their second LP last year and it's great. There's a big Hüsker Dü-influence there.
"Also, there are a few Dutch hardcore bands that are seriously kicking ass but are not necessarily from Amsterdam as for example: Pressure Pact (from Tilburg) Tense Reaction (from Utrecht), and Gewoon Fucking Raggen (GFR) and Forbidden Wizards (both from Rotterdam)."
Open Wounds' Invaders album is available for pre-order from Refuse Records in Europe. If any American labels are interested in working with the band, hit them up on Facebook!
Tagged: open wounds, vitamin x