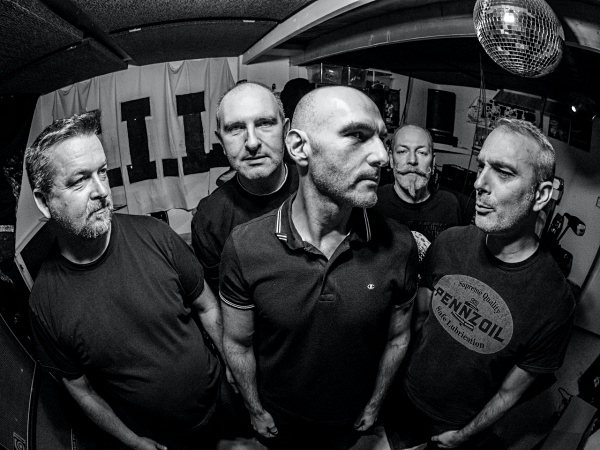 Formed in the late '80s, First in Line is a hardcore band that got its start in Linköping, a city in the southern part of Sweden. "Back then, Linköping was a posh and relgious town with people that worked in the military industry and academics, it still is, actually," vocalist Errol Tanriverdi tells No Echo. "It was a great growing ground for punk bands in the late '70s, and by the mid-'80s, the hardcore scene had grown with bands like Raped Teenagers, who were our heroes."
Local heroes aside, Errol and his bandmates were also big fans of what was happening in the States back in the '80s: "The American hardcore scene with bands like Minor Threat, FU's, MIA, Youth Brigade and so on, was what we filled our hearts, minds, and ears with, and the four of us knew what we wanted to do: play it like the Americans!"
"So, long story short, we toured Sweden and Scandinavia. We made a couple of 7"s, and appeared on several compilation tapes and records before we decided to take a break at the end of the '90s, and the break lasted to 2008 when we could all feel the time had come to do it again - and here we are."
Since returning, First in Line has made up for lost time. "We've released two records since we started again, In the Land of Filth and Honey (2012), ...We Are Watching (2014), and most recently, Wake Up!
"The material for Wake Up! was taken from ideas put together in 2018/19, mostly. We were angrier, society felt more fucked up than ever before, and it all resulted in faster more political tracks where we wanted to shout as loud as we could at the evils of capitalism, the stupidity of those in power, and at the same time show our love for the resistance. We want the good in the world to organize and be the force it can be."
Like every musician No Echo has spoken to in the last couple of months, Errol is antsy about getting back on stage. "We've had nothing but praises from the scene both local and international, and we are so happy by all the kind words, but as soon as the pandemic wears off, we'd love to give back as much as we can to the scene.
"Here in Sweden, we've played with Vinnarscirkeln, another band from Linköping, and a bunch of great people doing great weird hardcore. We're also going to be teaming up with Knifven, a punk rock band from Stockholm for some shows once everything goes back to normal."
Errol wants anyone reading this to hit their website up—www.firstinline.se—and download all of their music for free. Very cool.
First in Line on social media: Facebook | YouTube
***
Donate a few bucks to help with No Echo's operating costs:
Tagged: first in line