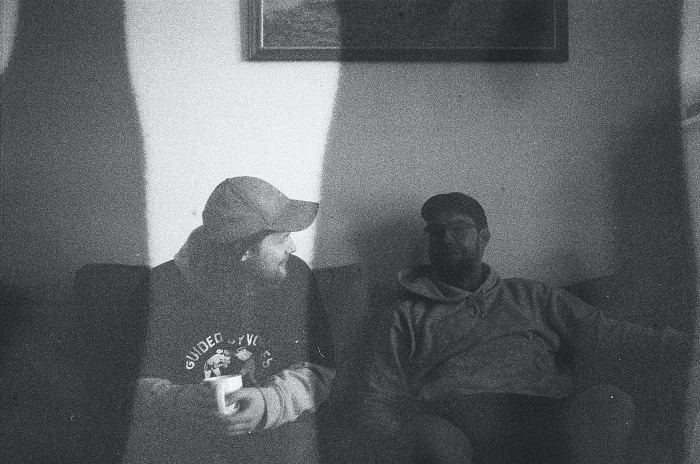 Stay Put is a new musical project comprised of members of British hardcore bands Boxkite and Drug Victim. Instead of chugging guitar riffs and pissed-off vocals ripping at you, Stay Put explore a different musical line altogether.
There's a certain '90s alt-rock vibe to what the duo pens together, with bright guitar licks, laid-back vocal lines, and memorable melodic refrains.
You'll hear what No Echo means on the tracks "Cut it Out" and "Crush," a double-shot of poppiness from Stay Put's forthcoming debut 7 inch, that gets stuck in your head from the very first time you hear it:
"This whole record for me is an attempt to write about things that I think are undeniably important; social justice, radical left politics, the climate crisis, etc., in a way that isn't necessarily super obvious but is still pretty easy to digest," says Sam from Stay Put says of "Cut it Out."
"I guess it's not so much about trying to provide answers, as hoping to plant the seed that charges someone up enough to go find some. I think that kind of energy is really important but can be hard to find, even where you would expect to find it like within punk and hardcore. To be clear, that's not me saying that that kind of stuff isn't out there, it definitely is, and it's what I want to be a part of.
"Anyway, I was thinking a lot about the world burning when I wrote this song."
The Stay Put EP will be released digitally on July 30th via Crew Cuts (vinyl pre-orders will go live on the same day), with the vinyl shipping in mid-August.
The physical copies will be pressed on 7 inch blue vinyl and come in a orange card sleeve with a large center hole, like old 45 singles used to come in.
***
Help Support What No Echo Does via Patreon:
***
Tagged: stay put