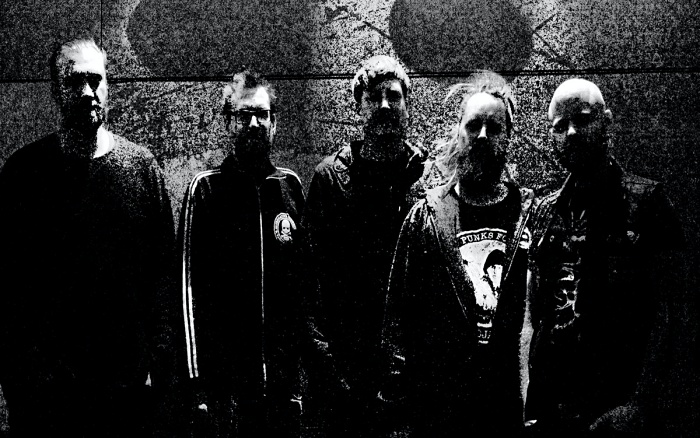 Töreboda, Sweden is, among hardcore circles at least, the umlaut-heavy home of the seminal punk act, Asta Kast. Perhaps there's something in the water from this unique tätort (locality), but the 30-year run put together by their town's hometown heroes is matched only by the focus of this seasoned Song of the Day subject.
Deny, the long-running hardcore crust punks from said municipality, have put together a similarly-minded discography littered with rad EPs. Tackling their gaggle of releases is no easy task, but I'll swiftly recommend the gloriously monikered late '90s bangers Fucked and it's companion piece, I Hate Jesus.
As expected for a marathon as grisly as three decades in a crust band, there's been a litany of breaks and lineup changes over the years. Fortuitously, the membership turnstile has rusted a bit and said lineup has solidified since original singer Johan rejoined the act in 2016.
Off the back of 2018's Parasite Paradise comes the title track from their upcoming LP, Dystopia. Set to be street ready by the time you read this, Deny are looking to make a dent in the international hardcore scene with what is shockingly their debut in the long player game.
The aptly "Dystopia" sounds like 90 seconds of beckoning the apocalypse via furious D-beat. Clearly not on the "epic" or "stadium" side of crust, Deny play ripping and brief old school Swedish hardcore.
As with anything Dis-, there's a hefty dose of the titanic Discharge and hints of the muscular power of their fellow lifers in Wolfbrigade. There's a soaring and triumphant guitar run that runs point guard throughout the song as well as impressively unpredictable backing vocals. They still manage to boast a cataclysmic sound, despite their treble-heavy attack, they still sound as feral a pack as ever.
I'm happy to report Deny are bringing their newly sharpened fangs into the decade and they came to feast.
To snag the LP, hit up Flyktsoda Records via the contact information below:
(Vinyl) Johan Lundberg / flyktsoda14@gmail.com | (Digital) Cramada Records
***
Donate a few bucks to help with No Echo's operating costs:
Tagged: deny