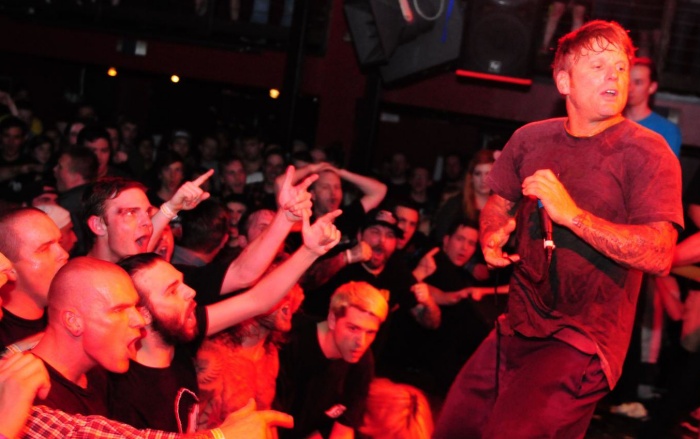 Earlier today (May 9), the official lineup for This Is Hardcore 2019 was announced. Code Orange, Saves the Day, Gorilla Biscuits, OFF!, Cro-Mags, Agnostic Front, and 100 Demons are among the many bands scheduled to perform at Franklin Music Hall in Philadelphia, PA on the weekend of July 26-28.
In this No Echo exclusive, I chatted with This Is Hardcore founder Joe "Hardcore" McKay about the work that went into this year's installment.
Since you've been doing TIHC for so many years now, does the booking/planning get any easier? Was this year the easiest to put together?
Mike Tyson's theory on plans works well on TIHC planning. I go into every fest with either bands who've reached out and want to do the fest or some ideas or themes that could pull together. The minute the "no's" start coming back, the plan goes to shit and it becomes what makes sense and what can happen. In theory, this should have been an easy year for us. But with a lot of tours mini fests and AC Warped Tour, we were not drawing from the same potential pool of bands. With Warped Tour not being around, there will be a busier summer touring season for sure and something that will be accounted for in planning in years to come. I have a process and with so many years of doing it, I've become accustomed to what kind of work flow makes the most sense for putting it all together, but I can't account for the amount of bands who were not interested or unable to do it.
To some degree, I feel like the world looks at what I do as easy because it seems like everyone wants to play TIHC. But what really happens is every band wants to play the fest, until they reach a point in their "career" where they want to do other things and being on the fest is either something they don't want to do at all, or a tertiary idea if a tour can't happen.
So for me, we are back to looking at the up and coming bands and working towards raising up the next generation of bands who will ultimately get passed the point of wanting to do TIHC. That being said, the fest lineup was 90% easy going and 10% stress. With a headliner in place and a bill forming and then they dropped, we had to push back our announcement and with the help of some friends we were able to make this one of the best comprehensive lineups ever put together.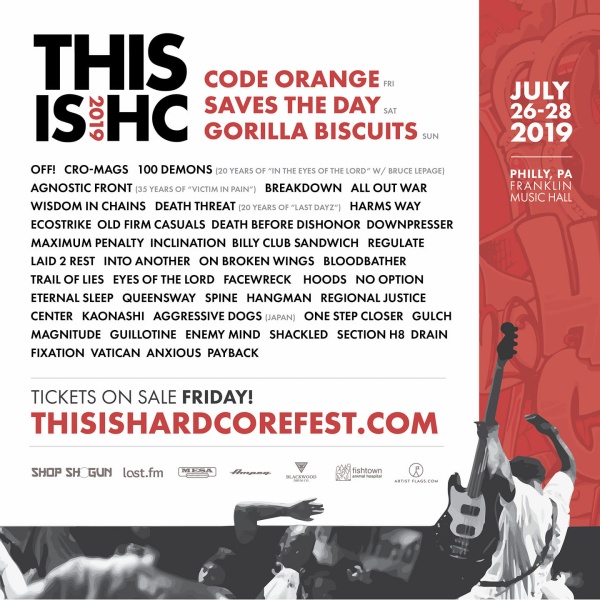 There are definitely some wildcards included in this year's installment.
Aggressive Dogs from Japan will get people asking questions but as I continue to bring Japanese bands over, it would be unfair to not support UziOne and his band. They've been around since '85 and I think they are going to steal the show early on Sunday. I expect that there will be some talk of the validity in Saves the Day headlining a fest called TIHC. I remember those guys at shows in mid to late '90s in central NJ and remember hearing them give out flyers and say "hey, check out our Lifetime band" etc. I got their demo from Jay from Clubber Lang, so I have never not thought of them as a hardcore band. For me, after seeing them at the Bane last show, I was intent on asking them one day, and surprised that they were up for it, but seeing their reaction that night, I think they fit perfectly. I hope people who asked for diversity check out Into Another, which was one of the best post hardcore bands going around when I was starting out at shows.
Obviously a band like Old Firm Casuals will seem odd, but Oi! has always been a part of the scene and I think with the sunday lineup they will hopefully work well. Anxious reminds me of bands like Title Fight and I think that they will turn some heads. For the most part, TIHC 2019 was a mild attempt of trying to give everyone something to check out from old to new, heavy to fast etc.
In terms of the newer/smaller bands, who should people take special notice of this year?
Every year I hope that people come early. There are some bands who are going to tear people's heads off one way or another in the first 4-6 bands each night. I do really believe that some of the most fun sets are either in the first 4 each day. Payback into Facewreck, Enemy Mind into Bloodbather is a helluva way to start a fest off.
Shackled from NJ is pushing themselves well for a new band and I look forward to seeing them up there. Section H8 got a lot of noise when they jumped out this year, Gulch, Vatican, Drain also repping Cali hard each day early for the fest. Fixation is a Philly band who is having a great year and starting to be more than just a band who was on every show in Philly last year. I look forward to seeing Guillotine up there, Jared has been supporting and playing my shows since I first started booking with his old band Frontline. I just hope people come for more than just the known names. It's why we have some early bangers like Vatican in place, just to get people in the room to see the up and comers.
Are you going to start working on TIHC 2020 any time soon?
My new year starts the Monday after TIHC. I used to not even think about lineups til Dec/Jan. But with the process in place, what doesn't work this year gets put in the buffer for the following year. This year, 4 bands I asked about and thought we would do, ended up just not panning out either style wise, money wise or time wise. As ideas and thoughts grow towards 2020, I'll do my best to revisit them and try to make it work.
I am really excited for what has been talked about for next year and typically talk of next year's fest while we are working towards the current year's fest.
***
Three day passes for This Is Hardcore 2019 go on sale at this link on Friday at noon EST.
Tagged: cro-mags, this is hardcore