If you're a fan of melodic hard rock, there's a great chance you're well acquainted with the work of Jeff Scott Soto. The 50-year-old's discography is a thick one, featuring his lead vocal work on records by such artists as Yngwie Malmsteen's Rising Force, Talisman, Eyes, Axel Rudi Pell, Humanimal, Kryst the Conqueror, Redlist, and Soul SirkUS. Classic rock fans might also know Soto from his stint fronting Journey in the '00s.
One of the busiest musicians I know of, Soto spends each holiday season touring arenas as a member of Trans-Siberian Orchestra, while also maintaining a solo career, and—more recently—fronting SOTO, a hard-edged melodic rock outfit that just released its sophomore album, Divak. Here's a chat I recently had with JSS where we covered a few of his career highlights, and the new SOTO record.
I know your parents are Puerto Rican, and you grew up in Brooklyn during the '70s. That was the height of the Fania All-Stars and the classic salsa sound in New York City. Were you exposed to that kind of music at home?
Absolutely! The sad thing was I hated all that salsa stuff. I felt so disconnected to it because of my love for pop and soul music. It wasn't until much later in life that I realized how great all that stuff was, and I absolutely love and appreciate it now.
At what point did you get into hard rock and heavy metal? Was that kind of stuff popular in your neighborhood?
My brother, Joey, was the one that started me onto the path of rock and metal. Me being the younger brother, I was the sheep following him to the slaughter [laughs]. He listened to heavier bands but I started off light with Toto, Journey, and Styx. Then Van Halen, Iron Maiden, and Judas Priest fell in my lap and I was hooked!
Who were the singers that shaped your approach as a teen? Listening to your work throughout the years, one could hear the soul influences in your style. I guess the best way to describe your vocal approach is soulful hard rock with a metallic touch.
Definitely the soul crooners like Sam Cooke and Jackie Wilson, but then Steve Perry—who also came from that R&B background—became a huge influence, as well as Lou Gramm and Freddie Mercury.
SEE ALSO: 2014 interview with Jim Peterik (Survivor, The Ides of March, Pride of Lions).
It's crazy to think that a teenager from Brooklyn ended up fronting Rising Force, a band that featured a Swedish guitar god! What demo material did Malmsteen, or his manager, hear from you that helped you land the audition in the first place?
I sent a tape—the only tape—I'd made when I was in a local L.A. band called Kanan. I was 16 on the recording, 18 at the time I sent it to him. I only knew he was looking for a singer from MTV News mentioning he quit Alcatrazz and was looking to complete the band with a frontman. I thought no way, not in a million years, but it actually happened!
Was there a huge cultural clash when you joined up with Yngwie?
Yes and no, the only real difference between us was more personality—I was a pussycat and he was a lion. I didn't know how to defend myself from being bullied or being made to feel so small in anyone's presence, which led me to leave sooner than I would have liked to. But it was also a huge learning curve for me on what I needed to do to survive in this business.
In 1986, you released a record with a hard rock band called Panther that was more in a Sunset Strip-styled songwriting approach.
I didn't release it, they released it. It was a bunch of demos I helped the guys complete as they had no singer. The demos were made for the process of finding someone to sing the songs into the future. So, they took it the next step further and released it with the Yngwie sticker on it, hoping that if they used that angle it would help them find the right guy.
1987 saw you producing an L.A. band called Takara that you would eventually join as a full-time member. You went on to make three studio albums with the group in the '90s. Takara was quite popular in melodic rock circles throughout that time.
It's absolutely incredible how people always complain about digital downloads and how they prefer having CDs or vinyl because they love reading the liner notes, yet no one bothered to ever read the liner notes of Takara albums. I distinctly went out of my way on every album I did with them to point out I was "guest appearing" on the albums as the singer—not joining, not touring, not partnering with these guys as my actual band.
Oh, wow. I missed that. My apologies.
I was so busy with other things and had no interest in joining the band full-time, I was merely there as a hired guest.
Okay, that makes sense. One of the higher profile bands you played in back in the day, at least from my standpoint, was Eyes. For my money, the self-titled debut Eyes album from 1990 is a gem. It was released on Curb Records, a label that already had quite a successful history (Osmonds, The Four Seasons, Eric Burdon and War). You were also working with Spencer Proffer, the producer behind Quiet Riot's biggest records. What was your experience with the label and Proffer like?
The Eyes album gave me the hands-on training of working in the studio, big time. This was the first time I was able to sit in the control room with the tape operator—no engineer, no producer or band members—and experiment with the multi-tracking of the huge vocal layers I created. To this day, I cannot have anyone in the room when I do vocals, this is my private time and the results of every album I do can only come this way. We did that entire album on our own. Proffer's involvement was he was in his office the entire day, or out of the studio most of the day. He would walk by, pop his head in the door for a minute and say, "Sounds great guys, keep up the good work!" Yeah, some producer, eh?
SEE ALSO: Swept Up in the Jeff Scott Soto Vocal Vortex
During the same time Eyes was happening, you reunited with your former Rising Force bandmate, Marcel Jacob, in the band Talisman. I remember trading tapes with a guy named Josef who lived in Sweden, and he would tell me how big Talisman was over there at the time. Why do you think that band connected so well with the European crowd? Did you guys do anything in the States in terms of touring?
Marcel left Yngwie in 1986 and joined forces with John Norum, who had just departed with Europe. They co-wrote John's entire first solo album [Total Control] together, which became quite successful for John, especially in Scandinavia. There was a parting of ways in 1989, but Marcel had a bunch of songs now that would not be used on John's second album. He managed to pick up a very small label in Stockholm and he then called on me to seek interest in singing on it. Spencer Proffer owned us lock, stock, and barrel in Eyes, yet we made no advance money for the album. No living money, nothing—we just made the album for free while others collected any revenue on it. I had to beg and plead on my knees to get their blessing to sing on this "album that no one will ever hear outside of Sweden" just so I could make a little rent money to live on. There you have it: this little throwaway band ended up doing world tours, seven albums, and was around for 19 years. It says a lot about accidents that were meant to happen!
Oh, before I forget, you must tell me about Kryst the Conquerer, a band you sang in that included Jerry Only and Doyle Von Frankenstein from the Misfits. Some press materials referred to you guys as "Christian metal" at the time.
I was merely a hired gun on those recordings. You would have to ask Mo [Jerry] and his brother [Doyle] about those things, it was a session for me.
[I tried, folks.]
You spent some time fronting Journey in the mid-'00s. I know things turned out ugly with the way things were handled on their end, but if you had to pick one Journey song you enjoyed singing the most, what would it be and why?
"I'll be Alright Without You" was by far the most fun to sing. It had all the elements of my youth and the R&B spirit behind it. I got to really dig into that one.
You've done a lot of work with Trans-Siberian Orchestra since the late '00s. I've heard that Paul O'Neill runs a tight ship in that camp. How would you describe working with him and how the touring cycles work?
Paul is one of the most amazing human beings on the planet. He is a saint and has visions that are usually unheard of in this business... and that's because he can afford them [laughs]. He took a concept that most would be locked in a sanitarium for and turned it into an empire of music, pyro, and lasers! We work very well together, clearly, as my nearly-a-decade alongside them shows.
One of my favorite projects you've been involved with is definitely W.E.T. The eponymous debut full-length from 2009 is one of the best melodic records of the last 30 years. What's the status of that band?
It's on ice for the moment. I am far too invested in SOTO at the moment to do anything else.
In terms of the Jeff Scott Soto stuff, I stand behind 2012's Damage Control as the best solo record in your discography.
Actually, Damage Control was the album that was slowly introducing where I would take things with SOTO. I wanted Damage Control to be heavy from soup to nuts, but my then-label [Frontiers Records] wouldn't have it. They barely allowed the heavier songs that did make it. I was getting so sick of making the same kind of albums for the same audience. I found myself repeating things too much. Then a band like W.E.T. was competing against me... it didn't make any sense. So, the yearning to get heavier mixed with the fact that this whole melodic thing was flatlining me as an artist. I had to make the move to where I am now.
SOTO's second album, Divak, just hit stores. Stylistically, this band retains the melodic rock aspects of most of your work, but there's a harder edge to some of the guitar tones that makes it feel a bit more modern.
I wanted to head to a darker, heavier place—although, it's in my nature to keep it melodic and throw those hooks that grab you. I am so content musically now, as I am back to my roots without repeating them.
There's a ballad on the new record called "In My Darkest Hour" that features a gorgeous vocal and guitar work.
We never set out for it to be a ballad, it's more like a "heavy acoustic" song. We wanted to make a song that would be as heavy as one with dirty guitars, but not rely on that to make it sound heavy. It's very orchestrated, and lyrically it's just as heavy—dealing with animal abuse, of which I am a huge activist for animal rights.
What is the plan for SOTO now that Divak is out?
The same as when I started in this business 30 years ago: world domination! Everything I have ever done was to reach for that brass ring, and all these years later, I am not about to stop reaching.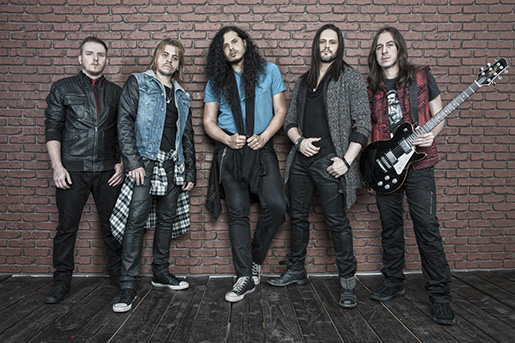 You've been based in Los Angeles for decades now, though you have such a huge fanbase in Europe. As a fellow NYC transplant, I'm curious to hear what is it about Los Angeles that keeps you here?
L.A. is home for me. I have tried living in different parts of the country and world, but I always end up back home. I could live like a king in so many places, but the serenity of being in L.A. is the thing for me.
I want to introduce Jeff Scott Soto to someone who hasn't heard you before. Which song should I play for them?
First, I would ask them what kind of music they like. When they reply, you can choose from a multitude of songs, because as a genre, I've pretty much covered them all!
***
SOTO's Divak is out now via earMusic, and available on Amazon and iTunes.