There have been a plethora of notable hardcore releases through the first five months of 2020. One that stands above the rest is It's a Beautiful Day in the Gulch by Laffing Gas.
The record is 15 and a half minutes of straightforward Midwest hardcore spread across 12 perfectly arranged tracks.
"At the start we were really focused on imitating the sound of Midwest '80s hardcore bands like Koro, The Fix, or Die Kreuzen — a sound that was very important to us being from Indiana. My obsession with early 2000s European bands like APA and ETA definitely had a big influence on our sound as well. But I think at a certain point we sort of found our own voice within all of that and put our own spin on American hardcore," explained Laffing Gas guitarist Kora.
The songs on It's a Beautiful Day in the Gulch sound familiar, yet they leave their mark on the listener because of how unique and creative they are.
Each track contains well-timed lyrics that are simple in message, and delivered in rhythmic patterns that give them body and bounce. The fourth song, "Same Cycle," is the perfect example of this. The lyrical content focuses on the aggravation of being stuck in a repetitive pattern of behavior with someone else, while the cadence of the words and syllables push the song forward like a lead instrument.
Musically, It's a Beautiful Day in the Gulch is striking. The album is peppered with well synced guitar riffs, bass licks, and drum fills, as is evident from the record's opening track "Swinging Back" through its conclusion. Songs like "On Your Own" and "Pressure" are played with a powerful precision that leave the musical patterns embedded in your head long after they end.
Sonically, It's a Beautiful Day in the Gulch sounds like it was transported to 2020 in a Dolorian from the 1980s.
I came to find out from Kora that there is a good reason for that:
"After a failed attempt at doing the record ourselves we decided to book some time at a local studio called Russian Recording with our friend Ben Lumsdaine. We still did most of it to 1/8" tape — we just had all these fancy vintage mics to work with now and someone who knew what they were doing behind the wheel. When our time was up there we dumped it all onto another tape machine and I [Kora] added a few finishing touches at home."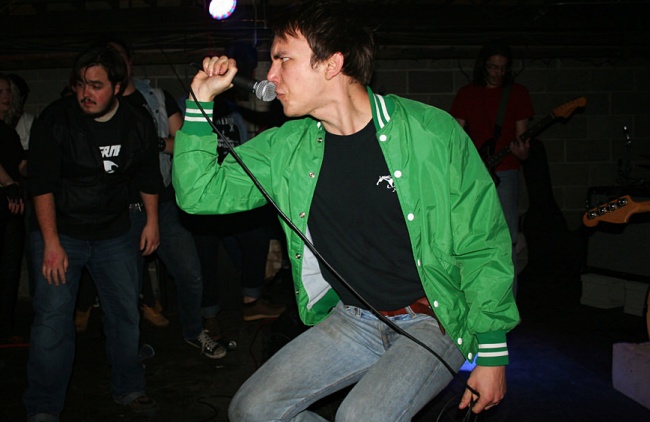 That is what makes the album stand at the top of the mountain of killer releases this year. The album is more than a circle pit or a sing-along in waiting. It is a record created by a band that had a clear and distinct vision for it. They paid homage to a style of hardcore they appreciate, while molding it into their own.
It's a Beautiful Day in the Gulch is a well-executed, well constructed work of art that will leave you wishing for another twelve songs when the needle stops.
Get It
Tagged: laffing gas