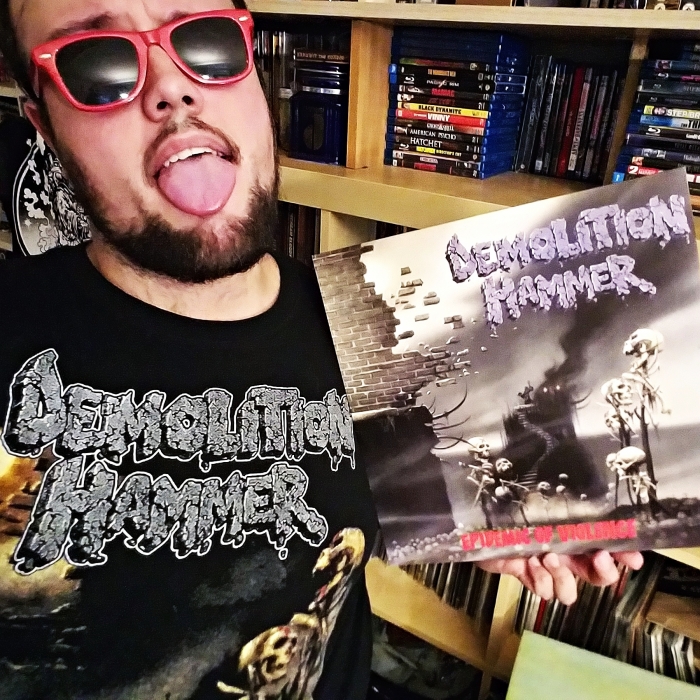 Sebastian Moreno lives in NYC where he's a full-time student pursuing his second college degree. He's also a fellow metal and hardcore fanatic who has is an avid vinyl collector. So, I obviously invited the dude to be part of the site's growing Record Collector club.
How long have you been collecting records?
I have been collecting records since I was able to afford them when I started working at 18.
How do you normally find records these days?
I normally comb through online distros and Discogs, but I'd prefer to support my local shops when my wallet allows. I was injured on the job and haven't worked much since, so I can't splurge as often as I once did, but now I hunt for any sales I can online.
What is the most you paid for a single record, where/how did you obtain it, and what was it?
The most I have ever paid for a record would be my Demilich 20th Adversary of Emptiness box set which was released by Svart Records in 2014 that includes all their studio recordings which (I believe) cost $125.00 USD.
If you to pick one record label you feel had/has the best track record of quality releases, who would that be and what are some key titles you love?
I would have to say Dark Descent Records is the label I have the most releases from and one which gets my full support. They have reproduced records I never thought I would be able to get without breaking the bank. They re-released Cianide's The Dying Truth, the Timeghoul discography, all the Blood Incantation records (which has become one of my favorite new death metal bands), the Horrendous discography, and Phrenelith's Desolate Endscape. If you want Death, they got it.
Of everything in your current collection, what is your most prized record and why?
My most cherished record (which surprisingly isn't metal/hardcore related) is my repress of Sum 41's Does This Look Infected? My time spent in middle school was a crucial point where I would learn how rough the world can be, influencing who I am today. That CD was the soundtrack of it all. I could relate to it a lot at the time because it had varied emotions in the songs from being sad, to angry, to just having fun. I would watch the shenanigans filled bonus DVD that came with it, repeatedly. I even went to see the 10th anniversary show of the album when they came through to New York in 2012 and sang along to every song.
Is there anything that frustrates you about the current record collecting scene?
My frustrations in the record collecting scene aside from the obvious flippers reselling on Discogs, are sellers who don't know how to pack. I know that it takes a lot of money to produce a record, and I am no expert in the slightest, but if we individually spend between $20-30 on a single LP it should be protected. Hells Headbangers has the best packaging in the game and I never worry about my record being crushed in transit. (Also people who's base of operations are in Central and South America who have the balls to charge people in Euros for their merch.)
Which records are still on your want list that you've had a tough time tracking down through the years?
A couple of the records I have had trouble finding simply because I don't have hundreds of dollars to spend are:
Bathory (all records released by Under One Flag)
Impaled, Mondo Medicale
Zadkiel (discography)
Pissgrave (demo)
Assuck (both LPs)
Dragged into Sunlight, Hatred for Mankind
Syudan Jisatsu, Demon Priest 7"
Charles Bronson (discography on LP)
***
Follow Sebastian on Instagram.
Tagged: record collector