Every year around this time, there's a glut of hastily scrawled, gun-jumping "Albums of the Year" lists making the rounds. If you need any evidence as to why that's a fool's errand, cue the upcoming Rule Them All EP, Dreams About...
Slated to hit shelves this week, it's their third EP and label debut for the inimitable Flatspot Records. Though you likely need no introduction to the long-running Baltimore/Long Island hardcore institution, their DNA is responsible for a large portion of the albums we've collectively gushed about these last 15 or so years. Lest I wax endlessly, if not poetically, about the flawless discography of my hometown favorites, I'll pivot to doing exactly that about said upcoming EP.
After Rule Them All's strong opening gambit of their demo, 2018 found the group turning heads with An Alignment of Polarity, which married the enlightened, soul search vibes of Revolution Summer to the vast catalog of melodic hardcore that helped define the LIHC scene. Scrap your Top 10 and join me in dissecting a masterclass.
Though melodic hardcore is an equally vague and reductive tag, its kaleidoscopic variety has gifted us an embarrassment of riches this past couple of years. Even as the zeitgeist has leaned arguably ever heavier, the likes of One Step Closer, Stages in Faith, Anxious, Method of Doubt, Fiddlehead, Sunstroke, and various similarly minded acts have embraced more melodious terrain, birthing what can be considered a minor Renaissance.
Though all unique and sonically dissimilar, this current wave of bands is taking the genre to wildly different points far afield of any pre-established confines. Lobbying for top billing is of no concern to Rule Them All, but their totalitarian grip on harmonic leads, propulsive rhythms, and commanding introspection has vaulted them to the front row. So, call 'em whatever you want, but the band isn't worried with genre descriptors, limits, or labels.
Inasmuch as Rule Them All are cleary an "of the now" proposition, they're also a product of their envy-inducing locale's rich legacy. The much storied history of Long Island hardcore is the stuff of legend, perhaps even more so to those of us who weren't there. There's a distinct through line to Rule Them All that can be traced from their forebears, one that they're evidently ready to inherit. Bits of Silent Majority, Capital, and Mind Over Matter can be heard here echoing all over the EP.
Outside of their LIHC love, the ear of influence also leans longer ago. I'd be remiss to not mention D.C. and the seemingly endless and influential summer of '85 in our Nation's Capital. Though it admittedly looms large, though not just in their sonic palette. Sure there are hints of Revolution Summer's more monolithic bands, but I hear far more Ignition, Swiz, and Soul Side in their free-swinging, hyper-literate sensibility. If I haven't yet filled the context quota, I'll end with another influence I hear. Perhaps it's because they're a personal favorite, but I'm guessing they've spent a considerable amount of time with Verbal Assault's timeless classic Trial. All of this said, Rule Them All sounds mostly like, well, themselves.
Kicking off the EP is the title track, which launches into blazing melodic hXc off the back of a moody intro, that being a mid-paced chug. Accompanying the pure blood rush of changed pace are the vocals. Jon Gusman sounds immediately more self-assured as a singer, the depth and organic richness of his booming voice serve as the perfect compliment to the exhilarating crash around him. As the waning seconds of this opening salvo threaten to fade into the next, he launches into a raw-throated and desperate "ooooooh" in what feels like a new beginning.
Elsewhere, the band is on peak form. Both "Look Inward" and third track "Teacher" showcase their big-room, live sound as captured by Brian McTernan (Battery, Be Well). There's an organic airiness that lends itself to the inward-looking, empowering tone of the lyrics. Though I'm loathe to interpret the art of others, especially in the case of what I deem to be next level lyrical chops, there's a reflective streak on Dreams About... that recalls 7 Seconds at their best.
When the choppy groove and impeccably placed bass breaks in "Teacher" finds itself in the last half minute, the song's namesake is chanted repeatedly. Behind it, a lurching riff charges ahead and beneath it all, perfectly played backing vocals. In lesser hands, we'd expect them to be up front, the "in your face" echolalia of tough guy vocals. Instead, they're brilliantly pushed back in the mix, an insistent call and response that invites the chance for knowledge, imploring is all to learn from whoever is willing to teach us.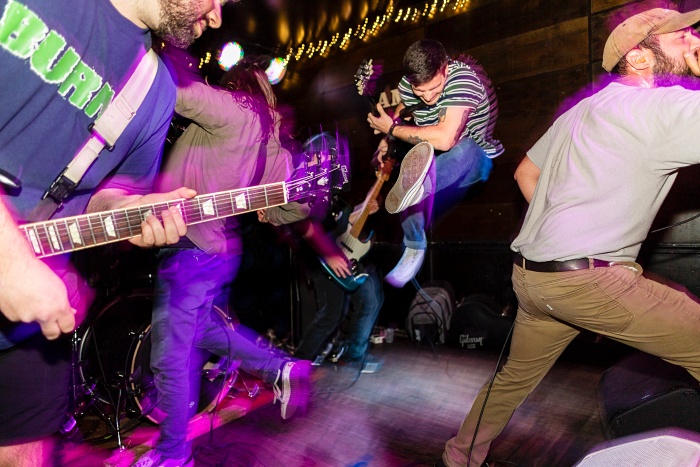 "Doomed to Consume" employs what's perhaps the best synthesis of their sound. On display again are the booming vocals, top-shelf '90s hardcore riffs, and impossibly tight low end. The clipped and somewhat odd cadence is Rule Them All's secret weapon, one that defies expectation. They seem content playing with generous economy. The stanzas and bars are all the more powerful simply because they give them opportunity to breathe.
The closer plays as a closer should. "The Alienation", at almost four minutes, is a veritable epic by hardcore's typical standards. Sidestepping an ode to brevity, the final track feels titanic, an at times crawling monster of sound. Even finding time to let the guitars ring and squeal, this band has clearly been playing relentlessly, growing as players and people. It throws the gauntlet down on hardcore without constraints. Fittingly, it sounds like another milestone for a scene that I'd wrongly assumed had given us everything already.
This is Top 10 of the year for sure, y'all. Scrap your lists and get back to the drawing board. They've spent the last month of so rewarding the 5 boroughs and New York the State over.
Get It
Tagged: rule them all