The steamrolling opening of "Human Carrying Capacity" — the first track on Harm's Way's latest album, Posthuman — acts as a warning of sorts. It's an ominous, down-tuned monstrosity of a guitar riff that tells you that things are going to get ugly for a bit.
Produced by Will Putney (Body Count, Every Time I Die), Posthuman is the fourth full-length from the Chicago metallic hardcore combo, and their debut for the legendary Metal Blade Records. In addition to living up to the hallowed history of their label's roster, Harm's Way was also coming off a huge leap forward with their previous effort, 2015's Rust.
So, yes, pressure was probably high in the studio, but the aforementioned "Human Carrying Capacity" sets any doubts aside.
The only thing more threatening than Harm's Way frontman James Pligge's physical appearance are his acidic vocals. Putney perfectly captures Pligge's performances them in all their menacing glory. Having followed the group since their earliest material, it's a treat to hear how much in command the vocalist has become in the recording booth. Whether it's a song like "Sink" that is more in tune with earlier Harm's Way, or a more experimental track, like in the case of "The Gift," Pligge has never sounded so assured on a record.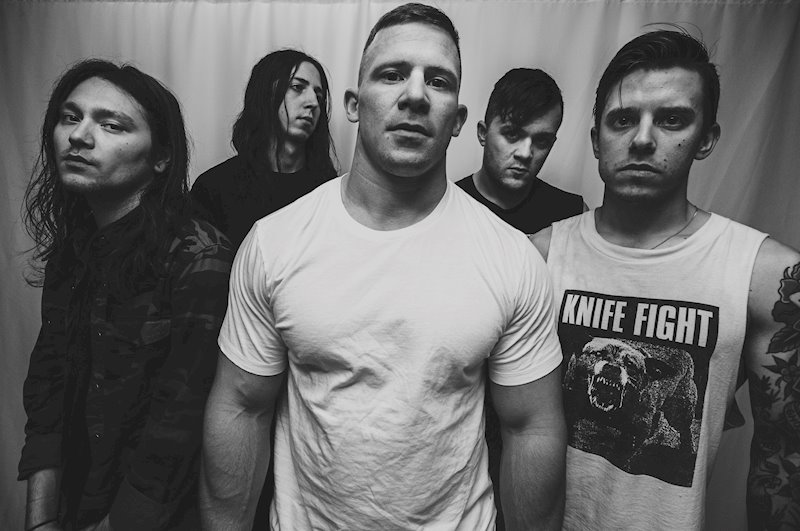 Despite always keeping things extremely heavy, Harm's Way is a band that has found ways to evolve their songwriting approach throughout their discography. On Posthuman, elements of industrial metal have crept into the fray, and on "Temptation," the group take the biggest stylistic chance on the record. The song has nothing to do with the hardcore scene Harm's Way is often so closely associated with, instead finding the quintet going in an almost Killing Joke-like direction, with guitars bobbing and weaving in and out of the arrangement, and Pligge shouting off his vocal lines in a clear yet spooky kind of way.
While the guitar work of both Bo Lueders and Nick Gauthier never disappoints, I have to give special mention to the ryhthm section of bassist Casey Soyk and drummer Chris Mills for their work on Posthuman. Whether it's the go-for-the-throat songs Harm's Way are better known for, or the more experimental side of what they're doing on the album, Soyk and Mills always anchor the arrangements in a rock-solid way that keeps a cohesive sound intact.
The folks at Metal Blade got another winner on their hands with Posthuman.
Get It
Tagged: harm's way