Chris Mollet is an Illinois-based illustrator and graphic design artist who loves hardcore. His passion for the music runs so deep that his business name sounds like a band that could have released material on Revelation Records, circa 1989: Youth Energy Designs. It's fitting that Chris has collaborated with New Heart, a straight edge hardcore outfit that I've covered on the site before. That's actually how his design work got on my radar, and I'm happy that it did. I'm digging his visual aesthetic, so I figured he would be perfect for the site's Art Spotlight series.
Where were you born and raised, and were your parents into cool shit?
I was born in a small town in Illinois called Aviston. It's a little outside of St. Louis and in the middle of a cornfield. My dad was really into music but like Eric Clapton and stuff like that. My mom, on the other hand, was super-creative and loved the Offspring and Green Day. She was a graphic designer/illustrator for a local screen printing company for a while before becoming a nurse. We didn't have much money growing up, so she was always making my sisters and I homemade costumes for Halloween, or custom cakes for birthdays.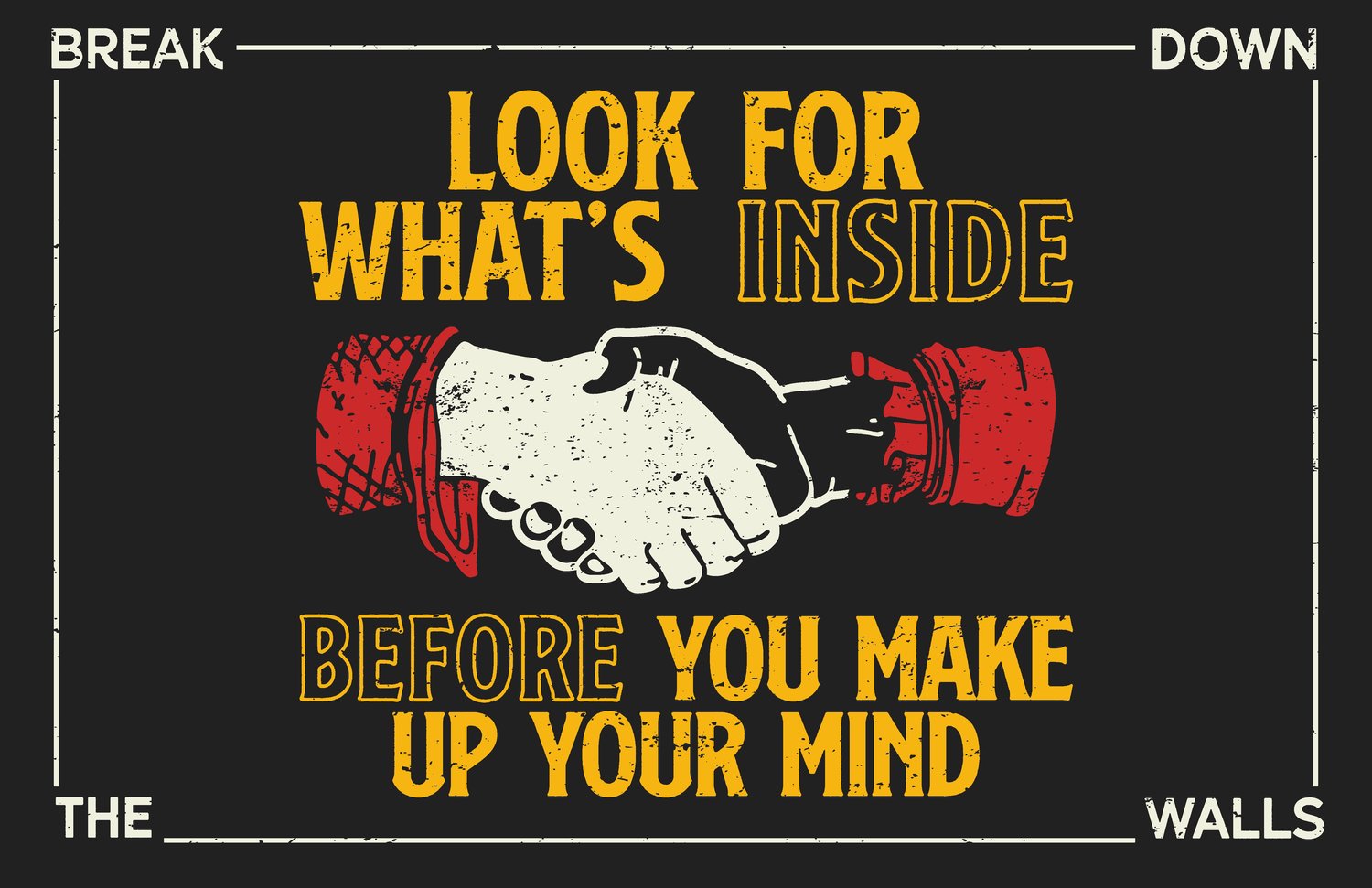 When did you develop your love for art/graphic design? Were you into cartoons and comic books?
I was always really into cartoons and comic books growing up, specifically Teenage Mutant Ninja Turtles and all things Kevin Eastman-related. I just loved his style. I've never been a super-good illustrator, but I found comfort in his work because it was always super-sloppy but still clean, if that makes sense.
What kind of music did you like growing up, and how did that inform your art?
Growing up in a small Midwest town, it was hard to find music. So, growing up I was really into mainstream pop-punk like Green Day, blink-182, New Found Glory, Sum 41, and the Offspring. It wasn't until I was about 12 or 13 when I discovered the Tony Hawk Pro Skater soundtrack, Drive-Thru Records samplers. and the Atticus: ...Dragging the Lake comps. A few years later is when a lot of my friends started bands and I couldn't really play an instrument, so I would make logos, shirt designs, and flyers for them with some help from a stock version of CorelDRAW. My mom's computer had and a bootleg version of Photoshop.
I would definitely say wanting to be involved in the scene in some way other than just attending shows is what made me want to pursue designing.
Tell me a bit about Youth Energy Designs.
I came up with this name randomly while trying to think of something to go by other than my name. It's a reference to the song "Nitro (Youth Energy)" by the Offspring. The name just made sense to me. I'm almost 30 but I still have that youthful energy. I like the excitement I get when I'm helping someone, or when I start a project and deliver exactly what the client is looking for.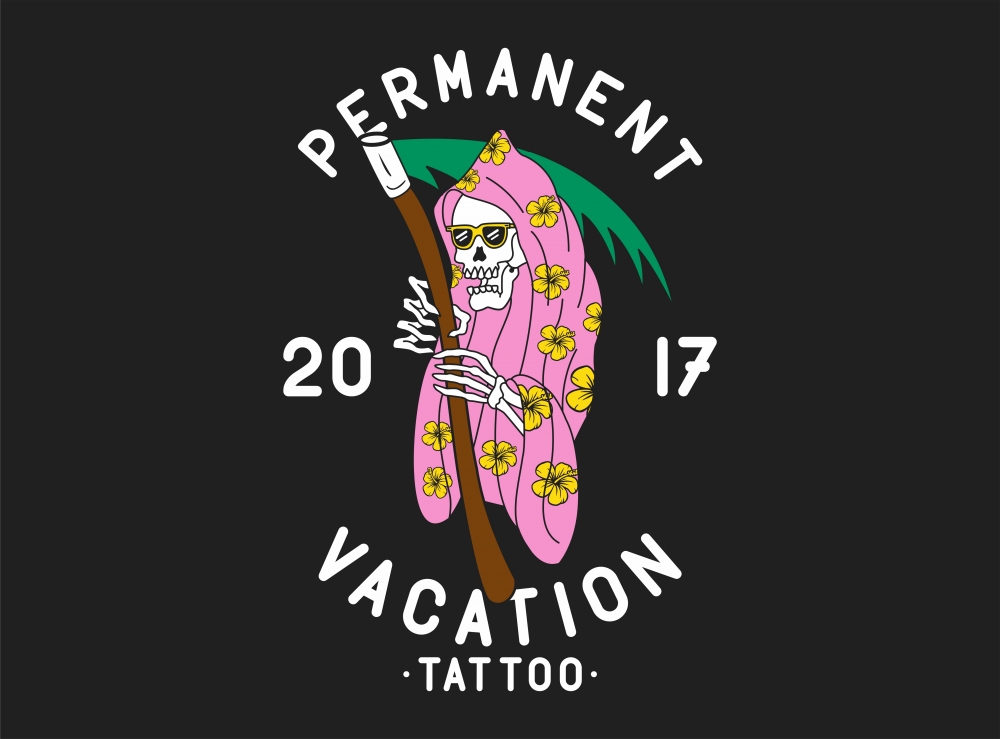 What is your work set up?
My set up is a ton of random action figures for motivation, a pair of headphones, some type of fancy soda (shout out to Ski!), a small notepad, and recently, my son on my lap watching me work.
So far, what have been some of your favorite music-related projects and why?
My last big music-related project was a full LP layout for New Heart. I loved working on that because I've known Nathan for a long time and he was always super-supportive of my old projects, so it was cool getting to work on something for him. As soon as he asked me if I wanted to do it, I didn't hesitate saying yes.
If you could go back in time, who are some bands that you would have loved to work with?
Top 5 bands I would have loved to work with would be Rage Against the Machine or Inside Out, Gorilla Biscuits, Set It Straight, Homegrown, and Uniform Choice.
Tell me about some newer bands that we should all be on the lookout for.
Inclination is currently crushing it. Always a big fan of what Tyler Short does. None of these bands are new but they have new albums coming out and I'm super-excited for them: SPINE, Better Days, and New Heart. A few friends out here in St. Louis started a new band called Time & Pressure that's going to be really sick. Also, I just heard two demos yesterday by Result of Choice and Vortex on the Advanced Perspective Bandcamp that are super-killer.
Who are some modern-day artists/graphic designers that you admire?
I'm a strong believer in community over competition, so all of these people are my friends and I think everyone should check out their art: Dylan "Drug Dogs" Chadwick, Tom Burns, Patrick Hale, Ben Kocinski, Drake Yeager, Frankie Caraccioli, and Chad Lawson.
If you had to pick one project you're most proud of, which one would it be and why?
My most proud project was branding for a local tattoo shop called Permanent Vacation Tattoo. It was the first time my work was put onto a store front. It's crazy because when you drive past it you can see it lit up from the highway. That will always be a big one for me because it opened a lot of doors for me and continues to.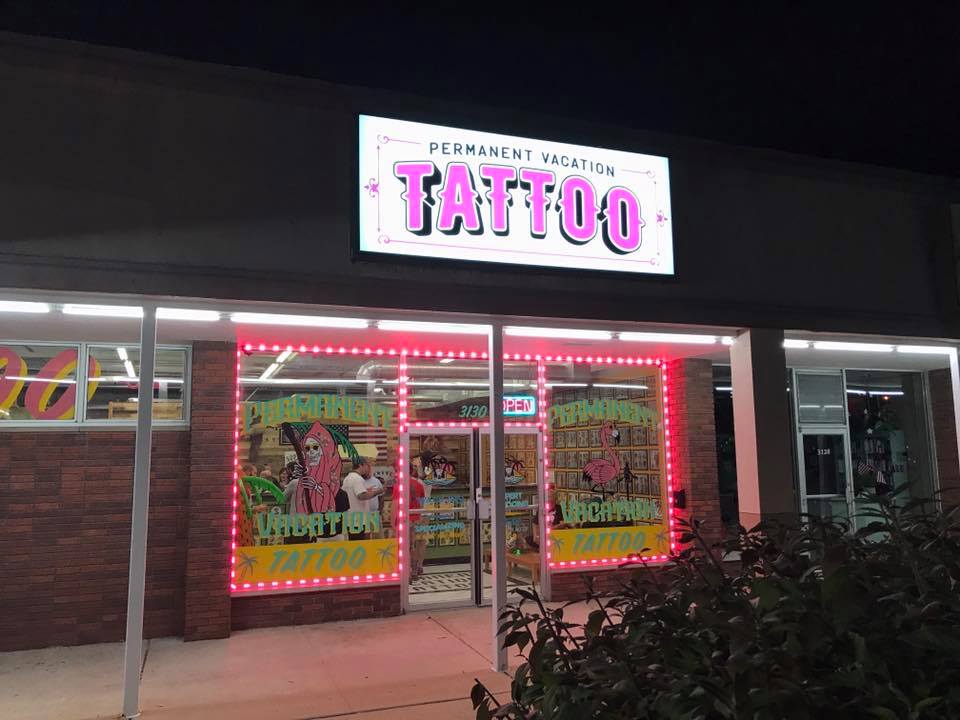 ***
See more of Chris' work on Instagram and his website. You can also see what he has to say on Twitter.
Tagged: art spotlight