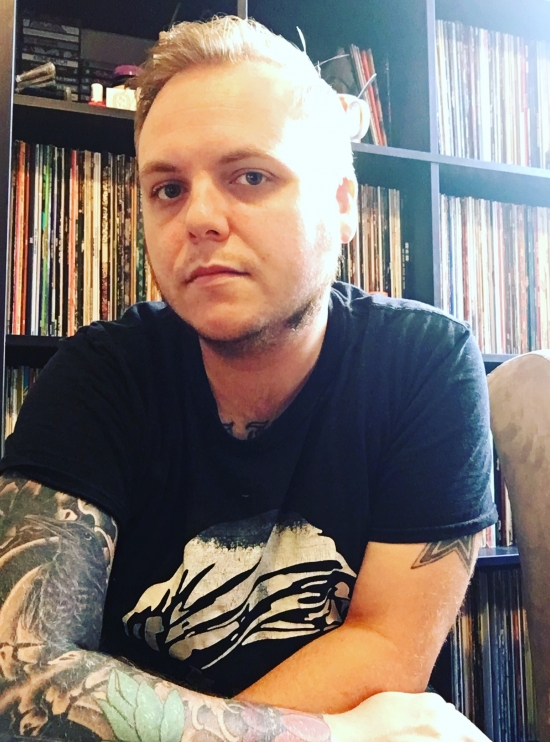 Born in Youngstown, OH and currently living in New York City, Zachary V. Sunderman is a sociologist currently pursuing a PhD at The New School for Social Research. That sounds like a lot of work, but the guy still finds time to hunt down vinyl, both locally and via online. The guy's music library is no joke, that's why he's the latest person to join the site's Record Collector club.
How long have you been collecting records?
That's a good question. The short answer is "all my life." When I was growing up, vinyl was still the dominant format, and I had very musically-inclined parents, so they let me start perusing their record collection when I was very young. I would just go through and pull stuff out and listen to it. I was enamored with the art, with the labels, with the grooves — I used to draw concentric circles in my sketchbooks and make up band names and album titles. My first favorite albums were Moving Pictures by Rush, Fragile by Yes, and Golden Greats by the Ventures, and the first album I owned was Kick by INXS. I remember seeing the first widely distributed CDs at the library (where was the music, I wondered, if the whole thing was printed?!) and I remember vinyl disappearing from stores more or less overnight. My family switched to tapes and then CDs.
But I never stopped buying records throughout the '90s. I got into hardcore and punk, where vinyl was still quite normal, so I would buy 7"s and 12"s here and there. It was in 2005, though, that I decided to convert as much of my collection as possible to vinyl, and I remembered all that I loved about the medium, something that CDs inadequately provided and digital files fundamentally cannot — a real, phenomenological connection with the music, an embodiment of it that made it an object, something much more than sound floating in the air. It was the way I learned to experience music as a child, and nothing else compares. Since then I buy primarily records, unless there's a good reason to go another route.
Where/how do you usually find your records these days?
I'm a mix. I love digging at stores but, of course, what you find is limited. The Internet has spoiled us by putting everything at our fingertips, and I'm no exception. The fact that there's a really nuanced database like Discogs that allows you to pinpoint what you're looking for and have it shipped to you from, truly, anywhere in the world — that's hard to pass up when things you want are eluding you. But I support brick and mortar stores whenever possible, both because it's the right thing to do and because it's fun. And since meeting me, my wife is really into it, too — so we dig as a couple!
I find there to be great irony in the kind of first-press loyalty some collectors have. Not that there's anything wrong with it, just that it's ironic. Before the Internet, you got what you could find. Your collection had, and would always have, holes. When you found a record, there was no telling what version it would be. And if you just couldn't find something at all, you'd have someone tape it for you or — gasp! — get it on CD. The ability to have this perfect, spotlessly vintage collection is — unless you really bought everything right when it came out - only possible because of the Internet. So vintage purism is a conceit of the digital age! I mean, come on — that is the ultimate in irony.
Me, I'm less strict. My concerns are sound quality, track listing, artwork - where those are all in place, I'm generally happy with whatever version I can get affordably, unless I have some sentimental attachment to a particular press for whatever reason. It's nice to be in touch with the history of the music, to have the real, physical thing from that time, of course, but I am a listener first, and I collect because that's how I listen. Even the brand-new reissue is a good thing; it keeps the music current, makes it something that is present in the world, not just a historical artifact for those in the know (and with enough money to obtain it). I worry that some of the purists and hobbyist collectors - not all; it's OK to be a nerd! — are really just hipsters that want to shore up as much cred as possible, and now that you can share your collection on social media, you can turn it into a form of "conspicuous consumption."
What is the most you paid for a single record, where/how did you obtain it, and what was it?
You might have surmised that I generally won't pay inordinate sums for records - though there are exceptions. If there is a record that can only be experienced properly in a long-gone press that costs a lot of money, well — it's time to save up. My number one in this regard was GISM's Detestation. You could get a bootleg or a CD reissue but they didn't sound that good and the amazing artwork was changed. So I got a copy on eBay for $300 — I think that was 2005. A few years ago, I had to sell it in a financial pinch, but I only did that because I learned that there was an exact reproduction available now, which looks great and sounds awesome. So, I replaced it. Not gonna lie, though — I miss knowing that my copy was one that actually came out of the Japanese underground in 1984. If there are any wealthy people reading who would like to replace it for me, my birthday is coming up.
If you had to pick one record label you feel had/has the best track record of quality releases, who would that be and what are some key titles you love?
Oh man. That's tough. There are a lot of labels that have consistently produced music that I deeply love. But if I had to pick one, I'd say Dischord. The music of Dischord, from its early DC hardcore releases to Revolution Summer to arty post-hardcore stuff, has been some of the absolute most important in my life. I don't think there's any other label that has been responsible for quite so much music with such aesthetic, historical, symbolic, personal impact. My top picks:
Minor Threat, Minor Threat 12" (first two 7"s). I first heard Complete Discography in 1995, when I was 12, and it changed my life forever. I was already listening to punk and early hardcore but that record — I had never heard anything quite so raw, honest, and galvanizing. I used to run around my room screaming along to those songs, and "straight edge" gave a name to my aversion to all the things my friends were getting into.
Faith/Void split. A simply perfect encapsulation of all that hardcore meant when it came bursting out of the malaise of the early '80s. And though I love Void, I'm here to say that I'm a Faith loyalist.
Dag Nasty, Can I Say. I played this to death when I was 16. The melodies, riffs, solos, powerful vocals, and thoughtful lyrics are all imprinted front to back on the inside of my soul. I can barely even play this album anymore because whenever I do, I have to be ready to go to a certain place — to go back to that time, when I was full of wonder, as music like this was changing my life and establishing the roots of all the people I would be from that moment forward.
Embrace LP. I bought this in a record store in Youngstown in 1998. I'd never heard of it — it just had a shop sticker on the front that said Ian MacKaye was in it. A great fan of Minor Threat and Fugazi, I took it home. I didn't quite understand it, but a few years later it hit me like a freight train, the sincerity, the emotion, the melody, the guitars. It's so intensely human. And it was part of a reimagining of what punk rock could be, one that I could relate to more than ever.
Rites of Spring LP. Another "intensely human" and artistically brilliant album; I used to have "the world is my fuse" tattooed on my wrist. This album pulled me out of a very dark period and showed me what life should look like again. Honest about pain, but committed to the beautiful. It's an attitude that is reflected in the music - raw and ferocious in some ways, upbeat and melodious in others.
Fugazi - Pretty much the entire discography. Fugazi has been such an inspiration, as a unit that was progressive both musically and in their practices. In on the Killtaker and Repeater were seismically important on my young punk rock brain in the mid-'90s, showing me that there was more to all this than just thrashing and giving the finger to society.
I also have to mention the '50s and '60s Blue Note catalog, which contains a number of the greatest albums ever recorded, by Wayne Shorter, Horace Silver, Herbie Hancock, Jackie McLean, Grant Green, Joe Henderson, the Jazz Messengers, Lee Morgan, and plenty others. Jazz was a major discovery for me in 2003; I am absolutely in love with it, and a good deal of its best examples came from that label in that era. Incredible stuff.
Of everything in your current collection, what is your most prized record and why?
My most prized record is definitely not my favorite record, though it is a very good one. It's the original US press of the first album by May Blitz, a blues-rock band that was doing some post-psych, proto-prog type stuff. I found it at my parents' house the last time I visited. I was excited just because it's incredibly rare and expensive, but it quickly became obvious that there was more to this copy. As I was inspecting the condition, I noticed that the seam on the inside of the Uni-pak had been completely unglued, and that there was a lot of writing inside. None other than Stiv Bator — my dad's roommate at the time — had written, "Hello Kurt, I wrote this at 6:05 am 6 March 73. How long did it take you to find this?" Stiv was an old friend of my dad's and they had been in a band together before Stiv linked up with the Rocket from the Tombs guys in Cleveland, eventually leading to the Dead Boys. In fact, when Dead Boys went out to New York and got signed without a bassist, Stiv called my dad and asked him if he would play bass on Young, Loud & Snotty. So here was evidence of their friendship, and on top of it, a hilarious exchange where two other roommates joined in the fun (surely at Stiv's urging) before my dad finally wrote at the bottom, "Don't write in my albums anymore."
There is so much in this copy of that May Blitz album — my personal connection to the punk music that helped make me who I am; my connection to my dad's story; my childhood introduction to records and music through my parents' collection. I could never, ever replace it.
Is there anything that frustrates you about the current record collecting scene?
I've probably riffed on that already. I could groan about the inflated prices. The commodity fetishism of variants. Reissue labels that have no idea what they're doing.
Which records are still on your want list that you've had a tough time tracking down through the years?
So, until recently, it was SSD's Get It Away, but that one has been crossed off the list! Right now, my white whales are Sun City Girls' self-titled LP and the Grotto of Miracles LP. I don't expect ever to own those, which is a shame, unless they decide to reissue them like they did with Torch of the Mystics. There are some super rare jazz records, too — I'm thinking of a couple by Horace Tapscott that may never make their way into my hands, but hopefully will.
***
Follow Zachary on Instagram, and you can also check out his website to learn more about his work.
Tagged: record collector