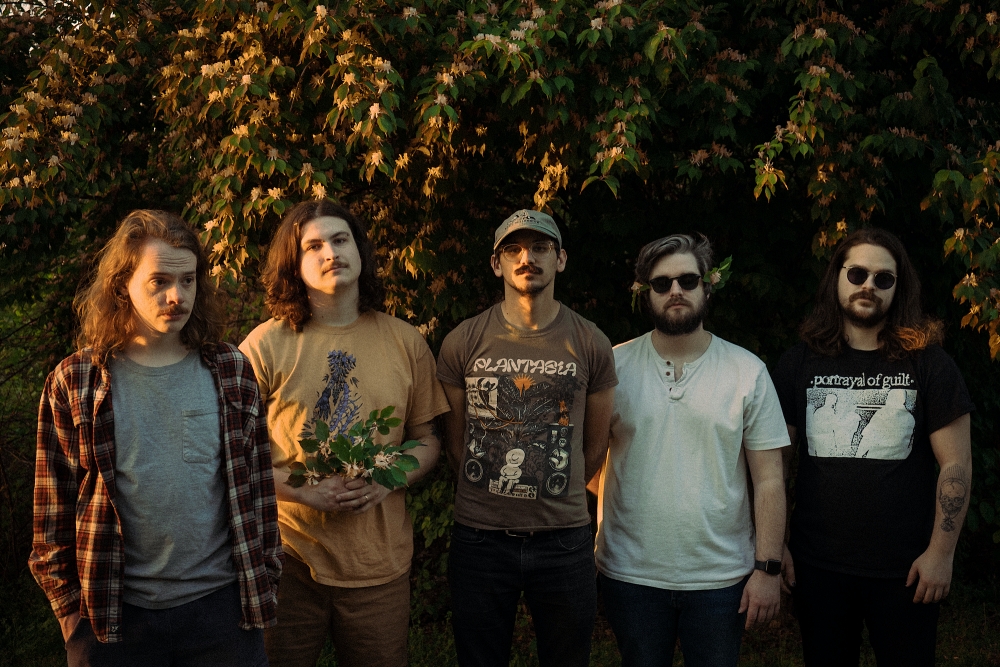 Formerly known under the name sicko., Nashville band Distend began back in 2018 after new friends Tucker Pemelton and Beau Williams started jamming together, bonded by shared love for hardcore and skramz. Eventually fleshing out a full lineup, the group played local shows and then hooked up with Ohio-based label Delayed Gratification Records who released the sicko EP in 2020.
After changing their name to Distend, the band—which is comprised of Tucker Pemelton (drums), Beau Williams (guitars/vocals), Austin Haynie (guitars), Douglas Allen (bass), and Jonathan Nasrallah (modular synth)—spent the fall of 2021 recording their forthcoming EP, the bugs don't listen...
The new Distend material builds on top of the group's hardcore foundation with elements of everything from shoegaze to noise to ambient music. Listen to a song called "moth" below in this No Echo premiere. Is this psych-hardcore?
"I didn't grow up listening to hardcore or music with screaming in it hardly at all," Beau tells No Echo. "In high school I was really into indie rock like Bon Iver and Fleet Foxes. It's funny, though, one of my favorite things about this song is all the screaming. Doug, Tucker, and I all have verses on this track and we're just screaming in such completely different styles.
"Lyrically this song is about predictability and how our country repeats the same mistakes from generation to generation. We've got this nasty habit of getting into wars we shouldn't be in. Also, this nasty habit of telling our soldiers and the next generation of US citizens that they are doing the right thing.
"We push a flawed narrative of honor and capitalistic progress towards a brighter future, when the reality is the mental damage alone caused by such a system is catastrophic. Like a moth to a flame if you will. Bugs are cool."
the bugs don't listen... will be out across all digital outlets on May 27th.
distend and Idle Threat tour dates:
May 18th - Richmond, VA @ Richmond Music Hall
May 19th - Washington D.C. @ Twin Valleys Distillery
May 20th - Brooklyn, NY @ Sovereign
May 21st - Johnstown, PA @ St. Thomas Grove
May 22nd - Columbus, OH @ Veritas Short North
May 23rd - Detroit, MI @ The Sanctuary
May 24th - Bloomington, Il @ Nightshop
disten on social media: Twitter | Instagram | Bandcamp
***
Help Support What No Echo Does via Patreon:
***
Tagged: distend