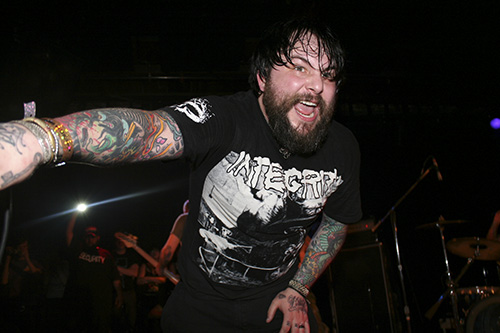 Since the early '90s, John Pettibone has been a staple of the northwestern hardcore and metal scenes. Beginning with the influential straight edge hardcore outfit Undertow, the singer has attacked everything he's done with an intensity that's been rarely equaled. Pettibone's commanding vocals were also a big part of melodic death metallers Himsa's success in the '00s. Other bands the 44-year-old has fronted include Nineironspitfire and The Vows.
These days, Pettibone is the jarring voice behind Heiress, a band that falls somewhere in between doom metal and post-rock. Heiress is gearing up for the release of their third album, Made Wrong, which comes out on March 18. I spoke with Pettibone about the new album, his previous bands, and his formative teen years.
To people in the hardcore world you're synonymous with Seattle, but were you born there?
When one thinks of Seattle, I believe it's more in the range of rain, coffee, and The Accüsed [laughs]. Thank you, though. I was actually born in San Francisco and my parents moved up to the Seattle area when I was 5. This was in 1976.
What was your childhood like?
My childhood was normal, for the most part. My dad has been in the cable industry for all of my life, so there was a lot of escapism in television for me. Batman and pro wrestling occupied a lot of my Saturday mornings.
What was your gateway into punk and hardcore? Did you discover heavy metal first?
Actually, the so-called "goth" scene was my gateway into punk and hardcore. Like I mentioned, my father is a cable man, so we always had extended broadcasting in our home. So, at age 12, I discovered this program called Night Flight that aired Friday nights at midnight and showed videos of the "alternative" bands of that time. I saw bands like The Cure, Bauhaus, Joy Division, and Christian Death, and I really embraced that; but once I saw a Misfits live video, the door blew open. Shortly after that, I found 120 Minutes on MTV and I would see Suicidal Tendencies, The Cramps, Black Flag, and The Cult videos. That stuff tied into the skateboard culture that I was getting into.
I would also find out about the Cro-Mags a little later, and that sent me on the path to hardcore the same way, but I really didn't get into underground metal until getting into my first band, Undertow. The other members were best friends in high school with Stephen O'Malley, who later would be one of the founders of Sunn O))) and the Southern Lord label. Small world! This was 1990-ish. He would come with us to shows and such and tell me about all the UK and Scandinavian scenes. He would pass on mix tapes of everything from Emperor to Napalm Death to At the Gates. He introduced me to my love of Entombed and Bolt Thrower, knowing I liked the heavier style of hardcore.
Did you have any other mentors?
My mentor would be Ron Guardipee, from the Seattle hardcore band Brotherhood. He completely changed my world for the better.
At what point did you start skateboarding?
I started skating at age 13. I spent my school breaks back in Pacifica, California, which is 30 miles south of San Francisco and on the coast, and I would stay with my grandparents. My best friend Jason from there was a prodigy-type in the local surf scene at a young age, and he started skateboarding, which in turn got me into it. I borrowed his [Steve] Caballero [deck] all summer and found my other passion. My first board was a Tony Hawk with Indys, and, I believe, OJIIs.
I really liked the Bones Brigade team, as they were the popular ones at that age; but Eric Dressen, Jason Jesse, Mark Gonzales, and Natas Kaupas I loved! My all-time favorite skater is Dressen.
I've learned a lot about Washington state's history in rock and punk music throughout the years, but I would love to hear your take on growing up there in the '80s. Did you feel like you were living in a place rich with musical history?
I didn't really recognize or acknowledge the music scene here until I saw The Accüsed in 1987. I was going to shows, but it would be to see the touring bands like Black Flag or Circle Jerks coming through town and we would skate outside until they went on. I probably missed out on some killer local bands. But once I saw The Accüsed, I dove into local music deep. That's how I saw Brotherhood and met Ron.
Tell me how you came to be the vocalist in Undertow.
They were called Refuse before and were playing a show with Brotherhood in a basement in Bremerton, Washington. I had become friends with Ron after seeing Brotherhood play and he invited me out to this show. I instantly became friends with Refuse and became their driver, as they weren't old enough to drive yet. Shortly after they kicked out their bass player, I started playing bass on Ron's request and we changed the name to Undertow in 1990.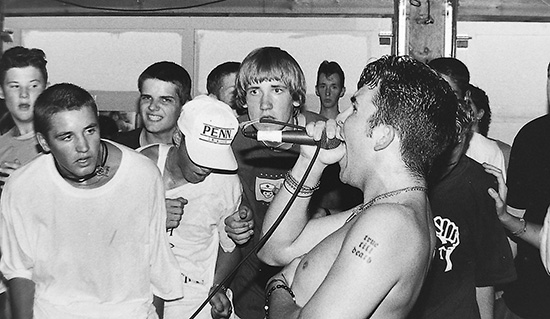 How much touring did Undertow do? I still lived in NYC at the time and I remember a lot of people loving the band, but I never got to see you for whatever reason.
We did a lot of west coast touring. We did two US summer tours in 1993 and 1994. We also did one winter tour in 1994, and one European tour in 1995. The first west coast tour we ever did happened to be with Jawbreaker by accident, as weird as that sounds, but it was really fun.
Why did Undertow end up breaking up, and how do you feel about the band's discography?
It was really just a matter of accomplishing more than what we expected and ending at a good place for ourselves. When we started there was a hardcore scene of 10 kids. We didn't expect to play outside of Seattle or record more than a demo. By the end there was a great community of kids doing shows, starting bands and labels... We were a band for five years and did things that seemed impossible. We also wanted to play in other directions/styles of music. I was listening to a lot of Neurosis, Today is the Day, Rorschach, Deadguy, and His Hero is Gone, and wanted to play with harsher sounds, so some friends and I started Nineironspitfire.
SEE ALSO: 2014 interview with Keith Huckins (Rorschach, Deadguy, Kiss It Goodbye).
If you had to play one Undertow song to someone who has never heard you before that you think captures the sound and spirit of the band, what would it be?
That would be "Control."
After Nineironspitfire, the next band you fronted was Himsa. You became the singer on the band's 2001 Death is Infinite EP. How did you guys first connect?
I've known the guys that started Himsa since the early '90s, as they were all from the Seattle hardcore scene. Half of them were in Trial. I was just moving back from NYC in January 2000, and they needed a vocalist. I wanted to play again in a more thrash-sounding band and it worked out for us all.
Himsa had such a European feel to its riffing and arrangements. How did you feel about transitioning into that sound coming from a hardcore band?
It was very easy, as I was still just growling into a microphone [laughs]. I wanted to do a Bolt Thrower type of thing and those guys were writing in a very Swedish-influenced type of sound. I really enjoyed the process with those guys.
At different points, Himsa was signed to both Century Media Records and Prosthetic Records, two bigger labels within the metal community. What was that experience like from your perspective?
Well, Prosthetic was in its early stages, so we were growing with them. Lamb of God was responsible for getting us connected with that label. We played a local show with them at the club I work at, and they liked our set so they put in the word for us. It was very humbling and we were appreciative of that. So, we did two records with them and then Century Media was willing to do the third one. Both were great, but we became the "no" band, as we turned down a lot of tours and festivals the labels wanted us to do, so the support for us quickly faded. We were stern to the D.I.Y. ethic from our background in the hardcore scene, and that doesn't sit well with a larger label. They need to make money from their roster and we never fit that mold.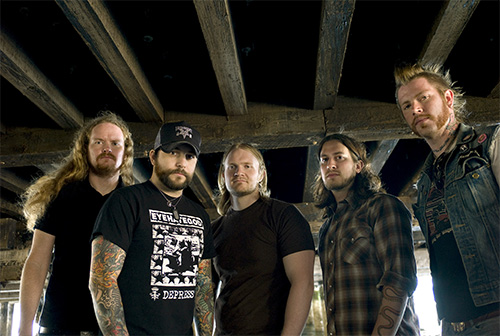 Himsa broke up in 2008 after touring hard for several years. What was your headspace like after that? Did you want to leave the touring life behind and spend more time with your family and friends at home?
I thought I made some rushed decisions, but ended up going back out on the road tour managing Converge for a bit, as they've been old friends of mine. Then I met my wife just before I turned 40, and we had a son a year later. It all worked out perfectly.
I have to ask you about The Vows. I recently interviewed Rob Moran and he said, "I wish we could have done more, but we were all so busy, we never had enough time to write more songs. It never really caught on, but it's a great record and holds up, I think."
I think the idea and process were perfect: short but sweet. It's a moment that shined, but few witnessed.
Another band you were in that I think fell under the radar was Iamthethorn.
The "Grief/Eyehategod" project. It was awesome, but dudes didn't get along. But it led me to Heiress, so...
Yeah, let's talk Heiress. Adam Paysse, the co-founder of Rome Plow Records, was the band's original singer. In my interview with Heiress guitarist Wes Reed, he told me that you had run into drummer Justin Martinez at a show and you told him you would be interested in joining the band since Paysse had quit.
To me, they had this Swiz/Neurosis hybrid style, and they instantly became my favorite local band. Plus, they are some of the best guys to call friends.
An aspect of Heiress' sound that I really enjoy are the loud/quiet dynamics and how your vocals interplay with that. I wanted to find out how you've gone about writing your vocal lines in the band. Do you workshop the material together in your rehearsal space, or do you work out your side of things alone. I'm interested because your vocal approach is a bit unorthodox at times, but always intense.
I never go to practice, and let the element of surprise be the focus. But, honestly, I run a venue, so I work nights and can't make the jam sessions. Wes is great at recording practices and sending progress to me. I guess it's just the years of playing in different types of bands that's helped in my approach to vocal patterns and ideas. It's whatever feels comfortably strange to me.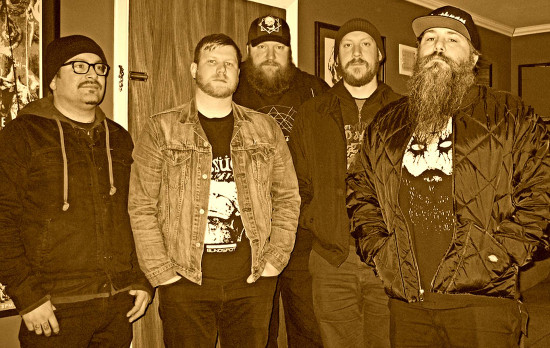 Made Wrong is the band's newest album, and you had Matt Bayles (Mastodon, Botch) produce the sessions. My first impression of the album is that the arrangements have a lot more space and nuances to them. It's a moodier record.
It's really an extension from the Of Great Sorrows session. The new record was mostly written while recording Of Great Sorrows. Plus, there were some member changes, and Wes just expanding on song structures.
SEE ALSO: 2016 interview with Rob Moran (Unbroken, Narrows, Some Girls, Over My Dead Body).
Did Bayles push you hard? I really love some of the vocal textures on the new record.
Not at all. We are also old friends, and he has been around since the Undertow days. He's very familiar with all of the bands I've done, and he knew what I was going for. It was the first Heiress record out of the three that I was completely prepared for.
This is the third album Heiress has released in a four-year span. That's a quick pace, especially for bands on the heavier side of the spectrum. What do you attribute that pacing to?
Not touring [laughs]!
Do you have any other musical projects going on outside of Heiress?
There are a couple projects in talking stages, and Himsa is going to play a local show at the end of the year sometime.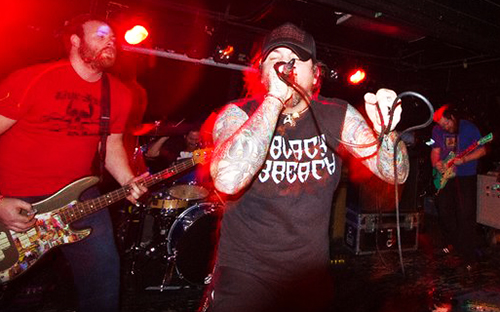 As a fellow father of a young child, I wanted to ask you if you've discussed music with him yet. Does he know his dad sings in a band, etc.?
No, he's three and just listens to Disney soundtracks [laughs].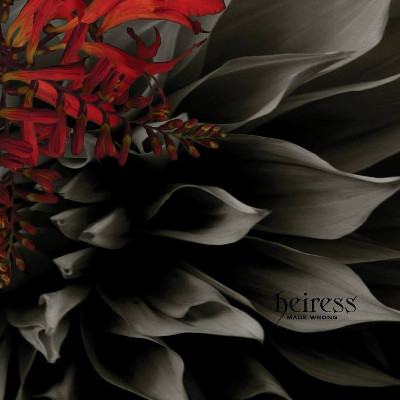 You're a self-described coffee snob. What's the best coffee you've ever had?
A $22 slow roast, fine grind pour-over in Salem, Massachusetts was the best coffee I've ever had. It took 20 minutes to make. It was worth the money! It's a hidden gem of a spot. Locally, it's the Café Vivace from Espresso Vivace: tall Americano, half water, two raw sugars, cream, and a dash of cinnamon. For cold brew, my buds have a D.I.Y. brand called Anchorhead.
***
Heiress' latest album, Made Wrong, will arrive in stores on March 18 via The Mylene Sheath.