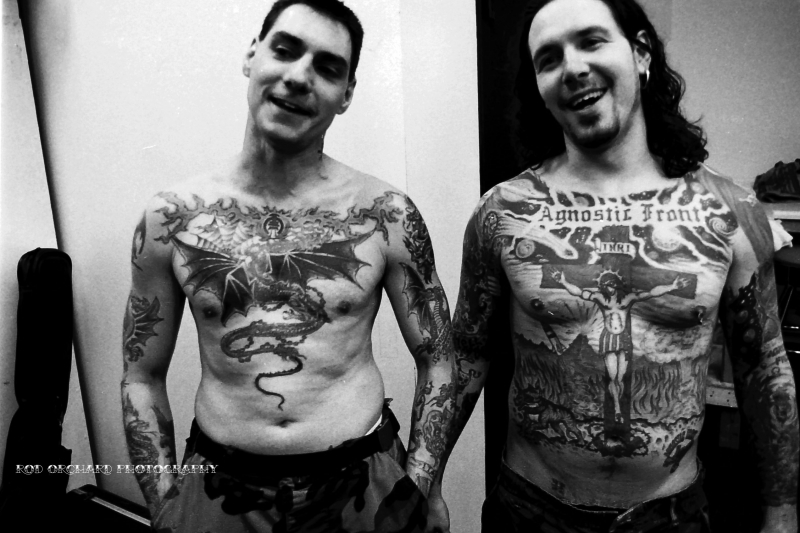 New York City's storied hardcore scene boasts a collective of some of the greatest, most intriguing characters one could ever hope to encounter, and Agnostic Front vocalist Roger Miret is one of its most prized. Many carry with them colorful, sometimes less than endearing monikers given to them mostly by friends within the hardcore clique. Roger had one of these only briefly, reflecting, "When I played with the Psychos, all of the members were known as our first name, plus 'Psycho.' Billy Psycho, Stu Psycho, Steve Psycho, Roger Psycho... When I joined Agnostic Front, the Psychos were a little pissed at me, and I do very much regret covering up my Roger Psycho tattoo, but that shitty mag, Maximum Rock n' Roll, had named me 'Roger Agnazi,' and I didn't want to bring that back up, so I stuck with my given name.
Born in Cuba in 1964, Miret, like so many before him, eventually found his way to the fabled and tumultuous Lower East Side from what were supposed to be "normal" locales during the early 80s, thanks to a desire to make music, in addition to a need to escape a less than acceptable home life; most notably, abusive father-figures.
Over the course of his first few years on the LES, Roger not only assisted in shepherding a community of misfit youth into a burgeoning fraternity of musicians and creative types; now affectionately referred to around the globe as "New York Hardcore (NYHC)," but he made an impact with Agnostic Front even he couldn't possibly have imagined would still be thriving thirty-five years later as a worldwide aural and cultural force.
On the eve of the publishing of Roger Miret's remarkable autobiography, My Riot: Agnostic Front, Grit, Guts & Glory (Lesser Gods), No Echo spoke with Miret about some of the other legendary weirdos surrounding him beginning with the AF frontman's earliest days below Houston Street. Whether it was in the clubs, on the streets or while toughing it out in one of the LES's grimy squats, the impact still felt by the accomplishments of the Lower East Side Crew and friends reverberates to this very day.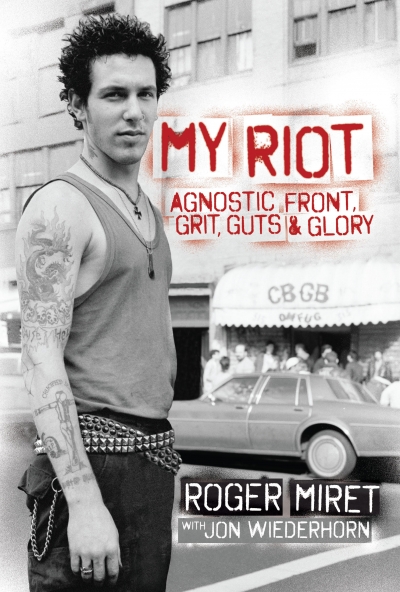 Here's what Roger offered up to us when asked to talk about a few of his fellow NYHC scene-mates:
Raymond "Raybeez" Barbieri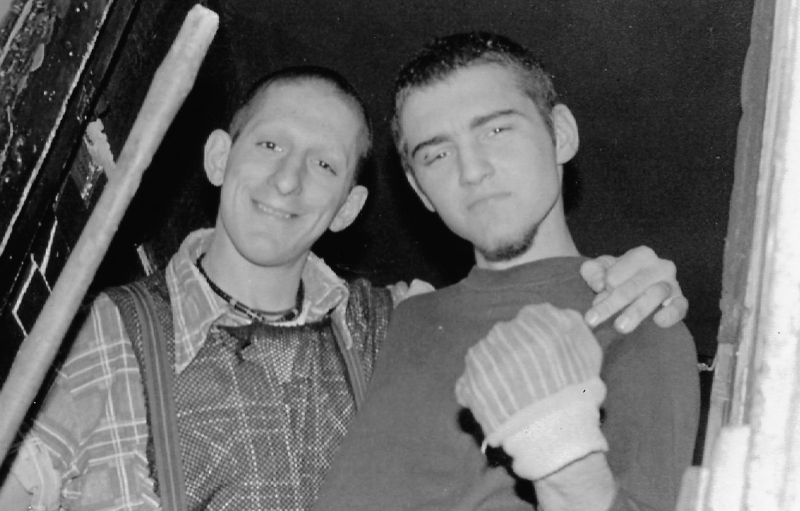 "I met Raybeez at a Minor Threat show at Irving Plaza. He would eventually invite me to join Agnostic Front, and we became the best of friends until the day he passed. We lived together at (LES squat) Apt. X, on second street, seventh street and at the infamous C-Squat. Raybeez was a great friend, and was instrumental in building our scene. I miss him..."
Jimmy Gestapo and Harley Flanagan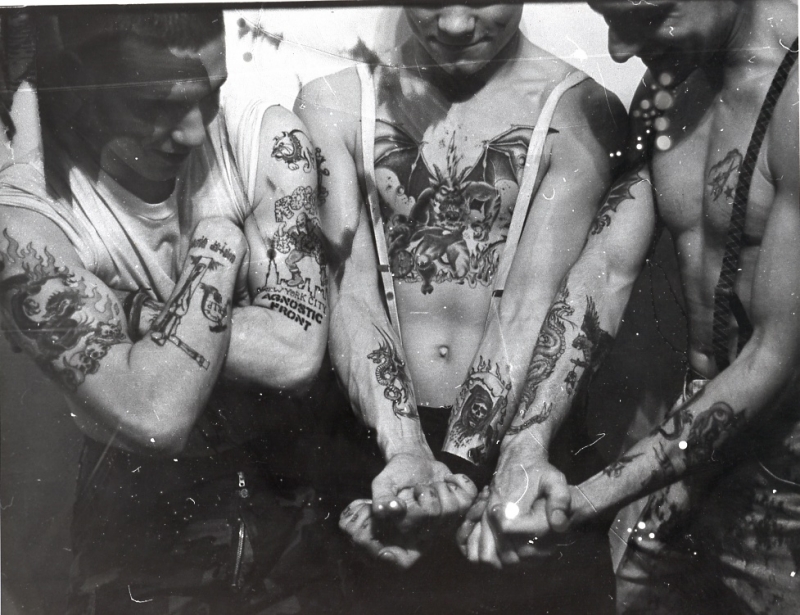 "Met both Jimmy and Harley at a Stimulators show at 171A. Both were some of my closest friends and were also instrumental in building the NYHC scene. I lived with Harley at Apt. X and on seventh street, and he had a space at C-Squat too. We defiantly ruled the streets of NYC during the golden era and the beginning of NYHC. I worked alongside Jimmy at the A7 club, mainly running the door. Jimmy has always been a fun loving guy!"
H.R.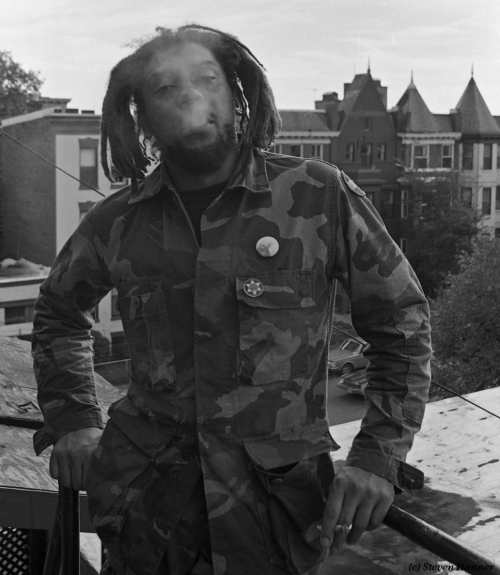 "I went to Max's Kansas City when Bad Brains played there with the Beastie Boys, and met H.R. I later briefly lived with him at Robby and Michelle Cryptcrash's place on second street. H.R. was always completely out of his mind! Loved vodka and weed, but one of the most fantastic front men to ever grace NYHC, and let's face it: Bad Brains is the band that motivated a whole new generation of bands to play louder, faster and full of energy."
Tony T-shirt, aka Tony Ultraviolence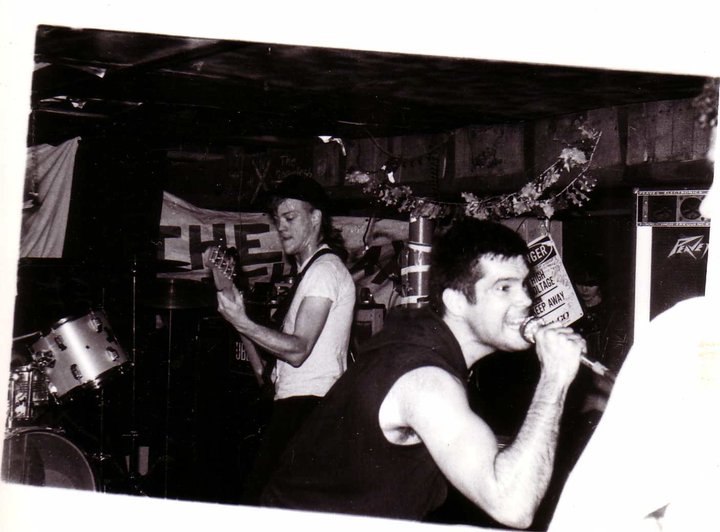 "I met Tony at A7 prior to the infamous arm casket [laughs]. I ended up passing the lease to Apt. X over to Tony after I moved in with Robby and Michelle Cryptcrash. Tony was important to our scene—beside his contributions with Ultra Violence—he made band shirts for almost all of the NYHC bands before bands made their own merchandise."
Ray Cappo, aka Ray of Today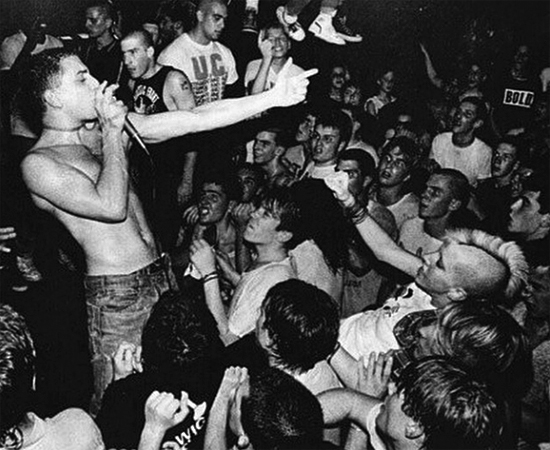 "First met Ray at a Reflex from Pain show at A7, and again a little later in Connecticut when AF played with RFP. We remained friends, and I remember inviting Youth of Today to play their first show in NYC with us. Ray was always friendly and he completely loved hardcore!"
Billy Milano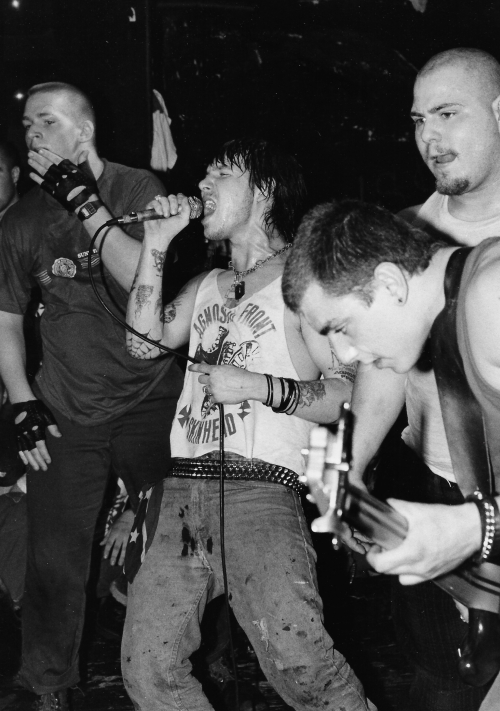 "We met at a Hinkley Fan Club show at the A7 club. Billy too would eventually become one of my closest friends in NYHC. When it was time for me to move on with AF, Billy took my spot in the Psychos and that's how it was; friends looking out for friends."
Alexa Poli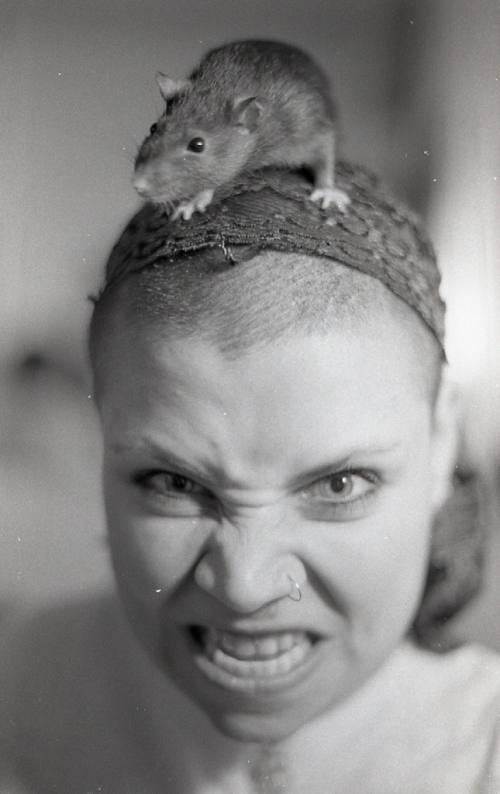 "Alexa would eventually become the female moshing maniac of NYHC! She dated, and had a child with another one of my closest friends, Tommy Carrol (Straight Ahead, NYC Mayhem). We have remained friends to this day."
Carl "The Mosher" DeMeola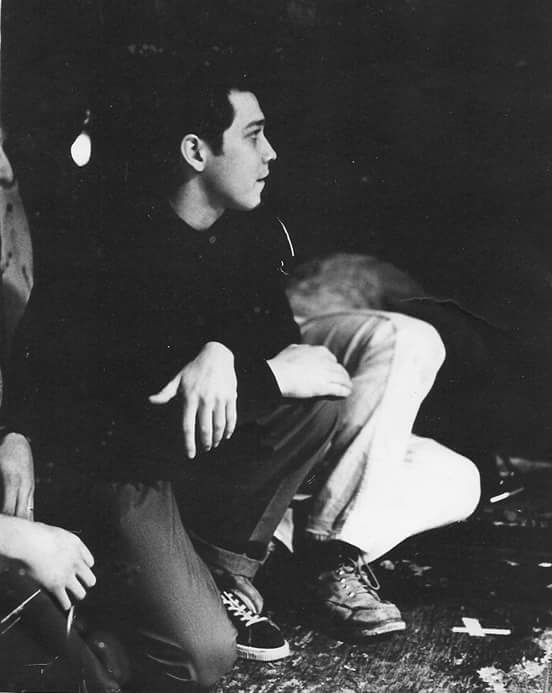 "Carl DeMeola used to come to our shows at CBGB. He also lived with me at Robby and Michelle's place on 2nd Street. Todd Youth as well. Carl was always a solid dude; a real friend, and a hell of a dancer! He actually took over for me on vocals in Agnostic Front just before we recorded Cause for Alarm, but right before a CBGB show AF was supposed to play with Carl, Vinnie asked me to come back and play the show, which I did."
Mike Judge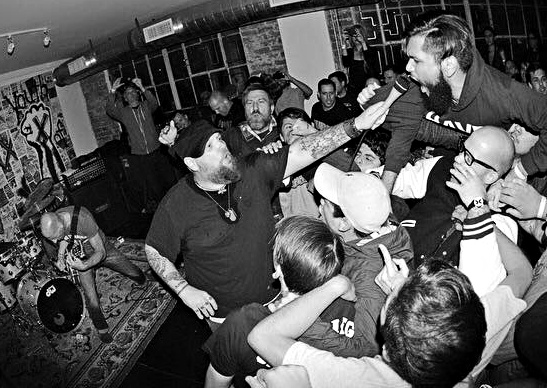 "I met Mike Judge at an Agnostic Front show at CBGB in late 1982. I remember being there to see AF and The Abused, and just having a great time on the dance floor with Mike Judge. Eventually, Mike would play drums with Death Before Dishonor, and they basically became our little brother band. We played so many shows together at A7 and CBs."
Danny "Ezec" Singer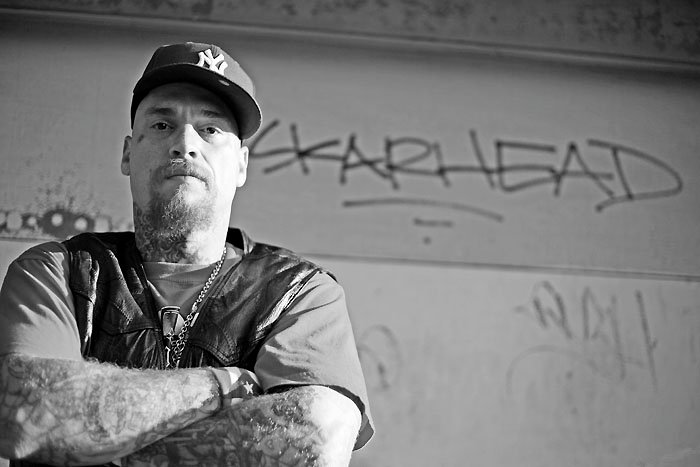 "I met E in the late '80s at CBGB, and he was always a nut-job, but entertaining as hell! Ezec loved NYHC, and still does to this day. He was always a tough kid, but had a lot of respect for us veteran NYHC guys. He loved the shows, and tagging the shit out of everything [laughs]."
Vinnie Stigma and John Watson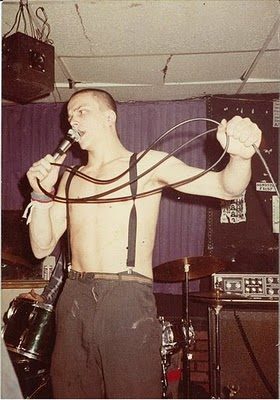 "I met Stigma and Watson at a show in Queens, Johnny Waste's Birthday bash! I ran into both at different clubs and places, but had really never met them until that show, after Agnostic Front took the stage."
Freddy "Madball" Cricien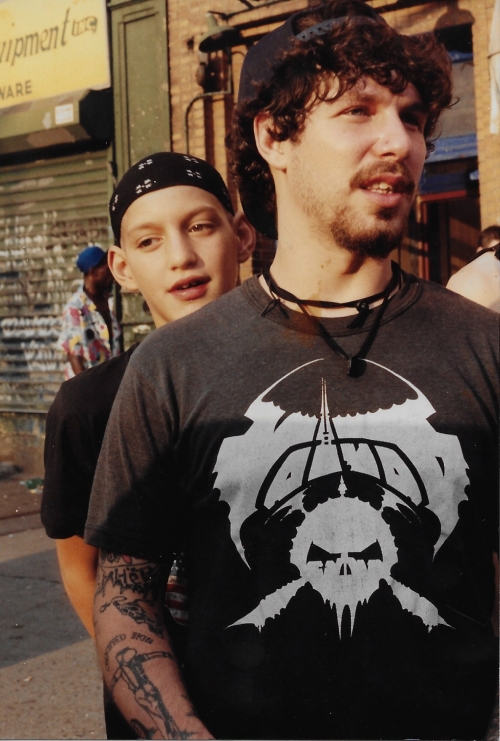 "I have no idea who Freddy Cricien is!"
Roger Miret's autobiography, My Riot: Agnostic Front, Grit, Guts & Glory (Lesser Gods), will be available everywhere books are sold on August 29.
Tagged: agnostic front, roger miret