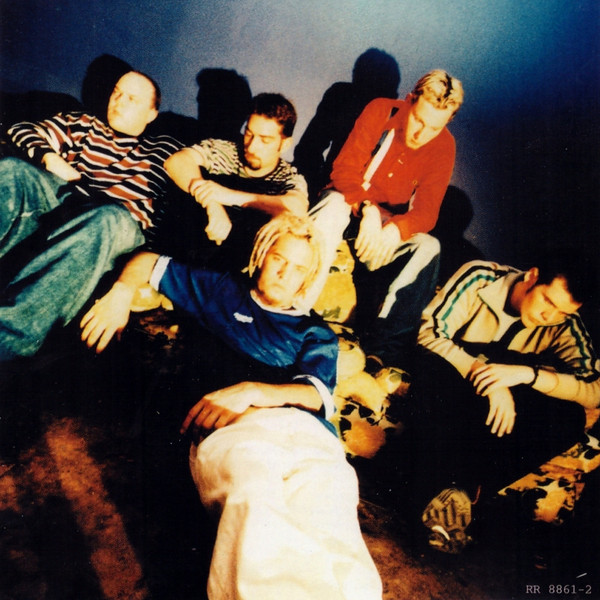 The eponymous debut album from Vision of Disorder sounds as fresh and engaging today as it did when it was released by by Roadrunner Records in 1996. After not listening to record in quite a while, I threw it on recently and was reminded how much I loved the material and performances on it.
While it's sonically not the best representation of the Long Island band, Vision of Disorder still delivers in a big way. Songs like "Element," "Through My Eyes," and "Watering Disease" burst through with a specific energy that was unique to the group.
Metal and hardcore had been merged way before they came around, but Vision of Disorder carved out its own lane within that stylistic space, and their debut record captured that, warts and all.
No Echo chatted with Vision of Disorder bassist Mike Fleischmann and vocalist Tim Williams, plus former Roadrunner Records A&R executive Howie Abrams, about the making of the album.
Going into your first proper record deal, you guys had a lot of momentum. Did you have management at that point?
Mike Fleischmann (bassist): We had no management at all going into the Roadrunner deal. I was 18 at the time and the other guys were all 20. We had a deal on the table from a record label that had all of these bands that we loved: Sepultura, Type O Negative, Madball, Life of Agony, Fear Factory, Machine Head). I may even be forgetting some — that is how stacked the label was at that time '95/'96.

The deal with Roadrunner went through Supersoul, a label owned by Ray Cappo, singer of Youth of Today, Shelter, and Better Than a Thousand. How did you guys meet Ray and why did you decide to do the deal?
Mike Fleischmann (bassist): We had met Ray through playing a show with Shelter in Pennsylavania. He told us about his label (Supersoul) that he was starting with Howie Abrams and Roadrunner and said he wanted us to be their first band. They could have offered us the worst deal in history and we were going to take the deal.
We had been approached by some smaller indie labels at the time. Every band told us don't sign with Roadrunner. Our lawyer, who was recommended to us by Ray (he was also his lawyer)—that's how dumb we were-—even he said this is the worst deal in history.
We signed away our songs and rights to our merch since they also owned Blue Grape merch company and that was a non negotiable part of the deal. We had zero guidance. We just all thought "look at all those bands." And that is what we wanted.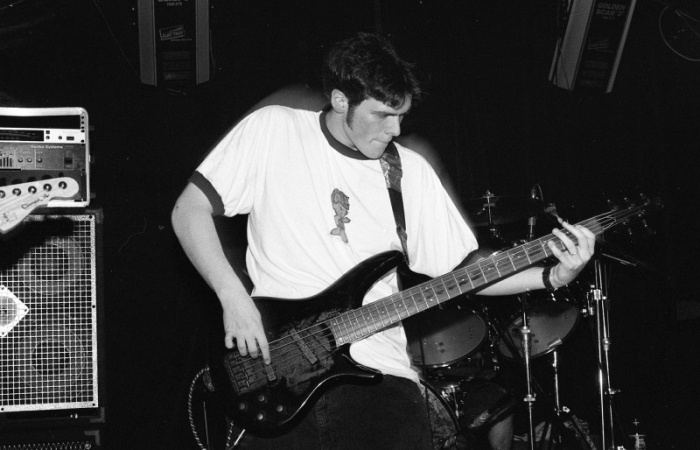 Howie, tell me a bit about the Supersoul and Roadrunner connection. I was never clear on how that all came together.
Howie Abrams (former Roadrunner Records A&R executive): Ray let me know that he'd been thinking about starting another label (he's the co-founder of Revelation Records). I told him that if he did, I'd love to run it through Roadrunner, to which I'd already signed Shelter.
At some point, he and I had a conversation about bands, and we both brought up VOD, so we went to see them together at the [Long Island DIY venue] PWAC and talked to the guys. That's how the courting process with those guys began. I think together, we were a good look for them: the experienced label guy, and a renowned band member who had unique credibility, and could bring something to the table for them as well.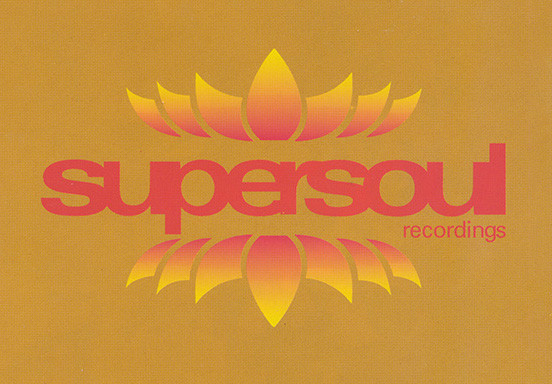 Do you remember how Vision of Disorder got on your radar, and what was it about the band that resonated with you?
Howie Abrams (former Roadrunner Records A&R executive): I don't know if I can pinpoint the very moment I became aware of the band, but they had been playing out in the area quite a bit, plus I knew Kevin Gill, who released the Still EP, which I thought was excellent.
However, it wasn't until I finally saw them play that I truly "got it," so to speak. They were fucking devastating!
There was no band like them, or as good as them coming up. They were the leaders of the next generation to combine the attitude and intensity of hardcore, with the heaviness and precision of metal.
Keeping with Long Island, they made me feel the way Crumbsuckers and Ludichrist made me feel in the mid-'80s, but with a '90s update.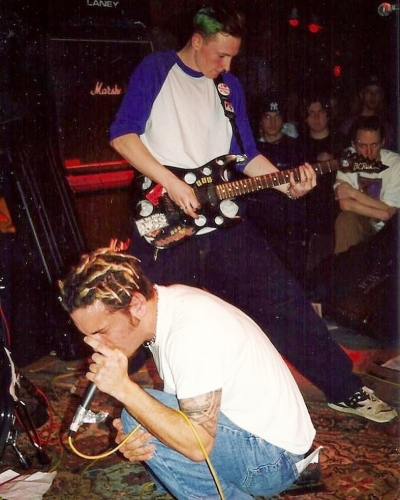 You mentioned him already, but your A&R at Roadrunner Records was Howie Abrams, someone who at that point had come out of working at Combat Records and In-Effect Records, so he had quite a track record in the metal/hardcore realm.

Mike Fleischmann (bassist): Howie is such a smart guy and looking back on it, I wish we would've taken more of his advice. He was responsible for bringing Madball to Roadrunner as well, which made us more comfortable with how he envisioned our record. He was really rooting for us to succeed, but as a band we just couldn't make a good decision about anything.
If we could go back in time, there would be a laundry list of things we would change. And definitely listening to Howie would be towards the top.
Just as an example, Howie wanted us to record the first album at Legend Studios on Long Island (where we recorded the first demo and a demo of 2 songs for Roadrunner). That would have been a great decision not only for the sound of the album but for our relationships as band members.
Howie, Mike feels like they should have listened to your advice more back then. What do you remember about the first album and your role from an A&R perspective?
Howie Abrams (former Roadrunner Records A&R executive): To be honest, I can't remember what advice I may have given them. I know I wanted them to just be themselves, and make a crushing album.
I recall there being a few issues nailing the vocals at first. When a lot of great frontmen hit a "real" studio for the first time, it can be a challenge to translate that prowling the stage energy to a stationary, hanging microphone.
I think they eventually got Tim a handheld, which seemed to help.
Regardless, the material is what shines on that album. The songs are heavy, and anthemic and scare the shit out of 4 of 5 parents.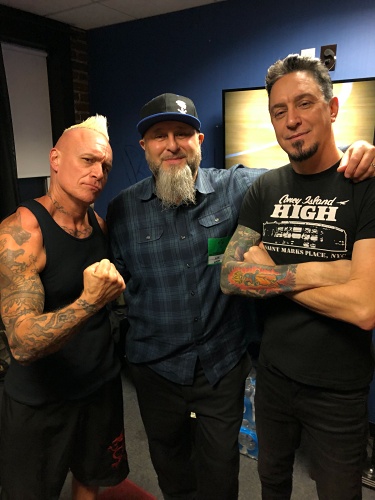 How much of the material from the first album was already completed before you even went to track everything? Did you demo everything? Did you write material in the studio?
Mike Fleischmann (bassist): All of the songs were written before we went into the studio. We only demoed "Element" and "Ways to Destroy" at Legend on Long Island for Roadrunner. Some songs were songs we had kicking around ("DTO," "Suffer") and some were written to be unveiled on the album ("Watering Disease," "Excess," etc.).
Vision of Disorder was produced by Jamie Locke, who had previously done records by Supertouch and Madball. Did you guys gel with with him in the studio, and how would you describe his working style?
Mike Fleischmann (bassist): We went with Jamie Locke because we liked how Madball sounded. Our choice was either record at Legend Studios with Bob V. (the guy who produced our original demo) or go to Massachusetts with Jamie Locke. That's really how the decision was made: He did Madball.
It turns out Madball had Matt Henderson—who knows how to get a good guitar sound in the studio. Jamie Locke did not get what the band was going for. We never met him before we went to the studio.
The first time he heard the songs was as the scratch guitars were being laid down over the drums. We got along with him well enough, and he is a super-nice guy who put up with our bullshit, but there was zero magic or chemistry working with him.
He did have lots of New Kids on the Block stories, though (as he engineered their albums), and he can also play "What a Fool Believes" by the Doobie Brothers on piano, which was impressive [laughs].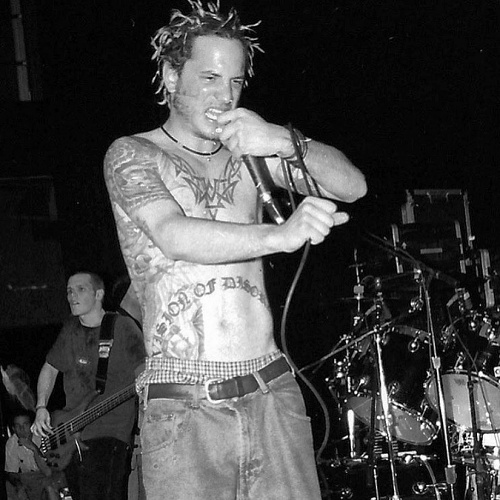 When you got to the tracking of the instruments, did you experiment with different amps/pedals, or did you already have that kind of stuff dialed in? How much experimentation was involved during the tracking process?
Mike Fleischmann (bassist): That was another disaster. We ordered brand new amps through our lawyer who said he had hook ups. They were shipped directly to the studio and none of us had a chance to really experiment. VHT guitar heads and an SWR bass rig.
I think even Brendon's drums were brand spanking new and he was not comfortable on them yet. But his old kit was held together by duct tape and we couldn't record an album with that!
Were there any songs on the album that you spent a lot of extra time on, whether that was because it proved to be trickier than the rest, or you felt that it was material that warranted more fine-tuning because of its potential?
Tim Williams (vocals): I remember "Liberation" taking longer. "Through My Eyes" overdubs were an interesting time because there were parts that were coming out on the guitars that no one ever heard before. [Laughs] I remember some yelling and stuff, but you get to where ur going eventually.
Since some of the songs had previously had already been released in different versions prior to Vision of Disorder, did you consciously try and do something different with them, or did you try and stick close to the original versions?
Mike Fleischmann (bassist): We did not change much about any of the older songs. We just thought they were going to take a huge step up sonically, which ended up not being the case. The recording process of the whole first album was just a huge misfire.
The vocals were tracked in a different studio than the both the main and overdub sessions. Why was that?
Tim Williams (vocals): The vocals were recorded at a different studio, a small studio in Massachusetts ran by a guy named Bobby Keyes. He was a great blues guitarist who had a home studio with a great old-school tube mic. I went there because, we went over our time booked at Brown Sound studios.
Since your vocal delivery was always so wide in its range/scope, did you have to figure out a way to best channel that in a recording situation?
Tim Williams (vocals): I was also having problems getting into a good headspace, so we took a few weeks off and went back. Just me and Kennedy. It was a cool time, we worked hard. As for getting ready, I know way more about that stuff these days. Back then, that was my first full-length record and it was a bit intimidating. I basically, got good rest, exercise, warmed up my voice, and then just found my stride and went with it.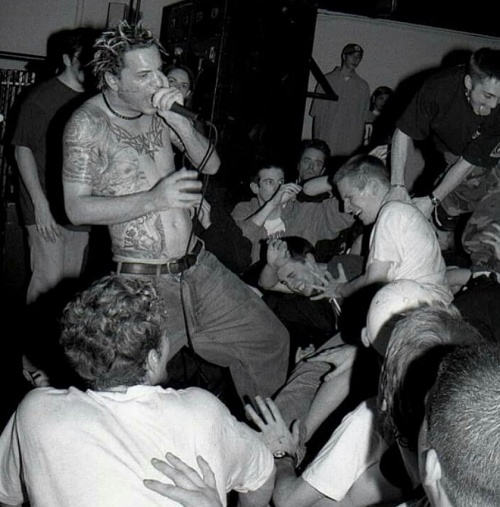 What's the story behind the album cover and its concept?
Tim Williams (vocals): We were kind of running out of time, and the label wanted the artwork. We were kind of distracted. I can remember going to the library with Kennedy and we were pulling out all sorts of disorder, riot , destructive reference material — which we did get lots of great shit.
The green drip on the cover came from something else entirely — like a club flyer or something — but it represented a toxic vibe to us, something nuclear.
So we took all this shit to the art department at Roadrunner Records and began working on it, and it slowly came into focus.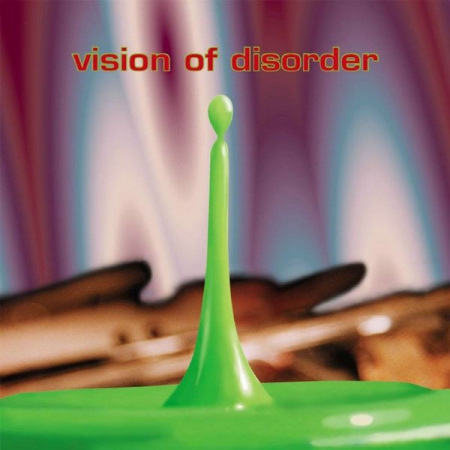 What do you remember about the fan reaction once Vision of Disorder came out? Do you think most people got what you were trying to do with the album/songs?
Tim Williams (vocals): I remember a lot of sell out talk because it wasn't the Still 7 inch and "DTO" sounded better on the split with Loyal to None, crap like that. Maybe that was a lot of local jive, you know I like to say, "let the sleepers sleep and the haters hate." There's still work to be done and I'm gonna get it done regardless of what people say.
I think at first we were kind of in the middle — not enough metal, not enough hardcore — but the reviews were solid and we killed people live, so eventually it caught on.
Like we were getting great offers in the US and Europe. After we played Ozzfest, lots of people were behind us.
Listening back all of these years later, how do you feel about the album?
Mike Fleischmann (bassist): We would've been a lot more relaxed if we had done the album at Legend Studios back at home on Long Island. We love the material but have never been satisfied with the sound. But we are still happy that so many people like the first album.
Tim Williams (vocals): I think there is some amazing songwriting and lyrical content on the record, some of our best. Sonically, the record doesn't sound very good, it just doesn't have enough bite. Kind of amateur sounding.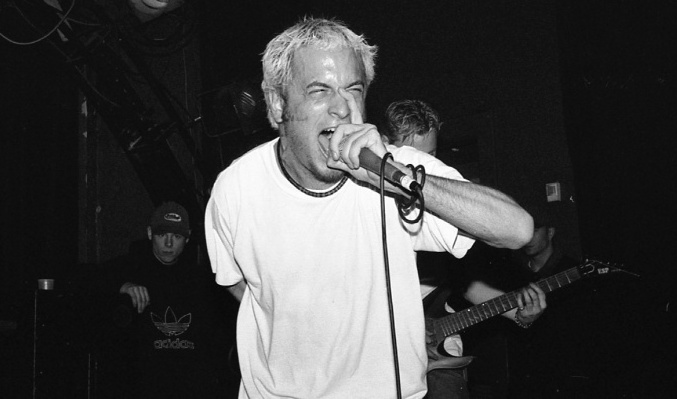 If you had to pick one song from Vision of Disorder that encapsulated the sound and spirit of the band during that era, which one would it be and why?
Tim Williams (vocals): "Element" - it's a killer song. It was one of the songs that was written at a time that was really exciting for VOD. At that time, we were really coming into a new sound, kind of an evolution was happening within the band.
There were so many songs that were being written at that time. "666, "Viola," "Element" — they were just sick.
"Element" has everything VOD was at the time: high energy, breakdowns, some great technical stuff, and just a pit bull style vocal that no one was gonna fuck with.
The lyrics were honest and reflected what I was feeling at the moment. It's just a great representation of what were were all about.
***
Donate a few bucks to help with No Echo's operating costs:
***
Tagged: vision of disorder