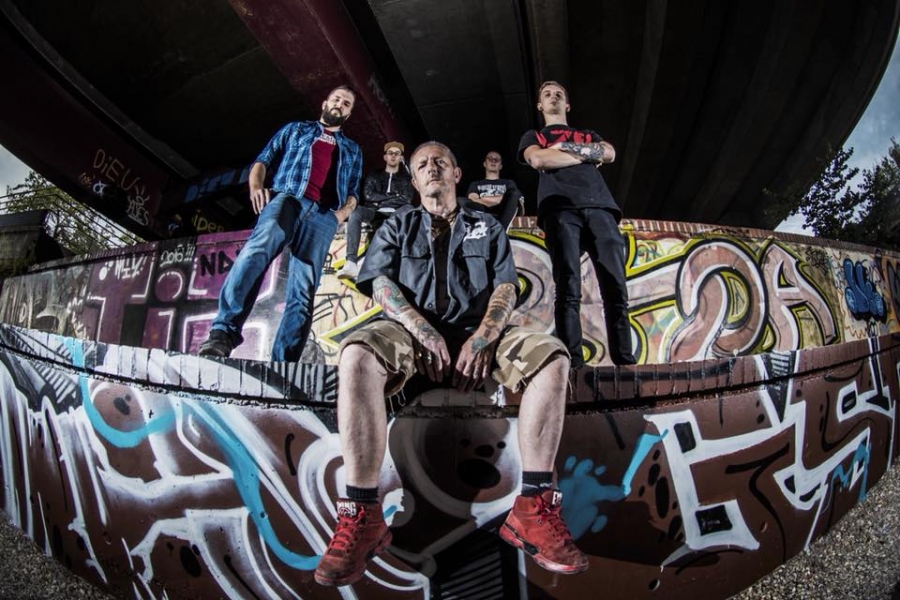 Laurent B. is one-half of the guitar team for Strong, a hardcore band he decided to form after playing in such French acts as Treponem Pal, Smegmatics, and Hoax. With a penchant for the no-nosense NYHC writing style of Sick of it All and Cro-Mags, Strong also infuse their songs with elements of industrial metal.The band's LP, Hateful, Fucked Up, Ugly, but Still Alive, was recently issued by Tripsquad Records, a label founded by Tim McMurtrie (former MOD, current Full Scale Riot guitarist). The album features Scott Roberts (Biohazard, Spudmonsters) on the song and video for "Born in the 60's," which you can check it below:
In the site's endless pursuit to spread knowledge about hardcore bands from all over th globe, I asked Laurent for some of his favorite fellow French bands everyone should give some attention to. He said this is just the tip of the iceberg, but I'll let him break it down below.
Kickback
If you don't know the French hardcore scene you have listen to Kickback. This band is full of French hardcore history, starting in the beginning of the '90ss. They were the first to play in a style inspired directly by the NYHC scene. Really metallic and heavy sound, their shows were always an experience everyone remembered. They also mixed rap death (or black metal on their last LP). The raunchy voice of their vocalist Stephen, and their negative attitude, gave them a reputation of a violent band making no concessions. With five albums and few EPs, they've got a discography that will help introduce you to the French scene.
Homeboys
Homeboys is a melodic hardcore from Paris that started in 1995 and went to 2005. Th3se guys easily supported the comparison many made of them with international bands. Catchy songs with nice sing-along parts that will remain in your memory with tight arrangements for an interesting set up, the songs are more than classic punk rock. Their second LP, Breaking Away, is a must for me, good production, and really good songs. They have two LPs out and a few 7"s compiled on a CD called 7 Inches and Some Shit. The band is back together after years of silence.
In Other Climes
Here we go on the metalcore side of the French scene. In Other Climes bury you under a heavy rhythm section and delivers crunchy powerful guitars with mosh parts that will makes you nuts straight away. They are touring a lot and they are as good on stage. Really tight with a great presence. Their wall of sound will kick you in the gut.
Elephants
Newcomers of the hardcore scene from Rouen (where Strong is from), you need to discover Elephants. The group is actually on tour with Pro-Pain after a European run this summer with Worst (Brazil). You can place their powerful music between metal, industrial, and beatdown. They are not easy to classify but they have a gnarly energy and a powerful sound.
Nine-Eleven
This DIY band from Le Mans up the level in this sometimes lookalike scene of beatdown bands (not that I don't like the style, please don't misunderstand me). This is another gem from the alternative hardcore scene with that go-fast screaming vocals, and a wall of sound that will put you against the wall. Nine-Eleven are really fast with positive lyrics. The songs are long with rhythm breaks, fast parts to mid-tempo, and positive lyrics about our world. I really appreciate their four LP's and two EPs.
***
Strong's Hateful, Fucked Up, Ugly, but Still Alive is available now via Tripsquad Records.
Tagged: strong french hardcore band