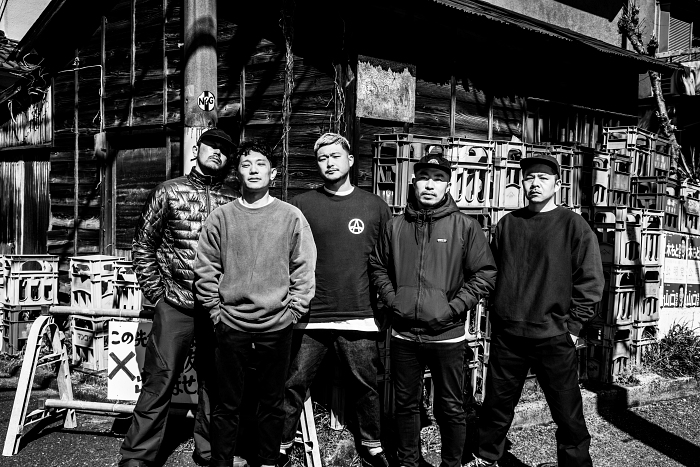 For the last few weeks, I've been playing the fuck out of The Big Escape, the forthcoming debut album by Blow Your Brains Out. Yes, it's the first quarter of the year, but I would be surprised if it's not on Best Hardcore Records list come December.
While they're based out of Tokyo, Blow Your Brains Out's writing and performance style is firmly entrenched in NYHC, bringing to mind bands like Cro-Mags, Dmize, and Killing Time along the way. The album is the follow-up to the group's 2019 Blackout Demo, which also fucks.
Blow Your Own Brains Out guitarist Tats, vocalist Kai, and bassist Yusukedge spoke with me about the band, Tokyo hardcore, their favorite NYHC demos, and much more.
Tell me how BYBO initially formed. Were you all friends from the Tokyo hardcore scene before you even started the band?
(Tats, guitar): In the spring of 2019, Yusukedge (bass) approached me and suggested we start a band, just for fun. Uskn quickly agreed to play the drums, and when we thought about finding a vocalist who could write Japanese lyrics with a good rhyme sense, we realized that Kai was the only one who fit the bill. So we asked him and he accepted. While we were looking for another guitarist, Animalblood heard from somewhere that we were going to start a band and wanted to play with us, so we decided immediately.
The members of Blow Your Own Brains Out are also in other bands:
Yusukedge, Uskn, Kai: Inside
Yusukedge, Uskn: Stand United
Yusukedge, Animalblood: Civil Defense
Animalblood: Die Birth
Kai, Tats: Soul Vice
We have played together in each other's bands, and we've gone to see each other's shows, so yes, we already knew each other since before the band started, of course.
Since your demo came out in 2019, why did it take this long to get the first LP ready? Did the COVID lockdowns factor into the wait?

(Tats, guitar): I think there are two main reasons. The first and biggest reason is simply that we are lazy. Over the past three years, we have often worked late during the weekdays, leaving us with only weekends to make music. And on top of that, we often prioritize going out and having fun on the weekends.
Also, I don't have the talent to write a song right away. There are many riffs or songs that I thought were good the day before, but when I listen to them the next morning, I think they're terrible and end up throwing them away. Sometimes it takes me a few weeks to switch to the mode of creating riffs or writing a song.

There were also restrictions on entering the studio for all of us during the COVID lockdowns in 2020 and 2021. Some of our members were living with their families, and we didn't want to risk getting them sick. So we were limited going to the studio and going to live houses where many people gather.

We apologize to [Quality Control HQ founder] Ola for keeping you waiting. We are very grateful to Ola for being so patient and waiting so long.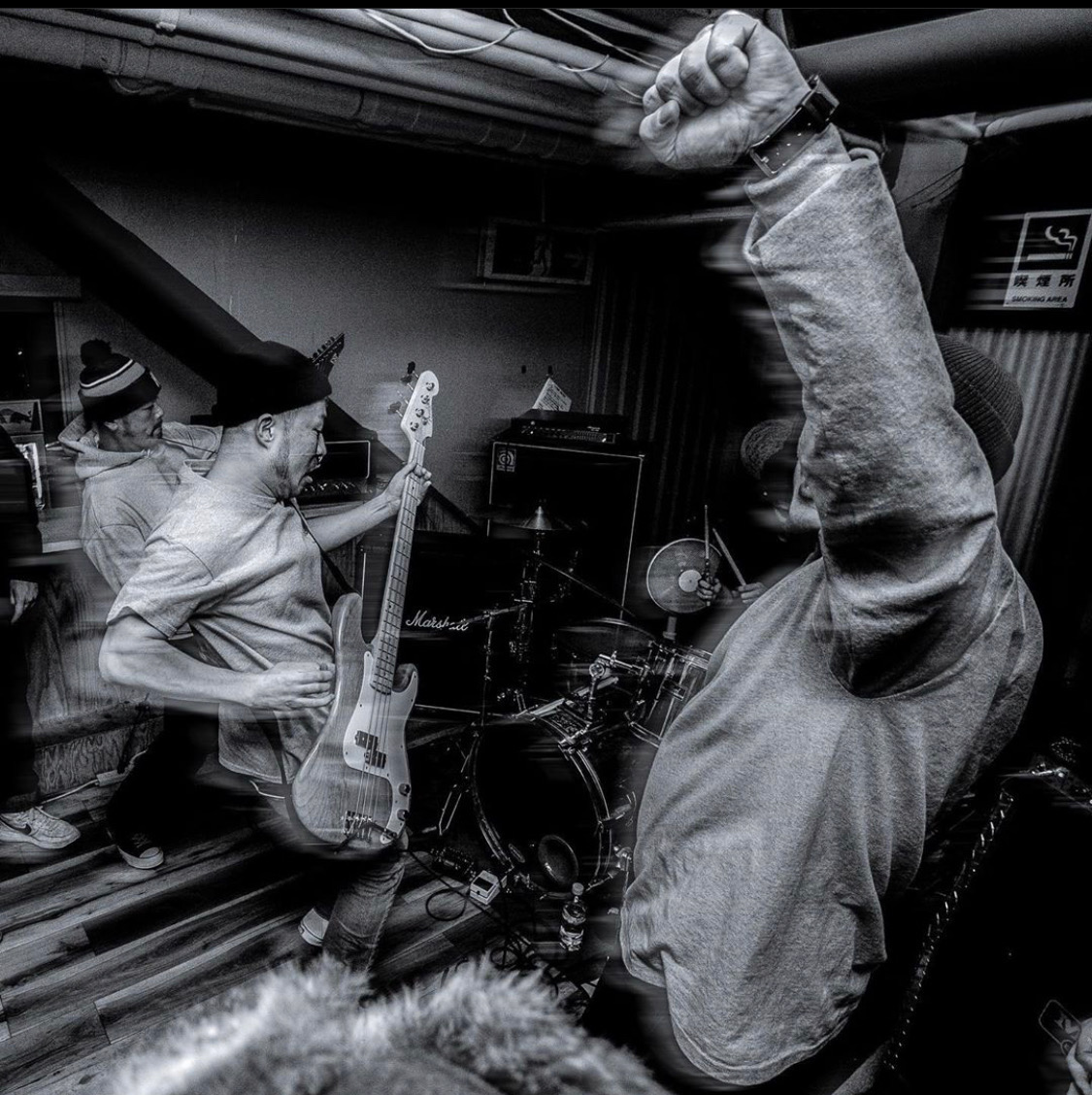 In the promo materials Quality Control HQ used to push the band, influences like Dynamo and Cro-Mags are mentioned. How would you describe the BYBO style?
(Tats, guitar): In terms of sound, as I mentioned in my previous answer, three of the members have been playing in straight edge bands for a long time. Animalblood likes '80s punk and Boston hardcore, and I like NYHC from the '80s, '90s, and early '00s. So I think our music is right in the middle of that triangle.
So what we have in common is that we all like old-school songs and bands. We have some straight edge band-like melodies and some songs that end with heavy riffs. The Japanese flow and rhythm of the vocals fit well with these kinds of songs, and the low voices give them a twisted old-school feel. But I think that's what makes it interesting. It's not too straightforward. So I would say the answer is we are twisted old school.
On the other hand I'd like to know what kind of band people who listen to BYBO think it sounds like.
By the way, I have been looking for Dynamo's Face Your Fears cassette for years, so if anyone is willing to sell it, please email me: [email protected].
Listening to The Big Escape, it's easily one of my favorite hardcore records of the year so far. Tell me about the recording process since everything sounds so killer.
(Tats, guitar): Thank you for saying that, it was worth the effort.
My friend Devu, who has been recording and mixing/mastering melodic bands, punk, and hardcore bands for years, did the recording for us. Many hardcore bands in Tokyo have recorded there. He recorded our 2019 demo, but back then he was working in a dim and cramped studio.
Since then, he's moved to a newer studio with upgraded console, hardware analog equipment, and microphones. We recorded the instruments in one and a half days and the vocals in just half a day. It was short, but it was the limit of what we could do with our budget and schedule. After that, I made guitar re-amps, sound effects, etc., and Devu and I exchanged data online to complete the mix/mastering.
I think his studio is actually designed for professional musicians to record beautifully and cleanly, but the result was a nicely raw sound. I think the drums sound particularly great.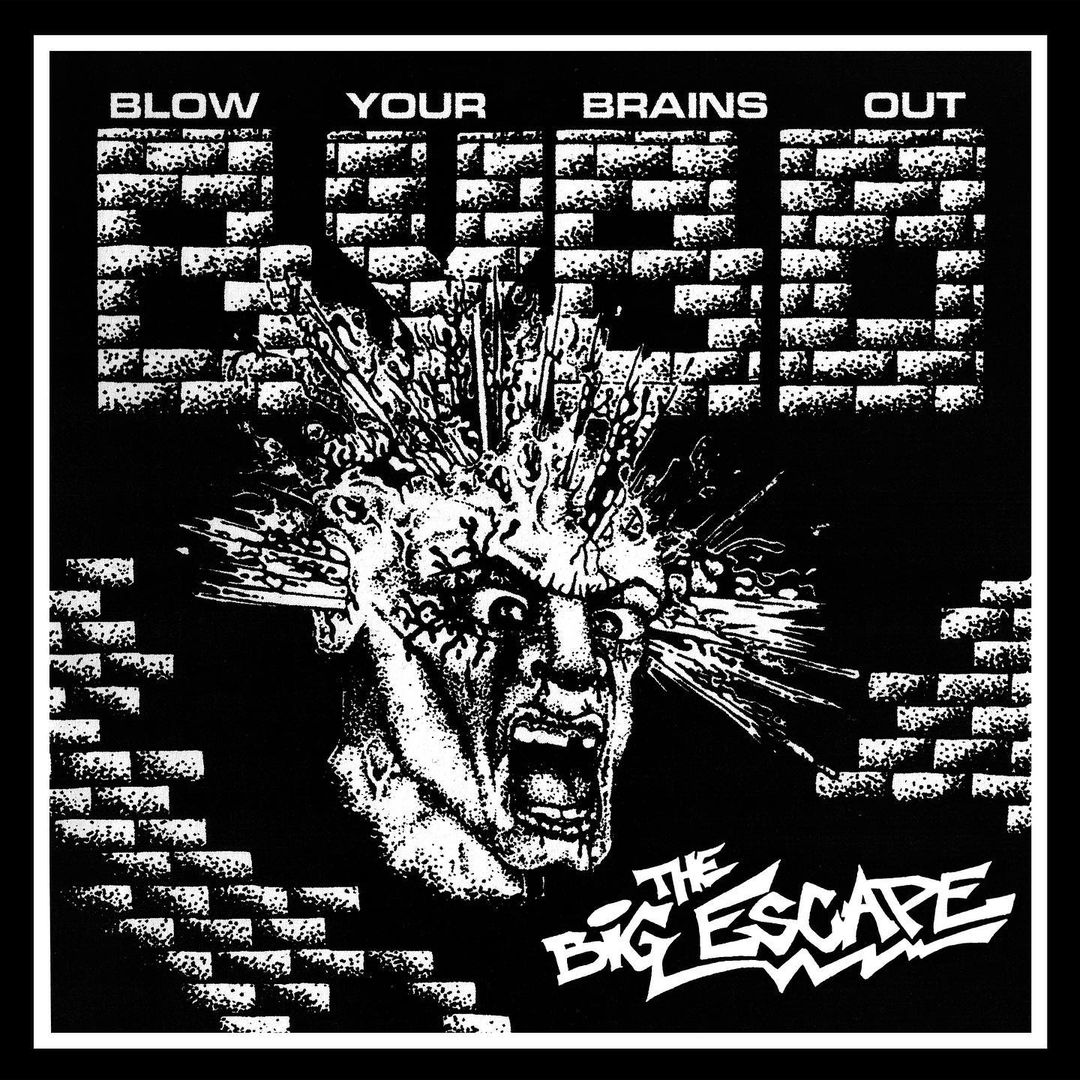 What are some the lyrical themes you tackle on the album?
(Kai, vocals): Thank you for the great question. I am very happy that people in English-speaking countries are interested in the lyrics of BYBO, which I write in Japanese.
Most of the lyrics are about the harsh situations happening in modern society. For example, hate crimes, wars, cult brainwashing, fake news, etc. We believe that we should voice more dissatisfaction and anger against the lies and greed of some insane people in power. We also sing about not giving up and surviving, even though we understand that structural problems in society and politics cannot be solved quickly.
To express these themes while riding on riffs and hard beats and rhyming, it was essential to use my mother language, Japanese. Although I said something a bit serious, we also have some lyrics that are not entirely serious. The lyrics of the third song, "The Fighter," are about the protagonist of a famous boxing movie that Yusuke and I love. We want to run up the stairs in Philadelphia [laughs].
Anyway, I would be very happy if you enjoyed the unique accent and flow of Japanese while listening.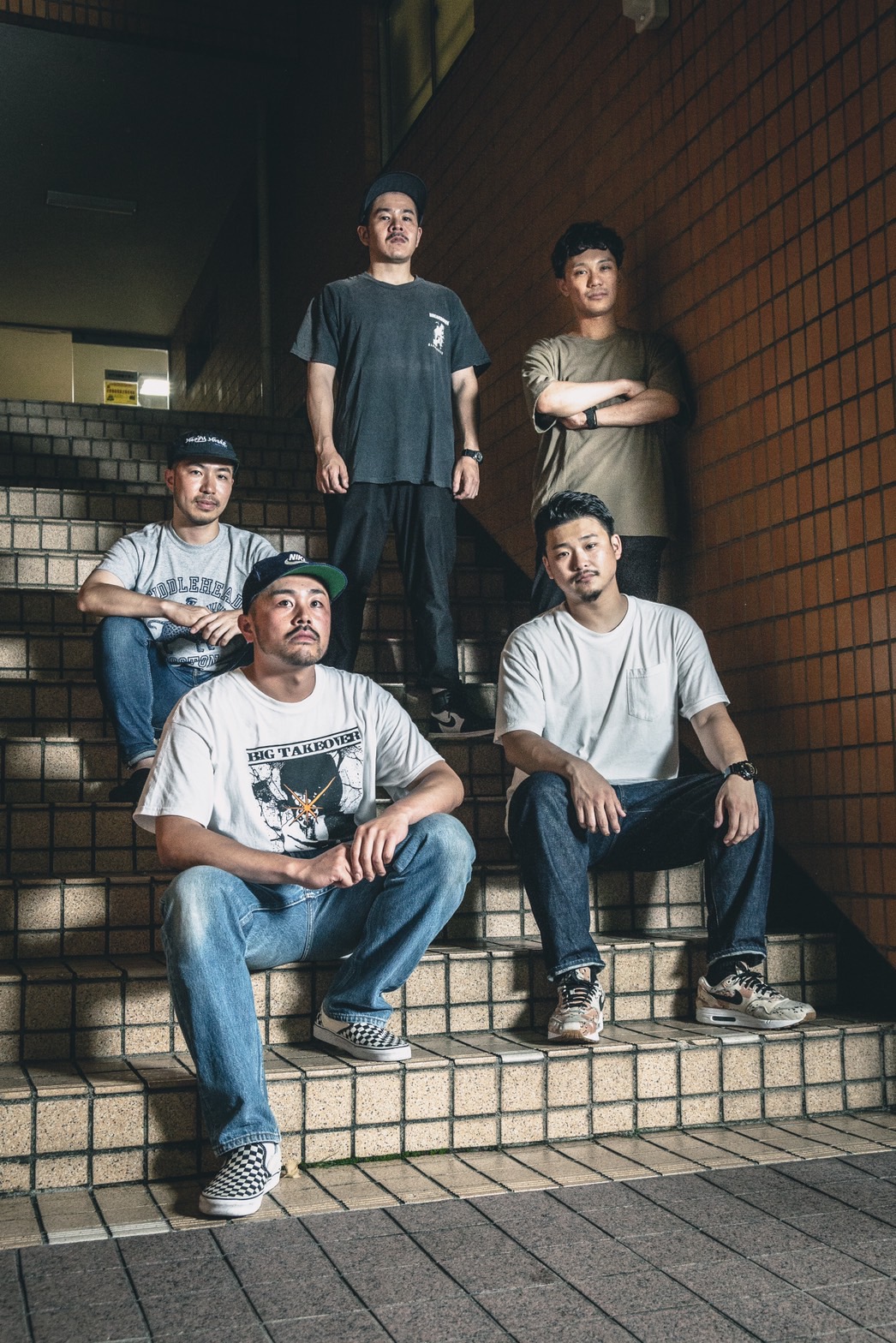 For our readers who have never been there, how would you describe Tokyo? As someone who grew up in NYC in the '80s and '90s, I could say it was a pretty wild place, but Tokyo seems like it's on another level of intensity.
(Yusukedge, bass): It's difficult to make a comparison because from those time periods, I have only seen New York in movies and documentaries. However, I feel that there is a kind of tension in New York that I cannot feel in Tokyo, and there is an otherness in Tokyo that is not present in New York.
It's difficult to explain where that otherness comes from, but I think it's expressed in Tats' music video for "Reveal Your Rotten Minds," so I recommend checking it out.
Who else is poppin' in the Tokyo hardcore scene right now? Feel free to drop some of the promoters and stores that are also helping spread the love over there.
Kai (vocals): Personally, the band I'm really into right now is It's All Good. Their debut album, which was just released from Bowlhead inc, is amazing.
As a promoter, I also have a lot of respect for Black Hole (Takashi Kosaka) from Kanagawa, and Brightside Booking in Osaka, who have been booking Dead Heat, GAG, and Magnitude's Japan tours at a rapid pace, is also impressive. And of course, the store to go to is Nerds Record Store in Shibuya.
Tats (guitar): There are always a lot of heads at recent gigs of heavy and metallic bands like Kruelty, Hersehend Nebula, View From the Soyuz, etc. in Tokyo. I think most of Japanese hardcore fans are paying attention to them, and I think they will become even bigger at the world level in the future.
As for bands that I personally have my eye on, it's Klonns, they are raw and dark hardcore punk. Moonscape and Die Birth are also great, but I wonder if they haven't been active recently. Wrong State from Osaka is a great band, even though they're not from Tokyo, they're still underrated in my opinion.
In terms of promoters in Tokyo, there's Koba who runs Bloodaxe, GODNA168 (a true legend!), and of course Tome. Tome runs a label called Bowlhead inc. and does local shows, invites overseas bands, designs t-shirts, jackets, flyers, and even DJs. He drinks at a live house somewhere every week. It's unbelievable that he's still alive.
If you go to Nerds Records in Tokyo, an independent record store run by GODNA168, you can get the latest records. He's been in a legendary band called State Craft since the '90s, but he's also famous as a collector and has museum-class t-shirts, tapes, and zines, so I think it's worth going to hear some maniacal stories. GODNA is one of the respected elder friend who is kind and teaches various histories and connections of hardcore.
Disk Union has the world's best collection of used records (especially in Shinjuku), I think their pricing for condition is significantly better than foreign record stores.
If you had to pick your all-time favorite NYHC demo, what would it be and why?
Yusukedge (bass): Easy! It's the '87 demo from Breakdown. It comes to mind first because, even though it's a demo, it became the band's masterpiece. Of course, I love Blacklisted and their other albums as well. R.I.P Rich.
Tats (guitar): It's so mind-blowing to even think about it. If I had to narrow it down, I would say the demo of Raw Deal. They are catchy but still hardcore, and the melody of the riff stays in your head forever after just one listen. "Wall of Hate" has an amazing melody, bridge, and development, with only simple power chords (A, B, C) that are hard to believe.
It's a savage song even with a mid-tempo song, and can even be called beautiful. With only 7 tracks in 15 minutes, it feels like having a full-course meal at a drive-thru. I wish I knew how to write music like this out of everyday things. R.I.P. Rich
Kai (vocals): I also think Raw Deal is perfect. But if you interpret Cro-Mags' The Age of Quarrel (cassette) as a demo, then Cro-Mags are the best.
Also, Breakdown's '87 demo is a treasure trove of ideas that inspired countless bands, and I still listen to it. It's super-important because we played a cover of "Life of Bullshit" with BYBO.
I also love Straight Ahead's demo and Outburst until I die. I'm torn. My brain feels like it's going to explode.
***
The Big Escape will be released on digital and on 12-inch via Quality Control HQ on March 24th (US store/EU store).
***